Andrew HATFIELD (1769 – 1836) & Mary MANN
The Marriage Record(s) of Andrew Hatfield & Mary MANN
When I first started researching my 4th great grandfather Andrew Hatfield Jr. (1769-1836) and wife Mary, I discovered a book entitled A Brief of Wills and Marriages in Montgomery and Fincastle Counties, Virginia 1773-1831, compiled by Anne Lowry Worrell Roanoke, Virginia (copy below), that showed Mary's surname as Mary Marr (Mann?).
Line 10th from the top (below right) shows Hatfield, Andrew, and Mary Marr (Mann?)
So I went to the Library of Virginia in Richmond so I could look up the ORIGINAL marriages records.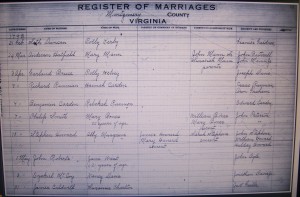 I first found the above HAND WRITTEN Register of Marriages for Montgomery County on microfilm. On line 2 it lists
ANDERSON
Hatfield and wife Mary MANN. In addition, it lists Mary's parents as John Mann Sr., and Susanah Mann, with John Batterall & John Mann, Jr. as Security and Witnesses.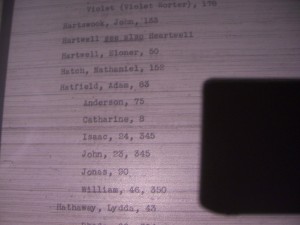 And yet ANOTHER page lists Andrew's name as ANDERSON Hatfield on a typed marriage index, copy above.
And one more, above, which looks like Andie Hatfield with Mary Man (or Marr) (This could be where the MARR came from in the incorrect Brief of Wills and Marriages book.)
And wait — there is yet ONE MORE document!!
Then I then found the ORIGINAL MARRIAGE BOND on microfilm #39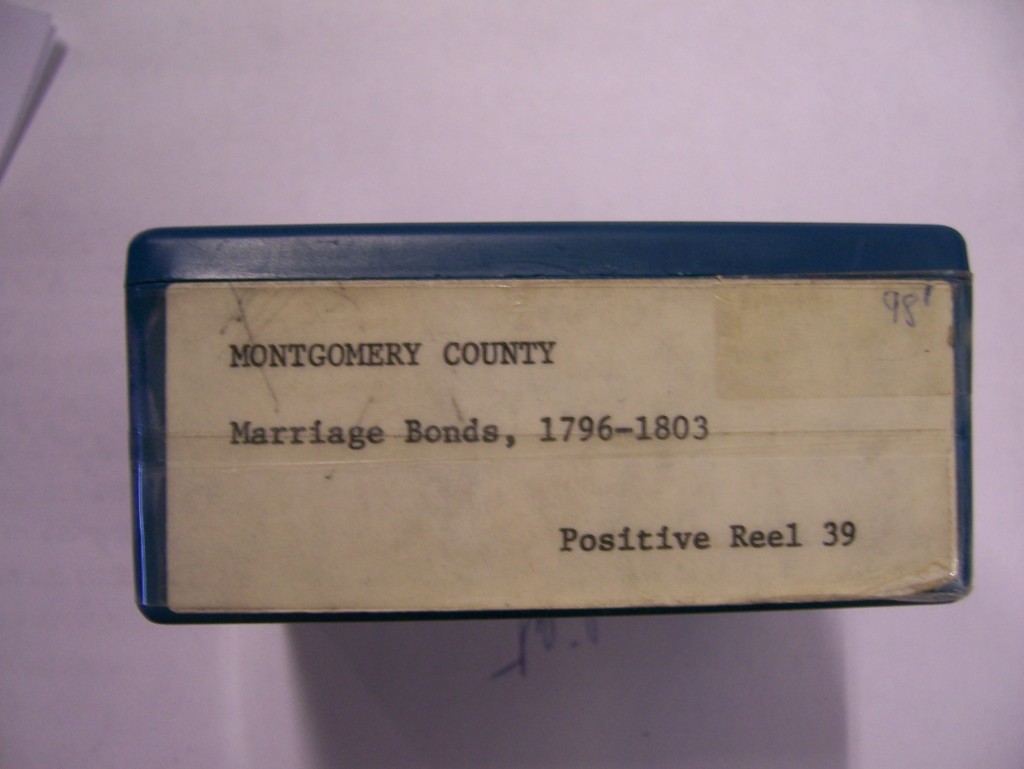 The page below shows the backside of the bond. Andrew is abbreviated and looks like Ana with an R next and above and then Hatfield. Some COULD have said this mean Anderson and that's why Anderson Hatfield is listed on both the hand written marriage register and the typed register.
And here it is! The original marriage bond (below) for Andrew Hatfield and Mary MANN clearly shows ANDREW Hatfield and Mary MANN. <Drum roll please.>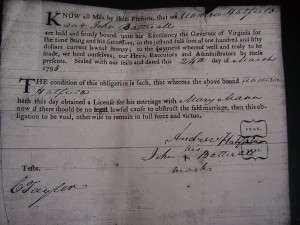 *****************************************************************
So that makes a total of SEVEN different records which document the marriage of Andrew Hatfield to Mary MANN, NONE OF WHICH have the same information!!! Is it any wonder we genealogists sometimes record incorrect information.
All the above original marriage records were copied by me Elaine Hatfield Powell from microfilm in the Library of Virginia in Richmond.
I am a firm believer that you MUST TRY to get the ORIGINAL documents to prove birth, marriage, and death information. The photos above of the original documents illustrate the perfect example of how incorrect information can get passed on. Andrew Hatfield (1769-1836) married Mary MANN in Montgomery County, Virginia on 13 October 1798. Mary's name has been incorrectly spelled MARR for many years. And that "fact" has been regurgitated over and over on many websites.
The photos show that the original records of the marriage of Andrew Hatfield and Mary Mann are listed with SIX name variations!
I believe the person that incorrectly listed ANDERSON instead of ANDREW for the first name on a typed index did so because of the marriage license document and shows Andrew's name as looking like it COULD be an abbreviation for Anderson.
This incorrect listing for Anderson Hatfield is also complicated by the fact that there was an Anderson Hatfield (1839-1921) that lived in Virginia who was a part of the FEUDING Hatfield family. Many people thought he was a descendant of Andrew's father Andrew Supplee Hatfield because they both lived near each other in Virginia/West Virginia area in and near Cabell County . That (untrue) "fact" that Andrew Supplee Hatfield is the progentor of the "feuding" Hatfields has been stated in at least three books about the feud that I know of. We now know that DNA testing has conclusively proved that this line of Hatfields (originally from Pennsylvania) are NOT related in any way to the feudist William Anderson "Devil Anse" Hatfield.
If you have ANY information about the descendants of Andrew Hatfield and Mary MANN, please contact me. You can email me directly at Hatwelle@aol.com.  I am trying to document their children and have found NO proof documents.
Also, I am trying to proof that this Andrew Hatfield is the father of Jacob Hatfield. If you have ANY information that can document the children of Andrew Hatfield and Mary Mann, PLEASE contact me.
See my other Hatfield website for more info on this family.
Elaine Hatfield Powell
(c)