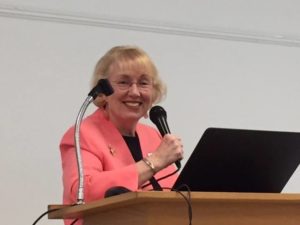 Elaine is available to present any of the following programs to any group:
Beginning Genealogy
Learn to trace and document your family genealogy. You will be shown the correct way to fill out pedigree charts and family group sheets, including adding family information into online trees or genealogy software, as a way to start recording information about your family. An overview of the census will be illustrated. You will learn about various types of records to search. Different brands of genealogical software will be explained, as well as the most popular online family tree services. DNA testing will be briefly discussed, and much more. A Beginner's Guide will be available.
Bridger Family Association Trip to England
This presentation will take you on a tour of the 2014 trip to various locations in southern England where members of the Bridger Family Association visited, where their Bridger ancestors lived, worshiped, and worked.
Creating A Family Heritage Album
The Heritage Album class teaches the importance of creating a Family Heritage Album. You will be given a step-by-step plan of action that will teach you everything you need to know to create your own family heritage album — both traditional and digital albums. You will learn how to include the photos, documents, genealogy, and memorabilia of your family, past and present. You will learn how to interview your family members, how to journal the family stories, and how to include genealogical charts in your album.
Dating And Identifying Family Photos
This class will teach you how to date a photo, and will help you to determine who is in your unidentified photos.
Elaine will illustrate several different resources, including your own genealogy documents, to show you how you can identify the people in your photo collection. Handouts are provided to help you identify your photos at home. Class attendees may bring photos to be dated or identified.
DNA Don't Lie
Elaine will explain the three types of DNA tests that are used to determine ancestry — y-DNA, Mitochondrial DNA, and Autosomal DNA. She will illustrate how she has used both y-DNA and at-DNA results along with genealogical records to break down her own brick walls, including how she discovered her true Hatfield heritage using Y-DNA results. .
Attendees will learn which tests they should and should not take, which companies are the best to test with and why, and what to do with the results when they are received.
Elaine is also available to participate in DNA Panel Discussions with others from the genealogical community in order to answer the many questions that genealogists have about DNA testing.
Genealogy Meets Archaeology
Elaine will present the discoveries she has made and sources found while researching her Virginia ancestors. Archaeological research has allowed Elaine to learn about her ancestors' history in a whole new way. She will show how and where she did research and what sources others can use to discover their own heritage.
Goin' to the Chapel…
This program will focus on Marriage Records. There are several types of marriage records that have been in existence since Colonial times in America. In this program Elaine will discuss those marriage records and where you might find them. You will also learn about divorce records and where to find them.
Lineage Societies — Why you may want to join and how to organize your documents to make the process easier
What is a lineage society? Have you ever thought you might like to join a lineage society like the DAR? Why would you want to join a lineage society? (There are MANY reasons why you might want to join.) How do you find out if you have an ancestor who might qualify you for membership in a lineage society? What are the different lineage societies and how does the application process work? Elaine will answer all these questions, plus show you how to get your lineage documents organized so that if you do decide to join, you can find your documents quickly. And if you decide not to join, then you will still be organized!
Organizing Your Genealogy Papers & Documents
You will learn how to organize the "stuff" you accumulate as you research – all your documents, letters, miscellaneous papers, books, magazines, and memorabilia. You will learn the safe way to store your documents and how you can find what you need quickly. You will learn about the basics of file storage, and we will cover the best products to use to store your items. You will learn how to organize paper files as well as internet files, your genealogy books, your computer documents, and more.
Out of the FRY Pan
Come along on a journey of discovery. First only knowing the name of her great grandmother Lewellen Fry, Elaine kept running into roadblocks that included guardianship, a family association, and the many repositories that Elaine visited to document her FRY family. Along with DNA testing, Elaine became certain of her true line of descent from Hans Heinrich Frey (1663-1734), the first German Huguenot pioneer settler in Pennsylvania!
Preserving Your Documents, Photos, Genealogy Papers, and Memorabilia
Elaine will teach attendees the proper way to copy, clean, repair, display, and store their photos, documents, family papers, letters, and memorabilia. Attendees will learn everything they need to know to prevent damage and preserve what they own. Learn how home conditions, humidity levels, and temperature contribute to deterioration of items. Proper storage products, and products that can be purchased to help preserve and protect will be discussed.
Tips & Techniques For Researching in Archives, Courthouses, and Libraries
While doi
ng research on
her Colonial ancestors in Virginia, Elaine Powell discovered what to do and what not to do while researching. This program will help you to avoid mistakes and omissions while doing your own research
in archives, courthouses, and libraries
. You will learn techniques so that you can use your research time more efficiently,
and
get tips for documenting your research properly so that it is acceptable for any lineage society. You will also hear t
echnique
s on how to be better prepared, what to do before leaving home, and what to bring on your future research trips.
If you are interested in having Elaine present one of these programs to your group, please contact her through this website or at [email protected].
Elaine outside of the Ohio County Kentucky Courthouse in 2006.