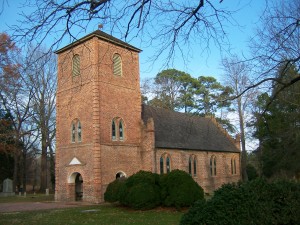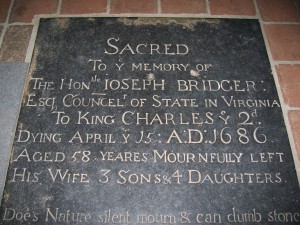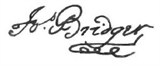 Signature of Joseph Bridger Sr.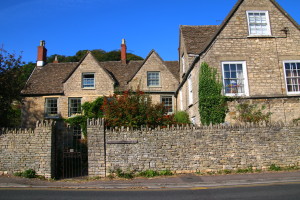 Woodmancote Manor, birthplace of Joseph Bridger
This website shares my personal story of how I discovered my Bridger ancestors.
I had one of those" serendipity" moments in December of 2008 that genealogists often have when they least expect it. I traveled often with my husband when he worked near Williamsburg, Virginia. In early December we stayed over a weekend, which we normally don't do. We had been to Williamsburg many times, so when I saw a tourist brochure in our hotel lobby for Smithfield, Virginia,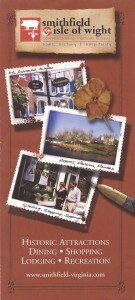 a town about an hour from Williamsburg, I told my husband that it looked like a quaint town with many Victorian homes and I thought we would enjoy a visit there. We drove into Smithfield on Sunday and stopped first at the museum. I didn't even realize we were in Isle of Wight County until I saw the sign on top of the museum.
As we started to walk into the museum, a woman ran across the street behind us and said she would open the museum for us. When we entered, she asked us to wait in the gift shop because she needed to go around the museum to turn on the lights. As I walked into the gift shop my eye immediately fixed on a thick red hard bound book in the corner of the shop on a shelf entitled Seventeenth Century Isle of Wight County Virginia by John Boddie.
I knew for sure that either me or my husband had ancestors from Isle of Wight, but I couldn't remember which ones. So I quickly started skimming the index for family names. Then the name BRIDGER jumped out at me. Of course! This is the family that I had discovered when I had a previous serendipity moment in the Butler County Courthouse in Kentucky. The Registrar for the local DAR Chapter who happened to be in the museum at the same time that my sister and I was there researching our ancestors found that one of our ancestors was a Revolutionary War Patriot. Then she said "your Talitha Cotton's mother was a BRIDGER!" She said that like I should have known what she meant, but I didn't. I have since come to understand what she meant by that comment.
When the docent in the museum finished turning on the lights, she came into the gift shop and noticed I was looking at the book. She told me that there was another book that I might want to look at – Marriages of Isle of Wight County, Virginia, 1628-1800.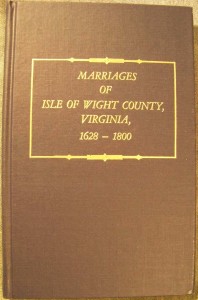 I told her that I was sure that I wouldn't find my ancestors in that book because the records had surely been burned or lost during the Revolutionary or Civil War, as many Virginia records had been. She said no, that there was a very interesting story that was well known in Isle of Wight about that, as told in the historical fiction book No Borrowed Glory (that she pointed out was also in the museum gift shop). The book tells the story about Mrs. Elizabeth Bennett Young who, knowing the value of the Isle of Wight County records and the Old Brick Church Vestry records, buried them outside of town in a deer skin trunk until after the war was over. Along the way, Mrs. Young was stopped by British soldiers while in a wagon leaving town with a man who was riding along to help her. The soldiers let her go without searching the trunk because Mrs. Young told them that she had her dead baby in the trunk that she was taking the trunk to a graveyard to bury her son. The soldiers actually watched her to make sure that she did indeed bury the trunk. After the war the trunk was dug up and that trunk was in the Isle of Wight Museum for many years until it disintegrated. Then again, during the Civil War, the records were again saved from destruction. So, unlike many records from Virginia, the Isle of Wight County records are very complete from the early beginnings of the county in 1628.
The docent then told me that we needed to get out to St. Luke's Church before they closed at 4 o'clock. She said "A Bridger finished that church." So after a look through the museum we drove the short drive to St. Luke's Church. A volunteer docent walked us from the St. Luke's Church gift shop down to the "Old Brick Church" as it has long been named, and told us that St. Luke's, which was built about 1632, is the oldest brick church still standing complete in all of the United States. Our founding fathers' met and worshiped in that church.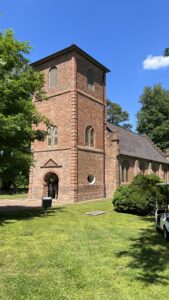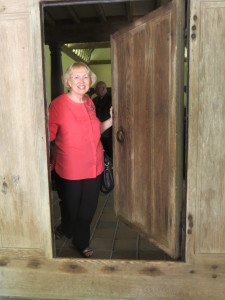 As we walked into the old church, I got chills up my spine as I saw that there was a large stone marker (see photo above) which is one of only two in the floor, right in front of the alter of the church which was placed over the bones of my ancestor Joseph Bridger which read:
SACRED TO THE MEMORY
OF THE HONORABLE JOSEPH BRIDGER ESQ.
COUNCELLOR OF STATE IN VIRGINIA TO KING CHARLES
ye 2d DYING APRIL ye 15 A.D.1686 AGED 58 YEARS
MOURNFULLY LEFT HIS WIFE 3 SONS 4 DAUGHTERS
She told us that Colonel Joseph Bridger, a Royalist and a member of the Virginia House of Burgesses, served the King of England until his death in 1686 at age 58. Joseph Bridger gave the money to help finish the church and brought men from England to help build the church tower. To honor him, church members chose to have his bones removed from his gravesite at his home, Whitemarsh, and rebury them in the church. Joseph Bridger's wife was Hester Pitt, daughter of Robert Pitt, who was also a Burgess. The docent at the church then told me that there was a Bridger Family Association that I might want to join. From their website, I learned that the bones of Col. Joseph Bridger, determined to be one of the wealthiest men in Colonial Virginia at the time, were exhumed in April of 2007 and taken to the Smithsonian Institution for study. Smithsonian anthropologist Dr. Douglas Owsley and his team have studied the bones for information on Bridger such as his health, diet and build. The information gleaned from the study of Bridger's bones is part of an exhibit which opened in February 2009 at the Smithsonian National Museum of Natural History entitled "Written in Bones: Life and Death in the Colonial Chesapeake." See http://anthropology.si.edu/writteninbone/ for a video of the exhibit and an explanation by Dr. Owsley. The History Channel filmed the exhumation of Joseph Bridger's bones and published the film on their website.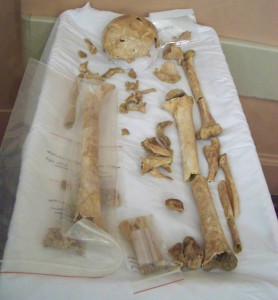 Bones of Joseph Bridger
Bridger family and members of the Bridger Family Association gathered at the Smithsonian National Museum of Natural History in Washington D.C. the next April. We were all allowed to enter the museum one hour before it was opened to the public. We had a personal tour by Dr. Owsley, who exhumed my 12th great grandfather Joseph Bridger's bones and who helped create the Written in Bone exhibit at the Smithsonian. There was a plaque and displays illustrating that our "Grandpa Joseph" died from lead poisoning and that he was a victim of his wealth.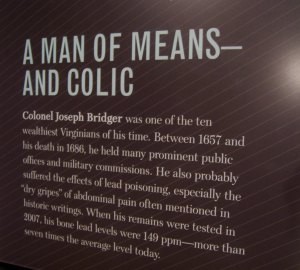 Plaque in the Written In Bone exhibit
Less affluent people ate with wooden utensils and plates. Wealthier people ate with pewter utensils, cups and plates. At that time, pewter contained lead. The plaque indicated that while Joseph might not have died of lead poisoning, testing indicated that his lead levels were seven times the average level of today.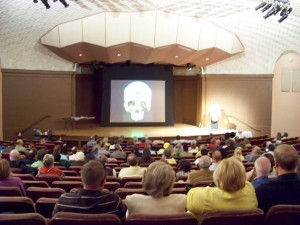 Dr. Owsley talking to the members of the Bridger Family Association in the Smithsonian.
After we all viewed the exhibit, all 200 family members were invited to join Dr. Owsley in the Baird Auditorium at the Smithsonian. He told us that we had the distinction of being the only family to ever hold their family reunion in the Smithsonian. He gave a presentation of why and how they prepared the exhibit and explained that they did not find enough of our ancestor's bones to do a facial reconstruction, as they had hoped. The President of the Bridger Family Association Jean Tomes told us that they are hoping that the land where Joseph was originally buried (Whitemarsh) might be excavated to look for more bones. The original track of 17,000 acres that Joseph owned is where his 17 room house once stood. A dowser found 24 gravesites there and Dr. Owsley said a preliminary investigation found many buried artifacts. Later on the Bridger Family Association was instrumental in funding an archaeological project to unearth the foundation of the house and exhume more bodies and artifacts for identification and investigation.
At the end of his presentation, Dr. Owsley rolled out a table that contained the bones of our ancestor Joseph Bridger. He explained that a femur bone will be kept at the Smithsonian so that in the future when DNA extraction is perfected, they can extract DNA to compare with living descendants. Eventually the bones will be reburied at St. Luke's Church in Smithfield. The weekend culminated with a banquet and meeting Bridger cousins I never knew I had. I have never felt so at home in a room full of people I'd never met before. It was obvious we were all connected to something (and someone) very special.
In order for me to substantiate my descent from Joseph Bridger, I started gathering proof in documents and books in Virginia and North Carolina. I first visited the library in Isle of Wight County Virginia where Joseph Bridger and many of his family members lived and died.
I first spent several days in the Smithfield Library in Isle of Wight County.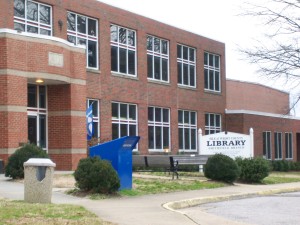 Smithfield Library
They have a separate genealogy room and I was in there by myself for two days. I looked at every book in the library, to see if there might be any info on my Bridger family. I even found a folder in their vertical files on the Bridger family.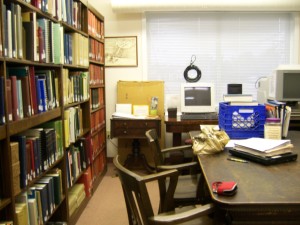 The Genealogy Room in the Smithfield Library
After making copies of pertinent books with references to Joseph Bridger and his family, I then visited the Isle of Wight County Courthouse.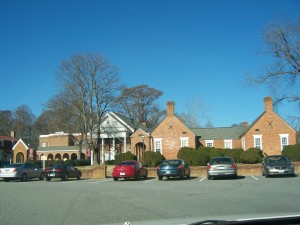 Isle of Wight County Courthouse
I spent several days there copying many wills and deeds from the 1600s. Thankfully, as I mentioned before, the early records were saved from the ravages of wars and time. And then those early documents have been preserved and are now in huge, heavy deed and will books. Since I was copying documents for many of Joseph's family members, I had a lot to copy.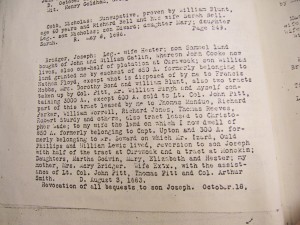 Abstract of Joseph Bridger Sr.'s will, written Aug. 3, 1683
I also went to the Library of Virginia in Richmond where they have records on every Virginia county and all the states that join Virginia. Joseph Bridger's grandson William Bridgers (my 10th great grandfather) migrated to Bertie County, NC in the early 1700s. I was able to find information in North Carolina books at the LVA also. Other descendants in my line then migrated to Sumner County, Tennessee. So I was able to find deeds and will transcripts in books and microfilm in the library.
I also visited the William and Mary College Swem library to look at their archives from the Abingdon Parish Register in Gloucester County Virginia to find a 1744 birth record for Robert Hobday, for my Bridger Family Association application.
I organized my all my source documents to prove my line of descent from Joseph Bridger and submitted them for membership in the Bridger Family Association. My documents were approved and I was admitted as a voting member of the Bridger Family Association in the spring before the Bridger Family Reunion of 2010 took place.
I have since attended the Bridger Family Association annual reunions in Smithfield in 2010, in Suffolk in May 2012, Norfolk in 2013, England in 2014, and Williamsburg in May 2015.
Members of the association donated money so that excavation could be done at Whitemarsh where Joseph Bridger lived. At our 2010 & 2012 banquet we were told by archaeologist Alain Outlaw that he and members of his Wheatland Foundation were indeed able to find a 17th century foundation of what most likely is the location of the 17 room home of Col. Joseph Bridger. Many artifacts were found and cataloged. The complete report can be seen by downloading http://bridgerfamilyassn.org/BOOK/Bridgerreport.doc
One of the most exciting artifacts that has been found at Whitemarsh was a wine bottle seal bearing a seal with three crabs from the Bridger coat-of-arms. (Photo below)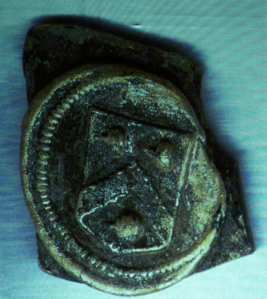 For me personally, I believe the very best part of discovering the bones of my 12th great grandfather in the Smithsonian was meeting and becoming friends with all my Bridger cousins.
PLEASE GO TO www.bridgerfamilyassociation.com for more info on the Bridger Family Association.
If you have any questions about the BFA, you may leave a message in the comment section of this website or contact BFA President Jean Tombs at [email protected]
My line of descent from Joseph Bridger down to me follows:
1 Joseph Bridger b: 1628 in Woodmancote Manor, Dursley, Gloucestershire, England d: 15 Apr 1686 in Whitemarsh, Isle of Wight Co., VA
.+Hester Pitt b: 1631 in Dursley, Gloucestershire, England m: 1644 in Gloucestershire, England d: 1711 in Isle of Wight, VA
..2 Joseph Bridger b: 1658 in Isle of Wight, VA d: 1713 in Isle of Wight, VA
…+Elizabeth Norsworthy b: 1663 in Isle of Wight Co., VA m: Abt. 1679 d: 1727 in Isle of Wight Co., VA
….3 William Bridgers b: 1678 in Isle of Wight Co., VA d: May 1730 in Meherrin River, Bertie County, North Carolina
…..+Elizabeth Godwin b: in Isle of Wight, VA m: Abt. 1700 d: in Edgecombe Co., NC
…. 4 William Bridgers b: Abt. 1703 in Fishing Creek, Edgecombe Co., NC d: Nov 1729 in Bertie Co., NC
…..+Sarah Dew b: Abt. 1705 in Upper Norfolk Co., VA (now Bertie Co., North Carolina) m: Abt. 1724 in Bertie or Chowan Co., NC d: 28 Feb 1754 in Northampton Co., NC
…….5 Patience Bridgers b: Aft. 11 Mar 1728/29 in Upper Norfolk (Bertie Co.), North Carolina d: Aft. 1762 in Bertie or Hertford Co., NC
…….+ Thomas Cotton b: 1722 in Bertie Co., North Carolina m: 1742 in Bertie Co., North Carolina d: Aug 1787 in Hertford Co., North Carolina
……..6 Talitha "Lytha" Cotton b: 1752 in Hertford Co., North Carolina d: 16 Nov 1846 in Sumner Co., TN
……..+ Robert Hobday b: 13 May 1744 in Abington Parish, Gloucester Co., VA m: 1770 in Halifax, NC d: 16 Nov 1797 in Sumner Co., TN
………..7 Thomas Cotton Hobdy b: 1780 in Halifax, Northampton Co., NC d: Aft. 1850 in Morgantown, Butler County, Kentucky
…………+Elizabeth Brackin b: 1781 in Orange Co., N. C. m: 19 Mar 1800 in Sumner Co., TN d: Aft. 1850 in Morgantown, Butler County, Kentucky
………….8 Alexander Hobdy b: 1818 in Kentucky d: Bef. 1880 in Butler Co., KY
…………..+Sarah Ann "Sally" James b: 1825 in Butler County, Kentucky m: 26 Jun 1843 in Butler County, KY d: Aft. 1880
…………….9 Evelyn Hobdy b: 28 Jan 1846 in Ohio Co., KY d: 16 Apr 1938 in McHenry, Ohio Co. KY
……………..+ Samuel Francis Warren b: 07 Aug 1834 in Garrard or Butler Co., KY m: 04 Feb 1863 in Corning, Clay Co., AR d: 09 Dec 1911 in Warren's Mill, Butler Co., KY
……………… 10 Alexander Arthur Warren b: 16 Apr 1868 in Butler Co., KY d: 15 Nov 1947 in Jacksonville, Morgan Co., IL
………………..+Martha A. Short b: 20 Feb 1874 in Missouri m: 02 Jan 1894 in Greene Co., IL d: 04 Feb 1899 in Warren's Mill, Butler Co., Kentucky
…………………. 11 Catherine Evelyn Warren b: 12 Jan 1895 in Warren's Mill, Butler Co., Kentucky d: 07 Oct 1983 in St. Louis City, MO
……………………+Ora Ezrah Hatfield b: 08 Dec 1897 in Elsberry/Annada, Lincoln Co., Missouri m: 10 Apr 1917 in Alton, Madison County, IL d: 14 Mar 1944 in San Francisco, CA
…………………….12 Edsel Arthur Hatfield b: 02 Jan 1919 in East Alton, Madison Co., IL d: 05 Jul 2007 in St. Louis City, Missouri
…………………….+Jessie Louise Whitelaw b: 19 Apr 1921 in St. Louis, MO m: 10 Oct 1942 in Camp Robinson, Pulaski County, Arkansas d: 26 Feb 1991 in St. Louis County, MO
………………………13 Elaine Marie Hatfield ME
I have found many, many books and documents on my Bridger family. I will be adding information from those and I will also add images in hopes of helping other Bridger researchers.
If you would like more information or want to see more descendants of Joseph Bridger, make a post to this website and I will respond.
Elaine Powell
(c) Copyright Elaine Powell 2022. Please ask my permission before copying any of this information or copying my photos, which were taken by me.