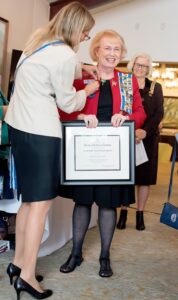 My name is Elaine Hatfield Powell and I have been a genealogist for over 40 years.
In the photo above I was honored to receive the NSDAR Founders' Medal for Patriotism from FSSDAR State Regent Debbie Duay at the November 2021 meeting of my DAR Chapter, the William P. Duval Chapter in Winter Park, Florida. Honorary Regent Ann Maner, who nominated me for the award, looks on. The Ellen Hardin Walworth Medal for Patriotism honors an adult who has displayed outstanding patriotism in the promotion of our American ideals of "God, Home, and Country" through faithful and meritorious service to community, state or nation. Elaine received the award for her 50+ years of volunteerism in church, scouting, hereditary, historical, genealogical, and community groups.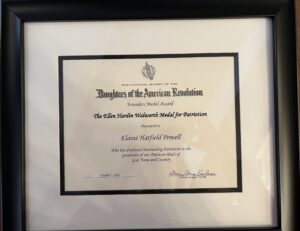 These family history pages have been created by me so that I may preserve the history of my ancestors for family members in the hope that people who share my lineage will find me and these webpages.
I absolutely love doing family history research and learning so much about my ancestors. The joy of discovery is addictive!
Our ancestors are ourselves. And we are the sum total of our ancestors. – Dr. Henry Louis Gates, Jr.
Everyone asks me why I am called The Heritage Lady. When I first became a Creative Memories (CM) scrapbooking instructor in the 1990s, I started working on a heritage album to preserve the photos, stories, and genealogy of my family. Several of my fellow CM consultants started asking me to share my knowledge of how to do genealogy research and how to create a family heritage album like the one I had created on my own family. So I started putting together notes and then they asked me to teach classes to their customers. So I started teaching classes to teach people how to create their own heritage albums. And my own customers started bringing me their vintage family photos to have me help them date or identify their photos. Then somebody called me "The Heritage Lady" because she couldn't remember my name. The name stuck! I self-published my book and the rest, as they say, is history!
Scrapbooking has been a hobby of mine for over 45 years. I've been a professional scrapbooking instructor for over 20 years. I've combined my knowledge of family history research and scrapbooking into a book and a class that instructs others how to create their own family heritage album. I teach class attendees and readers of my book how to incorporate their family photos, genealogy, family history, memorabilia, and family stories into a family heritage scrapbook that will surely be a lasting legacy for any family.
I also teach classes to genealogists on several subjects. See the Classes Taught page for a listing.
I take pride in honoring my ancestors by joining lineage societies as their descendant. Look at the list of the numerous lineage societies and genealogy-related organizations to which I belong.
I am a Genealogy Merit Badge Counselor for Scouts USA, (Boy Scouts of America). Scouts are welcome to contact me if they want to work on their Genealogy Merit Badge.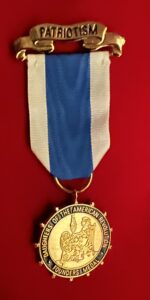 Elaine's DAR Founders' Medal

I have been a life-long volunteer for several different organizations — church, community, schools, scouting, and genealogy/history groups. I have been on the board of at least one organization continuously for the past 52 years.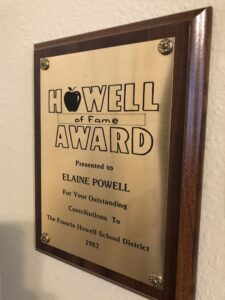 I am honored to have received the Howell of Fame Award in 1987 for my contributions to the Francis Howell School District in St. Charles County, Missouri. I was the first volunteer to receive the award the year that the award was first presented. I was told that people in the school district wanted to recognize me for my many years of service to the school district and so they established the award for that reason. Since that year many deserving volunteers and staff members have received the award.

Scouting for Food
I am very proud of the fact that I was the person who first suggested to a Professional Scouter in the St. Louis Area Council that they initiate a program to collect food for the needy. My suggestion came after a devastating flood happened in the St. Charles County area where I lived in 1982. A number of people lost everything and just living day-to-day and getting enough food was difficult. I also became a Red Cross volunteer that year. So the next year when I found myself at the St. Louis Area Council office discussing advancement with a Professional Scouter, I suggested that the Council might start a program where Cub Scouts and Boy Scouts could collect food and put them in a location where needy people could come to pick them up. I said that it would be considered a Boy Scout Good Turn. That suggestion turned into the Scouting for Food program at the St. Louis Area Council in 1985. As a result of my suggestion, I was the only female Scout leader to be asked to attend the kick-off celebration for the St. Louis Area Council Scouting for Food program in October 1985. Eventually Scouting for Food became a national service project.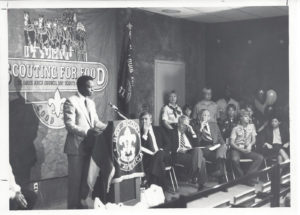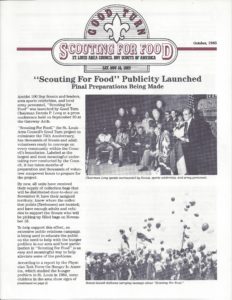 I also am a proud recipient of the Boy Scouts of America Silver Beaver Award, which is the highest award presented to an adult volunteer.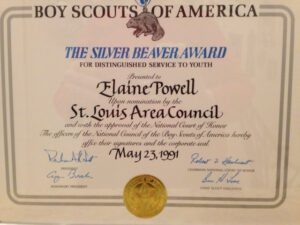 I also received the Boone Award, which is the District Award of Merit for the Boone District, which is in the St. Louis Area Council.
Contact me at [email protected].