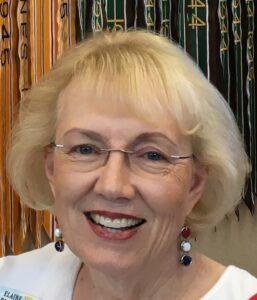 My name is Elaine Hatfield Powell. I built this website to share information about my genealogy research. My passion is family history research and sharing that history. I love "the hunt" and the detective work it entails. I've visited many large and small-town archives, courthouses, and libraries over the years while trying to document my family and their history. I've corresponded with many new-found cousins along the way, and that is by far the best part about family history research.
When I became a scrapbooking consultant in 1995 I started sharing my interest in genealogy and I created a family heritage album. All my customers liked it so much that they asked me to teach them how to create their own heritage album. That evolved into heritage album classes and eventually a book. My customers started calling me "The Heritage Lady" and it stuck!
I have gathered the information that is on these pages over the last 40 years while researching my family. I still have stacks of documents and information to add. So if you see something you have a question about, have information to add, or find something that needs correcting, please email me at [email protected].
I also love teaching others how to research their family history and to document that history in their scrapbooks, on websites, or in family history books. Check out my classes.
This website is copyrighted. PLEASE do not "cut and paste" information from this website. I am continually updating and correcting information. If you want to share information that is on my webpages, it's best to include the URL, rather than cutting and pasting because that way people will see the most up to date information. Thanks!
This website has been created by Elaine Hatfield Powell in Orlando, Florida.
© 2023