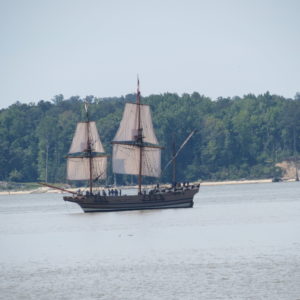 My 10th great grandparents John and Sarah Woodson sailed to Virginia in April of 1619 on the ship George. John Woodson was the surgeon to the Jamestowne Company. They would have landed near the Jamestowne Fort. However, the population by that time was expanding beyond the fort. So John and Sarah settled in one of the newer James River Plantations, Flowerdew Hundred, which is upriver from Jamestown. A hundred was historically a division of a shire or county. Flowerdew Hundred was named after the Flowerdew family.
John Woodson, the Doctor
Many refer to John Woodson as Doctor; however, he was not a trained physician. According to the website A History of Medicine, as it refers to medicine in the 17th century: "In an age before anesthetics, surgery is inevitably a limited branch of medicine. It is also considered a rather lowly craft, despised by doctors whose reputation is based on their knowledge of the approved authorities rather than clinical skills. Surgeons are linked with barbers, who also require sharp instruments to practice their trade."
From a website about Colonial Doctors: "Very few medical advances had been made by colonial times. Medicines were made from herbs, roots, tree bark, plants and occasionally even animal parts. Bleeding a patient was a common practice and was believed to remove harmful toxins from the body. Aches and pains were treated with a hot poultice, and a cold cloth was one of the best remedies available for a fever. Headaches could be treated by smoking cottonweed boiled in lye in a pipe, or with vinegar of roses. Other remedies proved more effective and are still used in medications today. Calamine was used for skin irritation, and chalk was used for heartburn."
From Patrick Napier, Colonial Surgeon: "During the early colonial times, many doctors came to Virginia with the prospects of being able to practice medicine freely, with virtually no restrictions. They provided an important service to the colonists…Dr. Patrick Napier was not the only colonial surgeon that was present in Jamestown during this time, but along with the 5-6 other physicians they are noted for helping to keep the colony alive and practicing the first bits of medicine in the New World."
Abraham Piersey purchased the Flowerdew Plantation in 1624 and renamed it Piersey's Hundred. John and Sarah are on the 1624 Muster, where 60 people were recorded as living there.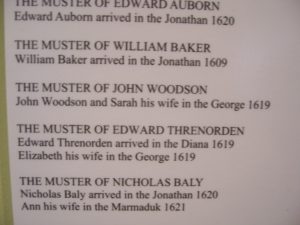 John Woodson survived the Indian massacre of 1622. However, when Powhatan's brother Opechancanough also led the second massacre, which was throughout the Virginia and Maryland region, John Woodson was killed during that Indian uprising on April 18, 1644. Over 500 English were killed during that attack.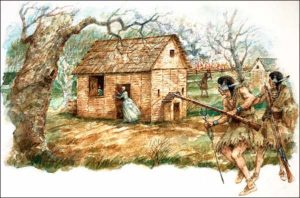 The story passed down through generations states that John's wife Sarah, along with a man named Ligon, fought off and killed three Indians in her home with a long rifle. That rifle, having had many changes to it over it's history, is housed in the Virginia Historical Society in Richmond, Virginia.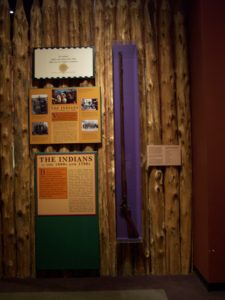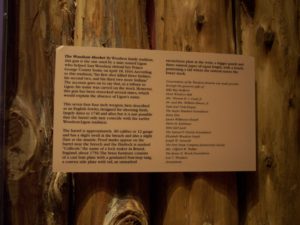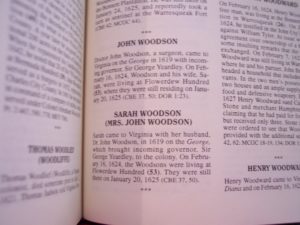 There are numerous websites that have information on John Woodson. They are listed at the end of this page.
Flowerdew Hundred
In 1981, David Harrison II, then owner of Flowerdew Hundred, created the Flowerdew Hundred Foundation. The Foundation operated a museum and conducted tours of the plantation and reconstructed windmill until 2007. After Harrison's death the museum closed in October 2007, the reconstructed windmill was dismantled, and the plantation was sold. The University of Virginia houses the collections from Flowerdew Hundred. A Time magazine 1972 article entitled America's King Tut tells us that a stone foundation of a manor house was discovered at the plantation in 1971.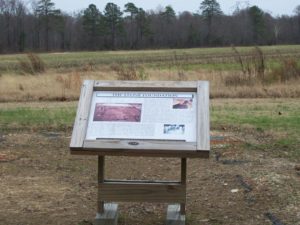 I had the good fortune to visit the Flowerdew Hundred Museum in December 2006 before it closed. The docent of our tour told us that the house, (photo below), was likely the home of John and Sarah Woodson because he would have been the most prominent person at Flowerdew. You can see what remains of the brick foundation of that house in the photo below.
I'm so glad I was able to visit there before it closed. It's such a shame that it has been lost to history, never to open again. I've enclosed photos from our trip to Flowerdew Hundred…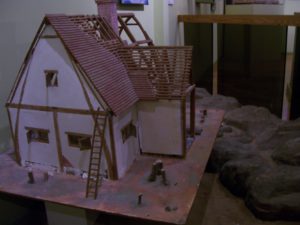 John and Sarah Woodson and their children:
1 John Woodson b: 1586 in Dorset, Dorsetshire, England, d: 18 Apr 1644 in Fleur De Hundred, Charles City, Prince George Co., Virginia
m. Sarah (last name unknown) b: 1590 in Of, Devonshire England, m: 1619 in Dorsetshire, Devonshire, England, d: 17 Jan 1660 in Prince George, Virginia
.2 John Woodson b: 1634 in Fleur De Hundred, Prince George Co., Virginia, d: 01 Oct 1707 in Varina, Henrico Co., Virginia
m. Mary Pleasants, b. 11 Feb 1633 in England; d. 1 August 1710 in Curles, Henrico Co., Va.
.2 Robert Woodson b: 1634 in Fleur De Hundred, Prince George Co., Virginia, d: 01 Oct 1707 in Varina, Henrico Co., Virginia
My line of descent from John Woodson:
1 John Woodson b: 1586 in Dorset, Dorsetshire, England, d: 18 Apr 1644 in Fleur De Hundred, Charles City, Prince George Co., Virginia
Sarah (last name unknown) b: 1590 in Of, Devonshire England, m: 1619 in Dorsetshire, Devonshire, England, d: 17 Jan 1660 in Prince George, Virginia
.2 Robert Woodson b: 1634 in Fleur De Hundred, Prince George Co., Virginia, d: 01 Oct 1707 in Varina, Henrico Co., Virginia
Elizabeth Ferris b: 1638 in Curles, Henrico, Virginia; m: 1656 in Curles, Henrico Co., Virginia, d: 1689 in Henrico Co., VA
..3 Sarah Woodson b: 1665 in Curles, James City Co., Virginia; d: 12 Aug 1716 in Henrico Co., VA
Edward Mosby b: 1660 in Henrico Co., VA, m: 1689 in Henrico, Virginia; d: 03 May 1742 in Curles, Henrico, Virginia
…4 John Mosby b: 01 Jun 1689 in Henrico, VA, d: 20 Nov 1718 in Henrico Co., VA
Martha Womack b: 30 Jun 1680 in Henrico Co., VA, m: 21 Nov 1708 in Henrico, Virginia, d: 06 Oct 1758 in Cumberland, VA
….5 John Mosby b: 1710 in Westover Plantation, Henrico, Charles City Co., VA, d: 07 Dec 1801 in Cumberland, VA
Lucy Hobson Allen b: 30 Jun 1731 in Westover Plantation, Henrico, Charles City, Colony of Virginia, m: Sep 1746 in Henrico, Virginia, d: 30 Jun 1801 in Henrico Co., VA
…..6 Lucy Mosby b: 1762 in Henrico Co., Virginia, d: 26 Sep 1819 in Beaver Dam, Ohio Co., Kentucky
John James b: 1750 in Hanover Co., Virginia, m: 1780 in James City Co.Virginia,, d: 16 Sep 1819 in Beaver Dam, Ohio Co., Kentucky
……7 William "Billy" Samuel James b: 1780 in Hanover Co., Virginia, d: Bet. 1840–1848 in Butler Co., KY
Catherine Ann Parker b: 1785 in Woodington, Lenoir, North Carolina; m: 06 Apr 1801 in Ohio Co., Kentucky, d: 18 Jan 1843 in Butler, Kentucky
…….8 Sarah Ann "Sally" James b: 1825 in Butler County, Kentucky, d: Aft. 1880
Alexander Sanders Hobdy b: 1818 in Butler Co., Kentucky, m: 27 Jun 1843 in Butler County, KY, d: Bef. 1880 in Butler, Kentucky
…….9 Evaline Hobdy b: 28 Jan 1846 in Ohio Co., KY, d: 16 Apr 1938 in McHenry, Ohio Co. KY
Samuel Francis Warren b: 07 Aug 1835 in Garrard Co., KY, m: 04 Feb 1863 in Corning, Clay Co., AR, d: 08 Dec 1911 in Warren's Mill, Butler Co., KY
………10 Alexander Arthur Warren b: 16 Apr 1868 in Butler Co., KY, d: 15 Nov 1947 in Jacksonville, Morgan Co., Illinois
Martha A. Short b: 20 Feb 1874 in Missouri, m: 02 Jan 1894 in Greene Co., IL, d: 04 Feb 1899 in Warren's Mill, Butler Co., Kentucky
……….11 Catherine Evelyn Warren b: 12 Jan 1895 in Kane, Greene Co., IL, d: 07 Oct 1983 in St. Louis City, MO
Ora Ezrah Hatfield b: 08 Dec 1897 in Elsberry, Lincoln Co., Missouri, m: 10 Apr 1917 in Alton, Madison County, IL, d: 14 Mar 1944 in San Francisco, California; Name at time of death: Edward Melvin Hatfield
………..12 Edsel Arthur Hatfield b: 02 Jan 1919 in East Alton, Madison Co., IL, d: 05 Jul 2007 in St Louis (City), Missouri
Jessie Louise Whitelaw b: 19 Apr 1921 in St. Louis City, MO, m: 10 Oct 1942 in Camp Robinson, Pulaski County, Arkansas, d: 26 Feb 1991 in St. Louis County, MO
…………13 Elaine Marie Hatfield
Here are some websites that have information on John Woodson:
John Woodson of Flowerdew Plantation, Virginia:
http://webpages.charter.net/pepbaker/woodson.htm
John Woodson:
http://leecase.tripod.com/woodson.htm
Biography of Dr. John Woodson:
https://familysearch.org/photos/artifacts/2567072
Roots and all — A Genealogy Blog:
http://rootsandall.blogspot.com/2014/07/ancestor-spotlight-dr-john-woodson.html
Descendants of Dr. John Woodson:
http://freepages.genealogy.rootsweb.ancestry.com/~cindyblankenship/garrett_tucker_info.htm
Historical Genealogy of the Woodsons and Their Connections:
https://books.google.com/books?id=GuhfAAAAMAAJ&pg=PA23&lpg=PA23&dq=fleur+de+hundred&source=bl&ots=Ufux8YdcSO&sig=fHFszCMm8PhVUK5XM_H1yiOTTc0&hl=en&sa=X&ved=0ahUKEwiAnNSCsJ_PAhVBRCYKHQ04AM0Q6AEIVDAI#v=onepage&q=fleur%20de%20hundred&f=false
Dr. John Woodson Facebook page:
https://www.facebook.com/groups/121586451193121/
John Woodson (1585-1644) and Sarah Winston Woodson (1590-1660) – One Survived a Massacre, the Other Didn't:
https://davisduncangivensandhare.wordpress.com/2013/02/
Dr. John & Sarah (LNU) Woodson:
http://huskey-ogle-family.tripod.com/ancestorarchives/id47.html
The yDNA Woodson project:
http://www.worldfamilies.net/surnames/woodson/results?raw=1
Archaeology at Flowerdew Hundred:
https://explore.lib.virginia.edu/exhibits/show/layersofthepast/layers_archprocess