My grandparents were Thomas Rees Whitelaw and Martha "Maude" Elizabeth Wirtz.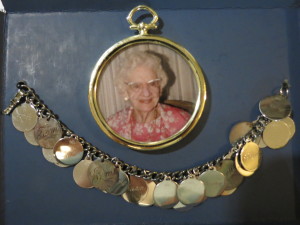 Maude Whitelaw's Grandchild Bracelet
Every time my Grandma had a new grandchild she would be given a silver charm for her charm bracelet. Since I was the only grandchild with her when she died, my aunt gave me the bracelet. I have it framed with her photo. She had 33 grandchildren, and when she died at age 95 she had a total of 95 grandchildren, which included great grandchildren and great-great grandchildren!
This page tells about my grandma's Wirtz family.
Martha's name on her original birth record was MATTIE Wirtz! Nobody in the family knew this and she is not listed as Mattie in any other record.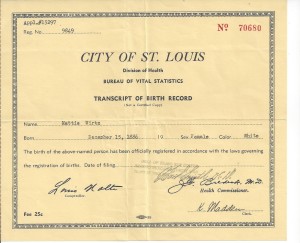 Mattie Wirtz born December 15, 1886
Then I found a corrected Birth Record that lists her name as Martha Wirtz! See below.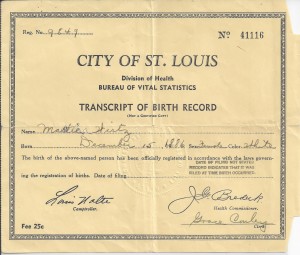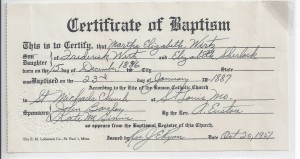 Her baptism record lists her name as Martha Elizabeth Wirtz
This bible page below lists the marriage of Martha Wirtz and Thomas Rees Whitelaw.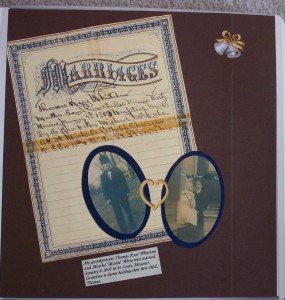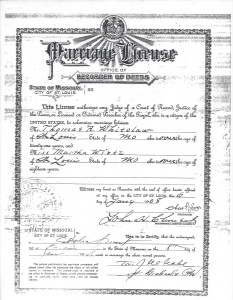 I knew that the father of Martha Wirtz was Frederick P. Wirtz and he was born in St. Louis.
The Wirtz family first sailed to America in ca. 1853. Henry (Henri) was the immigrant ancestor. Heinrich "Henry" Wirtz married Cecelia Gruber/Gruben in Monheim A Rhein, Rheinland, Prussia on 26 Oct 1832.
The first page of the Manifest states they sailed on the ship The Mountaineer, from the port of Antwerp into New Orleans, Louisiana. Unfortunately the DATE is not listed!
The ship's manifest list the following:
Henri Wirtz, age 37 (born ca 22 April 1806 in Prussia (later Germany). His parent's were Henrici Wirtz and Gertrudis Blanck.
Cecelia Wirtz (Henri's wife), age 36 (nee Gruber)
Paul Wirtz, age 20
Theodore Wirtz, age 17 (my 2nd great grandfather)
Anna Wirtz, age 14
Stephen Wirtz, age 11
Gertrude Wirtz, age 9
Marianna Wirtz, age 7
Peter Wirtz, age 4
Jacob Wirtz, age 2/3
Another child, Mary Wirtz was born after they arrived in America.
Unfortunately, The name WIRTZ has been spelled incorrectly when indexing some census records on Ancestry.com. I have made corrections on Ancestry.
Cecelia Wirtz died
1870 Census (below) with Theodore Wirtz, his wife Wilhelmina "Mena" and their children, who were all born in Missouri: Ida, Cecelia, Fred, Bertha, and Henry. Also in their household is Theodore's father Henry, age 64.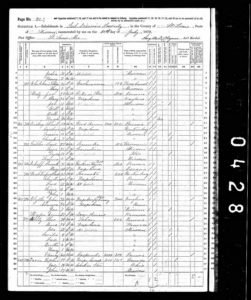 Theodore Wirtz died of pneumonia on 21 December 1876, before his father. His death record is below.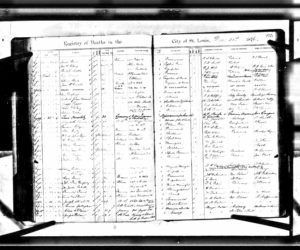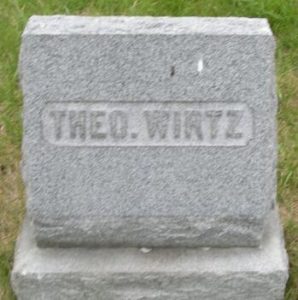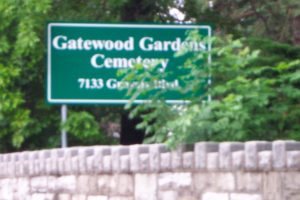 The first St. Louis 1880 census is below.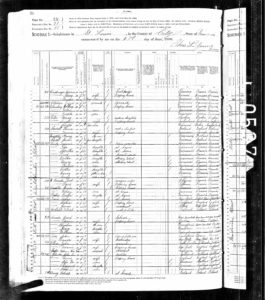 In 1880 there were TWO censuses taken in St. Louis, Missouri. The 2nd 1880 census of Minnie Wirtz and family is below. There were no changes other than names are a little different. Fred is now Freddy and Annie is now Anna.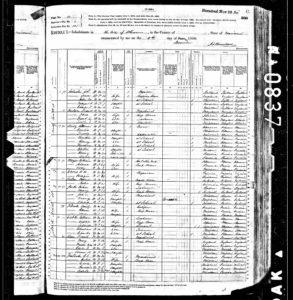 Wilhelmina "Minnie" (Keisker) Wirtz died 12 December 1889. The Internment Register is below.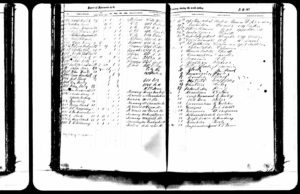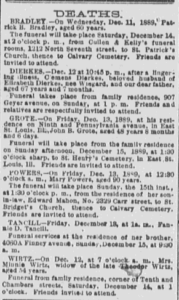 From the St. Louis Republic Newspaper, December 14, 1889, above.
Below is the 1900 Census of Frederick Wirtz and family. Frederick is my great grandfather.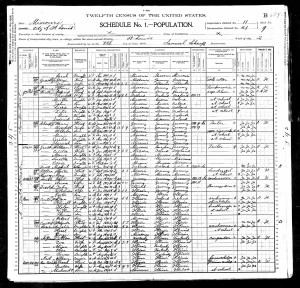 Frederick Wirtz in the 1900 United States Federal Census
Frederich Wirts
[should be Frederick Wirtz]
Age:
35
Birth Date:
Sep 1864
Birthplace:
Missouri
Home in 1900:
St Louis Ward 2, St Louis (Independent City), Missouri
Race:
White
Gender:
Male
Relation to Head of House:
Head
Marital Status:
Married
Spouse's Name:
Elisabeth Wirts (should be WIRTZ)
Marriage Year:
1886
Years Married:
14
Father's Birthplace:
Germany
Mother's Birthplace:
Germany
Occupation:
Saloon proprietor
ALL NAMES SHOULD BE WIRTZ
Household Members:
Fred Wirtz died in 1911. His death certificate is below.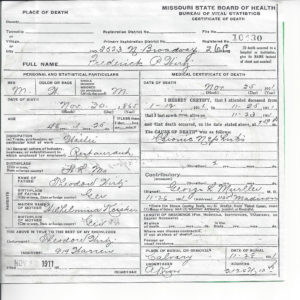 Fred is buried in Calvary Cemetery. He has no tombstone or marker.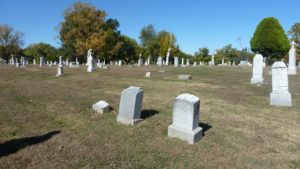 Obituary in St. Louis Post Dispatch, Nov. 27, 1911. pg. 14. – Entered into rest on Saturday, Nov. 25, 1911, at 7:45p.m., Frederick P. Wirtz Jr., beloved husband of Elizabeth Wirtz (nee Sherlock), and father of John, Catherine, Freddie, Beatrice Wirth (should be Wirtz), Mrs. Whitelaw and Mrs. Elizabeth Conley (nee Wirtz), son of Frederick P. Wirtz Sr., (this is WRONG, he was son of Theodore.) brother of Theodore, Mrs. Cecelia Meyer, Mrs. Bertha Wilke and Mrs. Hattie Cool (nee Wirtz). Funeral on Tuesday, Nov. 28, at 8:30 a.m. from Kron's funeral parlors, 2124 North Tenth Street, to St. Michael's Church.
There are TWO errors on the above obituary. It states that Frederick Wirtz Jr. was the son of Frederick P. Wirtz St. Frederick was actually the son of Theodore Wirtz and Wilhelmina (Keisker) Wirtz. The second error is that his children are listed as John, Catherine, Freddie, Beatrice WIRTH. The name should be spelled WIRTZ.

Fred's wife Elizabeth "Lizzie" Sherlock. She was born in County Cork, Ireland. They met and married in St. Louis on 20 February 1886. The marriage Record of Frederick Wirtz and Lizzie Sherlock from St. Michael's Church in St. Louis, Missouri is below. Photo of St. Michael's Church is below the marriage record. The church is no longer open.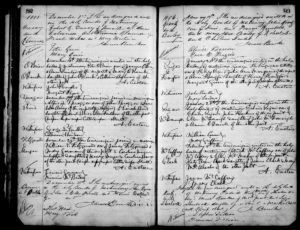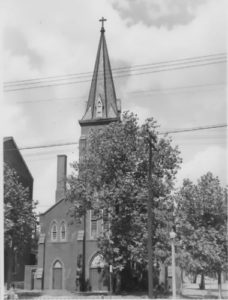 Fred's parents were Theodore & Wilhelmina (Keisker) Wirtz. Theodore and Wilhelminia "Minnie" were grocers at 933 Chambers. That area is just north of what is now the St. Louis Arch. However, the building and that address no longer exists. Minnie continued to run the grocery after Theodore died.
Theodore was born about 1831 in Dissen, Osnabruck, Niedersachsen, Prussia, which is in Lower Saxony. His and his father's Naturalization Papers show they were from Prussia.
At that time the area we call Germany today was not a single country, but a language zone like Latin America. This zone was much larger than today. It comprised of four major river valley basins. Our Wirtz family lived in the area known as the Rhine River basin. More specifically, these Saxon Germans inhabited the Elbe and Oder river basins.
Saxon Germans tended to be Lutheran. The death record for Theodore Wirtz states he is a German Protestant.
Look at this YouTube Video that shows the changing Political Borders of Germany from 1789 to 2005. VIDEO
After the Congress of Vienna in 1815, Germany, then a group of states, the largest being Prussia and covered much of Central Europe. Various wars and treaties led it to gain and lose territory to surrounding countries. Germany as a nation didn't exist until 1871, which was after my Wirtz family came to America. Its changing boundaries resulted in many Germans living outside the borders of Germany, and many non-Germans living inside Germany.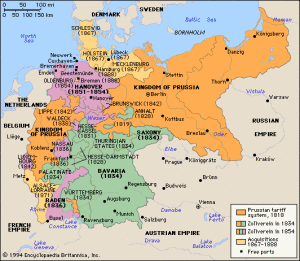 KEISKER FAMILY
The wife of Theodore Wirtz was Wilhelmina Keisker. Her family sailed to America in 1854.
Below is the Passenger List for the Keisker family who sailed on the ship Hermann to New Orleans, La. on 6 Nov 1854.
On the ship with Wilhelmina Keisker (age 13) are her parents Fred, age 47 & Catherine Keisker, age 46; and her siblings Charles, age 21; Fred, age 11; William, age 9; and August, age 5. They left from Hanover and the record lists their birthplace as Hanover, Saxony, Germany. They sailed from Breman to New Orleans and would have taken a steamboat up the Mississippi River to St. Louis. Immigrants flooded into St. Louis after 1840, particularly from Germany.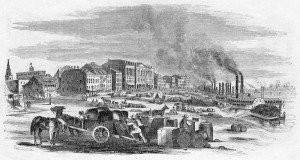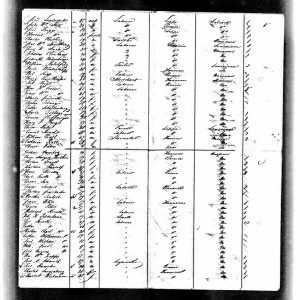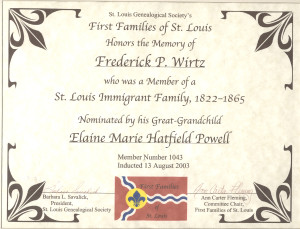 Because my Wirtz family was in St. Louis before 1865, I was able to become a member of the St. Louis Genealogical Society's First Families of St. Louis.
The earliest public record for my WIRTZ family in St. Louis is in the 1860 City Directory of St. Louis, as follows:
Henry Wirtz, carpenter, r. 62 Chambers (r means rear — so he lived in the rear apartment of the building.)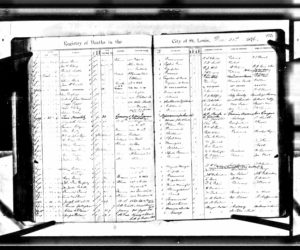 In the same house was Henry's son Theodore:
Theodore Wirtz, grocer, 10th N.E. c. Chambers, r. 62 Chambers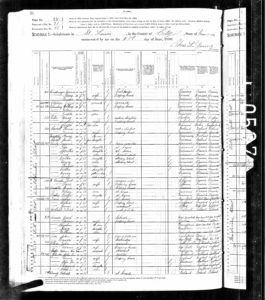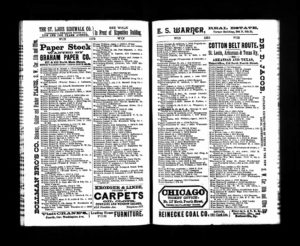 Henry Wirtz, Wagonmaker
My 3rd great grandfather was Heinrich Wirtz. He was born in Prussia. He and his family immigrated to America and left Antwerp and arrived in New Orleans on Nov 2, 1853. They then would have sailed on a riverboat up the Mississippi River to arrive in St. Louis. The name of the ship was Mountainier.
The following were listed on the ship's manifest: Henri, b. 1806, Cecelia, b. 1817, Paul, b. 1833, Theodore b. 1836; Anna b. 1839; Stephen b. 1842; Gertrim (Gertrude), b. 1843; Marianna b. 1846; Peter, b. 1849, Jacob b. 1853.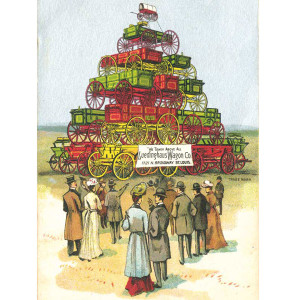 In the 1864 St. Louis City Directory Henry Wirtz is listed as a wagonmaker, working for Louis Espenschied . Son Theodore is a grocer at 61 Chambers.
From the few historical accounts and company records that do exist, it is known that Murphy wagons achieved a significant reputation within the freighting community. In fact, according to the recollections of D.P. Rolfe, a freighter in the 1860s, "The freight wagons used were the Murphy and Espenschied, made in St. Louis…"
St. Liborius Church
The Wirtz family were members of St. Liborius Church which is located at 1835 N. 18th St. in St. Louis, and Henry Wirtz left money to the church in his will.
St. Liborius was established as a German national parish in 1856. The church was completed in 1889 and closed in 1992.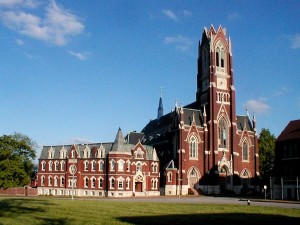 There was a Theodore WIRTZ in St. Louis that WAS NOT our Theodore. I found a bio of him in the St. Louis Archdioses book. It has a photo of him, and it is NOT our Theodore. So there was obviously TWO men name Theordore Wirtz in St. Louis. I do not believe that those two Wirtz families were related.
1870 St. Louis census:
Fred Wirtz, aged 45, (b. 1825) Born in Baden, 12-WD 22 Sub Div, St. Louis, M593 Series, Roll 822, Page 850. (This is the Fred that is married to Emily)
Johan Wirtz, aged 32, (b. 1848) Born in Wurt, 4-WD 8-Sub Divn, St. Louis, M593, Roll 813, Page 511
John Wirtz, aged 37, (b. 1833) born Swit, St. Ferdinand Twp, St. Louis, Series M593, Roll 809, Page 302
Julius Wirtz, aged 24, (b. 1836) born in Hano, -WD 3-Sub Divn, St. Louis, Series M593, Roll 811, page 607
Peter Wirtz, aged 32,(b. 1848) born in Prussia, 5-WD 73-Sub Divn, St. Louis, Series 593, Roll 815, Page 25 (This is a son of Henry.)
Anna D. aged 19, (b. 1851) born in Swit, 4-WD, 9-SUB DIVN, St. Louis, Series M593, Roll 813, Page. 646.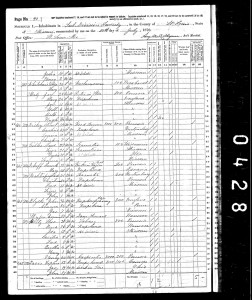 I have a naturalization document for Henry Wirtz, dated December 16, 1858. Since you would have had to have been in America for at least five years before becoming naturalized, that means that Henry (Heinrich) probably would have arrived in 1853. His son Theodore was Naturalized in 1861.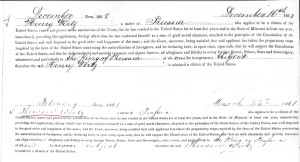 1858 Naturalization for Henry Wirtz and 1861 Naturalization for Theordore Wirtz
Henry's wife Cecelia Wirtz (nee Gruber) died on April 11, 1860.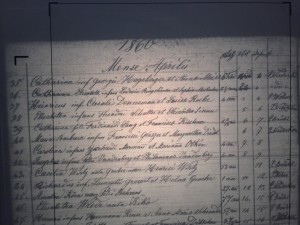 Henry then remarried to Ida Fischer. They had one child, Mary. Henry then died Nov 13, 1893 in St. Louis at age 88.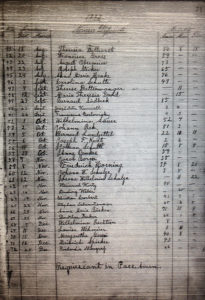 Death record for Heinrich Wirtz from St. Liborius Church in St. Louis
GERMANS TO ST. LOUIS, MISSOURI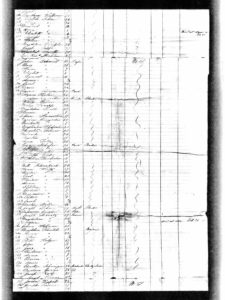 In 1833, two men from Giessen, Germany, decided to immigrate to the United States where they hoped to create their own utopia with the freedoms and democracy they desired but did not have under an aristocracy. They recruited hundreds of others and formed the Giessen Emigration Society.
"It was the year 1834 when 500 Germans came over here to Missouri with the big idea of creating a German state as a new state within the United States of America,"
That movement was not the only one that encouraged Germans to settle in Missouri. From the book St. Louis — A Consise History by William Faherty, S. A. stated: "The coming of German immigrants resulted in great part from the writings of Gottfried Duden (1789-1856), a civil official of Cologne. Concluding that over-population was his country's main problem, he came to America and conducted a one-man campaign by letter for the colonization of Missouri. While living at Dutzow, up-river from St. Charles, he praised Missouri's climate, fertility, freedom, resources and opportunities. Many people read these letters (they were published in a book) that compared the Missouri River country with their ancestral Rhineland. Catholics and Evangelicals from the Rhine provinces began to come to St. Louis in the late 1820 and 1830s…and settled in an area that became known as New Bremen. In the three years after 1833, 7,000 Germans moved to St. Louis."
In another of William Faherty's books The St. Louis German Catholics, he states: "German immigrants began to come in significant numbers in the late 1830s. Westphalians and Hanoverians sailed from the port of Breman and called their community north of St. Louis Bremen. Rhinelanders and Bavarians embarked from LeHavre in France and landed in New Orleans. The steamboat trip up the Mississippi was inexpensive… almost all of the German immigrants to St. Louis came from the three northwestern provinces, bordering on the Netherlands, repressed by Prussian rulers since the Treaty of 1815: the Rhineland, with Cologne its capital; Westphalia…and Hanover, which included the port of Breman."
Below is the 4-generation outline descendant chart for Heinrich Wirtz:
1 Heinrich (Henry) Wirtz b: 1805 in Baden, Prussia, d: 13 Nov 1893 in St. Louis, Missouri
+ Cecelia Gruber b: 1807 in Prussia (Germany), m: Abt. 1832 in Prussia (Germany), d: 11 Apr 1860 in St Louis City, Missouri, USA
.2 Mary Wirtz d: Aft. Nov 1893
+ John H. Kurster d: Bef. Nov 1893
.2 Paul Wirtz b: 1833 in Baden, Prussia
.2 Theodore Wirtz b: Sep 1834 in Germany, d: 21 Dec 1876 in 2002 N 10th, St. Louis, MO
+ Wilhelmina Keisker b: 1836 in Saxony (Sachsen), Germany, m: Abt. 1858 in prob. Missouri, d: 12 Dec 1889 in St. Louis, MO
..3 Ida Wirtz b: 1859 in Woodville, Greene Co., Illinois, d: Bef. 1911
..3 Cecellia Wirtz b: 1862 in Woodville, Greene Co., Illinois, d: Aft. 1893 + Herman Meier d: Aft. 1893
..3 Frederick P. Wirtz b: 30 Sep 1865 in St. Louis, Missouri, d: 25 Nov 1911 in St. Louis, MO
+ Elizabeth "Lizzie" Sherlock b: 30 Sep 1863 in County Cork, Ireland, m: 20 Feb 1886 in St. Louis, MO, d: 20 Mar 1921 in St. Mary's Infirmary, St. Louis, MO
…4 Elizabeth "Pibbits" Wirtz b: Jun 1882 in St. Louis City, MO, d: 31 Jan 1966 in St Louis City, Missouri
+ Thomas M. Conley b: 12 Dec 1876 in St Louis City, Missouri, d: 13 Oct 1956 in St. Louis County, Missouri
…4 BABY Wirtz b: Bet. 1886–1900
…4 BABY Wirtz b: Bet. 1886–1900
…4 Martha "Maude" Elizabeth Wirtz b: 15 Dec 1886 in St. Louis, MO, d: 16 Jun 1981 in St. Louis, MO
+ Thomas Rees Whitelaw b: 01 Dec 1885 in St. Louis, MO, m: 08 Jan 1908 in St. Louis, MO, d: 15 Aug 1947 in St. Louis, MO
…4 John P. Wirtz b: 18 Apr 1888 in Missouri,United States of America, d: 08 Aug 1968 in St. Louis, MO + Ellen Nellie Foley b: 1895 in Illinois, USA, d: 13 Oct 1981 in St. Louis, MO
…4 Nellie Wirtz b: Feb 1890 in St. Louis, MO, d: 07 Jul 1890 in St Louis, Missouri, USA
…4 Lizzie Wirtz b: Jun 1891 in St. Louis, MO, d: Bef. 1910 in St. Louis, MO
…4 Kathryne "Kate" Wirtz b: Dec 1894 in St. Louis, MO, d: 23 Mar 1921 in St. Louis, Missouri + Jack Shay
…4 Marie Wirtz b: Apr 1897 in St. Louis, MO, d: 11 Feb 1908 in St. Louis, MO
…4 Frederick Thomas Wirtz b: 06 Jun 1899 in St. Louis, MO, d: 18 Nov 1942
+ Gertrude ? b: 14 Oct 1901, d: 26 Apr 1989 in Bridgeton, St. Louis County, Missouri
…4 Beatrice Wirtz b: 1902 in St. Louis, MO
+ ? Krause
..3 Bertha Wirtz b: 02 Aug 1866 in St. Louis, Missouri, d: 09 Mar 1917 in St Louis, St Louis, Co. Missouri, USA
+ Edward Julius Wilke b: 04 Jul 1864 in Clayton, St. Louis Co., Missouri, m: 1890 in St. Louis, Missouri, d: 12 Mar 1906 in St Louis, Missouri, USA
…4 Edgar Bernard Wilke b: 01 Aug 1892 in St Louis, St Louis, Co. Missouri, USA, d: Aug 1966 in Missouri + Mae ? m: 1920 in St. Louis, Missouri
…4 Adaline Wilke
..3 Henry Wirtz b: 1869 in Woodville, Greene Co., Illinois, d: Bef. 1911
+ Anna Menke b: 20 May 1867 in New Haven, Missouri, d: 14 Jul 1934 in St. Louis City, Missouri
…4 Edward Wirtz b: 20 Jul 1888 in Woodville, Greene Co., Illinois, d: 08 Mar 1949 in St. Louis City, Missouri + Veronica d: Aft. 1949
..3 Theodore J. Wirtz b: 08 Feb 1871 in St. Louis, Missouri, d: 02 Jun 1935 in St. Louis City, Missouri
..3 Henrietta "Hattie" Wirtz b: 1873 in Woodville, Greene Co., Illinois, d: Aft. Nov 1893 + Frederick Pool d: Aft. Nov 1893
2 Anna "Annie" Wirtz b: 1839 in Prussia, d: 02 Jul 1884 in St. Louis, Missouri
.2 Joseph Wirtz b: 1839, d: 29 Feb 1864 in St Louis City, Missouri
.2 Stephen Wirtz b: Abt. 1842 in Baden, Prussia
.2 Gertrim Wirtz b: Abt. 1844 in Baden, Prussia
.2 Marianna Wirtz b: Abt. 1846 in Baden, Prussia
.2 Peter Wirtz b: 1848 in Baden, Prussia, d: 14 Feb 1905 in St Louis City, Missouri
.2 Jacob Wirtz b: 1853 in Baden, Prussia, d: 14 Aug 1879 in St Louis City, Missouri
2nd wife of Heinrich Wirtz: Ida Fischer b: Abt. 1818 in Prussia, m: Aft. 11 Apr 1860 in St Louis City, Missouri, USA, d: Bef. 1870
If you are related to my Wirtz ancestors, or want more information, please contact me at [email protected]