---
Anne McKinney [00029] Capture By the Indians
---

This map shows the area where Anne McKinney Musick and her five children were taken by the Shawnee Indians in 1792. The Musicks were living in the general area of Honaker, Virginia at the time of the kidnapping of Anne and the children and the killing of her husband, David Musick. The Indians took her and the children along the Indian Creek and across Indian Ridge (indicated on the map). The settlers who came to their rescue caught up with the party at Haysi. By way of scale, the road distance from Honaker to Haysi is slightly over 25 miles.

Some information states that the David Musick home was at the junction of Weaver and Hart Creeks, which are shown at the bottom of this map. The historical marker indicating the location is actually along highway 80 about four miles from Honaker. I do not yet have definite information on which is more accurate.

Rev. Grover C. Musick got what is probably one of the most detailed descriptions of the path followed by the Indians, Anne Musick and her children (excerpted from a speech given by Judge Elihu J. Sutherland at the dedication of the David Musick monument in 1956):

The course the Indians and their captives followed led over Big A Mountain into the present county of Buchanan, down a ridge which bears the name of Indian Ridge in memory of this event, following Indian Creek, which also takes its name from this event. They came to Russell Fork River, down which they went through the Sand Lick section of Dickenson County to the junction of Russell Fork River with Russell Prater Creek, where the present town of Haysi is now located. Night coming on they decided to camp there. Crossing a knoll a few yards above where Russell Prater enters Russell Fork, they forded the river to what was at that time a small island.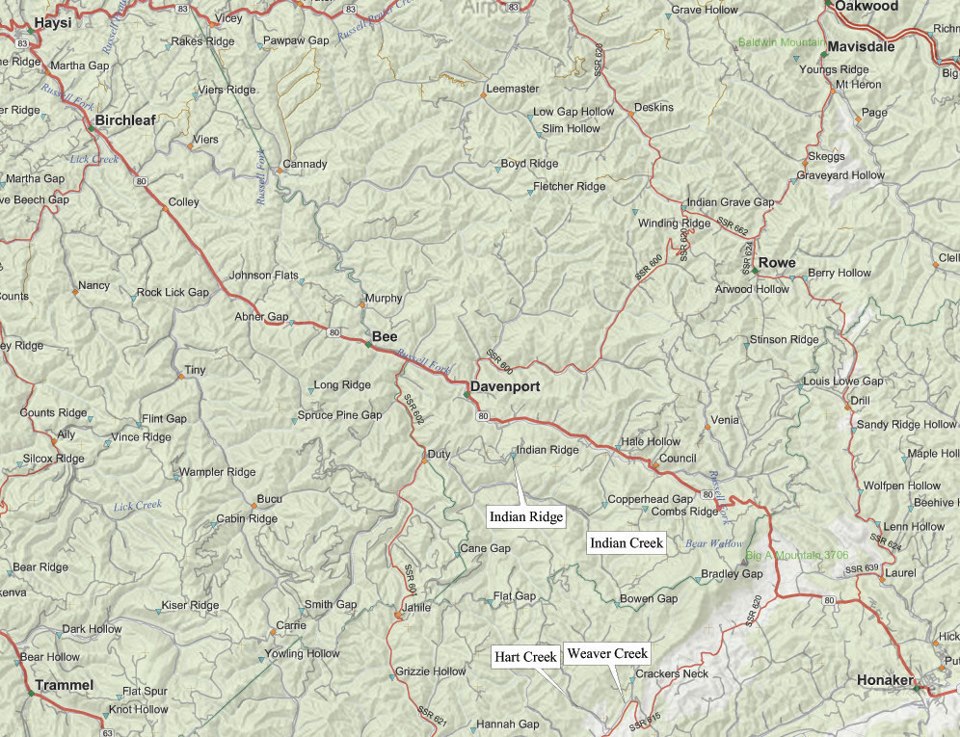 ---
---
Your "back" function should return you to your previous location.
---
Except as noted, foreground and background images are original photos from Minnesota by the webmaster.