---
1897 minutes of the Little Hope Church
---

The Church granted the following members letters of dismission (to wit) Cadal Hatfield, Pricy Hatfield, William Smith, Jane Smith, G. W. Whitt, Nancy Hatfield, Perlina Smith, Elisabeth Hatfield, Huldah Hatfield, Josephine Hatfield to be organized into a Church on Blackberry Creek.

This was from December, 1897 minutes of the Little Hope Church of the Mates Creek Association

This was apparently the formation of the old Samaria Primitive Baptist Church. In the obituary of Cordel Hatfield, it's mentioned that he was the clerk of the Samaria Church from the time it was established December 6, 1897 until his death.

The Samaria Primitive Baptist Church was organized 1897 on Blackberry Creek in Left Fork. First was added to the name after the split in 1933. If you look at the pictures of the church this is the info on the sign... The Mates creek Primitive Baptist goes back to its very beginning in Kentucky and W VA the date is about 1850 Elder Billy Whitt was with the first church and George Washington Whitt (G W Whitt) was a officer in the first church and later helped to organize the Samaria Primitive Baptist Church. You may not know the above name but you may know Rolan Whitt father of Elder Charlie Whitt . Elder Billy Whitt the Great Grandfather and G W Whitt the Grandfather of Elder Charlie Whitt...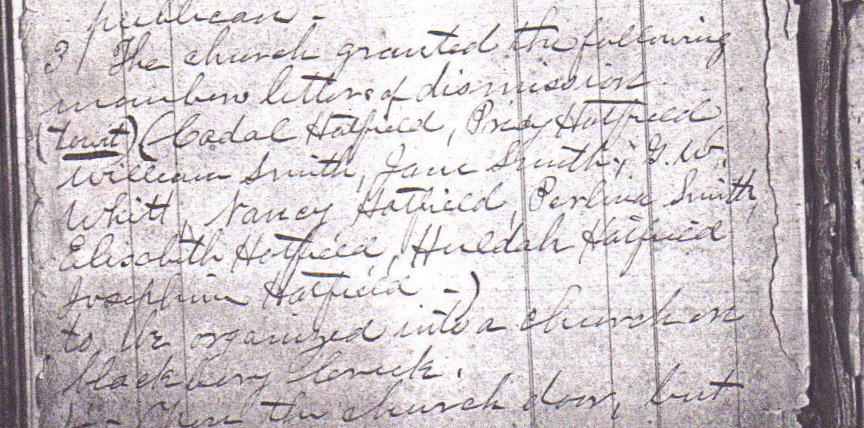 Credit: Neal Reed
Reference:
http://www.facebook.com/photo.php?fbid=243333989048400&set=o.316559408386&type=1&ref=nf
---
---
Your "back" function should return you to your previous location.
---
Except as noted, foreground and background images are original photos from Minnesota by the webmaster.