- HATFIELD FAMILY LAST NAME INDEX -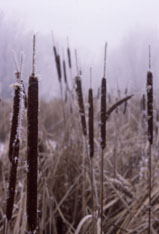 Frosted Cattails
Here is a list of the people from the attached pages sorted by last names and then first names.
One thing becomes quite obvious from looking at this list. There are a lot of variations in spellings. When one sees a half-a-dozen different ways of spelling Elizabeth, not counting the half-a-dozen or so more that aren't quite so obvious and we then add in those cases where a person used nicknames or abandoned their first name all together and went by their middle name or initials, the task of finding the information for a single individual becomes daunting, to say the least.
Stick to it though, and you may be rewarded with a dramatic new discovery. Don't assume anything, even if the name was spelled the same on the samples of census entries you have found. Keep an open mind and be imaginative.
The numbers in parenthesis on this list are the number of occurrences of that last and first name combination which can be found on the Master Name Index, to which this list links. In some cases, a name may appear twice here. This is because, when the segments for the Master Name Index are created, sometimes a name is split between two segments. Check both links here in order to see the complete Master Name List entries.
If you are confused, when you get to the Master Name Index, about what all those links mean, check the introduction to that index for clarification. I will be working, as time and expenses permit, to simplify this index but, for now, good luck and enjoy.





Home|News|Intro|ListIntro
---
(List Updated 05-05-2016)


| | | | |
| --- | --- | --- | --- |
| , Marion (1) | , Martha (1) | , Mary (1) | , Nancy (2) |
| , Rachel (1) | "Buddy", Hiram (1) | ?, Abigail (1) | ?, Ada (2) |
| ?, Addie (1) | ?, Adelaide (1) | ?, Adeline (5) | ?, Alma (5) |
| ?, Alva (2) | ?, Amanda (4) | ?, Amy (1) | ?, Angeline (1) |
| ?, Ann (4) | ?, Anna (6) | ?, Anne (1) | ?, Annyh (2) |
| ?, Arena (3) | ?, Arian (14) | ?, Armida (2) | ?, Barb (6) |
| ?, Barbara (2) | ?, Bell (1) | ?, Bertha (3) | ?, Bessa (4) |
| ?, Bessie (1) | ?, Blanche (2) | ?, Caroline (1) | ?, Catharine (2) |
| ?, Catherine (28) | ?, Cecil (1) | ?, Charis (1) | ?, Charity (2) |
| ?, Christiann (4) | ?, Christina (2) | ?, Clara (2) | ?, Clary (1) |
| ?, Cora (6) | ?, Cornelia (1) | ?, Cosby (3) | ?, Debbie (2) |
| ?, Debie (1) | ?, Deborah (13) | ?, Delia (1) | ?, Della (1) |
| ?, Dinah (2) | ?, Dora (1) | ?, Doris (2) | ?, Easter (3) |
| ?, Eda (3) | ?, Edith (5) | ?, Edna (1) | ?, Effie/Elfie (2) |
| ?, Eleanor (3) | ?, Eliza (13) | ?, Elizabeth (102) | ?, Ella (10) |
| ?, Ellen (1) | ?, Elsa (3) | ?, Elvina (1) | ?, Emeline (2) |
| ?, Emezette (2) | ?, Emily (4) | ?, Emma (3) | ?, Esther (3) |
| ?, Ethel (5) | ?, Ethyl (1) | ?, Evelyn (2) | ?, Exie (1) |
| ?, Franky (1) | ?, Georgia (1) | ?, Gertrude (1) | ?, Gracy (3) |
| ?, Hannah (3) | ?, Hazel (1) | ?, Helen (2) | ?, Hettie (5) |
| ?, Hulda (2) | ?, Ibby (2) | ?, Ida (2) | ?, Iris (2) |
| ?, Jane (6) | ?, Jaunita (2) | ?, Jemimah (9) | ?, Jenette/Jenett (5) |
| ?, Jennett (1) | ?, Jessie (1) | ?, Joanne (1) | ?, Joseph (2) |
| ?, Juanita (1) | ?, Judah (1) | ?, Judith (5) | ?, Judy (1) |
| ?, Julia (8) | ?, Julie (1) | ?, June/Jane (2) | ?, Katherine (1) |
| ?, Kitty (1) | ?, Lassa (1) | ?, Laura (1) | ?, Letta (5) |
| ?, Lettie (9) | ?, Lillian (1) | ?, Lisey (2) | ?, Lisy (2) |
| ?, Lizze (1) | ?, Lizzie (5) | ?, Lorene (1) | ?, Lucinda (3) |
| ?, Lucy (5) | ?, Luemma (1) | ?, Luvenia (1) | ?, Lydia (2) |
| ?, M (2) | ?, Mabel (8) | ?, Mable (1) | ?, Mae (1) |
| ?, Maggie (1) | ?, Manerva (1) | ?, Margaret (25) | ?, Margareth (2) |
| ?, Marie (1) | ?, Marry (1) | ?, Martha (29) | ?, Mary (46) |
| ?, Matilda (18) | ?, Mattie (3) | ?, Maudie (2) | ?, Maxine (1) |
| ?, Melinda (2) | ?, Mildred (3) | ?, Millie (1) | ?, Milly (7) |
| ?, Mina (2) | ?, Mollie (5) | ?, Molly (1) | ?, Mourning (2) |
| ?, Myal (1) | ?, Myola (1) | ?, Nancy (35) | ?, Nell (1) |
| ?, Nellie (8) | ?, Ocie (2) | ?, Palline (1) | ?, Parley (2) |
| ?, Pearl (1) | ?, Percie (2) | ?, Phebe (1) | ?, Pheriba (5) |
| ?, Phoebe (9) | ?, Phyllis (1) | ?, Polly (13) | ?, Pricie (1) |
| ?, Pricy (1) | ?, Rachel (2) | ?, Rebecca (23) | ?, Rena (2) |
| ?, Rhea (1) | ?, Rhoda (2) | ?, Rosa (2) | ?, Rose (2) |
| ?, Rosia (14) | ?, Ruth (20) | ?, Rutha (2) | ?, Sabra (1) |
| ?, Sarah (42) | ?, Sareena (9) | ?, Shirley (1) | ?, Stage (1) |
| ?, Susan (12) | ?, Susanna (1) | ?, Susie (3) | ?, Telinda (1) |
| ?, Vauditto (3) | ?, Vera (3) | ?, Vessie (3) | ?, Vicie (2) |
| ?, Vicy (3) | ?, Vista (1) | ?, William (3) | A, Susan (1) |
| A, William (1) | Abbott, Amanda (4) | Abc, ? (1) | Abernathie, Easter (1) |
| Ablett, Robert (1) | Abshire, Allie (2) | Abshire, Jettilee (3) | Abshire, John (1) |
| Abshire, Lisie (1) | Abshire, Shirley (1) | Absley, Albet (1) | Absley, David (1) |
| Absley, John (1) | Absley, Perry (1) | Absley, Sarah (1) | Absley, William (1) |
| Ackerman, Desta (4) | Ackerman, James (1) | Ackerman, Lydia (1) | Action, Muriel (2) |
| Adair, Elizabeth (2) | Adair, Harvey (1) | Adair, Oscar (1) | Adams, ? (1) |
| Adams, Benejah (1) | Adams, Charles (2) | Adams, Darius (1) | Adams, Elizabeth (4) |
| Adams, Frank (1) | Adams, Homer (1) | Adams, James (3) | Adams, James? (3) |
| Adams, Josephine (2) | Adams, Maria (10) | Adams, Martha (2) | Adams, Robert (1) |
| Adams, Ruby (6) | Adams, Sally (1) | Adams, Virena (1) | Adamson, Charles (1) |
| Adamson, Elizabeth (1) | Adamson, Josiah (2) | Adamson, Martha (4) | Adamson, Sarah (1) |
| Adcock, Arch (1) | Adkins, Allen (1) | Adkins, Alva (1) | Adkins, Barbara (1) |
| Adkins, Betsy (1) | Adkins, Beulah (1) | Adkins, Bill (1) | Adkins, Bobby (1) |
| Adkins, Buster (2) | Adkins, Charity (1) | Adkins, Christine (1) | Adkins, Dick (1) |
| Adkins, Dock (1) | Adkins, Dugan (1) | Adkins, Everett (1) | Adkins, Florance (1) |
| Adkins, Frances (2) | Adkins, Fred (1) | Adkins, Glennis (1) | Adkins, Hansford (1) |
| Adkins, Jane (2) | Adkins, John (1) | Adkins, Josephine (1) | Adkins, Joyce (2) |
| Adkins, Kenis (1) | Adkins, Lacey (1) | Adkins, Loreen (1) | Adkins, Loretta (1) |
| Adkins, Marion (2) | Adkins, Martha (2) | Adkins, Mary (2) | Adkins, Maynard (1) |
| Adkins, Mickey (1) | Adkins, Paris (2) | Adkins, Rhoda (20) | Adkins, Rosie (2) |
| Adkins, Salina (1) | Adkins, Sarah (1) | Adkins, Susanna (1) | Adkins, Susannah (1) |
| Adkins, Sylvania (1) | Adkins, Walter (1) | Adolph, Simon (1) | Adraiens, Jannetje (1) |
| Adriaens, Janneken (2) | Aggarwal, Ashok (1) | Aggarwal, Jay (1) | Aggarwal, Lewis (1) |
| Aggarwal, Matthew (1) | Aggarwal, Philip (1) | Aguirre, Diane (1) | Aguirre, Domingo (1) |
| Aguirre, Silvia (1) | Aguirrezabal, Angel (1) | Aguirrezabal-garmendia, Angelita (1) | Aguirrezabal-garmendia, Pilar (1) |
| Aguirrezabal-garmendia, Tomas (1) | Aguirrezabal-garmendia, Vicente (1) | Ahrens, Mary (1) | Ailiff, Goldie (1) |
| Aken, Rhoda (1) | Akers, ? (1) | Akers, Austin (1) | Akers, Elizabeth (1) |
| Akers, James (5) | Akers, Jane (1) | Akers, Josephine (1) | Akers, Lucinda (1) |
| Akers, Martha (1) | Akers, Mary (2) | Akers, Rachel (1) | Akers, Sarah (6) |
| Akin, Ilene (1) | Albright, Charles (1) | Albright, Gordie (1) | Albright, Kitty (1) |
| Albright, Lucinda (5) | Albright, Samuel (6) | Albright, Wade (1) | Albro, Francis (1) |
| Alexander, Blanche (2) | Alexander, David (2) | Alexander, Dr (1) | Alexander, Gideon (1) |
| Alexander, Maria (2) | Alexander, Meghan (1) | Alexander, Michael (1) | Alexander, Sarah (1) |
| Alexander, Steven (1) | Alexander, Tom (1) | Alford, Charlie (1) | Alford, Charlotte (1) |
| Alford, Delila (1) | Alford, Freddie (1) | Alford, Frederich (1) | Alford, James (1) |
| Alford, Lenna (1) | Alford, Linnie (1) | Alford, Oliver (2) | Alford, Thomas (2) |
| Alford, William (1) | Alger, Ann (1) | Alger, Jessa (2) | Algor, Jesse (1) |
| Aliff, James (1) | Allard, Janice (1) | Allemier, Henrietta (2) | Allen, Chloe (1) |
| Allen, Clarissa (1) | Allen, David (1) | Allen, Dock (2) | Allen, Florence (1) |
| Allen, George (1) | Allen, John (2) | Allen, Lorretta (2) | Allen, Lydia (10) |
| Allen, Martha (2) | Allen, Mary (1) | Allen, Mr (1) | Allen, Nancy (7) |
| Allen, Noel (1) | Allen, Sarah (2) | Allen, Vaya (1) | Aller, Rachel (2) |
| Alley, Benjamin (1) | Alley, Bobby (1) | Alley, Cosby (1) | Alley, Delmer (1) |
| Alley, Edna (1) | Alley, Elizabeth (13) | Alley, George (2) | Alley, James (4) |
| Alley, Louisa (1) | Alley, Lydia (10) | Alley, Magnolia (1) | Alley, Malissa (3) |
| Alley, Massie (1) | Alley, Nancy (2) | Alley, Ogle (1) | Alley, Oliver (1) |
| Alley, Polly (1) | Alley, Pricy (5) | Alley, Rena (1) | Alley, Ruth (1) |
| Alley, Thelma (1) | Alley, Thomas (2) | Alley, Vicy (1) | Alley, Viola (1) |
| Alley, Virginia (1) | Allison, Anna (1) | Allison, Anthony (1) | Allison, James (3) |
| Allred, Ida (1) | Allred, Thomas (2) | Alma, ? (1) | Alridge, Mary (1) |
| Alsup, Samuel (1) | Altizer, Phyllis (1) | Ambrouse, Sarah (1) | Amick, Lydia (4) |
| Amick, Mat (1) | Anderson, ? (1) | Anderson, Christine (1) | Anderson, Essie (1) |
| Anderson, James (1) | Anderson, Jamie (2) | Anderson, John (1) | Anderson, Lewis (1) |
| Anderson, Louis (1) | Anderson, Mary (2) | Anderson, Nancy (21) | Anderson, Parmelia (1) |
| Anderson, Permelia (14) | Anderson, Sarah (1) | Anderson, Taylor (1) | Anderson, Thomas (1) |
| Anderson, William (1) | Anderson/Andersdatter, Brigitta (6) | Andrews, James (3) | Andrews, Sarah (1) |
| Andrus, Vincent (1) | Angel, Margaret (2) | Anker, Jean (1) | Ann, Sue (1) |
| Antwerp, Lorenzo (1) | Anway, Jason (1) | Anway, Ray (1) | Anway, Travis (1) |
| Apsley, William (1) | Arana, Josefa (1) | Aranceta, Sabino (1) | Aranceta-igartua, Alberto (1) |
| Arbuckle, Charles (1) | Arbuckle, Florence (2) | Archer, Amey (1) | Archer, Amy (1) |
| Archer, Benjamin (1) | Archer, Caroline (2) | Archer, Elizabeth (5) | Archibald, Abner (1) |
| Archibald, Harriet (1) | Archuletta, Lachelle (1) | Archuletta, Lynette (1) | Areford, Richard (1) |
| Armbrust, Jacob (1) | Armour, William (1) | Armstrong, Addie (1) | Armstrong, Caroline (1) |
| Armstrong, Eliza (6) | Armstrong, Hannah (4) | Armstrong, James (4) | Armstrong, Jane (1) |
| Armstrong, John (1) | Armstrong, Margaret (7) | Armstrong, T (1) | Arnold, A (1) |
| Arnold, Ardath (3) | Arnold, Elizabeth (1) | Arnold, George (1) | Arnold, Howard (2) |
| Arnold, Mary (7) | Arp, William (1) | Arrenton, Josiah (1) | Arrington, Tony (1) |
| Arthur, ? (1) | Arthur, Ella (6) | Arthur, Judith (1) | Arthur, Maude (1) |
| Arthur, Willard (1) | Artman, Ann (2) | Artman, Charles (1) | Artman, Lizzie (8) |
| Artman, Maggie (1) | Artman, Margaret (1) | Artman, Mary (4) | Artman, Michael (1) |
| Artman, Rosa (1) | Artman, Sarah (3) | Arvin, Mary (3) | Ashcraft, Genira/Geneva (1) |
| Ashcraft, Lewis (1) | Ashcraft, Louis (1) | Ashcraft, Martin (5) | Asher, Nancy (11) |
| Ashley, Lucy (1) | Ashley, Thomas (1) | Ashlock, Lora (1) | Ashlock, Mary (1) |
| Ashmore, Clara (1) | Ashworth, ? (1) | Astle, Joseph (1) | Aten, Grace (1) |
| Atherton, Frank (1) | Atkins, Ada (1) | Atkins, Nancy (1) | Atkins, Randolph (1) |
| Atkinson, Emma (3) | Atterberry, James (1) | Atterbery, J (1) | Atwood, Virginia (2) |
| Augle, Clare (1) | Augle, Orna (1) | Ausburn, Lucy (1) | Austin, ? (1) |
| Austin, Audrey (2) | Austin, Elmer (1) | Austin, Harvey (1) | Austin, Joe (1) |
| Austin, Joseph (1) | Austin, Mary (1) | Austin, Myrtle (1) | Austin, Patty (1) |
| Austin, Phyllis (1) | Austin, Robena (6) | Austin, Sallie (1) | Austin, Sally (1) |
| Austin, Thaddeus (1) | Author, Ella (1) | Averett, John (1) | Avis, Charles (1) |
| Ayer, Julia (1) | Ayers, Jemima (6) | Ayers, Will (1) | Ayers, William (12) |
| Aylesworth, Nathan (1) | Aylesworth, Nathaniel (1) | Ayres, Elviry (1) | Ayres, Lawrence (1) |
| Ayres, Lewis (1) | Ayres, Louis (1) | Ayres, Margaret (1) | Ayres, Mary (1) |
| Ayres, Sarah (1) | Ayres, Timothy (1) | Ayres, William (1) | Azcarate-leceta, Gavina (2) |
| B_______, Robert (1) | B_______, Vermelia (1) | Babcock, Ruth (1) | Baccus, Emma (1) |
| Bacon, Abel (2) | Bacon, Mercy (1) | Bacon, William (1) | Bacque, Rose (1) |
| Badgely, George (1) | Badget, Kathleen (1) | Badgley, Anthony (1) | Badgley, Cornelius (2) |
| Badgley, George (4) | Baety, Herrod (1) | Bailey, Alpha (1) | Bailey, Andrew (1) |
| Bailey, Ann (1) | Bailey, Beatty (4) | Bailey, Bill (1) | Bailey, Causby (13) |
| Bailey, Charles (1) | Bailey, Chloe (1) | Bailey, Cosby (1) | Bailey, Dan (1) |
| Bailey, Edgar (1) | Bailey, Evelyn (2) | Bailey, Flonnie (1) | Bailey, George (1) |
| Bailey, H (1) | Bailey, Hazel (1) | Bailey, Helen (1) | Bailey, Henderson (1) |
| Bailey, Ingaboo (1) | Bailey, Ira (1) | Bailey, James (1) | Bailey, John (1) |
| Bailey, Lydia (5) | Bailey, M (1) | Bailey, Madge (1) | Bailey, Mary (1) |
| Bailey, Nancy (5) | Bailey, Wade (1) | Baily, Elias (1) | Baines, Catherine (1) |
| Baird, Gilda (1) | Baird, Malinda (1) | Baird, Mary (2) | Baird, Robert (5) |
| Baird, William (1) | Baisden, Anna (1) | Baisden, Dixie (2) | Baisden, Polly (2) |
| Baker, ? (1) | Baker, Calvin (2) | Baker, Christopher (1) | Baker, Clarenda (1) |
| Baker, Clyde (1) | Baker, Cynthia (1) | Baker, Davis (2) | Baker, Dvis (1) |
| Baker, E (1) | Baker, Edgar (2) | Baker, Elisabeth (1) | Baker, Eliza (2) |
| Baker, Emily (1) | Baker, Gary (1) | Baker, Hamilton (1) | Baker, Hamp (1) |
| Baker, Henry (3) | Baker, Isaac (1) | Baker, James (1) | Baker, John (3) |
| Baker, Joseph (2) | Baker, Joy (1) | Baker, Lenor (2) | Baker, Luella (1) |
| Baker, Margaret (8) | Baker, Mariah (4) | Baker, Martha (9) | Baker, Mary (2) |
| Baker, Renee (1) | Baker, Samuel (10) | Baker, Steven (1) | Baker, Syntha (1) |
| Baker, William (3) | Baker, Wm (1) | Bakllia, Lillian (4) | Balding, Charles (1) |
| Baldridge, Henry (1) | Baldridge, J (1) | Baldwin, ? (1) | Baldwin, Linda (1) |
| Baldwin, Mark (1) | Bales, Hester (1) | Balind, Jan (1) | Ball, Anna (5) |
| Ball, Bessie (3) | Ball, Celia (1) | Ball, Dock (2) | Ball, Elizabeth (17) |
| Ball, George (1) | Ball, Harmon (2) | Ball, James (5) | Ball, John (3) |
| Ball, Juda (2) | Ball, Judith (17) | Ball, Judy (2) | Ball, Martha (3) |
| Ball, Mary (1) | Ball, Moses (3) | Ball, Nancy (2) | Ball, Pricy (9) |
| Ball, Susanna (2) | Ball, William (2) | Ballard, James (2) | Ballard, Rachel (1) |
| Ballinger, Elizabeth (1) | Ballinger, Maria (9) | Ballinger, W (2) | Balsiger, John (2) |
| Balsiger, Prudence (1) | Balter, Charles (1) | Baluch, Mary (1) | Balwin, Judith (1) |
| Bane, Baldwin (1) | Bane, Eupha (1) | Bane, Martha (10) | Bane, Miriam (2) |
| Banett, Amanda (1) | Banister, Alpha (2) | Banister, Mary (1) | Banks, Alex (1) |
| Banks, Alexander (1) | Banks, Ellen (3) | Banks, Fred (2) | Banks, George (4) |
| Banks, Myrtle (2) | Bankson, John (1) | Banta, Elizabeth (12) | Banta, Louisa (1) |
| Banta, Mary (3) | Banta, Peter (4) | Banta, Sarah (1) | Barbara, ? (1) |
| Barber, Ann (1) | Barber, Edward (1) | Barber, Joseph (1) | Barber, Martha (2) |
| Barclay, Ruth (1) | Barefield, Charles (3) | Barefield, Sara (1) | Barfell, Mary (1) |
| Barinaga, Charles (1) | Barinaga, Dolores (1) | Barinaga, John (1) | Barinaga, Joseph (1) |
| Barinaga, Joy (1) | Barinaga, Linda (1) | Barinaga, Marcia (1) | Barinaga, Valentin (1) |
| Barker, Addie (2) | Barker, Aley (1) | Barker, Betty (1) | Barker, Cecil (1) |
| Barker, Charles (1) | Barker, Delliah (1) | Barker, Edna (1) | Barker, Evangeline (1) |
| Barker, George (1) | Barker, Henry (1) | Barker, Ira (2) | Barker, J (1) |
| Barker, Jack (1) | Barker, Margaret (1) | Barker, Marica (1) | Barker, Martha (1) |
| Barker, Mary (1) | Barker, Moses (1) | Barker, Nathaniel (1) | Barker, Rose (7) |
| Barker, Viola (9) | Barker, William (5) | Barkley, Rosa (1) | Barlett, Ruby (1) |
| Barley, Armeldia (9) | Barnard, Benjamin (3) | Barnard, Betty (1) | Barnard, Cheryl (1) |
| Barnard, Jason (1) | Barnard, Kevin (1) | Barnard, Mark (1) | Barnard, Mike (1) |
| Barnard, Regina (1) | Barnes, Beatrice (2) | Barnes, Claude (1) | Barnes, Douglas (1) |
| Barnes, Elizie (1) | Barnes, Fred (1) | Barnes, John (1) | Barnes, Mary (2) |
| Barnes, S (3) | Barnes, Sarah (3) | Barnes, Willie (2) | Barnesse, Julie (1) |
| Barnett, Anderson (1) | Barnett, Anna (1) | Barnett, Gertrude (2) | Barnett, Hilepy? (1) |
| Barnett, Huldah (1) | Barnett, James (3) | Barnett, Leta (1) | Barnett, Marvin (3) |
| Barnett, Minnie (1) | Barnett, Robert (1) | Barnett, William (1) | Barnett, Wm (1) |
| Barnette, William (1) | Barnhill, Nancy (1) | Barns, Sterling (1) | Barofsky, Anna (1) |
| Barofsky, Grace (7) | Barofsky, Henry (1) | Barrett, Andrew (1) | Barrett, Charles (3) |
| Barrett, Cinthyanna (1) | Barrett, Cynthianna (6) | Barrett, Deborah (1) | Barrett, Edward (3) |
| Barrett, Eliza (1) | Barrett, Hiram (1) | Barrett, Isaac (1) | Barrett, James (14) |
| Barrett, John (1) | Barrett, Joseph (3) | Barrett, Margareta (1) | Barrett, Mary (1) |
| Barrett, Sarah (10) | Barrett, William (2) | Barron, ? (1) | Barron, Abraham (1) |
| Barron, Lydia (1) | Barron, Oliver (1) | Barron, Ruth (1) | Barron, Susanna (2) |
| Barron, Susannah (2) | Bartlett, Bessie (1) | Bartlett, Dorothy (1) | Bartlett, George (1) |
| Bartlett, Joseph (2) | Bartley, Fletcher (5) | Bartley, Lee (2) | Bartley, Minnie (2) |
| Bartley, Viola (2) | Barton, Clyde (1) | Barton, G (1) | Barton, James (1) |
| Barton, John (1) | Barton, Margaret (1) | Bartz, Lydia (1) | Basham, Andrew (1) |
| Basham, Fannie (1) | Basham, Fanny (1) | Basham, James (1) | Basham, John (2) |
| Basham, Mary (4) | Basham, Matilda (1) | Basham, Pleasant (1) | Basham, Polly (1) |
| Basham, Sarah (1) | Basham, Syrena (1) | Basham, William (1) | Basista, Mihaly (1) |
| Basiszta, Maria (1) | Bassham, James (1) | Bassham, Martha (1) | Bassham, Martin (1) |
| Bassham, Miller (1) | Bassham, Rebecca (1) | Bassham, Rhoda (1) | Bassham, Sarah (1) |
| Bassham, William (2) | Bateman, Nathan (1) | Bateman, Nathaniel (1) | Bateman, Nathen (1) |
| Bateman, Nicodemous (1) | Bates, Beverly (1) | Bates, Christopher (1) | Bates, Demetrius (1) |
| Bates, Donald (1) | Bates, Garret (1) | Bates, Goldie (5) | Bates, Hazel (1) |
| Bates, Jennifer (1) | Bates, John (1) | Bates, Judson (1) | Bates, Lydia (1) |
| Bates, Patricia (1) | Bates, Samuel (3) | Bates, Terri (1) | Bates, Traci (1) |
| Bates, Wendell (1) | Baublitt, Eunavae (1) | Bauch, Mattie (1) | Bauer, Emma (1) |
| Bauer, Jeanette (1) | Baugh, Robert (1) | Baughman, Susie (2) | Baxter, Ann (1) |
| Baxter, Anna (1) | Baxter, Anne (1) | Baylor, James (1) | Be, Barbara (1) |
| Beaird, Kristofer (1) | Beaird, Peggy (1) | Beal, Sarah (1) | Beale, Sarah (2) |
| Beale, Wells (1) | Beall, Martin (2) | Beam, Alice (1) | Beam, Andrew (1) |
| Bean, Susie (1) | Beard, Dennis (1) | Beard, Douglas (1) | Beard, Nancy (1) |
| Beard, Robert (1) | Beard, S (1) | Bearden, Berry (1) | Bearden, Lola (1) |
| Beary, Enoch (1) | Beasley, Frances (1) | Beasley, John (4) | Beatteay, Amina (1) |
| Beattie, Robert (1) | Beatty, David (2) | Beatty, Hattie (1) | Beatty, Joseph (1) |
| Beaver, Donald (1) | Beaver, John (1) | Bechtol, John (1) | Beck, Christopher (1) |
| Beck, Darryl (1) | Beck, Peter (1) | Beck, Robert (2) | Beck, Toni (1) |
| Becker, Getrude (1) | Becket, Elisabeth (1) | Becket, Elizabeth (1) | Beckett, Andrew (4) |
| Beckett, Eliza (1) | Beckett, Elizabeth (14) | Beckett, Emily (1) | Beckett, Hannah (1) |
| Beckett, James (2) | Beckett, Peninah (11) | Beckett, Ruth (5) | Beckett, Tom (1) |
| Beckett, William (1) | Beckitt, Andrew (1) | Beckitt, Emily (1) | Beckley, Mary (1) |
| Becknell, Lucinda (1) | Bedwell, Malissa (1) | Beeler, Rose (1) | Beeman, Mary (3) |
| Beemer, ? (1) | Beery, Enoch (2) | Beeson, Leila (1) | Begolan, Mary (1) |
| Behney, Dustin (1) | Behney, Jeffrey (1) | Behney, Richard (2) | Behymer, James (1) |
| Behymer, Willaim (1) | Behymer, William (1) | Belcher, Andrew (3) | Belcher, Caroline (4) |
| Belcher, Elsie (1) | Belcher, George (1) | Belcher, Henry (1) | Belcher, Hulda (1) |
| Belcher, I (1) | Belcher, James (1) | Belcher, John (1) | Belcher, Laura (1) |
| Belcher, Leander (1) | Belcher, Louis (1) | Belcher, Lucinda (1) | Belcher, Rebecca (1) |
| Belcher, Wayne (1) | Belcher, William (1) | Belcher, Wyatt (1) | Bell, Ada (1) |
| Bell, Benjamin (3) | Bell, Catherine (13) | Bell, Charles (1) | Bell, Clara (1) |
| Bell, Ellen (9) | Bell, Frozine (1) | Bell, James (1) | Bell, Jessie (1) |
| Bell, Jim (2) | Bell, Laura (1) | Bell, Margaret (1) | Bell, Mary (2) |
| Bell, Millie (1) | Bell, Milly (1) | Bell, Sarah (1) | Bell, Wavie (1) |
| Bell, Wyatt (1) | Beller, T (1) | Bellinger, W (1) | Bellman, Magdalene (1) |
| Bells/Betts, Elizabeth (3) | Belman, Elizabeth (1) | Belman, Ellen (1) | Belman, Oliver (1) |
| Belman, Samuel (1) | Belmire, ? (1) | Beloncik, Catherine (1) | Beloncik, Katherine (1) |
| Beloncik, Michael (1) | Beloncik, Mike (1) | Beloncik, Steven (1) | Belsom, Jeannette (1) |
| Belt, ? (1) | Belt, Addie (2) | Belt, Donald (3) | Belt, Lynnann (1) |
| Belzarena, Marylynn (1) | Belzarena, Robert (1) | Belzarena, Tomas (1) | Beminstool, Emeline (1) |
| Bend, Joseph (2) | Benedick, Sallie (1) | Benedick, Sally (1) | Benedict, Charles (1) |
| Benedict, Rensselaer (1) | Bengoa, Lorenzo (1) | Bengoa-arana, Ramona (1) | Benham, Sarah (1) |
| Bennet, ? (1) | Bennet, Clarence (2) | Bennett, Ada (1) | Bennett, John (1) |
| Bennett, Mason (1) | Bennett, Opal (1) | Bennett, William (1) | Benson, Martin (2) |
| Benson, May (1) | Benson, Sarah (5) | Benson, Zelda (1) | Bentley, Ben (1) |
| Bentley, Charles (1) | Bentley, Cora (7) | Bentley, Delilah (1) | Bentley, Dorse (1) |
| Bentley, Edward (1) | Bentley, Ehel (1) | Bentley, Eliza (1) | Bentley, Frank (1) |
| Bentley, John (4) | Bentley, Lonzo (1) | Bentley, Lucy (1) | Bentley, Mae (1) |
| Bentley, Maggie (1) | Bentley, Myrtle (1) | Bentley, Pricy (1) | Bentley, Robert (2) |
| Bentley, Roxie (2) | Bentley, Russell (1) | Bentley, Virgie (1) | Bentley, William (8) |
| Bergen, Peter (1) | Berger, Darius (1) | Berna, Wesley (1) | Bernice, ? (1) |
| Bernot, Gary (2) | Bernot, John (1) | Bernot, Matthew (1) | Bernot, Ronald (1) |
| Berry, Catherine (3) | Berry, Effie (1) | Berry, Elizabeth (1) | Berry, Eugenia (4) |
| Berry, Harriet (1) | Berry, W (1) | Berryhill, Andrew (3) | Berryhill, Nancy (11) |
| Bertine, Elizabeth (1) | Bertram, Ms (1) | Berzac, Sue (1) | Beth, ? (1) |
| Bethel, Alice (3) | Betsy, ? (1) | Bett, Addie (1) | Bettie, ? (1) |
| Betts, Elizabeth (1) | Betts, J (1) | Betz, Catie (1) | Bever, Ed (1) |
| Beverly, Anderson (1) | Beverly, Chloe (1) | Beverly, Cora (1) | Beverly, David (8) |
| Beverly, Dolliver (1) | Beverly, James (1) | Beverly, Louisa (4) | Beverly, Susan (1) |
| Bevins, Arena (2) | Bevins, Joseph (1) | Bevins, Mary (16) | Bevins, Sarah (5) |
| Bias, Elisha (2) | Bias, Margaret (1) | Bias, Polly (2) | Bice, Martha (1) |
| Bickmore, Courtland (1) | Bicknell, Lucinda (2) | Bicknell, William (1) | Bigelow, Kathy (1) |
| Biggerstaff, Evelyn (1) | Bigham, Goldie (2) | Biglow, M (1) | Bilbo, Gina (1) |
| Bilderbeck, Teresa (1) | Billings, John (1) | Billings, Suzannah (2) | Binford, Asa (1) |
| Binford, Ashbel (1) | Binford, Leviner (1) | Bingaman, Ephraim (2) | Bingaman, Hester (1) |
| Binge, Lillie (1) | Bingeman, Margaret (1) | Birch, James (1) | Birch, Mahalia (4) |
| Birch, Martha (2) | Birch, Tabitha (2) | Birch, Thomas (3) | Bird, Arthelia (2) |
| Bird, Delphia (9) | Birdseye, Gould (1) | Birmes, Cory (1) | Birmes, Jeffrey (1) |
| Birmes, Lauren (1) | Birnie, John (1) | Bishop, Carl (1) | Bishop, Edward (1) |
| Bishop, Grover (2) | Bishop, Jordan (1) | Bishop, Mary (2) | Bishop, Thelma (1) |
| Bissell, Harry (1) | Bissell, Minnie (1) | Bissett, Cathleen (1) | Bissett, Hugh (1) |
| Bissett, James (1) | Bissett, Susan (1) | Bissett, Thomas (1) | Black, Catharine (1) |
| Black, George (2) | Black, Gertrude (1) | Black, Margaret (1) | Blackbarn, Jermiah (1) |
| Blackbourn, Causby (1) | Blackbourn, Drusilla (1) | Blackburn, ? (1) | Blackburn, Andrew (1) |
| Blackburn, Anna (1) | Blackburn, Causby (13) | Blackburn, Corby (1) | Blackburn, Dollie (1) |
| Blackburn, Emzy (1) | Blackburn, Fannie (1) | Blackburn, Farley (1) | Blackburn, George (3) |
| Blackburn, Gladys (1) | Blackburn, Granville (1) | Blackburn, Henderson (1) | Blackburn, Hutson (1) |
| Blackburn, Isom (3) | Blackburn, Jacob (1) | Blackburn, Jake (1) | Blackburn, James (1) |
| Blackburn, Jane (1) | Blackburn, Jenny (1) | Blackburn, Jeremiah (3) | Blackburn, Jermiah (1) |
| Blackburn, John (2) | Blackburn, Katherine (1) | Blackburn, Laura (1) | Blackburn, Lydia (4) |
| Blackburn, Margaret (1) | Blackburn, Mary (5) | Blackburn, Maudie (1) | Blackburn, Mrs (1) |
| Blackburn, Nancy (18) | Blackburn, Pearl (3) | Blackburn, Phoebe (1) | Blackburn, Polly (1) |
| Blackburn, Sarah (2) | Blackburn, Sylvania (6) | Blackburn, Talitha (1) | Blackburn, William (1) |
| Blackledge, Eleanor (1) | Blackwell, James (2) | Blackwell, Lucinda (4) | Blair, Elizabeth (1) |
| Blair, James (1) | Blair, Willie (3) | Blake, Nancy (1) | Blake, Samuel (1) |
| Blake, Veila (1) | Blake, William (1) | Blakemore, Laura (1) | Blanc, Agnes (1) |
| Blanc, Aime (2) | Blanc, Alison (1) | Blanc, Andrew (2) | Blanc, Andy (1) |
| Blanc, Anna (2) | Blanc, Ashley (1) | Blanc, Audrey (1) | Blanc, Barbara (2) |
| Blanc, Bertha (1) | Blanc, Beverly (1) | Blanc, Billy (1) | Blanc, Cesarine (1) |
| Blanc, Charles (1) | Blanc, Clare (1) | Blanc, Danny (2) | Blanc, Dennis (1) |
| Blanc, Dorothy (2) | Blanc, Ed (1) | Blanc, Edouard (1) | Blanc, Eleanor (1) |
| Blanc, Ellen (1) | Blanc, Emmet (1) | Blanc, Francis (1) | Blanc, Francois (1) |
| Blanc, George (3) | Blanc, Geraldine (1) | Blanc, Gertrude (1) | Blanc, Gloria (1) |
| Blanc, Helen (2) | Blanc, Hypolit (1) | Blanc, Irene (1) | Blanc, Irma (1) |
| Blanc, Jacqueline (1) | Blanc, Jacques (1) | Blanc, James (3) | Blanc, Jean (1) |
| Blanc, Jennifer (1) | Blanc, Jerome (1) | Blanc, Jillian (1) | Blanc, Jim (1) |
| Blanc, John (5) | Blanc, Joseph (4) | Blanc, Joyce (1) | Blanc, Julia (1) |
| Blanc, Justin (2) | Blanc, Katherine (2) | Blanc, Kathleen (1) | Blanc, Kenneth (1) |
| Blanc, Ladyslove (1) | Blanc, Lindsey (1) | Blanc, Lou (2) | Blanc, Louie (1) |
| Blanc, Louis (3) | Blanc, Louise (2) | Blanc, Margaret (1) | Blanc, Margaret* (1) |
| Blanc, Mary (5) | Blanc, Matthew (1) | Blanc, Michael (1) | Blanc, Mildred (1) |
| Blanc, Nan (1) | Blanc, Nancy (1) | Blanc, Nelle (1) | Blanc, Nicole (1) |
| Blanc, Norma (1) | Blanc, Patrick (2) | Blanc, Paul (1) | Blanc, Philippe (1) |
| Blanc, Pierette (1) | Blanc, Pierre (1) | Blanc, Richard (3) | Blanc, Robert (1) |
| Blanc, Sandor (1) | Blanc, Scott (1) | Blanc, Sebastienne (1) | Blanc, Stephanie (1) |
| Blanc, Susan (1) | Blanc, Tara (1) | Blanc, Theophile (1) | Blanc, Theresa (1) |
| Blanc, Thomas (1) | Blanc, Vance (1) | Blanc, Vernon (1) | Blanc, William (6) |
| Blanchard, Caleb (1) | Blanchard, John (3) | Blanchard, Nancy (3) | Blancherd, Marey (1) |
| Bland, Daniel (1) | Blandford, Harve (1) | Blandford, Parkman (1) | Blandford, Raleigh (1) |
| Blanford, Charles (1) | Blanford, Clara (3) | Blanford, Henry (1) | Blanford, Ida (1) |
| Blanford, Lillian (1) | Blanford, Norvin (1) | Blank, Viola (1) | Blankenship, ? (4) |
| Blankenship, Alma (1) | Blankenship, Amanda (2) | Blankenship, Ballard (10) | Blankenship, Belle (1) |
| Blankenship, Belva (1) | Blankenship, Bettie/Bessie (1) | Blankenship, Betty (1) | Blankenship, Burgess (1) |
| Blankenship, Clarinda (2) | Blankenship, Drewey (2) | Blankenship, Emma (1) | Blankenship, Etta (1) |
| Blankenship, Florence (1) | Blankenship, Fonso (1) | Blankenship, Grant (1) | Blankenship, Harvey (2) |
| Blankenship, Henry (2) | Blankenship, Howard (1) | Blankenship, Ida (1) | Blankenship, Jake (1) |
| Blankenship, Jean (1) | Blankenship, Jettie (8) | Blankenship, Josephine (4) | Blankenship, Laura (1) |
| Blankenship, Leo (1) | Blankenship, Lillian (1) | Blankenship, Linda (1) | Blankenship, Lulie (1) |
| Blankenship, Mary (8) | Blankenship, Minnie (1) | Blankenship, Obediah (1) | Blankenship, Peggy (2) |
| Blankenship, Phoebe (3) | Blankenship, Polly (1) | Blankenship, Pricilla (1) | Blankenship, Richard (10) |
| Blankenship, Rosa (1) | Blankenship, Roy (1) | Blankenship, S (2) | Blankenship, Sanford (1) |
| Blankenship, Sarah (17) | Blankenship, Solomon (1) | Blankenship, Tilda (2) | Blankenship, Vicey (2) |
| Blankenship, Victoria (1) | Blankenship, Vinie (1) | Blankenship, Wayne (1) | Blankenship, William (1) |
| Blankinship, Sarah (1) | Blansit, Hugh (1) | Blansit, Lorena (2) | Blansit, Robert (3) |
| Blansit, Ruth (1) | Blauveldt, Abraham (1) | Blauvelt, Ralph (1) | Blaylock, Amanda (2) |
| Blaylock, Gillis (1) | Blaylock, Joseph (3) | Bledsoe, Carl (1) | Bledsoe, Carla (1) |
| Bleeks, Nadine (1) | Blessing, Doris (1) | Blessing, Emily (1) | Blessing, George (4) |
| Blessing, Harley (1) | Blessing, Jamie (1) | Blessing, John (2) | Blessing, Kenneth (1) |
| Blessing, Krystina (1) | Blessing, Lauriana (1) | Blessing, Maryellen (1) | Blessing, Matthew (1) |
| Blessing, Michael (1) | Blessing, Noah (1) | Blessing, Richard (1) | Blessing, Steven (1) |
| Blevins, Letha (1) | Blockberger, ? (1) | Blockberger, Christian (1) | Blockberger, Henrietta (1) |
| Blood, Perly (2) | Bloomster, Jessica (1) | Bloomster, Mary (1) | Bloomster, Nick (1) |
| Blosch, John (1) | Blubaugh, Beth (1) | Blue, George (1) | Blunk, Joseph (1) |
| Bly, Cleo (1) | Bly, Edward (6) | Bly, Esther (3) | Bly, Fern (1) |
| Bly, Leo (1) | Bly, Ruth (1) | Boatner, Elizabeth (1) | Boaz, Minnie (3) |
| Bodine, Norma (1) | Boe, ? (1) | Boegli, Mabel (3) | Bogart, Isaac (1) |
| Bogart, Mamie (1) | Bogart, Mary (1) | Boger, John (1) | Bogess, Louellen (3) |
| Boggess, Ruby (1) | Bogle, Joseph (1) | Boid, William (1) | Bolas, Chelsea (1) |
| Bolas, Deborah (1) | Bolas, Jo (1) | Bolas, John (2) | Bolas, Jonathan (1) |
| Bolas, Mary (1) | Bolas, Michael (1) | Bolas, Michaela (1) | Bolas, Tristan (1) |
| Boles, Seth (1) | Boley, Joseph (1) | Bolinger, Elizabeth (2) | Bolinger, Maria (2) |
| Bollinger, Elizabeth (1) | Bollinger, Maria (1) | Bolt, Mary (1) | Bolt, Mont (1) |
| Bolt, Sophia (3) | Bolter, Alexander (6) | Bolter, Benjamin (1) | Bolter, Celia (5) |
| Bolter, Noah (2) | Bolton, Georgia (1) | Boman, Thomas (4) | Bomgardner, Mary (1) |
| Bond, Abner (1) | Bond, John (1) | Bond, Laura (1) | Bond, Mary (1) |
| Bone, Martha (1) | Bonham, Arna (1) | Bonham, David (3) | Bonham, Martha (1) |
| Bonham, Martin (1) | Bonham, Robert (1) | Bonnel, Joanna (1) | Bonnell, Joanna (6) |
| Bonner, Elmira (1) | Bonner, Martin (1) | Bonner, William (2) | Bonnet, Peter (1) |
| Booher, Sarah (1) | Booker, Sarah (1) | Boone, ? (1) | Boone, Amanda (2) |
| Boone, Daniel (1) | Boone, Enoch (1) | Boone, Sam (1) | Boone, Squire (1) |
| Booth, Anita (1) | Booth, Gretchen (1) | Booth, Herbert (1) | Booth, Jane (1) |
| Booth, Jessie (1) | Booth, Lillian (1) | Boozey, Daniel (1) | Borders, Hubert (1) |
| Borders, M (1) | Borg, Mr (1) | Borst, Casper (1) | Borst, Cass (1) |
| Borst, Charles (1) | Borst, Christina (1) | Borton, Daisy (3) | Boruff, Oscar (1) |
| Boruff, Thomas (1) | Bose, Matilda (2) | Boseman, Elizabeth (1) | Boshears, ? (1) |
| Boshears, Kiziah (1) | Boshears, Kizzie (1) | Boshears, Sintha (1) | Bosley, Elizabeth (15) |
| Bosly, Sarah (1) | Boston, Lillie (1) | Boston, Virgil (1) | Boswell, Colvin (1) |
| Boswirth, Beulah (1) | Bosworth, ? (1) | Bosworth, Beatrice (2) | Bosworth, Beulah (2) |
| Bosworth, Nathan (2) | Bosworth, Nathaniel (2) | Bosworth, Retta (2) | Bosworth, Rettie (1) |
| Boteler, Glenda (1) | Bothem, George (1) | Botney, Andrew (1) | Botney, Margaret (2) |
| Botney, Rosa (1) | Boucher, Jane (1) | Boudinot, Mary (3) | Boueker, Emeline (1) |
| Bourn, Julian (1) | Bourn, William (1) | Bourn, Wm (1) | Bouslog, Enoch (1) |
| Bowden, David (1) | Bowden, Joseph (1) | Bowen, Charlene (1) | Bowen, Eunice (1) |
| Bowen, John (1) | Bowen, Volney (1) | Bowen, William (1) | Bowers, Daniel (1) |
| Bowers, David (2) | Bowker, Emelia (1) | Bowker, Emeline (2) | Bowker, Margaret (1) |
| Bowles, Elizabeth (5) | Bowles, Elsie (1) | Bowles, Mary (1) | Bowling, Angeline (1) |
| Bowling, Bonnie (1) | Bowling, Cora (1) | Bowling, Edith (1) | Bowling, Feba (1) |
| Bowling, James (2) | Bowling, Murdie (1) | Bowling, Pernell (1) | Bowling, William (1) |
| Bowll(?), Absalom (1) | Bowman, B (1) | Bowman, Catherine (1) | Bowman, Charles (2) |
| Bowman, Edward (3) | Bowman, Mary (1) | Bowman, Nancy (1) | Bowman, R (1) |
| Bowman, Runion (3) | Boyd, Annie (3) | Boyd, Daisy (2) | Boyd, Larua (1) |
| Boyd, Laura (1) | Boyd, Lee (1) | Boyd, Lou (1) | Boyd, Martha (1) |
| Boyd, Noah (1) | Boyd, Thomas (1) | Boyer, Barbara (1) | Boyer, John (1) |
| Boyer, Verna (1) | Boyken, Mary (13) | Boykin, Mary (1) | Boyles, Alzada (1) |
| Bozeman, Lois (1) | Bracken, Mary (3) | Brackin, Mary (1) | Bracy, Sarah (1) |
| Bradbury, David (1) | Bradford, Louisa (4) | Bradford, Sallie (1) | Bradford, Sally (1) |
| Bradley, Glenn (1) | Bradley, Lawrence (1) | Bradley, Timothy (1) | Bradshaw, ? (1) |
| Bradshaw, David (4) | Bradshaw, Ella (1) | Bradshaw, James (1) | Bradshaw, Rebecca (1) |
| Brady, Elizabeth (1) | Brady, Emma (3) | Bragg, Sarah (3) | Brain, Barbara (1) |
| Brain, Bernard (1) | Brain, Joseph (1) | Brake, Jacob (1) | Brammer, Edmund (4) |
| Brammer, Henry (5) | Brammer, Nancy (1) | Brand, Lucy (1) | Brand, Virginia (1) |
| Brand, William (1) | Brandebury, James (1) | Brandeth, Sarah (1) | Brandi, Cara (1) |
| Brandi, Frederic (1) | Brandi, Friedrich (1) | Brandi, Theodore (1) | Braner, William (1) |
| Branham, Elizabeth (1) | Brannon, Samantha (3) | Brannon, Sarah (1) | Branscomb, Lela (4) |
| Branson, John (1) | Branstrator, Mamie (1) | Brant, Clara (1) | Brant, Elizabeth (1) |
| Brant, Elizabethm (1) | Brashears, Ann (1) | Brashears, Robert (1) | Bratcher, Alice (1) |
| Bratcher, Asa (1) | Bratcher, Eliza (3) | Braughton, Hugh (1) | Brawn, Fred (1) |
| Bray, Hazel (1) | Brayles, Letitha (1) | Brazle, William (1) | Brazzell, Cynthia (1) |
| Brazzell, William (2) | Breece, Sarah (1) | Brekke, ? (1) | Brennan, Sandra (1) |
| Brewar, Thomas (1) | Brewer, Hannah (1) | Brewer, Mary (1) | Brewer, Michael (1) |
| Brewer, Phebe (4) | Brewer, Phoebe (1) | Brewer, William (4) | Brewer/brewster, Mary (1) |
| Brewer/brewster, William (1) | Brewer/brewster, Wm (1) | Brewster, Miller (2) | Brid, Emily (1) |
| Bridger, Mary (4) | Bridges, Mary (1) | Bridges, W (1) | Bridwell, Mary (1) |
| Briggs, Alfred (2) | Briggs, Anna (2) | Briggs, Annie (1) | Briggs, Chester (1) |
| Briggs, Harriet (7) | Briggs, J (4) | Bright, Elizabeth (1) | Bright, Joe (1) |
| Bright, Rebecca (1) | Bright, Thelma (2) | Briner, John (1) | Brinkley, Eli (1) |
| Briton, Nathan (2) | Briton, Nathaniel (2) | Britton, Jacob (2) | Broadaway, John (1) |
| Brock, Joseph (1) | Brockington, Sarah (1) | Brodbury, David (1) | Broden, James (1) |
| Brondage/Brundage, Ann (3) | Bronson, James (1) | Bronson, S (4) | Brooks, Alwayne (1) |
| Brooks, Benjamin (1) | Brooks, China (1) | Brooks, Ella (1) | Brooks, Howard (1) |
| Brooks, Isadora (1) | Brooks, James (3) | Brooks, Jesse (1) | Brooks, Maggie (1) |
| Brooks, Mary (2) | Brooks, Sarah (5) | Brooks, Victoria (1) | Brookshire, Jinette (4) |
| Brotherton, Agatha (3) | Brotherton, James (1) | Brotherton, Regina (1) | Broughton, Elizabeth (1) |
| Brouwer, Catharine (1) | Browine, Leona (1) | Brown, ? (1) | Brown, Alexander (1) |
| Brown, Alice (2) | Brown, America (1) | Brown, Andrew (2) | Brown, Catharine (1) |
| Brown, Catherine (2) | Brown, Clara (1) | Brown, Cora (2) | Brown, Cynthia (1) |
| Brown, Darcas (1) | Brown, Darcus (1) | Brown, Dolley (1) | Brown, Dolly (11) |
| Brown, Dorcas (1) | Brown, Elizabeth (4) | Brown, Elsey (11) | Brown, Esther (3) |
| Brown, Evallina (2) | Brown, Gad (1) | Brown, George (3) | Brown, Golden (1) |
| Brown, Henry (1) | Brown, James (3) | Brown, Jane (3) | Brown, Jeff (1) |
| Brown, Joanna (3) | Brown, John (8) | Brown, Joseph (1) | Brown, Josephine (1) |
| Brown, Lewis (2) | Brown, Louis (2) | Brown, Louisa (1) | Brown, Lucinda (4) |
| Brown, Lucy (2) | Brown, M (1) | Brown, Maggie (1) | Brown, Martilla (1) |
| Brown, Mary (3) | Brown, Merritt (1) | Brown, Minerva (1) | Brown, Mr (2) |
| Brown, N (1) | Brown, Nancy (4) | Brown, Newton (1) | Brown, Noah (2) |
| Brown, O (1) | Brown, Owen (1) | Brown, Pearl (1) | Brown, Philander (1) |
| Brown, Rachael (2) | Brown, Rebecca (2) | Brown, Rebekah (1) | Brown, Robert (3) |
| Brown, Samual (1) | Brown, Samuel (2) | Brown, Sarah (14) | Brown, Stanley (1) |
| Brown, Sudie (5) | Brown, Susan (5) | Brown, Susie (1) | Brown, Thomas (1) |
| Brown, Viola (1) | Brown, Virginia (1) | Brown, William (4) | Brown, Wm (1) |
| Brownard, Beverley (1) | Brownard, Beverly (1) | Brownback, Henry (1) | Browne, Dona (1) |
| Browne, Esther (1) | Browning, ? (2) | Browning, Albert (5) | Browning, Ann (1) |
| Browning, Belle (4) | Browning, Carrie (1) | Browning, Cassie (1) | Browning, Chapman (1) |
| Browning, Charles (1) | Browning, Claude (1) | Browning, Dixie (1) | Browning, Edith (1) |
| Browning, Ella (1) | Browning, Francis (7) | Browning, George (1) | Browning, H (2) |
| Browning, Hiram (1) | Browning, J (1) | Browning, Jacob (1) | Browning, James (2) |
| Browning, Jane (3) | Browning, John (4) | Browning, Joseph (2) | Browning, Kenna (1) |
| Browning, Leander (1) | Browning, Lera (1) | Browning, Louisa (1) | Browning, M (1) |
| Browning, Mahilda (1) | Browning, Marietta (1) | Browning, Matilda (11) | Browning, Mollie (6) |
| Browning, N (1) | Browning, Nancy (13) | Browning, Pearl (2) | Browning, Phoebe (1) |
| Browning, Rebecca (5) | Browning, Rice (1) | Browning, Robert (2) | Browning, Rosada (5) |
| Browning, Roxie (2) | Browning, Sarah (6) | Browning, Scott (1) | Browning, Vesta (1) |
| Browning, William (6) | Browning, Willis (1) | Broyles, Nancy (3) | Bruce, Agny (1) |
| Bruce, Effie (3) | Bruce, Mary (1) | Bruce, Nancy (1) | Bruce, Thomas (1) |
| Brumfield, Anna (11) | Brumfield, Anny (1) | Brumfield, Bostic (1) | Brumfield, James (3) |
| Brumfield, Nellie (1) | Brumfield, Susan (10) | Brumfield, Tennessee (1) | Brumfield, William (1) |
| Brundage, Daniel (1) | Brune, David (1) | Bruner, Rachel (5) | Bruno, Agustin (1) |
| Brunty, Barbara (1) | Brunty, Bobby (1) | Brunty, Carol (1) | Brunty, Cynthia (1) |
| Brunty, Diane (1) | Brunty, Kenney (1) | Brunty, Patrick (1) | Brunty, Thomas (1) |
| Brunty, Tommy (1) | Brunty, Tunis (3) | Brush, Alfred (1) | Bruton, Clarinda (15) |
| Bryan, Alva (1) | Bryans, Lizzie (1) | Bryant, Abigal (1) | Bryant, Ada (1) |
| Bryant, Alfred (1) | Bryant, Amanda (1) | Bryant, Candez (1) | Bryant, Candia (1) |
| Bryant, Candice (9) | Bryant, Charity (1) | Bryant, Cordia (1) | Bryant, Davis (1) |
| Bryant, Edgar (1) | Bryant, Effie (1) | Bryant, Eliza (1) | Bryant, Elizabeth (2) |
| Bryant, Felix (1) | Bryant, Harry (2) | Bryant, Hunter (1) | Bryant, Isaac (4) |
| Bryant, James (1) | Bryant, Jesse (2) | Bryant, John (9) | Bryant, Levi (1) |
| Bryant, Lydia (1) | Bryant, Mary (1) | Bryant, Nancy (7) | Bryant, Nellie (1) |
| Bryant, Pauline (1) | Bryant, Pearl (1) | Bryant, Rachel (1) | Bryant, Rebecca (1) |
| Bryant, Samuel (1) | Bryant, Sara (1) | Bryant, Sarah (6) | Bryant, William (2) |
| Bryson, Andrew (8) | Bryson, Clara (1) | Bryson, Emma (1) | Bryson, Lydia (7) |
| Bryson, Mary (5) | Bryson, Rebecca (1) | Bryson, Samuel (1) | Buchanan, Jasper (1) |
| Buchanan, John (2) | Buchanan, Martha (1) | Buchanan, Nancy (8) | Buchanan, Rebecca (2) |
| Buchannon, James (1) | Buchannon, Rutha (1) | Bucher, Abbie (1) | Bucher, Annie (1) |
| Buchett, James (1) | Buchheite, Eliz (1) | Buchko, Carol (1) | Buck, Martha (11) |
| Buck, Mary (5) | Buck, Stokley (2) | Buckles, John (1) | Buckles, Margaret (1) |
| Buckles, Robert (1) | Buddy, John (2) | Buddy, William (2) | Buffington, Daniel (1) |
| Buffington, Sarah (1) | Bull, Rebecca (1) | Bullard, James (1) | Bullard, Jas (1) |
| Bullard, Thomas (1) | Bullard, Thos (1) | Bullock, James (1) | Bullock, Simeon (1) |
| Bunch, Martha (10) | Bundy, ? (1) | Bundy, Ann (3) | Bundy, Anna (3) |
| Bundy, Anne (13) | Bundy, Nancy (1) | Bune, Baxter (1) | Bunker, Arthur (1) |
| Bunn, Mary (1) | Bunn, Myrtle (1) | Burch, Christi (1) | Burch, Fuel (3) |
| Burcham, Rachael (3) | Burcham, Rachel (1) | Burcham, Violet (3) | Burchete, Lucy (1) |
| Burchete, Turner (1) | Burchill/Birchill, Martha (1) | Burchwell, George (1) | Burdick, Naomi (1) |
| Burge, Alex (1) | Burge, Alexander (3) | Burge, Effie (1) | Burge, Marion (1) |
| Burge, Martha (10) | Burgett, Lydia (6) | Burk, Christian (1) | Burk, Edgar (1) |
| Burk, Elizabeth (6) | Burk, Haden (1) | Burk, Jonathan (1) | Burk, Mary (2) |
| Burk, Nancy (1) | Burke, Catherine (4) | Burke, Eliza (8) | Burke, Liza (1) |
| Burke, Ruth (1) | Burke, William (1) | Burket, Benjamin (1) | Burkett, Sally (1) |
| Burkett, Samuel (2) | Burkey, Ruby (2) | Burkhart, John (1) | Burkhead, Henry (1) |
| Burnett, B (1) | Burnett, Dys (1) | Burnett, Eliza (1) | Burnett, Finley (2) |
| Burnett, James (2) | Burnett, Mary (3) | Burnett, Orville (3) | Burns, Ellen (1) |
| Burns, Ernest (1) | Burns, Lydia (1) | Burns, Mary (2) | Burns, Minnie (1) |
| Burns, Oliver (1) | Burns, Susanna (1) | Burns, Susannah (1) | Burnsides, Nancy (1) |
| Burress, Eleanor (3) | Burress, Polly (2) | Burris, Perlina (12) | Burris, Polly (1) |
| Burrows, Ernest (1) | Burt, W (1) | Burton, Ana (1) | Burton, Margaret (15) |
| Burton, Mary (1) | Burton, Thomas (1) | Burwell, Belva (1) | Burwell, Bertie (1) |
| Burwell, Bettie (1) | Burwell, Burl (1) | Burwell, Fanny (2) | Burwell, Hazel (1) |
| Burwell, Hugh (1) | Burwell, Judson (2) | Burwell, Maxie (1) | Busalacchi, Stephen (1) |
| Bush, Martha (1) | Bush, Minnie (3) | Busroe, Ida (1) | Bussell, Genas (3) |
| Bussell, Joseph (1) | Bussell, Lucy (1) | Bussell, Samuel (1) | Bussert, Carrie (3) |
| Butcher, Christiana (9) | Butcher, Cora (11) | Butcher, Dorothy (1) | Butcher, Emazette (1) |
| Butcher, Mary (1) | Butcher, Orval (1) | Butcher, Willaim (1) | Butcher, William (1) |
| Butler, Ann (1) | Butler, Anna (1) | Butler, Anne (1) | Butler, Cora (1) |
| Butler, Mary (1) | Butler, Minnie (1) | Butler, R (1) | Butterfield, David (1) |
| Butterfield, Ian (1) | Buttram, Zilpha (1) | Butts, Amelia (1) | Byers, Jonathan (2) |
| Byford, Aphra (1) | Byford, Mary (1) | Byford, Millie (1) | Byford, Milly (1) |
| Byrd, America (1) | Byrd, Ann (1) | Byrd, Benjaman (1) | Byrd, Bettie (1) |
| Byrd, Betty (4) | Byrd, Eddie (1) | Byrd, Luther (2) | Byrd, Manerva (1) |
| Byrd, Oliver (3) | Byrd, Ramsey (1) | Byrd, Sarah (1) | Byrd, William (1) |
| Byrnes, Sandra (2) | C, Kittie (1) | Cadwallader, Phebe (1) | Cadwell, George (3) |
| Cadwell, Malissa (1) | Caffrey, Mary (1) | Cage, Dewitt (1) | Cagle, Teddy (1) |
| Cahall, Honore (1) | Cahall, Thomas (1) | Cahill, Jane (2) | Caig, Harriet (1) |
| Cain, Anea (3) | Cain, Daniel (1) | Cain, Emily (1) | Cain, Joyce (4) |
| Cain, Mary (5) | Caine, Daisee (2) | Caine, John (1) | Calahan, C (1) |
| Calderazzo, Aldo (1) | Calderazzo, Dina (1) | Calderazzo, Heidi (1) | Caldwell, Bertha (9) |
| Caldwell, Easlis (1) | Caldwell, Elizabeth (3) | Caldwell, Floyd (1) | Caldwell, Jestine (1) |
| Caldwell, Joe (1) | Caldwell, John (7) | Caldwell, Joseph (2) | Caldwell, Louisa (1) |
| Caldwell, Mary (2) | Caldwell, Ocie (1) | Calhoon, George (2) | Calhoon, Nancy (2) |
| Call, Mary (1) | Callhon, Sarah (14) | Callins, Louisa (1) | Calliway, James (1) |
| Calvert, Katherine (1) | Calvin, Delia (1) | Calvin, Thomas (1) | Calwell, Little (1) |
| Camp, Eliza (1) | Campbell, Alexander (1) | Campbell, Charles (3) | Campbell, Cordella (1) |
| Campbell, Ebeneazer (1) | Campbell, Emeline (1) | Campbell, Emma (1) | Campbell, Emmeline (11) |
| Campbell, James (2) | Campbell, Jeremiah (1) | Campbell, Jeremiahh (1) | Campbell, Margaret (1) |
| Campbell, Mary (1) | Campbell, Mat (1) | Campbell, Mattie (1) | Campbell, Thomas (1) |
| Canada, Alice (1) | Canada, Andrew (1) | Canada, I (1) | Canada, Isabel (1) |
| Canaday, L (2) | Canady, Charles (1) | Canady, L (2) | Canady, Victory (1) |
| Canals, Richard (2) | Canfield, John (2) | Canfield, Minerva (1) | Canif, Reubin (1) |
| Cannon, Dora (2) | Cannon, John (1) | Canterberry, Lewis (1) | Canterberry, Louis (1) |
| Canterbury, Ellen (1) | Canterbury, James (2) | Canterbury, Jh (1) | Canterbury, Lewis (2) |
| Cantini, Melissa (1) | Cantini, Regis (1) | Cantini, Ronald (1) | Cantley, Edna (1) |
| Cantrel, Louisa (2) | Cantrell, C (1) | Cantrell, Louisa (1) | Cantrell, Nancy (1) |
| Cantril, Emma (1) | Canute, William (1) | Capps, Janice (1) | Car, Martha (1) |
| Car, William (1) | Carby, Effie (1) | Carby, Eliza (3) | Carby, Perina (4) |
| Cardelein, Rose (1) | Carder, Gracie (2) | Cardin, Nora (1) | Carig, Nadie (1) |
| Carlile, Margaret (2) | Carlton, Bell (1) | Carlton, Bill (1) | Carlton, David (1) |
| Carlton, Donnie (1) | Carlton, Fred (1) | Carlton, Gary (1) | Carlton, Junior (1) |
| Carlton, Raymond (1) | Carlton, Samaria (2) | Carlton, Tom (1) | Carlucci, Sandro (1) |
| Carlyle, Esther (1) | Carmichael, James (1) | Carmony, James (1) | Carnes, George (1) |
| Carnes, Hester (1) | Carnes, Jeanne (1) | Carnes, Miranda (8) | Carnes, Orland (1) |
| Carnes, Roger (1) | Carnes, Sarah (3) | Carnes, Sonja (1) | Carnes, Thomas (1) |
| Caroll, Brett (1) | Carpenter, Anna (1) | Carpenter, Helen (10) | Carpenter, Hellen (1) |
| Carpenter, Molley (1) | Carr, Amanda (1) | Carr, Eliza (1) | Carr, Francis (2) |
| Carr, Franklin (1) | Carr, George (1) | Carr, Harriet (5) | Carr, Hester (1) |
| Carr, Jeremiah (5) | Carr, John (1) | Carr, Kezeah (1) | Carr, Marary? (1) |
| Carr, Margaret (1) | Carr, Nancy (1) | Carr, Rachel (1) | Carr, Riley (1) |
| Carr, Sarah (4) | Carr, Vincent (1) | Carr, William (6) | Carrell, Mary (2) |
| Carrington, Bertha (1) | Carroll, Hobie (1) | Carroll, Jacob (2) | Carroll, Mary (5) |
| Carroll, Paul (1) | Cars, Ruby (1) | Carson, Mary (1) | Carter, Alice (1) |
| Carter, Aly (1) | Carter, Ava (1) | Carter, Ballard (1) | Carter, Blaine (1) |
| Carter, Blanche (5) | Carter, Eliza (1) | Carter, Ellen (6) | Carter, Evie (1) |
| Carter, Howard (2) | Carter, Isabel (1) | Carter, J (1) | Carter, Jenny (1) |
| Carter, Joe (1) | Carter, John (2) | Carter, Joseph (1) | Carter, Juanita (1) |
| Carter, Kenneth (8) | Carter, Laura (9) | Carter, Leonard (2) | Carter, Lizzie (2) |
| Carter, Lydia (1) | Carter, Manda (1) | Carter, Martha (1) | Carter, Mary (2) |
| Carter, Myrtle (1) | Carter, Nancy (6) | Carter, Nichole (1) | Carter, Rebecca (1) |
| Carter, Rhoda (1) | Carter, Sam (1) | Carter, Sarah (15) | Carter, Thomas (1) |
| Carter, Wanda (1) | Carter, William (1) | Carter, Zira (1) | Cartwright, Elijah (1) |
| Cartwright, Mary (4) | Cartwright, Polly (1) | Carver, Eliza (1) | Carver, Elize (1) |
| Carver, Joseph (1) | Casby, Mary (1) | Casey, Jack (1) | Casey, Ralph (1) |
| Cash, Calvin (1) | Cash, Everett (1) | Cash, Leurena (1) | Casleman, Vina (2) |
| Cason, Carol (1) | Cason, Corey (1) | Cason, Louise (1) | Casper, Catherine (1) |
| Casper, Russell (1) | Castleman, Tracy (1) | Cater, Susan (7) | Cater/cates, Susan (1) |
| Cater/cates, Wiley (1) | Cates, Mariam (2) | Cates, Wiley (1) | Cathey, Lafayette (1) |
| Cathey, Thomas (1) | Cathy, ? (1) | Catt, Jacob (1) | Cavinee, Bessie (1) |
| Caviness, Emma (1) | Cecil, James (1) | Cecil, Solomon (1) | Centers, ? (1) |
| Chabanik, Mary (1) | Chadwell, Annie (1) | Chadwell, Charles (1) | Chadwell, Mose (1) |
| Chaffin, Elizabeth (1) | Chafin, ? (1) | Chafin, Alafair (1) | Chafin, Albert (1) |
| Chafin, Allen (3) | Chafin, Allie (2) | Chafin, Andrew (1) | Chafin, Babes (1) |
| Chafin, Chris (1) | Chafin, Dan (1) | Chafin, Daris (1) | Chafin, Eliza (14) |
| Chafin, Elizabeth (9) | Chafin, Ella (1) | Chafin, Frankie (1) | Chafin, Georgia (1) |
| Chafin, Harrison (1) | Chafin, Harry (1) | Chafin, Hulda (1) | Chafin, Ida (3) |
| Chafin, Inez (1) | Chafin, Isabella (1) | Chafin, Jarvis (1) | Chafin, John (2) |
| Chafin, Johnny (1) | Chafin, Joseph (1) | Chafin, Joshua (1) | Chafin, Julious (1) |
| Chafin, Leonard (1) | Chafin, Levisa (18) | Chafin, Lizzie (1) | Chafin, Lunsford (1) |
| Chafin, Lydia (2) | Chafin, Margaret (1) | Chafin, Mary (3) | Chafin, Matilda (1) |
| Chafin, Milly (1) | Chafin, Minnie (1) | Chafin, Moses (2) | Chafin, Nancy (1) |
| Chafin, Nathan (4) | Chafin, Okey (1) | Chafin, Parl (1) | Chafin, Parlee (2) |
| Chafin, Paul (1) | Chafin, Pearl (1) | Chafin, Pleasant (1) | Chafin, Ples (1) |
| Chafin, Polly (1) | Chafin, Pricy (1) | Chafin, Rebecca (8) | Chafin, Rosa (1) |
| Chafin, Sarah (1) | Chafin, Stanley (1) | Chafin, Sue (1) | Chafin, Thomas (2) |
| Chafin, Tom (2) | Chafin, William (3) | Chafin, Yantice (4) | Chafin, Zion (1) |
| Chafins, Rebecca (1) | Chahnt, Chisiah (1) | Chahnt, Comfret (1) | Chahnt, Martha (1) |
| Chahnt, Nancey (1) | Chahnt, Nancy (1) | Challis, Leo (1) | Chamberlain, Alice (1) |
| Chamberlain, Grace (1) | Chamberlin, Alice (1) | Chamberlin, Dakin (1) | Chamberlin, Hester (1) |
| Chamberlin, James (1) | Chamberlin, Rachal (6) | Chamberlin, Sarah (8) | Chamberlin, Sylvester (1) |
| Chamberlin, Thomas (9) | Chambers, Arthur (2) | Chambers, Ella (6) | Chambers, Gladys (1) |
| Chambers, John (1) | Chambers, Justice (2) | Chambers, Marion (1) | Chambers, Martha (1) |
| Chambers, Mary (2) | Chambers, Patricia (1) | Chambers, Paul (1) | Chambers, Peter (1) |
| Chambers, R (1) | Chambers, Richard (1) | Chambers, Russell (1) | Chambers, Samuel (1) |
| Chambless, Christian (1) | Chambless, Jesse (2) | Champion, Samuel (1) | Chandler, Bethann (1) |
| Chandler, Brian (1) | Chandler, Cara (1) | Chandler, James (1) | Chandler, Mary (15) |
| Chandler, Monte (1) | Chaney, Darcas (1) | Chaney, Dorcas (4) | Chaney, John (3) |
| Chaney, Louisa (1) | Chaney, Louise (13) | Chaney, Pricy (11) | Chaney, Sarah (1) |
| Chaney, Susan (3) | Chapin, Ruth (1) | Chapman, Anderson (15) | Chapman, Araminta (1) |
| Chapman, Bernice (1) | Chapman, Chloe (1) | Chapman, Clara (2) | Chapman, Edward (1) |
| Chapman, Elizabeth (1) | Chapman, Ellen (1) | Chapman, Emma (1) | Chapman, George (1) |
| Chapman, James (1) | Chapman, Jane (1) | Chapman, John (2) | Chapman, Joseph (2) |
| Chapman, Lucretia (12) | Chapman, Mary (1) | Chapman, Sarah (20) | Chapman, Thomas (2) |
| Chapman, Vernie (1) | Chapman, William (1) | Chappel, Lucinda (1) | Chappell, Lucindia (11) |
| Charles, Armeda (1) | Charleswood, Flora (1) | Charm, John (1) | Charrot, Jeanne (1) |
| Chase, Arnold (1) | Chase, Bernard (2) | Chase, Clarisa (1) | Chase, Francis (8) |
| Chase, Geniva (1) | Chase, Jonothon (1) | Chase, Matthew (1) | Chase, Nellie (6) |
| Chase, Thomas (3) | Chatten, Lucinda (1) | Cheek, Refina (1) | Cheek, Regina (11) |
| Cheek, William (1) | Cheek, Winonia/Wessoney (1) | Chenaught, Westley (1) | Cherry, Emma (1) |
| Chesebro, Elizabeth (1) | Chesebro, Frank (1) | Chesley, Adaline (1) | Chesley, Adeline (1) |
| Chesley, Louisa (1) | Chesley, Mathew (1) | Chilcote, Sam (1) | Chilcote, Susan (1) |
| Childers, B (1) | Childers, Benjamin (1) | Childers, John (1) | Childress, Minti (1) |
| Childress, William (1) | Chipps, John (2) | Chipps, Sarah (1) | Chisholm, Absalom (1) |
| Chittum, Geo (1) | Chittum, George (1) | Chitwood, Andrew (1) | Chitwood, William (1) |
| Chris, ? (1) | Chrisman, John (1) | Christ, Catherine (2) | Christensen, Dorothy (1) |
| Christian, Daniel (1) | Christian, Ethel (1) | Christian, Eudora (1) | Christian, Matilda (10) |
| Christian, Nancy (1) | Christian, Ruthie (1) | Christian, Sarah (1) | Christopher, Christian (1) |
| Christopher, Elizabeth (4) | Christy, Henry (1) | Christy, Nancy (11) | Chumbly, Mary (1) |
| Chumita, Stella (1) | Church, Ellen (1) | Churchill, John (1) | Cindy, ? (1) |
| Cisco, Dow (3) | Cisco, Jane (1) | Cisco, Johnson (1) | Cisco, Mabel (1) |
| Cisco, Sam (1) | Citters, Eli (1) | City, Joshua (2) | Claar, Mathias (1) |
| Clancy, Don (1) | Clark, ? (1) | Clark, Abraham (3) | Clark, Anastasia (14) |
| Clark, Arthur (3) | Clark, Benjamin (1) | Clark, Bertha (1) | Clark, Betty (1) |
| Clark, Bridget (2) | Clark, Carrie (3) | Clark, Chester (2) | Clark, Cornelia (3) |
| Clark, Edward (1) | Clark, Elijah (1) | Clark, Eliza (1) | Clark, Elizabeth (1) |
| Clark, Elmer (1) | Clark, Emeline (1) | Clark, Ernest (3) | Clark, Eugene (1) |
| Clark, Genevieve (4) | Clark, Gerald (1) | Clark, Gilbert (8) | Clark, Gordon (3) |
| Clark, Hannah (1) | Clark, Isabella (5) | Clark, John (1) | Clark, L (1) |
| Clark, Leslie (10) | Clark, Louisa (2) | Clark, Lucy (2) | Clark, Maria (1) |
| Clark, Martha (1) | Clark, Mary (16) | Clark, Meville (1) | Clark, Moses (1) |
| Clark, Nancy (1) | Clark, Noah (1) | Clark, Phebe (1) | Clark, Phoebe (5) |
| Clark, Polly (1) | Clark, R (1) | Clark, Rachael (1) | Clark, Rachel (3) |
| Clark, Rebbeca (1) | Clark, Reuben (1) | Clark, Sally (1) | Clark, Samuel (1) |
| Clark, Sarah (2) | Clark, Sue (1) | Clark, Susan (1) | Clark, Susanna (3) |
| Clark, Susannah (1) | Clark, Thomas (1) | Clark, Walter (8) | Clark, Yardon (1) |
| Clay, Henry (1) | Clay, Martha (14) | Clay, Mary (2) | Clay, Nancy (3) |
| Clay, Obedience (1) | Claypool, Abel (1) | Clayton, Cecil (3) | Clayton, Christine (1) |
| Clayton, Francis (2) | Clayton, James (1) | Clayton, Linus (1) | Claytor, Eliza (1) |
| Claytor, James (3) | Claytor, Micajah (3) | Cleave, Benjamen (1) | Cleaveland, Charles (1) |
| Cleaver, Derrick/Valentine (1) | Cleaver, John (1) | Cleaver, Martha (5) | Cleaver, Mary (3) |
| Cleaver, Nancy (1) | Cleaver, Peter (1) | Cleever, Thomas (1) | Cleever, Thos (1) |
| Clements, Calvin (1) | Clements, David (1) | Clements, Hathaway (1) | Clements, Mary (1) |
| Clements, Nancy (2) | Clements, Rhoda (1) | Clements, Richard (1) | Clements, Rodger (1) |
| Clements, William (2) | Clemmons, Joecie (1) | Clemmons, Joycie (1) | Clemons, Joycie (1) |
| Clemons, Melvin (1) | Clemons, Rachel (3) | Clevinger, Emma (1) | Clevinger, Mary (1) |
| Clice, William (1) | Click, Burl (1) | Click, Daniel (2) | Click, Junior (1) |
| Click, Mary (17) | Click, Melvin (1) | Click, Monroe (1) | Click, Sadie (5) |
| Click, William (2) | Clifton, James (1) | Clifton, Millie (1) | Clifton, Milly (1) |
| Cline, Abbie (4) | Cline, Adam (1) | Cline, Allen (1) | Cline, Alonzo (2) |
| Cline, Anderson (1) | Cline, Ann (1) | Cline, Anna (5) | Cline, Anne (1) |
| Cline, Arminta (3) | Cline, Catherine (20) | Cline, Clary (1) | Cline, Day (1) |
| Cline, Eda (4) | Cline, Edith (11) | Cline, Elizabeth (16) | Cline, Glen (1) |
| Cline, Greely (1) | Cline, Hugh (1) | Cline, Humphrey (1) | Cline, Iva (1) |
| Cline, Jacob (4) | Cline, James (1) | Cline, Jane (2) | Cline, Jerry (2) |
| Cline, John (8) | Cline, Joseph (1) | Cline, Julius (2) | Cline, Larkin (1) |
| Cline, Laura (1) | Cline, Lee (2) | Cline, Marie (1) | Cline, Martha (2) |
| Cline, Mary (19) | Cline, Mike (1) | Cline, Myrtle (3) | Cline, Nancy (22) |
| Cline, Pearl (1) | Cline, Peggy (1) | Cline, Perry (1) | Cline, Peter (22) |
| Cline, Polina (1) | Cline, Roxie (1) | Cline, Sarah (1) | Cline, Siota (1) |
| Cline, Siothia (4) | Cline, Waxy (2) | Cline, William (7) | Clinton, John (1) |
| Clough, Hannah (1) | Cloward, Verle (1) | Clymer, John (1) | Cobb, Easter (8) |
| Cobb, Oscar (1) | Cochran, Elizabeth (5) | Cochran, Patricia (1) | Cochran, Samuel (1) |
| Cockerham, Mary (4) | Coddington, Daniel (2) | Cody, ? (1) | Coffelt, Joseph (1) |
| Coffin, Tabitha (1) | Coffman, America (1) | Coffman, Geo (1) | Coffman, George (2) |
| Coffman, Peter (1) | Coggswell, Eliza (1) | Cogswell, Eliza (1) | Cokeley, ? (1) |
| Cole, Betsy (1) | Cole, Betty (1) | Cole, Eleonor (1) | Cole, Helen (1) |
| Cole, Henry (2) | Cole, Hermon (1) | Cole, Joseph (1) | Cole, Margaret (3) |
| Cole, Mary (1) | Cole, Melissa (1) | Cole, Nancy (1) | Cole, Oliver (1) |
| Cole, Sarah (6) | Cole, Taylor (1) | Cole, Theodore (1) | Colegrove, George (1) |
| Colegrove, Stephen (1) | Coleman, Belle (3) | Coleman, Cora (1) | Coleman, Cosby (7) |
| Coleman, Curtis (1) | Coleman, Cylvania (1) | Coleman, Cyntha (12) | Coleman, Cynthia (1) |
| Coleman, Daniel (2) | Coleman, Elizabeth (1) | Coleman, Ferrell (2) | Coleman, George (1) |
| Coleman, Ida (2) | Coleman, Jack (1) | Coleman, James (2) | Coleman, Jasper (3) |
| Coleman, Laoney (1) | Coleman, Leah (1) | Coleman, Louisa (2) | Coleman, Mark (1) |
| Coleman, Martha (1) | Coleman, Mary (1) | Coleman, Matilda (1) | Coleman, Matthew (1) |
| Coleman, Mina (1) | Coleman, Mitchell (1) | Coleman, Phoebe (2) | Coleman, Ransom (1) |
| Coleman, Stilman (1) | Coleman, Susan (1) | Coleman, Vicie (2) | Coleman, William (3) |
| Collard, ? (1) | Collard, Abagail (1) | Collard, Abigail (6) | Collard, James (1) |
| Collard, Mary (1) | Collect, James (1) | Collett, Elizabeth (1) | Colley, Margaret (1) |
| Colley, Richard (1) | Collier, Leslie (2) | Colling, Hazel (1) | Colling, Joseph (2) |
| Collingridge, Mark (1) | Collingridge, Wayne (1) | Collingwood, Charles (1) | Collins, Aaron (1) |
| Collins, Ada (4) | Collins, Charles (3) | Collins, Clara (4) | Collins, Cordia (1) |
| Collins, David (1) | Collins, Dicy (1) | Collins, Dorothy (4) | Collins, Edna (4) |
| Collins, Ellen (1) | Collins, Everett (1) | Collins, Forest (1) | Collins, Isham (1) |
| Collins, James (9) | Collins, John (5) | Collins, June (1) | Collins, L (2) |
| Collins, Layton (1) | Collins, Letha (1) | Collins, Levi (1) | Collins, Linda (1) |
| Collins, Linus (1) | Collins, Lorna (4) | Collins, Louemma (1) | Collins, Louisa (11) |
| Collins, Margaret (1) | Collins, Mary (15) | Collins, Matthew (3) | Collins, Melissa (11) |
| Collins, Meredith (1) | Collins, Nancy (14) | Collins, Ralph (1) | Collins, Richard (1) |
| Collins, Samuel (1) | Collins, Sopha (1) | Collins, Sophia (2) | Collins, Susan (1) |
| Collins, Thomas (1) | Collins, Tobias (1) | Collins, William (17) | Collins, Wm (1) |
| Collins, Zachariah (1) | Colman, Sarah (1) | Colon, Adrienne (1) | Colon, Elliott (1) |
| Colvin, Boswell (3) | Colvin, Lydia (1) | Colwell, Jacob (1) | Colwell, Joseph (1) |
| Colyer, Cynthia (1) | Combes, Amanda (1) | Combes, Phebe (2) | Combes, Thomas (2) |
| Combs, Birdie (1) | Combs, Carl (1) | Combs, Caroline (5) | Combs, Guy (1) |
| Combs, Jesse (1) | Combs, Mary (1) | Combs, Polly (2) | Combs, Valentine (3) |
| Combs, William (1) | Comegys, Philip (1) | Comer, Carol (1) | Comer, Donald (1) |
| Comer, Emmett (1) | Commons, Elbina (6) | Commons, Ezekial (2) | Commons, Sarah (1) |
| Como, Elizabeth (1) | Compton, ? (1) | Compton, Irvin (1) | Comstock, Anna (10) |
| Comstock, Elizabeth (1) | Comstock, Joseph (1) | Comstock, Mary (18) | Conah, Jane (1) |
| Conard, Anthony (1) | Conkle, Martha (1) | Conklin, Jack (1) | Conklin, Mary (4) |
| Conley, Elizabeth (2) | Conley, Reubin (1) | Conley, Thomas (1) | Conn, Dorothy (1) |
| Conner, B (1) | Conner, Rellar (1) | Connor, Ella (1) | Connor, Robert (3) |
| Connor, Will (1) | Connors, Francis (1) | Connute, William (1) | Conover, Mary (1) |
| Conrad, James (1) | Converse, Earl (1) | Converse, Mary (1) | Cooerdale, William (1) |
| Cook, Andrew (1) | Cook, Arthur (2) | Cook, Benjamin (3) | Cook, Elizabeth (2) |
| Cook, Emily (1) | Cook, Jonathan (1) | Cook, Joseph (1) | Cook, Kissiah (1) |
| Cook, L (1) | Cook, Leonard (1) | Cook, Margaret (1) | Cook, Martha (1) |
| Cook, Patricia (1) | Cook, Rena (9) | Cook, Sarah (3) | Cook, Sis (1) |
| Cooke, James (1) | Cookston, Margaret (1) | Cooley, John (1) | Coon, Araminta (14) |
| Coon, Arminta (1) | Coon, Armintia (1) | Coon, Mary (11) | Coon, Winifred (1) |
| Coons, Jacqueline (1) | Cooper, Absolom (1) | Cooper, George (1) | Cooper, Hettie (1) |
| Cooper, Isaac (1) | Cooper, J (1) | Cooper, James (2) | Cooper, M (1) |
| Cooper, Madison (5) | Cooper, Nancy (2) | Cooper, Peyton (1) | Cooper, Sarah (1) |
| Cooston, Margaret (1) | Cope, R (1) | Copeland, Clyde (1) | Copeland, Debbie (1) |
| Copeland, Martha (3) | Copeland, Violet (1) | Copeland, W (1) | Copeland, Will (1) |
| Copeland, William (1) | Copenhauer, John (1) | Copenhaver, John (1) | Copley, Henry (1) |
| Copley, James (3) | Copley, Linda/Malinda (2) | Copley, Sam (1) | Coppage, Francis (2) |
| Cora, Isabella (3) | Cora, Katherine (1) | Cora, Peter (1) | Corand, Martha (1) |
| Corban, George (1) | Corbell, Rita (1) | Corbell, Roberta (1) | Corbin, Albert (1) |
| Corbin, Franklin (1) | Corbin, George (2) | Corbin, Nancy (1) | Cordell, David (3) |
| Core, Ann (1) | Core, John (1) | Coriera, Tony (1) | Corley, Eliza (1) |
| Corley, Emma (1) | Corley, Margaret (11) | Corley, William (1) | Corn, Barbie (1) |
| Cornelas, Henry (1) | Cornelius, Henry (2) | Cornell, George (1) | Cornell, Hattie (1) |
| Cornell, Martha (1) | Cornelus, Henry (1) | Cornett, Comfort (4) | Cornett, David (6) |
| Cornett, Kessiah (2) | Cornett, Martha (2) | Cornett, Mary (1) | Cornett, Nancy (2) |
| Cornett, Rebecca (10) | Cornett, William (7) | Cornette, Celia (1) | Cornette, Lydia (1) |
| Correy, Kim (1) | Corwin, Thomas (1) | Corxall, Elizabeth (3) | Cosbey, John (3) |
| Cosby, George (1) | Cosgrove, Mary (1) | Cosley, Clara (1) | Cotes, William (1) |
| Cothran, Mary (1) | Cotillier, John (1) | Cotner, William (1) | Cotton, A (1) |
| Cotton, Aaron (2) | Cotton, George (1) | Cotton, Gladys (1) | Cotton, Thelma (1) |
| Cotton, Tolman (2) | Couch, ? (1) | Couch, Manirva (1) | Coultas, Eliza (1) |
| Council, Matthew (1) | Counts, Christina (1) | Covey, Eldridge (1) | Covis, M (1) |
| Cowan, Allie (1) | Cowan, Bertha (1) | Cowan, Cornia (7) | Cowan, Ethel (1) |
| Cowan, George (6) | Cowan, Green (7) | Cowan, Hoy (1) | Cowan, James (1) |
| Cowan, John (1) | Cowan, Lydia (1) | Cowan, Nancy (4) | Cowan, Viola (1) |
| Cowan, William (1) | Cox, Alexander (1) | Cox, Anne (1) | Cox, Charles (2) |
| Cox, Charlotte (1) | Cox, Christian (14) | Cox, Floyd (1) | Cox, Green (1) |
| Cox, Nancy (10) | Cox, Neal (1) | Cox, Rhoda (1) | Cox, Susan (1) |
| Cox, William (1) | Coy, Mary (1) | Coy, Willis (1) | Coyle, Nannie (1) |
| Coyne, Ann (1) | Cozine, Sarah (1) | Crabbe, Charlotte (1) | Crabtree, Amelia (1) |
| Crabtree, Dorcas (2) | Crabtree, Emelia (4) | Crabtree, Emma (3) | Crabtree, Hiram (1) |
| Crabtree, James (1) | Crabtree, Jane (1) | Crabtree, Jesse (3) | Crabtree, John (1) |
| Crabtree, Julia (1) | Crabtree, Manerva (1) | Crabtree, Mary (10) | Crabtree, Nancy (21) |
| Crabtree, Ora (1) | Crabtree, Pricy (1) | Crabtree, Rachel (2) | Crabtree, Rebecca (18) |
| Crabtree, Sarah (1) | Crabtree, Soloman (2) | Crabtree, Solomon (2) | Crabtree, Timothy (1) |
| Crabtree, Wilburn (1) | Craft, Edgar (1) | Craft, John (1) | Craft, Jw (1) |
| Craft, Lena (2) | Craig, Elizabeth (12) | Craig, Jane (1) | Craig, Jennie (1) |
| Craig, John (1) | Craig, Joseph (1) | Craig, Mary (12) | Craig, Nancy (6) |
| Craig, Polly (2) | Craig, Walter (1) | Craig, William (1) | Crain, Louie (1) |
| Crain, M (1) | Cram, Josiah (1) | Cramer, Margaret (1) | Crandley, John (1) |
| Crane, Jeremiah (1) | Crane, Josiah (1) | Cranston, Alice (1) | Craven, Albert (1) |
| Craven, Susie (2) | Craven, Thomas (1) | Crawford, Edward (1) | Crawford, Elizabeth (1) |
| Crawford, James (1) | Crawford, Margaret (3) | Crawford, William (1) | Craycraft, Charlotte (1) |
| Craycroft, Charlotte (2) | Creech, John (1) | Criger, Nancy (2) | Crisp, Lou (2) |
| Crispin, Eleanor (1) | Criss, Dorothy (2) | Criss, Hazen (3) | Criss, Ida (4) |
| Criss, Lucian (5) | Crist, Christiana (5) | Crist, Harriett (1) | Crist, Isaiah (1) |
| Crist, John (1) | Crist, Nicholas (1) | Crist, Peter (10) | Croach, Elisabeth (1) |
| Croach, Elizabeth (1) | Croak, Helen (1) | Crocker, Eliza (1) | Crocker, Hiram (1) |
| Crocker, William (2) | Crocket, Flora (2) | Croffoot, Addie (3) | Crofford, Elizabeth (1) |
| Crofoot, Adda (1) | Croftcheck, Helen (1) | Cronager, Susan (1) | Cronister, Casper (1) |
| Cronister, Mary (1) | Cronk, Warren (1) | Crook, ? (1) | Crook, Virgis (1) |
| Crooks, John (1) | Crosby, Abijah (1) | Cross, ? (2) | Cross, Everett (1) |
| Crow, Jacob (1) | Crow, Thomas (1) | Crow, William (1) | Croxdale, Leander (1) |
| Crum, Josie (1) | Crumstalk, Ann (1) | Crumstalk, Anna (1) | Crumstalk, Anne (1) |
| Cullpepper, Ada (1) | Cullpepper, Dowd (2) | Cullum, Bettie (1) | Cullum, Betty (1) |
| Culp, Rosetta (12) | Culp, Theodore (1) | Culp, William (2) | Culver, Julia (4) |
| Culver, Samuel (1) | Cummings, Laura (4) | Cummings, Mabel (1) | Cummins, Henry (1) |
| Cummins, James (1) | Cummins, John (4) | Cummins, Rebecca (1) | Cumstalk, Mary (1) |
| Cundiff, Mary (1) | Cunningham, Alvinzi (1) | Cunningham, Annie (1) | Cunningham, Catherine (9) |
| Cunningham, Daris (1) | Cunningham, Elizabeth (1) | Cunningham, Horrace (1) | Cunningham, James (2) |
| Cunningham, Lyman (1) | Cunningham, Maggie (1) | Cunningham, Mary (1) | Cunningham, Matilda (1) |
| Cunningham, Michael (1) | Cunningham, Silas (1) | Cunningham, William (11) | Cunreds/Conrad, Agnes (1) |
| Cunreds/Conrad, Ann (1) | Cunreds/Conrad, Elizabeth (1) | Cunreds/Conrad, Jane (1) | Cunreds/Conrad, John (1) |
| Cunreds/Conrad, Jonathon (1) | Cunreds/Conrad, Margaret (1) | Cupp, Martha (1) | Cupp, Peter (1) |
| Curby, Zachary (1) | Curran, Alexis (1) | Curran, Ben (1) | Curran, Craig (1) |
| Currie, Gladys (1) | Currs, Charles (1) | Curry, ? (1) | Curry, Ada (1) |
| Curry, Alexander (1) | Curry, Charles (1) | Curry, Cleone (1) | Curry, David (1) |
| Curry, Elizabeth (3) | Curry, G (1) | Curry, Hanna (1) | Curry, Harve (1) |
| Curry, James (1) | Curry, Jesse/James (4) | Curry, Julia (1) | Curry, Letha (1) |
| Curry, Lilly (2) | Curry, Lottie (1) | Curry, Martha (1) | Curry, Mary (1) |
| Curry, Miles (1) | Curry, Minerva (1) | Curry, Nancy (2) | Curry, Nannie (1) |
| Curry, Narcissus (1) | Curry, Opal (1) | Curry, Peggy (1) | Curry, Robert (2) |
| Curry, Ruby (1) | Curry, Stacy (2) | Curry, Thomas (1) | Curry, Vera (1) |
| Curry, William (1) | Curry, Winnie (1) | Curtis, ? (2) | Curtis, Arthur (1) |
| Curtis, Betty (1) | Curtis, Charles (1) | Curtis, Ida (1) | Curtis, Karen (1) |
| Curtis, Lori (1) | Curtis, Lucinda (1) | Curtis, Lydia (1) | Curtis, Sarah (1) |
| Curtis, Stewart (1) | Curtis, Stuart (1) | Cushman, Rouanna (1) | Custard, Paul (2) |
| Custer, Paul (2) | Cutler, Audrey (1) | Cutler, Doras (1) | Cutler, Gertrude (1) |
| Cutler, Robert (1) | Cutler, Ruth (1) | Cutler, William (2) | Cutlip, William (1) |
| Cutright, William (1) | Daffenderfer, Harold (1) | Daffenderfer, Harry (1) | Daffer, James (1) |
| Daily, Rhea (1) | Daines, ? (1) | Daines, Chalmer (1) | Daines, Dallas (1) |
| Daines, Germaine (1) | Daisy, John (1) | Dale, Fred (1) | Dale, Sarah (8) |
| Daly, ? (1) | Daly, Mary (1) | Dame, David (1) | Dameron, Nancy (1) |
| Damewood, Mary (1) | Dammwood, Gladys (1) | Damrell, Joe (1) | Damron, Anse (1) |
| Damron, Betta (1) | Damron, Edna (1) | Damron, Ethel (1) | Damron, Jessie (1) |
| Damron, Maud (1) | Damron, Minnie (1) | Damron, Mont (1) | Damron, Nancy (1) |
| Damron, William (3) | Damron, Willie (1) | Daniel, Fannie (1) | Daniel, Fanny (1) |
| Daniel, Mary (1) | Daniel, Robert (1) | Daniels, Blanch (1) | Daniels, Celia (2) |
| Daniels, David (2) | Daniels, Lewis (1) | Daniels, Louis (1) | Daniels, Perry (1) |
| Daniels, Samuel (1) | Daniels, Sarah (2) | Daniels, Vada (1) | Daniels, William (1) |
| D'Ann, Sandra (1) | Dansby, Lula (1) | Dant, John (2) | Daprile, Anna (1) |
| Daprile, Gavin (1) | Daprile, Julie (1) | Daprile, Rudolph (1) | Dark, Ann (1) |
| Dark, Anna (1) | Dark, Anne (1) | Dark, Samuel (1) | Darling, Crayton (1) |
| Darll, David (1) | Darll, Nancy (1) | Darnell, Alice (5) | Darrah, Mabel (1) |
| Daton, Harvey (1) | Daughenbaugh, James (1) | Daughenbaugh, Patrick (1) | Daugherty, Della (1) |
| Daugherty, Edith (1) | Daugherty, James (3) | Daugherty, Lilly (1) | Daugherty, Lula (1) |
| Daugherty, Pauline (1) | Daugherty, Ralph (1) | Daugherty, Ray (1) | Daugherty, Rosco (1) |
| Daugherty, Russell (1) | Daugherty, Sarah (1) | Daughtery, Hannah (1) | Daughtery, Lennimon (1) |
| Daughtery, Robert (1) | Daughtry, Sarah (4) | Dauglass, Helena (1) | Dauglass, Lena (1) |
| Davall, Carrie (1) | Davenport, John (1) | Davenport, William (1) | Davey, Clare (1) |
| David, Mary (11) | David, William (1) | Davidson, Camralzy (1) | Davidson, Jennie (1) |
| Davidson, John (1) | Davidson, Matilda (1) | Davidson, Pearl (1) | Davidson, Sulvester (1) |
| Davidson, Sylvester (2) | Davies, Conrad (1) | Davies, Jemima (1) | Davies, Mary (1) |
| Davis, ? (1) | Davis, Adolph (2) | Davis, Alec (1) | Davis, Alice (12) |
| Davis, America (1) | Davis, Amy (1) | Davis, Ann (1) | Davis, Anna (1) |
| Davis, Arthur (1) | Davis, Barbara (1) | Davis, Bessie (1) | Davis, Bette (1) |
| Davis, Charles (2) | Davis, Chelsey (1) | Davis, Dorothy (1) | Davis, Edna (2) |
| Davis, Elivra (1) | Davis, Elizabeth (5) | Davis, Ella (2) | Davis, Elton (1) |
| Davis, Elvira (1) | Davis, Emily (1) | Davis, Emma (2) | Davis, Emmaline (3) |
| Davis, Ethel (1) | Davis, Florence (5) | Davis, Frances (1) | Davis, George (1) |
| Davis, Georgie (1) | Davis, Gilbert (1) | Davis, Harmon (2) | Davis, Harrison (1) |
| Davis, Ida (4) | Davis, Jacob (2) | Davis, James (5) | Davis, Janie (1) |
| Davis, Jennie (1) | Davis, Joe (1) | Davis, John (11) | Davis, Joseph (2) |
| Davis, Judith (2) | Davis, L (1) | Davis, Laurie (1) | Davis, Lonnie (1) |
| Davis, Lp (1) | Davis, Lucinda (3) | Davis, M (1) | Davis, Malinda (3) |
| Davis, Margaret (3) | Davis, Margret (1) | Davis, Martha (1) | Davis, Mary (37) |
| Davis, Millarum (1) | Davis, Mr (1) | Davis, Nancy (1) | Davis, Nella (1) |
| Davis, Oatis (1) | Davis, Opal (1) | Davis, Patricia (1) | Davis, Peter (1) |
| Davis, Phillipp (1) | Davis, Preston (6) | Davis, R (2) | Davis, Rachel (10) |
| Davis, Rebecca (2) | Davis, Ruth (9) | Davis, Sarah (20) | Davis, Susan (4) |
| Davis, Thomas (3) | Davis, Virginia (14) | Davis, William (5) | Davis, Zatta (1) |
| Davison, Gracie (8) | Dawson, Melsena (1) | Dawson, Thomas (1) | Dawson, Washington (1) |
| Dax, Kelly (1) | Day, Helena (1) | Day, Lena (1) | Day, Margaret (1) |
| Day, Miss (1) | Deahofe, S (2) | Deahofe, Sonora (1) | Deahope, S (1) |
| Dean, Clara (1) | Dean, George (1) | Dean, Marian (1) | Deardorff, Carrie (1) |
| Deardorff, Franklin (11) | Deardorff, Gerald (2) | Deardorff, Hettie (8) | Deardorff, Lorn (1) |
| Deardorff, Melissa (1) | Deardorff, Myrtle (1) | Deardorff, Orie (1) | Deardorff, Ralph (1) |
| Deardorff, Roscoe (1) | Deardorff, Ruth (1) | Deatherage, Green (2) | DeBoard, ? (1) |
| DeBoard, Albert (3) | DeBoard, Belva (1) | DeBoard, Carma (1) | DeBoard, Dorcas (1) |
| DeBoard, Eunice (1) | DeBoard, George (1) | DeBoard, Howard (1) | DeBoard, Jacob (1) |
| DeBoard, Jaruey (1) | DeBoard, Lacy (1) | DeBoard, Laura (1) | Deboard, Monroe (1) |
| DeBoard, Myrtle (1) | DeBoard, Rebecca (1) | DeBoard, Robert (1) | Deboard, Stephen (1) |
| DeBoard, Verna (1) | Debold, Joseph (1) | Debolt, Jane (3) | DeBord, Alifair (3) |
| Debord, Charley (1) | DeBord, Edna (1) | Debord, John (1) | DeBord, Kennis (4) |
| DeBord, Laura (1) | Debord, Martha (1) | DeBord, Mary (1) | Debord, Melvina (12) |
| Debord, Samantha (1) | Debord, Samuel (2) | Debord, Stephen (11) | Debord, William (1) |
| Decamp, Jeremiah (1) | Decamp, Mercy (1) | Dechen, Mr (1) | Deck, Hannah (6) |
| Deck, Harold (1) | Deck, Jackie (1) | Deck, Jeanette (1) | Deck, Naomi (1) |
| Deckard, ? (1) | Decker, Hardin (4) | Decker, Jennie (2) | Decker, Peter (2) |
| Dederick, John (1) | Deeg, George (2) | Deeg, Jennie (1) | Deeg, Sarah (1) |
| Deeg, William (2) | Deem, Marilyn (1) | Deen, Elizabeth (3) | Deen, Robert (3) |
| Deering, Jackson (1) | Deetr, Hannah (1) | Degear, John (1) | Dehaven, Abagail (1) |
| Dehaven, Abigail (1) | Dehaven, Alvah (1) | Dehaven, Edward (1) | Deissise, Christina (1) |
| Deitz, Anna (1) | Delaney, Thomas (1) | Delembo, Diane (1) | Delk, Kathryn (4) |
| Dellinger, Philip (1) | Delo, Mary (1) | Delong, Rachel (1) | DeLozier, Margaret (4) |
| Delrose, ? (1) | Deman, Michael (1) | Deman, Mike (1) | Demaree, Betty (1) |
| Demaree, Donald (1) | Demaree, James (1) | Demaree, John (2) | Demaree, Rachel (1) |
| Demmon, Geo (1) | Demmon, George (1) | Demois, Louise (1) | Dempsey, James (1) |
| Dempsey, John (1) | Dempsey, Joseph (1) | Dempsey, Mary (2) | Denham, Elizabeth (1) |
| Denis, Marietta (1) | Denison, Nancy (5) | Denius, Henry (1) | Dennin, Arthur (1) |
| Dennis, John (1) | Dennis, Melvia (1) | Dennis, Sharon (1) | Dennis, William (1) |
| Dennison, Andrew (1) | Dennison, Eleanor (1) | Dennison, James (2) | Dennison, John (1) |
| Dennison, Lewis (1) | Dennison, Mary (5) | Dennison, Nancy (15) | Dennison, Sarah (1) |
| Dennison, Susannah (1) | Dennison, Thomas (1) | Dennison/Denison, Nancy (5) | Denny, ? (1) |
| Denny, Cletta (1) | Denny, Jane (1) | Dent, George (1) | Dent, Lake (1) |
| Denton, Francis (1) | DePew, Catherine (1) | Depew, Elizabeth (1) | DePew, Mary (13) |
| Depew, May (1) | DePew, Nancy (13) | Deprato, C (1) | Deputy, Zachariah (1) |
| Dermet, Patrick (1) | Deskins, Christina (1) | Deskins, Ester (6) | Deskins, J (1) |
| Deskins, Mary (1) | Detrick, William (1) | Deucher, Burton (2) | Deucher, Dorette (1) |
| Deucher, Dorrance (1) | Deucher, James (1) | Deucher, Milton (1) | Deucher, Trudie (1) |
| Deutschmann, Winifred (1) | Devecmon, Devauxelle (1) | Devenport, William (1) | Devereaux, Michael (1) |
| Devers, Mary (2) | Dewalt, Jenie (1) | Dewberry, Elizabeth (1) | Dewry, Michael (1) |
| Dial, Ben (1) | Dial, Catherine (15) | Dial, Elisha (2) | Dial, James (2) |
| Dial, John (1) | Dial, Nancy (4) | Dial, Ransom (2) | Dials, Minnie (4) |
| Dickerson, Tinzey (2) | Dickinson, Asa (1) | Dickinson, Robert (1) | Dickson, Carrie (1) |
| Dickson, James (2) | Dickson, Rebecca (2) | Dickson, William (1) | Dienes, Mary (1) |
| Dietz, Cindy (2) | Dietzman, Albert (1) | Dietzman, Minnie (1) | Diffendaffer, James (1) |
| Diggs, George (1) | Dill, Leah (1) | Dill, Mary (1) | Dillard, Sarah (1) |
| Dillingham, Harold (1) | Dillman, S (1) | Dillon, Emerilla (1) | Dillon, Laura (1) |
| Dillon, Martin (1) | Dillon, Susan (5) | Dilworth, Benjamin (1) | Dilworth, Margaret (12) |
| Dimery, Lucinda (1) | Dingeldine, Mary (1) | Dingess, Harriet (1) | Dingess, Mary (1) |
| Dinneford, William (1) | Dismant, Henry (3) | Disney, Bertha (1) | Disney, D (1) |
| Diss, William (1) | Dixon, ? (1) | Dixon, Bettie (1) | Dixon, Betty (1) |
| Dixon, Charity (6) | Dixon, John (1) | Dixon, Louise (1) | Dixon, Mary (1) |
| Dixon, Sarah (7) | Dobberstein, Anastasia (1) | Dobson, Mary (3) | Dobson, Mr (1) |
| Dodds, Andrew (4) | Dodds, Charles (1) | Dodds, Elizabeth (2) | Dodds, Frank (1) |
| Dodds, Grace (1) | Dodds, Grover (1) | Dodds, Joanne (1) | Dodds, John (3) |
| Dodds, Margaret (1) | Dodds, Mary (6) | Dodds, Samuel (1) | Dodds, Thomas (1) |
| Dodds, Watson (1) | Dodds, William (9) | Dodson, Frances (10) | Dodson, George (3) |
| Dodson, Jane (1) | Doer, William (1) | Dolan, Patricia (1) | Doliver, ? (1) |
| Donald, Hugh (1) | Donaldson, Alex (1) | Donaldson, Alexander (4) | Donaldson, Catherine (9) |
| Donaldson, Mary (4) | Donaldson, Robert (1) | Donaldson, Sarah (10) | Donley, Ruth (5) |
| Donna, ? (1) | Donnald, Elsa (1) | Donnely, Jennifer (1) | Doras, Mary (1) |
| Doren, Charity (1) | Dorin, Michl (1) | Dorner, ? (1) | Dorner, Anna (7) |
| Dorner, Johann (2) | Dorner, Marie (1) | Dorr, William (1) | Dot, ? (1) |
| Dotson, Ancie (1) | Dotson, Anderson (1) | Dotson, Archibald (10) | Dotson, Armida (1) |
| Dotson, Bessie (1) | Dotson, Bob (1) | Dotson, Charles (1) | Dotson, Claudia (1) |
| Dotson, Columbia (1) | Dotson, Columbus (1) | Dotson, Daniel (2) | Dotson, Dora (1) |
| Dotson, Earsel (1) | Dotson, Edmond (1) | Dotson, Edna (1) | Dotson, Elias (5) |
| Dotson, Elijah (1) | Dotson, Elizabeth (1) | Dotson, Elkana (1) | Dotson, Flora (1) |
| Dotson, Florence (2) | Dotson, Floyd (1) | Dotson, Fonzo (1) | Dotson, Garland (1) |
| Dotson, George (15) | Dotson, Glenn (1) | Dotson, Hazel (1) | Dotson, Ira (1) |
| Dotson, James (10) | Dotson, John (1) | Dotson, Jordan (9) | Dotson, Kentucky (1) |
| Dotson, Lawson (1) | Dotson, Lear (3) | Dotson, Lizzie (2) | Dotson, Louisa (2) |
| Dotson, Lyda (5) | Dotson, Lydia (3) | Dotson, Margie (1) | Dotson, Marjorie (1) |
| Dotson, Martha (1) | Dotson, Mary (6) | Dotson, May (1) | Dotson, Maysie (3) |
| Dotson, Missouri (6) | Dotson, Myrtle (1) | Dotson, Nancy (1) | Dotson, Octavia (1) |
| Dotson, Paris (1) | Dotson, Paul (1) | Dotson, Perry (1) | Dotson, Phillip (1) |
| Dotson, Polly (1) | Dotson, Rachel (1) | Dotson, Ralph (1) | Dotson, Ransom (3) |
| Dotson, Ray (1) | Dotson, Rebecca (1) | Dotson, Renee (1) | Dotson, Reuben (2) |
| Dotson, Rhoda (1) | Dotson, Robert (4) | Dotson, Sally (3) | Dotson, Sarah (6) |
| Dotson, Scott (1) | Dotson, Wanda (1) | Dotson, Warren (1) | Dotson, William (9) |
| Doucett, Alfred (1) | Dougherty, Eliza (1) | Douglas, Edward (1) | Douglas, Flora (1) |
| Douglas, Jesse (1) | Douthett, Anny (1) | Douthit, James (1) | Dowd, Olive (1) |
| Dowell, Catherine (3) | Dowell, Charity (1) | Dowes, Janis (1) | Dowling, Marinda (1) |
| Downey, Lizzie (1) | Downing, Margaret (4) | Downs, Anderson (3) | Downs, Elizabeth (1) |
| Downs, Oliver (3) | Dragan, Barbara (1) | Dragan, Bill (2) | Dragan, Diane (1) |
| Dragoo, Mary (1) | Dragoo, Rosetta (8) | Dragoo, Samuel (1) | Drain, Sarah (1) |
| Drake, Alice (1) | Drake, Frank (1) | Drake, Mary (1) | Drake, Rachael (1) |
| Drake, Rachel (11) | Drake, Theodocia (1) | Draper, Wilson (1) | Dressler, Frederick (3) |
| Dressler, Lucinda (1) | Drew, Constance (1) | Drew, Franklin (1) | Drury, Mary (1) |
| Drzynalla, Adela (1) | Dubberstein, John (1) | Dubberstein, Waldo (1) | Dubuc, Barry (1) |
| Dubuc, Michelle (1) | Dubuc, Omer (1) | Ducker, John (1) | Duckworth, Lausson (1) |
| Duckworth, Melvin (1) | Duckworth, Thomas (1) | Dudgeon, Ira (1) | Dudley, Joseph (1) |
| Duenbury, Samantha (2) | Duff, Elizabeth (10) | Duffield, Alfred (1) | Dugan, Amanda (1) |
| Dugan, R (1) | Duggan, Laura (1) | Duggan, Lorraine (1) | Duggan, R (3) |
| Duggar, Adolphus (1) | Duggar, Hiram (1) | Dugger, Adophus (2) | Dugger, Hiram (3) |
| Dugger, Jno (1) | Dugger, Joel (1) | Dugger, John (1) | Dugger, Mary (1) |
| Dugger, Paris (1) | Dugger, Parriss (1) | Dugger, Polly (1) | Dugger, Sallie (1) |
| Dugger, Sally (1) | Dugger, Sarah (1) | Dugger, William (2) | Dugger, Wm (1) |
| Duggins, Eula (1) | Duin, Charles (1) | Dulaney, Hannah (1) | Dull, Neonta (2) |
| Dumas, Kathleen (1) | Dumas, Melissa (1) | Dumas, Mr (1) | Dunagan, Franklin (2) |
| Dunback, Michael (1) | Dunbar, Mary (1) | Duncan, ? (1) | Duncan, Bernetta (1) |
| Duncan, Elizabeth (1) | Duncan, Hiram (3) | Duncan, Isaac (2) | Duncan, James (1) |
| Duncan, John (1) | Duncan, K (2) | Duncan, Sarah (1) | Duncan, William (1) |
| Dunell, M (1) | Dungan, Sarah (1) | Dungan, Thomas (1) | Dunham, Alice (1) |
| Dunham, Cyrus (1) | Dunham, Elizabeth (10) | Dunham, Ezra (1) | Dunham, Frank (1) |
| Dunham, George (1) | Dunham, Harvey (1) | Dunham, Henry (1) | Dunham, John (6) |
| Dunham, Joseph (1) | Dunham, Laura (1) | Dunham, Louis (1) | Dunham, Margaret (10) |
| Dunham, Mary (4) | Dunham, Moses (1) | Dunham, Rachel (1) | Dunham, Robert (1) |
| Dunham, Theresa (1) | Dunham, Thomas (12) | Dunham, William (2) | Dunlap, Arlo (2) |
| Dunlap, Charles (1) | Dunlap, Zerelda (4) | Dunlap, Zerillda (1) | Dunn, ? (1) |
| Dunn, Eva (1) | Dunn, Jesse (1) | Dunn, Martha (1) | Dunn, Walter (1) |
| Dunshe, Phebe (4) | Dunshe, Phoebe (2) | Dunworth, Michael (1) | Durell, Henry (1) |
| Durell, Marie (1) | Durham, Frank (1) | Durham, June (1) | Durham, Sarah (1) |
| Durnell, Margaret (6) | Dusen, Charles (1) | Dusen, Eli (1) | Dusenberry, Samantha (1) |
| Dush, Ruby (3) | Duty, Earl (1) | Duty, Elliot (2) | Duty, Emily (1) |
| Duty, George (5) | Duty, Mary (4) | Duty, Nona (1) | Duty, Sarah (1) |
| Duty, Thomas (1) | Duval, Anthony (1) | Duvall, Betsy (2) | Duvall, Elender (7) |
| Duvall, Ellender (1) | Dvorsk, Maria (1) | Dyckman, Ann (1) | Dyckman, Eunice (8) |
| Dyckman, Garret (11) | Dyckman, Gilbert (1) | Dyckman, Isaac (1) | Dyckman, Jacob (1) |
| Dyckman, Joseph (1) | Dyckman, Moses (1) | Dyckman, Rebecca (1) | Dyckman, Tamar (1) |
| Dye, Bill (1) | Dye, Bobby (1) | Dye, Brenda (1) | Dye, Dick (1) |
| Dye, Edward (2) | Dye, Jackie (1) | Dye, Linda (1) | Dye, Marjorie (1) |
| Dye, Robert (1) | Dye, Suzie (1) | Dyer, Edward (1) | Dyer, Jane (6) |
| Dyer, Nancy (13) | Dykers, Thomas (1) | Dykes, ? (1) | Dysart, Ann (1) |
| Dysart, Anna (1) | Dysart, Anne (1) | Dyson, Mary (1) | E, Angeline (1) |
| E, Jane (1) | Eads, Audry (1) | Eads, Elizabeth (1) | Eagan, Bertha (1) |
| Eagan, Edna (1) | Eagan, Elmer (1) | Eagan, Etta (1) | Eagan, Glenia (1) |
| Eagan, Hazel (1) | Eagan, Janett (1) | Eagan, Lois (1) | Eagan, Opal (1) |
| Eagan, Oral (1) | Eagan, Robert (1) | Eagan, Roy (1) | Eagan, Teddy (1) |
| Eagan, William (1) | Eakin, James (1) | Eakin, John (1) | Eakin, Leander (1) |
| Eakin, Malissa (1) | Eakin, Margaret (1) | Eakin, Mary (5) | Eakin, Rhoda (1) |
| Eakin, Robert (2) | Eakin, William (1) | Earle, John (2) | Earls, Deborah (2) |
| Earls, John (1) | Earls, Richard (4) | Early, Elizabeth (1) | Earp, Sarah (1) |
| Easley, George (1) | Easley, Harriet (1) | Easley, Jennie (1) | Easley, John (1) |
| Easley, William (1) | Easter, Caroly (1) | Eastham, ? (1) | Eastwood, Andrew (1) |
| Eastwood, Inez/Irene (1) | Eastwood, John (1) | Ebel, Alice (5) | Ebel, Clara (1) |
| Ebel, Peter (1) | Eber, Clara (1) | Eberhart, Wilhelmena (12) | Ebersohl, George (1) |
| Eberth, Elizabeth (1) | Eblen, Sarah (3) | Eby, Mark (1) | Eckhardt, Bertrund (1) |
| Edelblute, Eliza (1) | Edenfield, Jessie (1) | Edes, Parmelia (1) | Edgar, Jennet (7) |
| Edgar, Mattie (1) | Edgar, Nancy (1) | Edington, Margaret (1) | Edington, May (1) |
| Edith, ? (1) | Edmonson, ? (1) | Edwards, Addie (1) | Edwards, Anna (1) |
| Edwards, Ella (1) | Edwards, Finley (2) | Edwards, Hannah (1) | Edwards, Hatfield (1) |
| Edwards, James (3) | Edwards, Jane (1) | Edwards, John (1) | Edwards, Joseph (1) |
| Edwards, Mary (6) | Edwards, Nancy (3) | Edwards, Samuel (1) | Edwards, Susan (1) |
| Egan, James (1) | Egbert, Judy (1) | Egbert, Martha (2) | Eggimart, Anna (2) |
| Eguren-amiano, Jose (1) | Eguren-lazpiur, Eugenia (1) | Eguren-lazpiur, Juan (1) | Eguren-lazpiur, Maria (1) |
| Eguren-lazpiur, Sebastian (1) | Eickholt, August (2) | Eickholt, Bernadine (2) | Eickholt, Bernard (4) |
| Eickholt, Bernetta (1) | Eickholt, Clara (5) | Eickholt, Edward (5) | Eickholt, Evelyn (1) |
| Eickholt, Francis (16) | Eickholt, Gephart (1) | Eickholt, Henry (2) | Eickholt, John (5) |
| Eickholt, Joseph (1) | Eickholt, Josephine (2) | Eickholt, Kenneth (1) | Eickholt, Margie (2) |
| Eickholt, Maria (3) | Eickholt, Norma (1) | Eickholt, Sarah (16) | Eickholt, Teresa (4) |
| Eickholt, Ucille (1) | Eickholt, Vincent (1) | Eickolt, Joseph (1) | Eikholt, Bernardina (1) |
| Eikholt, Dina (1) | Eikholt, Edward (2) | Eikholt, Ellen (1) | Eikholt, Henry (2) |
| Eikholt, John (1) | Eikholt, Joseph (1) | Eikholt, Josephine (1) | Eikholt, Maria (1) |
| Eikholt, Trecia (1) | Elaine, ? (1) | Elam, Hattie (1) | Elder, Avis (1) |
| Elder, Burton (1) | Elder, Chester (1) | Elder, Doy (1) | Elder, Edith (1) |
| Elder, Emma (3) | Elder, Emma/Amy (3) | Elder, Mable (1) | Elder, Mary (1) |
| Elder, Pansy (1) | Elder, Robert (1) | Elder, Ruby (1) | Elder, Vietta (1) |
| Elder, William (2) | Elder, Willis (1) | Elison, Mary (1) | Elizabeth, ? (1) |
| Elizabeth, Mrs (1) | Elkins, Helen (1) | Elkins, Juanita (1) | Elkins, Mary (1) |
| Elkins, Respin (1) | Ella, F (1) | Ellen, Nancy (1) | Ellett, Rt (1) |
| Elliot, Eliza (3) | Elliot, Matilda (1) | Elliot, Thomas (1) | Elliott, Charles (4) |
| Elliott, Eliza (3) | Elliott, Jack (1) | Elliott, James (1) | Elliott, Joan (1) |
| Elliott, Jonathan (1) | Elliott, Karen (1) | Elliott, Lucinda (4) | Elliott, Susannah (1) |
| Elliott, William (2) | Elliott, Willis (8) | Elliott, Windifred (1) | Elliott, Wm (1) |
| Ellis, Alex (1) | Ellis, Catherine (1) | Ellis, Chapman (1) | Ellis, Cordelia (1) |
| Ellis, David (1) | Ellis, Elzie (1) | Ellis, Evaline (1) | Ellis, Evans (2) |
| Ellis, Francis (2) | Ellis, French (2) | Ellis, Gracie (1) | Ellis, Harriet (6) |
| Ellis, Henry (2) | Ellis, Homer (1) | Ellis, Jacob (1) | Ellis, James (2) |
| Ellis, John (1) | Ellis, Lena (1) | Ellis, Lewis (3) | Ellis, Linda (1) |
| Ellis, Lloyd (1) | Ellis, Louis (1) | Ellis, Loyd (1) | Ellis, Madison (1) |
| Ellis, Malinda (1) | Ellis, Margaret (1) | Ellis, Mary (6) | Ellis, Nancy (2) |
| Ellis, Owen (1) | Ellis, Philip (1) | Ellis, Phillip (2) | Ellis, Sarah (1) |
| Ellis, Smith (1) | Ellis, Susan (8) | Ellis, Tom (1) | Ellis, Wayne (1) |
| Ellis, Zatto (1) | Ellis, Zattoo (8) | Ellis/Grimmett/Hatfield, Leander (1) | Ellison, ? (1) |
| Ellison, A (1) | Ellison, Geroge (1) | Ellison, J (2) | Ellison, Mary (8) |
| Ellison, Rhoda (13) | Ellison, Samuel (1) | Ellison, Sarah (1) | Ellott, Carroll (1) |
| Ells, Catherine (13) | Ellson, Thomas (1) | Ellsworth, ? (1) | Ellsworth, Cora (5) |
| Ellsworth, Laura (1) | Ellsworth, Marjorie (1) | Elmore, Mary (1) | Elridge, Emma (1) |
| Elsberry, Maggie (1) | Elswick, Hester (1) | Elswick, Nancy (2) | Elwood, John (1) |
| Elwood, Oro (1) | Ely, Calvin (1) | Emberling, Alexander (4) | Emberling, John (2) |
| Embrey, Margie (1) | Emerson, Thomas (1) | Emery, John (1) | Emler, E (1) |
| Emmons, Susan (1) | Emry, Ambrose (1) | Emry, Jonas (1) | Emry, Mary (1) |
| Emry, Sarah (1) | Endicott, Florence (2) | Endsley, Maria (1) | England, Fred (1) |
| England, Georgia (8) | English, John (2) | Enkoff, Mary (1) | Ennalls, Henry (1) |
| Enos, Elizabeth (10) | Ensminger, Frances (1) | Enton, Charles (1) | Epperson, Sarah (1) |
| Epperson, Willie (8) | Eppert, John (1) | Erb, Abner (1) | Erb, Elsie (1) |
| Erby, William (1) | Ericson, Bobby (1) | Ericson, Jimmy (1) | Ericson, Joe (1) |
| Ericson, John (1) | Ericson, Joseph (1) | Ericson, Lester (2) | Ericson, Linda (1) |
| Ericson, Timothy (1) | Erles, Nathan (3) | Erles, Nathaniel (3) | Ernsberger, Charles (1) |
| Erwin, Anna (1) | Erwin, Charles (3) | Erwin, Coletta (1) | Erwin, Eliza (1) |
| Erwin, Gerald (1) | Erwin, James (1) | Erwin, Judson (1) | Erwin, Mannie (1) |
| Erwin, Orpha (2) | Erwin, Rachel (1) | Erwin, Ronald (1) | Erwin, William (2) |
| Esau, Jack (1) | Eshelman, Benjamin (1) | Essick, Alonzo (1) | Essick, Benjamin (1) |
| Essick, Charlotte (1) | Essick, Darcy (1) | Essick, Elizabeth (1) | Essick, Evelyn (1) |
| Essick, Franklin (1) | Essick, Laci (1) | Essick, Leonard (2) | Essick, Lon (1) |
| Essick, Nicklaus (1) | Essick, Phyllis (1) | Essick, Steven (1) | Estel, Hannah (1) |
| Estell, Theopolis (1) | Estelle, ? (1) | Estep, Frank (1) | Estep, Harve (1) |
| Estep, Sally (1) | Estes, David (1) | Estes, Sarah (1) | Etler, Henry (1) |
| Etler, Nancy (1) | Etters, Janetta (1) | Eustice, Eliza (2) | Evans, Ann (10) |
| Evans, Anna (2) | Evans, Anne (2) | Evans, Christopher (1) | Evans, Docter (1) |
| Evans, Drewery (1) | Evans, Elexious (1) | Evans, Elizabeth (1) | Evans, Ferrell (2) |
| Evans, Hammond (1) | Evans, James (2) | Evans, Jane (1) | Evans, John (4) |
| Evans, Judy (1) | Evans, Lewis (1) | Evans, Lydia (1) | Evans, Margaret (1) |
| Evans, Martha (18) | Evans, Mary (2) | Evans, Nancy (15) | Evans, Phoebe (4) |
| Evans, R (1) | Evans, Rebecca (1) | Evans, Sarah (12) | Evans, Theoshia (1) |
| Evans, Thomas (1) | Evans, William (2) | Evans, Williams (1) | Evatt, Cassandra (1) |
| Evatt, Daniel (1) | Evatt, Elizabeth (1) | Evatt, J (1) | Evatt, James (1) |
| Evatt, John (1) | Evatt, Julie (1) | Evatt, Leroy (1) | Evatt, Raymond (2) |
| Evatt, Rebecca (1) | Evatt, Sallie (1) | Evatt, Tom (1) | Evens, Margaret (3) |
| Everett, Ellen (1) | Everett, Hannah (1) | Everett, Lucinda (1) | Everett, Martha (5) |
| Everhart, Wilhelmina (1) | Everingham, Claire (1) | Everingham, Michael (1) | Everingham, Steven (1) |
| Everly, Joseph (1) | Evermann, George (1) | Evermann, Hunter (1) | Evermann, Ian (1) |
| Evermann, Russel (1) | Evermann, William (1) | Eversol, Elizabeth (1) | Evitts, Hannah (1) |
| Ewell, Bobby (1) | Ewell, Charlene (1) | Ewell, Charles (1) | Ewell, Karen (1) |
| Ewell, Kathy (1) | Ewing, Margaret (1) | Ezell, infant (1) | Ezell, LaVerne (1) |
| Ezell, Vernon (1) | Fabri, Peter (1) | Fadely, Edith (1) | Fair, Annie (1) |
| Fair, John (2) | Fair, Nina (1) | Fairbairm, Cecelia (1) | Fairbanks, Levi (1) |
| Fairchild, Gertrude (1) | Fairchild, Rebecca (1) | Fairless, Benjamin (2) | Fairless, Hazel (1) |
| Falaway, Samuel (1) | Faloway, Basil (1) | Faloway, Easter (10) | Faloway, John (1) |
| Faloway, Leah (1) | Faloway, Lilburn (1) | Faloway, Mary (1) | Faloway, Nancy (1) |
| Faloway, Samual (1) | Faloway, Samuel (13) | Faloway, Sarah (1) | Faloway, Wayne (1) |
| Faloway, William (1) | Fankle, George (1) | Fannin, Achilles (1) | Fannin, Billy (1) |
| Fannin, David (1) | Fannin, Rosannah (1) | Farkosh, Mary (1) | Farley, Allen (1) |
| Farley, Allie (1) | Farley, Columbia (1) | Farley, Elizabeth (1) | Farley, Emma (1) |
| Farley, Eva (1) | Farley, Fannie (1) | Farley, Harriet (1) | Farley, Harrison (3) |
| Farley, Hibbard (1) | Farley, James (1) | Farley, John (3) | Farley, Lewis (6) |
| Farley, Louis (1) | Farley, Louisa (1) | Farley, Lydia (3) | Farley, Martha (3) |
| Farley, Mary (4) | Farley, Matilda (9) | Farley, Nancy (1) | Farley, Octavia (6) |
| Farley, Phoeba (1) | Farley, Phoebe (5) | Farley, Rush (1) | Farley, Samuel (1) |
| Farley, Sarah (1) | Farley, Sophia (1) | Farley, Thomas (12) | Farley, Vella (1) |
| Farley, Vicy (1) | Farley, William (3) | Farlin, Lucy (4) | Farmer, Elizabeth (1) |
| Farmer, Henry (1) | Farmer, Jerimiah (1) | Farmer, John (1) | Farmer, Joshua (1) |
| Farmer, Martha (1) | Farmer, Mattie (2) | Farmer, Sarah (1) | Farr, Moses (1) |
| Farris, Polly (1) | Fathergill, Elizabeth (1) | Faulkenberg, John (1) | Faulkner, Adaline (1) |
| Faulkner, Adeline (1) | Faulkner, John (2) | Faun, Harold (1) | Faun, Harry (1) |
| Fawley, John (1) | Fawley, Martha (4) | Felton, Ann (1) | Fenkell, Harriet (1) |
| Fenkell, Jared (1) | Fenton, Polly (1) | Fenton, William (1) | Fenwick, James (1) |
| Feo, Carlos (1) | Ferguson, David (2) | Ferguson, Elizabeth (1) | Ferguson, Harriet (1) |
| Ferguson, John (8) | Ferguson, Lisa (1) | Ferguson, Sarah (8) | Ferguson, William (2) |
| Ferrara, Shelly (1) | Ferrell, ? (1) | Ferrell, Ali (1) | Ferrell, Alvis (1) |
| Ferrell, Aly (4) | Ferrell, Amanda (6) | Ferrell, Andrew (5) | Ferrell, Anna (5) |
| Ferrell, Cardie (1) | Ferrell, Catherine (1) | Ferrell, Cordelia (1) | Ferrell, Elijah (1) |
| Ferrell, Elizabeth (6) | Ferrell, Floyd (2) | Ferrell, Fulton (14) | Ferrell, Grace (2) |
| Ferrell, Grover (2) | Ferrell, James (2) | Ferrell, Jenet (1) | Ferrell, Jennie (2) |
| Ferrell, John (3) | Ferrell, Leander (2) | Ferrell, Letty (1) | Ferrell, Levic (1) |
| Ferrell, Levvily (3) | Ferrell, Lewis (2) | Ferrell, Major (1) | Ferrell, Marse (2) |
| Ferrell, Martha (9) | Ferrell, Mary (15) | Ferrell, Moses (1) | Ferrell, Muss (2) |
| Ferrell, Nancy (16) | Ferrell, Phoebe (9) | Ferrell, R (2) | Ferrell, Rachel (1) |
| Ferrell, Rebecca (1) | Ferrell, Richard (4) | Ferrell, Samuel (1) | Ferrell, Sarah (12) |
| Ferrell, Stella (2) | Ferrell, Taylor (2) | Ferrell, Thomas (1) | Ferrell, Vata (1) |
| Ferrell, Vestie (1) | Ferrell, William (3) | Ferrell, Willie (1) | Ferrell, Zettie (5) |
| Ferris, Elizabeth (5) | Ferris, Garland (1) | Ferris, Hugh (1) | Ferris, John (1) |
| Ferris, Samuel (1) | Ferris, Susana (1) | Ferris, William (1) | Fetterhoff, Albert (1) |
| Fetterhoff, Emma (6) | Fettig, ? (1) | Fidler, Rebecca (8) | Fidler, Thomas (1) |
| Fields, Alexander (1) | Fields, Bertha (1) | Fields, Elbert (3) | Fields, Fernie (1) |
| Fields, Larkin (1) | Fields, Mary (3) | Fields, Myrtle (1) | Fields, Nannie (2) |
| Fields, Press (1) | Fields, Riley (1) | Fields, Susan (1) | Fields, Vina (1) |
| Fields, Willie (1) | Figley, Scott (1) | Fillinger, Mrs (1) | Finch, Charles (1) |
| Fine, ? (1) | Finley, Hannah (1) | Finley, Margaret (2) | Finley, Rebecca (1) |
| Finley, Riley (1) | Fischer, Andrew (1) | Fischer, Jonathan (1) | Fischer, Matthew (1) |
| Fischer, Mr (1) | Fischer, Richard (1) | Fish, Clarence (1) | Fishback, Josiah (1) |
| Fisher, Addie (1) | Fisher, Charles (1) | Fisher, Edward (1) | Fisher, Elizabeth (1) |
| Fisher, Ella (1) | Fisher, Eveline (1) | Fisher, Evelyn (1) | Fisher, Harold (1) |
| Fisher, Henry (2) | Fisher, James (1) | Fisher, John (2) | Fisher, Kelsey (1) |
| Fisher, Kenneth (1) | Fisher, Levi (1) | Fisher, Lily (1) | Fisher, Mary (2) |
| Fisher, Nancy (4) | Fisher, Stephen (3) | Fisher, William (5) | Fissel, Denise (1) |
| Fissel, Eugene (1) | Fissel, Gary (1) | Fissel, Jolene (1) | Fitch, Thomas (1) |
| Fitzgerald, Milen (1) | Fitzgibbons, Josephine (1) | Fitzgibbons, Patrick (1) | Fleming, James (1) |
| Fletcher, Allen (3) | Fletcher, Charles (1) | Fletcher, Enoch (1) | Fletcher, Forrest (1) |
| Fletcher, John (2) | Fletcher, Joseph (1) | Fletcher, M (1) | Fletcher, Mariah (1) |
| Fletcher, Martha (1) | Fletcher, Myron (2) | Fletcher, Phoebe (1) | Fletcher, Rachel (1) |
| Fletcher, Sarah (1) | Fletcher, Susan (1) | Fletcher, Thomas (1) | Fletcher, Will (2) |
| Fletcher, William (1) | Flickinger, Frank (1) | Floe, Icy (1) | Flood, Mary (1) |
| Floyd, ? (3) | Floyd, Donald (1) | Floyd, George (1) | Floyd, Icie (1) |
| Floyd, Ivaleen (1) | Floyd, James (1) | Floyd, Joseph (6) | Floyd, Lila (1) |
| Floyd, Lola (1) | Floyd, Rosie (4) | Floyd, Stella (1) | Floyd, Vinie (1) |
| Floyd, William (1) | Flynn, Mary (1) | Fogle, James (1) | Fola, Helda (1) |
| Foley, Virginia (13) | Follaway, Samuel (1) | Follette, Milton (1) | Followay, Easter (1) |
| Followay, Samuel (1) | Folwell, Ann (1) | Fontaine, ? (1) | Foote, Joseph (1) |
| Foote, Ruby (1) | Forbush, Silas (1) | Force, Damaris (2) | Force, Sarah (1) |
| Force?, Sarah (8) | Ford, James (2) | Ford, Martha (2) | Ford, Mary (1) |
| Ford, Molly (1) | Fordham, Andrew (1) | Fordham, Anna (1) | Fordham, Clare (1) |
| Fordham, Elizabeth (15) | Fordham, Etta (1) | Fordham, Forest (1) | Fordham, Harlan (1) |
| Fordham, Henry (1) | Fordham, Jacob (1) | Fordham, James (1) | Fordham, Laura (1) |
| Fordham, Margaret (1) | Fordham, Mary (7) | Fordham, Meghan (1) | Fordham, Milton (1) |
| Fordham, Pearl (2) | Fordham, Randall (1) | Fordham, Sarah (3) | Fordham, Thomas (11) |
| Fordham, William (2) | Forgey, Martha (1) | Fornes, Barbara (1) | Fortner, ? (1) |
| Fortner, Myrtle (1) | Fortune, George (1) | Fortune, Lucinda (1) | Forwerck, Glenn (1) |
| Forwerck, William (1) | Foss, Geneva (1) | Foss, Jacob (2) | Fosset, William (1) |
| Foster, Jeanettee (2) | Foster, Martha (1) | Foster, Samuel (1) | Foulk, Martha (7) |
| Foulke, Joshua (1) | Fountain, Israel (1) | Fountain, Lucy (2) | Fourman, Susan (6) |
| Fournier, Jan (1) | Foust, Linda (1) | Fowler, Ann (1) | Fowler, Francis (1) |
| Fowler, Gabriel (1) | Fowler, Martha (1) | Fowler, Nancy (1) | Fowler, Nathaniel (1) |
| Fowler, Smith (1) | Fowler, Viola (1) | Fowler, William (1) | Fox, ? (1) |
| Fox, Susan (1) | Fox, Vernon (1) | Fox, Walter (1) | Fox, Wayne (1) |
| Fox, William (3) | Foxe, Elizabeth (2) | Fraher, Mary (8) | Fraker, Cintha (1) |
| Frakes, Cyrus (1) | Frame, Jennie (1) | France, Mary (1) | Frances, Helen (1) |
| Franchek, James (1) | Franchek, Jerome (1) | Francis, Bessie (3) | Francis, Caleb (1) |
| Francis, Charity (1) | Francis, Cyrus (1) | Francis, Delmon (3) | Francis, Dixie (2) |
| Francis, Elijah (4) | Francis, Esther (2) | Francis, Ira (3) | Francis, Jacob (4) |
| Francis, Jeremiah (2) | Francis, Mary (14) | Francis, Melissa (1) | Francis, Nona (2) |
| Francis, Sophia (3) | Francis, Thomas (18) | Francis, William (3) | Francis, Willis (1) |
| Francisca, ? (1) | Francisco, Frank (1) | Francisco, John (1) | Francisco, Mourning (1) |
| Francisco, Rachel (3) | Francisco, Sallie (3) | Franco, Helen (1) | Frandson, Evan (1) |
| Franke, Allen (1) | Franke, Karen (1) | Frankenbery, Debra (1) | Franklin, Adaline (1) |
| Franklin, Ann (3) | Franklin, Beulah (3) | Franklin, Christiana (1) | Franklin, Edward (1) |
| Franklin, James (2) | Franklin, Mary (28) | Franklin, Missouri (1) | Franklin, Walter (2) |
| Franks, Catharine (8) | Franks, John (3) | Franks, Margaret (1) | Franks, Mary (1) |
| Franks, Sarah (2) | Fraser, Diadema (1) | Fraser, Don (1) | Fraser, Frances (1) |
| Fraser, Francis (2) | Fraser, Mary (15) | Frasher, Louisa (11) | Frasher, Susan (1) |
| Frasure, George (1) | Frazee, Polly (1) | Frazer, Susanah (1) | Frazer, Susanna (1) |
| Frazier, Clyde (1) | Frazier, Susan (3) | Fredricksen, Moroni (1) | Freeborn, Elizabeth (15) |
| Freed, Paul (1) | Freeman, Martha (1) | Freestone, Marjorie (2) | French, Andrew (1) |
| French, Ann (1) | French, Annie (2) | French, Austin (1) | French, Charles (2) |
| French, Cynthia (1) | French, David (3) | French, Docey (1) | French, Elizabeth (2) |
| French, Esther (2) | French, Ezekiel (1) | French, Fannie (1) | French, George (1) |
| French, Guy (1) | French, Harriet (1) | French, Henley (1) | French, Hugh (1) |
| French, Isaac (3) | French, James (4) | French, John (4) | French, Joseph (1) |
| French, Martha (2) | French, Mary (14) | French, Matthrew (1) | French, Minerva (1) |
| French, Nancy (1) | French, Napoleon (1) | French, Obedience (1) | French, Orrie (1) |
| French, Rebecca (1) | French, Reuben (1) | French, Rosella (4) | French, Rufus (1) |
| French, Sallie (3) | French, Sarah (2) | French, St (1) | French, Susan (1) |
| French, Truman (1) | French, William (4) | Friedle, Haver (1) | Friel, Edward (1) |
| Friend, Gypsy (2) | Friend, Gypsy (1) | Friend, Nancy (1) | Frier, Sarah (3) |
| Frisbie, Lucinda (1) | Frisbie, Orton (3) | Frisby/Frisbee/Frisbie, Orton (3) | Frisby\Frisbee\Frisbie, Lucinda (2) |
| Fritts, Vera (1) | Fritz, Jacob (1) | Frogge, William (1) | Frome, Minnie (1) |
| Frushour, Andrew (1) | Fruth, Frederick (3) | Fry, Lewellen (15) | Fry, William (3) |
| Frye, Ruby (1) | Fryley, Daniel (4) | Fugate, Martha (2) | Fulkerson, Bertha (1) |
| Fulkerson, Eli (1) | Fulkerson, Emeline (1) | Fulkerson, Hezekiah (2) | Fulkerson, Leona (1) |
| Fulkerson, Sarah (1) | Fulkerson, Tom (2) | Fuller, B (1) | Fuller, Elijah (1) |
| Fuller, Jacob (2) | Fuller, Kathrine (1) | Fuller, Nancy (3) | Fuller, Sarah (11) |
| Fuller, Stephen (1) | Fullinwider, Anne (4) | Fulmer, Earl (2) | Fultz, Elizabeth (1) |
| Fultz, Henry (4) | Fuqua, Joseph (2) | Furgason, Flora (1) | Furgeson, William (1) |
| Furguson, William (1) | Furlong, Helen (2) | Gable, Maybel (1) | Gaddis, S (1) |
| Gaerte, Levi (1) | Gage, George (1) | Gage, Hattie (1) | Galbreth, Margaret (3) |
| Galey, Sarah (2) | Gallaher, Celia (1) | Gallaher, David (3) | Gallaher, Elizabeth (2) |
| Gallaher, Garland (2) | Gallaher, Harris (4) | Gallaher, Henry (2) | Gallaher, Jane (1) |
| Gallaher, King (4) | Gallaher, Mary (3) | Galloway, Lila (4) | Galloway, Olive (2) |
| Gallway, Cheril (1) | Galmis, Margaret (1) | Gamp?, Claud (1) | Ganong, James (1) |
| Gard, Mary (1) | Gardenour, Sarah (2) | Gardner, Carrey (1) | Gardner, Charlotte (1) |
| Gardner, Maude (2) | Gardner, Ruth (1) | Garett, Loretta (1) | Garis, Henry (3) |
| Garis, Nancy (4) | Garlough, Eva (1) | Garlough, Eve (1) | Garlough, Polly (1) |
| Garman, Grace (4) | Garmendia, Jose (1) | Garmendia, Juan (1) | Garmendia, Patix (1) |
| Garmendia-eguren, Angel (1) | Garmendia-eguren, Antonio (1) | Garmendia-eguren, Felipe (1) | Garmendia-eguren, Francisca (1) |
| Garmendia-eguren, Geronima (1) | Garmendia-eguren, Gregoria (1) | Garmendia-olatzgoitia, Juan (1) | Garr, Jesse (1) |
| Garret, May (4) | Garrett, ? (2) | Garrett, America (1) | Garrett, Edward (1) |
| Garrett, James (3) | Garrett, John (1) | Garrison, Bonnie (1) | Garrison, Charles (3) |
| Garrison, Hazel (1) | Garrison, Henry (1) | Garrison, Mary (1) | Garrison, William (1) |
| Garroutte, Emma (1) | Garthwaite, Inis (1) | Garwood, Isaac (1) | Garwood, Margaret (2) |
| Gary, Pearl (1) | Gashneiler, Martha (1) | Gast, George (1) | Gastineau, Len (1) |
| Gastineau, Levi (4) | Gaston, Vonda (1) | Gates, Anna (13) | Gates, Cyrus (1) |
| Gaudin, George (1) | Gaugh, David (1) | Gauze, Arville (1) | Gauze, Flora (1) |
| Gauze, Florence (1) | Gauze, Freelin (1) | Gauze, James (6) | Gauze, Jane (3) |
| Gauze, Lucian (1) | Gauze, Mildred (1) | Gauze, Minervia (1) | Gauze, Roland (1) |
| Gauze, Ruby (1) | Gauze, Sherman (1) | Gauze, Vadeth (1) | Gavill, Bessie (1) |
| Gavill, Ida (2) | Gay, Adelia (1) | Gaylor, Joseph (1) | Gearhart, Apperson (1) |
| Gee, Lillian (1) | Geene, Rebecca (6) | Geer, Mary (1) | Gehring, Daniel (1) |
| Gehring, Francis (1) | Gehring, Mr (1) | Gehring, Robert (1) | Gehring, Velma (1) |
| Geiger, Mary (7) | Geisinger, Barbara (2) | Geizt, Albert (1) | Gemper, Ann (1) |
| Genovese, Louanne (1) | Genovese, Marylyn (1) | Genovese, Michael (2) | Gentry, Lucy (2) |
| George, Alexander (1) | George, Arena (1) | George, Grace (1) | George, Jenny (12) |
| Gerard, Melvina (1) | Gerard, Stephen (3) | German, Nathan (1) | Gerrig, Lene (1) |
| Geshinsky, Andrew (1) | Geshinsky, Diane (1) | Geshinsky, Ed (2) | Getchell, Mr (1) |
| Getzinger, Clinton (2) | Gheen, Mary (1) | Gibbets, Robert (1) | Gibson, ? (1) |
| Gibson, Amanda (1) | Gibson, Burley (1) | Gibson, Burnettia (9) | Gibson, Caroline (1) |
| Gibson, Clara (1) | Gibson, Clay (1) | Gibson, Enoch (3) | Gibson, Geneva (3) |
| Gibson, George (1) | Gibson, Henry (1) | Gibson, Hesekiah (1) | Gibson, James (2) |
| Gibson, John (1) | Gibson, Keziah (1) | Gibson, Manerva (13) | Gibson, Mary (12) |
| Gibson, Rhoda (1) | Gibson, Travis (1) | Gibson, Zerah/Zarra (1) | Gibson/Lovett, Elizabeth (16) |
| Giddens, Mahala (1) | Gier, Mary (1) | Gifford, Absalom (1) | Gifford, Rhoda (1) |
| Giger, Daniel (1) | Gilbert, Adam (1) | Gilbert, Bessie (1) | Gilbert, Billie (2) |
| Gilbert, Bryant (1) | Gilbert, Catlin (1) | Gilbert, Deena (1) | Gilbert, Doni (1) |
| Gilbert, Edward (1) | Gilbert, Irene (3) | Gilbert, Mary (1) | Gilbert, Rebecca (1) |
| Gilbert, Sara (1) | Gilbert, Silas (1) | Gilbert, Timothy (1) | Gilbert, Veta (1) |
| Gilbert, William (2) | Gilchrist, Andrew (1) | Giles, Frank (2) | Giles, Laura (1) |
| Giles, Mary (1) | Gilespie, Elizabeth (1) | Gill, George (1) | Gill, Sidney (1) |
| Gillen, Kate (1) | Gillespie, Elizabeth (1) | Gillespie, Faye (1) | Gillespie, George (3) |
| Gillespie, Hannah (1) | Gillett, Amanda (2) | Gillett, Julia (2) | Gilley, Mary (1) |
| Gilliam, Mary (3) | Gillies, Daniel (1) | Gillisp, David (1) | Gillispie, D (1) |
| Gillispie, Tilda (1) | Gillman, Minnie (2) | Gilman, Olen (1) | Gilmore, Elizabeth (2) |
| Gilmour/mon, Minnie (1) | Gilstrap, Lillie (1) | Gissy, Angela (1) | Githens, John (1) |
| Glasgow, Idelma (1) | Glaspie, Rose (1) | Glass, Andrew (1) | Glass, Ann (1) |
| Glass, Christiana (2) | Glass, Christina (7) | Glass, Elias (1) | Glass, Eliza (1) |
| Glass, Flossie (1) | Glass, George (3) | Glass, James (2) | Glass, John (14) |
| Glass, Margaret (8) | Glass, Martha (1) | Glass, Milton (1) | Glass, Nancy (2) |
| Glass, Samuel (2) | Glass, Sarah (1) | Glass, William (1) | Glasscock, Margaret (1) |
| Gleam, Michael (1) | Glenn, Bobbie (1) | Glenn, Captain (1) | Glenn, Jean (1) |
| Glenn, Joseph (3) | Glenn, Lucinda (1) | Glenn, Maggie (1) | Glenn, Mary (1) |
| Glenn, Muriel (1) | Glenn, Nancy (3) | Glenn, Nonnie (1) | Glenn, Samantha (1) |
| Glenn, Stewart (1) | Glenn, Tennis (1) | Glotfelten, Mary (1) | Glotfelter, Mary (3) |
| Glotfeltn, Mary (1) | Glova, Maria (1) | Glover, Annie (5) | Glover, Ebenezer (1) |
| Goar, Clement (1) | Goar, Nancy (1) | Gobell, Alice (1) | Gochenaur, Sarah (1) |
| Gochenour, Loren (1) | Godbee, Jessie (4) | Godfrey, Almeda (2) | Godfrey, Lewis (1) |
| Godfrey, Mary (2) | Godfrey, Meda (1) | Godfrey, Rachel (1) | Godley, Godfrey (1) |
| Godwin, Patricia (1) | Godwin, William (1) | Goen, Milton (3) | Goff, ? (1) |
| Goff, Alta (1) | Goff, America (1) | Goff, John (1) | Goff, William (1) |
| Goff, Wm (1) | Goforth, Jane (6) | Gogerty, Thomas (1) | Goins, Belle (1) |
| Goins, Lillian (2) | Goins, Polly (4) | Golladay, James (1) | Golladay, John (1) |
| Golladay, Miles (1) | Golladay, Rachel (1) | Gollaher, Brant (1) | Gollaher, Celia (1) |
| Gollaher, Jane (1) | Gollaher, King (1) | Gooch, W (1) | Goode, ? (1) |
| Goode, Annabel (1) | Gooden, Susanna (1) | Gooden, Susannah (1) | Goodman, John (1) |
| Goodman, Joseph (1) | Goodman, Lucretia (1) | Goodman, Lucy (1) | Goodman, Maggie (2) |
| Goodman, Martha (1) | Goodman, Mary (1) | Goodman, Polly (1) | Goodman, Richard (1) |
| Goodson, Andrew (1) | Goodwin, Susanna (1) | Goodwin, Susannah (3) | Gooslin, Ambrose (1) |
| Gooslin, Anna (1) | Gooslin, Elizabeth (1) | Gooslin, John (1) | Gooslin, Letha (11) |
| Gooslin, Minnie (1) | Gooslin, Ruby (1) | Gorden, Lisa (1) | Gorden, Lori (1) |
| Gordon, Rosetta (3) | Gordon, W (1) | Gore, Eli (1) | Gore, Joseph (1) |
| Gore, Matilda (3) | Gorrell, Capatolia (1) | Gorrell, Ella (2) | Gorrell, Matilda (5) |
| Gosling, Rachel (1) | Gosnell, Eliza (1) | Gosser, Luther (1) | Gould, Emma (3) |
| Gowen, Absalom (2) | Gowen, Frank (2) | Gowen, Mary (9) | Gowens, Asa (3) |
| Gowens, Esther (2) | Graf, Louise (1) | Graft, John (1) | Graham, Callie (1) |
| Graham, James (1) | Graham, John (1) | Graham, Joseph (1) | Graham, Martha (1) |
| Graham, Millie (1) | Graham, Samuel (1) | Graham, Sarah (9) | Graham, Susan (1) |
| Grandidier, John (1) | Grandstaff, Mary (2) | Grant?, Harry (1) | Grass, Amanda (3) |
| Grass, Dr (1) | Graves, America (1) | Graves, James (1) | Gray, Elmira (1) |
| Gray, Ira (1) | Gray, James (4) | Gray, John (1) | Gray, Lucy (1) |
| Gray, Margaret (1) | Gray, Mary (3) | Gray, Nancy (16) | Gray, Polly (1) |
| Gray, Sarah (3) | Grayson, Elizibeth (1) | Green, Alfred (5) | Green, Dorothy (1) |
| Green, Elizabeth (1) | Green, J (2) | Green, James (1) | Green, Louisa (1) |
| Green, Margaret (2) | Green, Mary (2) | Green, Nancy (1) | Green, Peter (1) |
| Green, Solomon (1) | Greenawalt, David (4) | Greenawalt, Lewis (1) | Greenawalt, Mary (3) |
| Greenawalt, Sarah (12) | Greene, Mary (1) | Greenleaf, Charles (2) | Greenleaf, Clarence (1) |
| Greenleaf, Minnie (1) | Greenleaf, Sidney (1) | Greenup, Isaac (1) | Greenwalt, Cata (1) |
| Greenwalt, Catherine (7) | Greenwalt, Elizabeth (1) | Greenwalt, Lewis (1) | Greenwalt, Mary (11) |
| Greenwell, Pete (1) | Greenwell, Peter (1) | Greenwood, Bula (1) | Greenwood, Edmund (1) |
| Greenwood, Eva (1) | Greenwood, Evaline (1) | Greenwood, Irene (1) | Greenwood, Jeanettee (1) |
| Greenwood, Lewis (1) | Greenwood, Louis (1) | Greenwood, Manford (4) | Greenwood, Pluma (1) |
| Greenwood, Ruth (7) | Greer, Geoffrey (1) | Greer, Janeen (1) | Greer, William (1) |
| Gregg, Mary (1) | Gregory, Betsey (1) | Gregory, Caroline (2) | Gregory, George (1) |
| Gregory, Irene (1) | Gregory, Mary (1) | Gregson, Miles (1) | Grennell, Ann (1) |
| Grennell, Anna (1) | Grennell, Anne (1) | Grey/Gray, Mary (17) | Griffen, Arilla (1) |
| Griffey, Belva (1) | Griffey, George (1) | Griffin, Belle (1) | Griffin, Frances (1) |
| Griffin, Henry (1) | Griffin, John (2) | Griffin, Laura (1) | Griffin, Martha (1) |
| Griffin, S (1) | Griffin, Sarah (3) | Griffin, Sis (1) | Griffith, Anna (1) |
| Griffith, Benjamin (2) | Griffith, Catharine (1) | Griffith, David (1) | Griffith, Edward (1) |
| Griffith, Eli (1) | Griffith, Elijah (1) | Griffith, James (1) | Griffith, Jennetta (1) |
| Griffith, John (1) | Griffith, Letecia (1) | Griffith, Margaret (4) | Griffith, Mary (2) |
| Griffith, Michael (1) | Griffith, Persilla (1) | Griffith, Silas (1) | Griffith, Willaim (1) |
| Griffith, William (2) | Griffiths, Feby (1) | Griggs, Margaret (2) | Griggs, Myrtle (1) |
| Grigsby, Lemuel (1) | Grill, Henry (1) | Grimes, Alena (1) | Grimes, Amber (1) |
| Grimes, James (1) | Grimes, John (5) | Grimes, Mary (10) | Grimes, Sarah (3) |
| Grimes, Sarh (1) | Grimes, Shannon (1) | Grimet, James (1) | Grimett, James (1) |
| Grimley, Hannah (1) | Grimley, Solomon (1) | Grimmet, Harvey (2) | Grimmet, Nancy (1) |
| Grimmett, ? (1) | Grimmett, Amanda (1) | Grimmett, Anderson (1) | Grimmett, Andy (1) |
| Grimmett, Anthony (6) | Grimmett, Cal (1) | Grimmett, Caroline (13) | Grimmett, Cora (1) |
| Grimmett, Cordelia (1) | Grimmett, Elvira (1) | Grimmett, Floyd (1) | Grimmett, George (3) |
| Grimmett, Hannah (3) | Grimmett, Henderson (2) | Grimmett, James (5) | Grimmett, John (2) |
| Grimmett, Lydia (1) | Grimmett, Malinda (4) | Grimmett, Martha (3) | Grimmett, Scott (1) |
| Grimmett, William (3) | Grimmit, Elvira (1) | Grimmitt, Cordelia (6) | Grimsley, Sarah (10) |
| Grindle, Samuel (1) | Grinnet, Lindy (3) | Grissom, Cleranda (1) | Grissom, Eva (1) |
| Grissom, John (1) | Grissum, Benjamin (1) | Grist, Lela (5) | Griswold, J (1) |
| Grizzle, George (1) | Groggins, Sarah (6) | Gross, Abraham (1) | Gross, Arrena (1) |
| Gross, Charles (1) | Gross, Ellen (2) | Gross, Irwin (1) | Gross, Isaac (1) |
| Gross, John (1) | Gross, Lillie (2) | Gross, Lizzie (1) | Gross, Mary (15) |
| Gross, Sarah (9) | Gross, Thomas (1) | Gross, William (4) | Grover, Lou (6) |
| Grubb, Ora (1) | Grueninger, Kristin (1) | Grueninger, Mitch (1) | Grueninger, Robert (2) |
| Grueninger, Ronda (1) | Grueninger, Scott (1) | Grueninger, Wanda (1) | Grushinsky, Elizabeth (1) |
| Guadalupe, ? (1) | Guest, Joshua (1) | Guest, Matthew (1) | Guest, Richard (1) |
| Guiff, Daiay (1) | Guin, Sarah (3) | Guip, Samuel (1) | Gullette, Margaret (2) |
| Gullette, Robert (2) | Gulley, Jane (3) | Gulley, Jincy (16) | Gunter, Andrew (3) |
| Gunter, John (1) | Gunter, Zachariah (3) | Gustin, ? (1) | Gustin, Samuel (1) |
| Guthrie, Robert (1) | Guzy, Leonard (1) | Haack, Herbert (1) | Haack, Mark (1) |
| Haanan, Robert (1) | Haas, Elizabeth (1) | Haberland, Sarah (1) | Hackett, Daniel (1) |
| Hackett, Jack (1) | Hackett, Jonathan (1) | Hackett, Robert (1) | Hackett, Sarah (1) |
| Hackman, Elizabeth (1) | Hackman, William (1) | Hackney, Richard (1) | Hackworth, Piety (1) |
| Haddack, Marie (1) | Haden, James (1) | Hadfeild, Abner (1) | Hadfeild, Hattie (1) |
| Hadfield, ? (2) | Hadfield, A (3) | Hadfield, Aaron (2) | Hadfield, Abbie (1) |
| Hadfield, Abby (1) | Hadfield, Abraham (2) | Hadfield, Abram (1) | Hadfield, Agnes (2) |
| Hadfield, Albert (1) | Hadfield, Alfert (1) | Hadfield, Alfred (1) | Hadfield, Alice (4) |
| Hadfield, Allie (1) | Hadfield, Alma (1) | Hadfield, Amelia (1) | Hadfield, Amy (1) |
| Hadfield, Ann (2) | Hadfield, Anna (2) | Hadfield, Anne (2) | Hadfield, Annie (4) |
| Hadfield, Annis (1) | Hadfield, Ardys (1) | Hadfield, Arta (1) | Hadfield, Arthur (2) |
| Hadfield, Aurelia (1) | Hadfield, Barbara (1) | Hadfield, Beatrice (2) | Hadfield, Benjamin (1) |
| Hadfield, Bernardine (1) | Hadfield, Bertha (1) | Hadfield, Blanche (1) | Hadfield, Burrons (1) |
| Hadfield, Carl (1) | Hadfield, Caroline (1) | Hadfield, Carrie (2) | Hadfield, Catherine (1) |
| Hadfield, Cecelia (1) | Hadfield, Charity (1) | Hadfield, Charles (3) | Hadfield, Chloe (1) |
| Hadfield, Claude (1) | Hadfield, Clifford (2) | Hadfield, Daisy (1) | Hadfield, David (1) |
| Hadfield, Diana (1) | Hadfield, Dick (1) | Hadfield, Dolly (1) | Hadfield, Dorothy (4) |
| Hadfield, Dyson (1) | Hadfield, E (3) | Hadfield, Earl (1) | Hadfield, Edith (1) |
| Hadfield, Edward (4) | Hadfield, Eland (1) | Hadfield, Eliza (1) | Hadfield, Elizabeth (3) |
| Hadfield, Eloise (1) | Hadfield, Elson (1) | Hadfield, Elva (1) | Hadfield, Emily (1) |
| Hadfield, Emma (2) | Hadfield, Ernest (1) | Hadfield, Esther (2) | Hadfield, Ethel (1) |
| Hadfield, Eva (1) | Hadfield, Flora (1) | Hadfield, Florence (1) | Hadfield, Frances (1) |
| Hadfield, Francis (2) | Hadfield, Frank (1) | Hadfield, Franklin (1) | Hadfield, Geo (1) |
| Hadfield, George (18) | Hadfield, Gilbert (1) | Hadfield, Glifford (1) | Hadfield, Goerge (3) |
| Hadfield, Grace (2) | Hadfield, Gwen (1) | Hadfield, H (3) | Hadfield, Harold (6) |
| Hadfield, Harriet (1) | Hadfield, Harrison (1) | Hadfield, Harry (5) | Hadfield, Helen (2) |
| Hadfield, Henry (1) | Hadfield, Herbert (1) | Hadfield, Hilda (1) | Hadfield, Homer (1) |
| Hadfield, Howard (1) | Hadfield, Irvin (1) | Hadfield, Isabel (1) | Hadfield, J (3) |
| Hadfield, James (2) | Hadfield, Jane (2) | Hadfield, Jennette (2) | Hadfield, Jobe (1) |
| Hadfield, Joe (1) | Hadfield, John (23) | Hadfield, Jonathan (4) | Hadfield, Joseph (11) |
| Hadfield, Josephine (1) | Hadfield, Kenneth (1) | Hadfield, Laura (6) | Hadfield, Leo (1) |
| Hadfield, Leon (1) | Hadfield, Leona (2) | Hadfield, Leta (1) | Hadfield, Lewis (1) |
| Hadfield, Louis (1) | Hadfield, Louise (1) | Hadfield, Luella (1) | Hadfield, Mabel (2) |
| Hadfield, Mabelle (1) | Hadfield, Mable (1) | Hadfield, Madge (1) | Hadfield, Maria (1) |
| Hadfield, Marian (2) | Hadfield, Marie (2) | Hadfield, Mark (1) | Hadfield, Martha (1) |
| Hadfield, Mary (6) | Hadfield, Maud (1) | Hadfield, Mercy (1) | Hadfield, Mildred (1) |
| Hadfield, Mina (1) | Hadfield, Minnie (1) | Hadfield, Miriam (1) | Hadfield, Mrs (1) |
| Hadfield, Myrtie (1) | Hadfield, Nancy (2) | Hadfield, Nellie (3) | Hadfield, Olive (1) |
| Hadfield, Oscar (2) | Hadfield, Pheobe (1) | Hadfield, Ralph (2) | Hadfield, Rangley (1) |
| Hadfield, Ray (1) | Hadfield, Robert (5) | Hadfield, Roy (1) | Hadfield, Ruby (2) |
| Hadfield, Sallie (1) | Hadfield, Sally (1) | Hadfield, Saloma (1) | Hadfield, Samuel (1) |
| Hadfield, Sarah (4) | Hadfield, Susan (1) | Hadfield, Sylvanus (1) | Hadfield, Sylvemus (1) |
| Hadfield, Sylvia (2) | Hadfield, Teresa (1) | Hadfield, Thomas (9) | Hadfield, Tom (1) |
| Hadfield, Victoria (1) | Hadfield, Violet (1) | Hadfield, Walter (4) | Hadfield, Wells (1) |
| Hadfield, William (18) | Hadfield, Wm (1) | Hadfild, John (1) | Hadley, Galley (1) |
| Hadley, Willie (1) | Hadpole, Ernest (1) | Hadtfield, Thomas (1) | Hafield, Eliza (1) |
| Hageman, James (1) | Hageman, Mary (1) | Hager, ? (1) | Hager, Georgia (1) |
| Hager, Margie (2) | Hager, Mary (1) | Hager, Surilda (1) | Hager, Willie (2) |
| Hagerman, Arch (1) | Hagerman, Blaine (3) | Hagerman, Ellen (1) | Hagerman, Eva (1) |
| Hagerman, James (5) | Hagerman, Mary (3) | Hagerman, Sarah (1) | Hagerman, William (2) |
| Hagler, Malind (1) | Hagler, Malinda (1) | Hagler, William (1) | Hahn, Joe (1) |
| Hahn, Joseph (1) | Hahn, Laura (1) | Haines, Billy (1) | Haines, Francis (1) |
| Haines, Lorna (1) | Haines, Naomi (1) | Haines, Susan (3) | Halbert, Martha (1) |
| Hale, Brice (1) | Hale, Catherine (1) | Hale, Frank (1) | Hale, Nancy (4) |
| Hale, Susan (1) | Haley, D(ee?) (1) | Haley, Harriet (5) | Haley, Peter (1) |
| Haley, Rachel (1) | Hall, Annie (1) | Hall, Bonner (1) | Hall, David (1) |
| Hall, Emma (1) | Hall, Evangeline (1) | Hall, Faye (1) | Hall, Georgiana (1) |
| Hall, Helen (1) | Hall, Ida (1) | Hall, Jack (1) | Hall, James (4) |
| Hall, John (3) | Hall, Lilburn (3) | Hall, Lula (1) | Hall, Malissa (1) |
| Hall, Martha (1) | Hall, Mary (3) | Hall, Mildred (1) | Hall, Mrs (1) |
| Hall, Reuben (1) | Hall, Rhoda (3) | Hall, Rosa (1) | Hall, Sarah (2) |
| Hall, Sylvania (14) | Hall, Virgie (1) | Hall, Walter (4) | Hall, William (1) |
| Halle, August (1) | Halsey, Silas (2) | Halstead, Burnett (2) | Halstead, Daniel (1) |
| Halstead, Dorothy (1) | Halsted, Donald (1) | Halsted, Josiah (1) | Halteman, Nancy (1) |
| Hamborsky, Cheryl (1) | Hamborsky, Ed (1) | Hamborsky, Edward (1) | Hamborsky, Gregg (1) |
| Hamborsky, James (1) | Hamborsky, John (2) | Hamborsky, L (1) | Hamborsky, Mary (1) |
| Hamborsky, Melinda (1) | Hamborsky, Richard (1) | Hamborsky, Robert (1) | Hamborsky, Ruth (1) |
| Hamborsky, Veronica (1) | Hamby, William (1) | Hamilton, Ann (1) | Hamilton, Anna (1) |
| Hamilton, Anne (1) | Hamilton, Herman (1) | Hamilton, Jefferson (1) | Hamilton, John (1) |
| Hamilton, Lewis (6) | Hamilton, Louis (3) | Hamilton, Sallie (1) | Hamilton, Sally (1) |
| Hamilton, Sarah (1) | Hammat, Julia (1) | Hammen, Catharine (1) | Hammer, Inez (1) |
| Hammer, Joseph (1) | Hammond, ? (1) | Hammond, Emily (3) | Hammond, Ida (1) |
| Hammons, Celia (1) | Hammons, Corda (1) | Hammons, James (1) | Hamontree, Max (1) |
| Hampton, Amanda (1) | Hampton, Dicey (1) | Hampton, Ed (1) | Hampton, Levi (1) |
| Hampton, Mahala (1) | Hampton, Margaret (1) | Hampton, Thomas (1) | Hancock, Louisa (1) |
| Hand, Sarah (1) | Hands, Ann (1) | Hands, Anna (1) | Hands, Anne (1) |
| Handy, Ann (1) | Handy, Anna (1) | Handy, Anne (1) | Handy, Dorcas (1) |
| Handy, J (1) | Handy, Mersha (11) | Hankins, Melda (3) | Hankins, William (3) |
| Hanky, Annie (1) | Hanley, Esther (1) | Hannah, John (1) | Hannan, Janelle (1) |
| Hannan, Jill (1) | Hannan, Richard (1) | Hanon, Andrew (2) | Hanson, Orpha (1) |
| Haran, William (1) | Haran, Wm (1) | Harbeson, May (1) | Harbold, Jacob (1) |
| Harden, Jane (1) | Harden, Viola (1) | Hardin, Florence (1) | Hardin, John (1) |
| Hardin, Joshua (1) | Hardin, Lillian (2) | Hardin, Townslin (1) | Hardinage, Polly (1) |
| Harding, Charles (1) | Harding, Chas (1) | Harding, James (1) | Hardison, Cela (3) |
| Hardison, Gage (1) | Hardison, George (6) | Hardison, Haner (1) | Hardison, Hannah (3) |
| Hardison, Sintha (3) | Hardison, William (1) | Hardman, Louella (3) | Hardy, Bertha (2) |
| Hardy, Jesse (4) | Hardy, Mary (2) | Hardy, Sally (1) | Hardy, Thomas (1) |
| Hare, William (1) | Harfield, Margt (1) | Harfield, Mary (1) | Harfield, Mattie (1) |
| Harfield, Milton (1) | Harfield, Nora (1) | Harfield, Owin (1) | Hargan, John (2) |
| Harker, Delila (1) | Harker, Delilah (12) | Harland, Mary (1) | Harless, Hanna (7) |
| Harless, Margaretha (2) | Harman, Mathias (1) | Harmon, Anna (1) | Harmon, Elizabeth (7) |
| Harmon, H (1) | Harmon, Lizzie (2) | Harmon, Stallard (1) | Harmon, Wm (1) |
| Harness, Grace (1) | Harness, Gracy (2) | Harness, Lucinda (2) | Harness, Peter (3) |
| Harness, Polly (1) | Harness, Susanna (1) | Harness, Susannah (11) | Harness/Hernice, Mary (13) |
| Harneston, Elizabeth (1) | Harold, Phoebe (1) | Harpe, Martha (2) | Harper, Daniel (1) |
| Harper, David (1) | Harper, Elizabeth (2) | Harper, Emily (1) | Harper, Judith (1) |
| Harper, Samantha (1) | Harper, Wendell (1) | Harpley, Charles (1) | Harpley, Edgar (1) |
| Harpole, Fern (3) | Harrell, Charles (1) | Harrell, Dicy (2) | Harrell, Leviner (2) |
| Harrington, John (1) | Harrington, Nannie (1) | Harrington?, George (2) | Harrington?, Susannah (1) |
| Harris, Albert (1) | Harris, Alfred (1) | Harris, Alice (1) | Harris, Alonzo (1) |
| Harris, Ann (1) | Harris, Anna (1) | Harris, Anne (1) | Harris, Caleb (2) |
| Harris, Charlie (1) | Harris, Darrel (1) | Harris, David (1) | Harris, Elizabeth (1) |
| Harris, Frances (1) | Harris, George (2) | Harris, Glenn (1) | Harris, Harriet (1) |
| Harris, J (1) | Harris, James (13) | Harris, John (1) | Harris, Joseph (1) |
| Harris, Julia (9) | Harris, Lela (1) | Harris, Margaret (2) | Harris, Mary (1) |
| Harris, Melinda (1) | Harris, Miles (1) | Harris, Nancy (7) | Harris, Phebe (1) |
| Harris, Philena (1) | Harris, Polly (2) | Harris, Rebecca (8) | Harris, Reuben (1) |
| Harris, Samuel (2) | Harris, Selina (1) | Harris, William (1) | Harris/Hans/Haus?, Mary (15) |
| Harrison, Anna (1) | Harrison, Brad (1) | Harrison, Charles (2) | Harrison, Christy (1) |
| Harrison, Clyde (1) | Harrison, Etta (1) | Harrison, James (1) | Harrison, Jan (1) |
| Harrison, John (1) | Harrison, Lottie (1) | Harrison, Lyle (1) | Harrison, M (1) |
| Harrison, Mary (11) | Harrison, Matthew (1) | Harrison, Melissa (1) | Harrison, Ruby (1) |
| Harrod, Amanda (1) | Harrod, Simon (3) | Harry, Frank (1) | Harry, Jefferson (1) |
| Hart, Aaron (10) | Hart, Abigail (1) | Hart, Abraham (3) | Hart, Absalom (1) |
| Hart, Ada (1) | Hart, Adam (1) | Hart, Addie (1) | Hart, Adeline (1) |
| Hart, Adrianne (1) | Hart, Albert (1) | Hart, Amanda (1) | Hart, Amelia (7) |
| Hart, America (1) | Hart, Amy (1) | Hart, Anderson (13) | Hart, Andreia (1) |
| Hart, Andrew (3) | Hart, Angie (1) | Hart, Ann (7) | Hart, Anna (1) |
| Hart, Anne (1) | Hart, Annette (1) | Hart, Annie (2) | Hart, Appolona (3) |
| Hart, Arabella (1) | Hart, Archie (1) | Hart, Arminda (3) | Hart, Arminillis (1) |
| Hart, Arnold (1) | Hart, Asa (2) | Hart, Attie (1) | Hart, Aubrey (1) |
| Hart, Audie (1) | Hart, B (1) | Hart, Belinda (2) | Hart, Benjamin (3) |
| Hart, Bertie (1) | Hart, Bettie (1) | Hart, Blaine (7) | Hart, Bonnie (3) |
| Hart, Brinkley (1) | Hart, Burt (1) | Hart, Calvin (1) | Hart, Catherine (5) |
| Hart, Charles (3) | Hart, Charlie (1) | Hart, Chesterfield (1) | Hart, Christopher (3) |
| Hart, Churchill (1) | Hart, Cinaisa (1) | Hart, Clara (2) | Hart, Clarence (1) |
| Hart, Clarissa (1) | Hart, Clasinda (1) | Hart, Claude (3) | Hart, Clella (1) |
| Hart, Cleveland (1) | Hart, Clevern (1) | Hart, Coleman (1) | Hart, Columbus (1) |
| Hart, Cora (3) | Hart, Cortland (1) | Hart, D (1) | Hart, Daniel (2) |
| Hart, David (3) | Hart, Dela (1) | Hart, Dennis (1) | Hart, Dicie (1) |
| Hart, Doctor (1) | Hart, Dolly (1) | Hart, Eddie (1) | Hart, Edith (1) |
| Hart, Edmund (1) | Hart, Edward (3) | Hart, Effa (2) | Hart, Elbert (1) |
| Hart, Eleanor (1) | Hart, Eliza (2) | Hart, Elizabeth (16) | Hart, Ella (1) |
| Hart, Elmer (1) | Hart, Elonzo (1) | Hart, Elsie (1) | Hart, Elvy (1) |
| Hart, Emeline (1) | Hart, Emilia (1) | Hart, Emily (15) | Hart, Emma (7) |
| Hart, Emmett (1) | Hart, Enoch (2) | Hart, Ernst (1) | Hart, Essey (1) |
| Hart, Ester (1) | Hart, Esther (1) | Hart, Ethel (2) | Hart, Etta (1) |
| Hart, Eula (1) | Hart, Euphemia (1) | Hart, Eva (1) | Hart, Evan (2) |
| Hart, Everett (2) | Hart, F (1) | Hart, Fannie (2) | Hart, Finney (1) |
| Hart, Frances (1) | Hart, Frankie (3) | Hart, Fred (2) | Hart, Garland (1) |
| Hart, George (7) | Hart, Grace (1) | Hart, Green (1) | Hart, Guy (1) |
| Hart, Hannah (2) | Hart, Harley (1) | Hart, Harlie (1) | Hart, Harriet (1) |
| Hart, Hattie (2) | Hart, Henry (4) | Hart, Heth (1) | Hart, Hettie (1) |
| Hart, Hezekiah (2) | Hart, Hiram (3) | Hart, Hugh (1) | Hart, Ida (2) |
| Hart, Ira (1) | Hart, Iredell (4) | Hart, Isaac (4) | Hart, Isolace (1) |
| Hart, Iva (1) | Hart, Jacob (3) | Hart, James (16) | Hart, Jane (10) |
| Hart, Jasper (1) | Hart, Jerry (1) | Hart, Jessie (1) | Hart, Joel (3) |
| Hart, Johial (1) | Hart, John (44) | Hart, Joseph (26) | Hart, Josiah (13) |
| Hart, Julia (2) | Hart, Julian (1) | Hart, Kate (1) | Hart, Katherine (4) |
| Hart, Kittie (2) | Hart, Kitty (1) | Hart, L (1) | Hart, Larkin (1) |
| Hart, Laura (2) | Hart, Lawrence (1) | Hart, Lean (1) | Hart, Leda (1) |
| Hart, Lela (1) | Hart, Lemon (1) | Hart, Leo (1) | Hart, Leona (1) |
| Hart, Leonard (1) | Hart, Letta (1) | Hart, Levi (1) | Hart, Lewis (1) |
| Hart, Lida (1) | Hart, Lillie (1) | Hart, Lonnie (1) | Hart, Lory (1) |
| Hart, Louann (1) | Hart, Louis (1) | Hart, Louisa (3) | Hart, Louise (1) |
| Hart, Louraney (1) | Hart, Lucretia (1) | Hart, Ludia (1) | Hart, Luisa (1) |
| Hart, Lula (5) | Hart, Luna (1) | Hart, Luther (6) | Hart, Lydia (1) |
| Hart, Malinda (13) | Hart, Mamie (3) | Hart, Margaret (9) | Hart, Margie (4) |
| Hart, Marie (1) | Hart, Marselle (1) | Hart, Marshall (1) | Hart, Martha (11) |
| Hart, Mary (48) | Hart, Matilda (4) | Hart, Maude (1) | Hart, Mayme (1) |
| Hart, Mcroy (1) | Hart, Melia (1) | Hart, Melvina (1) | Hart, Mildred (1) |
| Hart, Miles (5) | Hart, Milly (1) | Hart, Minnie (2) | Hart, Mitchell (1) |
| Hart, Molly (1) | Hart, Monroe (1) | Hart, Morgan (3) | Hart, Moses (4) |
| Hart, Nancy (8) | Hart, Nelly (1) | Hart, Olive (1) | Hart, Oliver (7) |
| Hart, Olivia (1) | Hart, Ollie (1) | Hart, Oran (1) | Hart, Paul (1) |
| Hart, Pauline (1) | Hart, Permelia (1) | Hart, Phillip (1) | Hart, Pinckney (1) |
| Hart, Pleasant (1) | Hart, Polly (2) | Hart, Powell (1) | Hart, Pricilla (1) |
| Hart, Priscilla (1) | Hart, Rachel (5) | Hart, Raleigh (1) | Hart, Raymond (1) |
| Hart, Rebecca (5) | Hart, Rellie (1) | Hart, Ressie (2) | Hart, Reuben (1) |
| Hart, Richard (1) | Hart, Robert (4) | Hart, Rosa (3) | Hart, Roy (1) |
| Hart, Ruby (1) | Hart, Ruth (1) | Hart, Sallie (2) | Hart, Sally (1) |
| Hart, Samuel (7) | Hart, Sarah (27) | Hart, Seth (2) | Hart, Shelby (1) |
| Hart, Silas (5) | Hart, Sinia (1) | Hart, Stacia (1) | Hart, Stella (2) |
| Hart, Stephen (1) | Hart, Sudie (1) | Hart, Susan (8) | Hart, Susannah (1) |
| Hart, Thomas (16) | Hart, Thompson (1) | Hart, Tilford (2) | Hart, Tinney (1) |
| Hart, Tressie (1) | Hart, Uriah (3) | Hart, Velma (1) | Hart, Viola (2) |
| Hart, Virgil (1) | Hart, Virginia (1) | Hart, W (1) | Hart, Walte (1) |
| Hart, Walter (1) | Hart, White (1) | Hart, Wililam (1) | Hart, Willard (2) |
| Hart, William (37) | Hart, Woodford (1) | Hart, Zorodo (1) | Harter, Ann (11) |
| Harter, Anna (2) | Harter, Anne (2) | Harter, Catherine (3) | Harter, Emery (1) |
| Harter, Emma (1) | Harter, Eveline (1) | Harter, Fanny (1) | Harter, Fergus (1) |
| Harter, Frank (1) | Harter, Hanna (1) | Harter, John (1) | Harter, Mary (19) |
| Harter, Mary-Margaret (1) | Harter, Michael (1) | Harter, Nancy (2) | Harter, Nellie (1) |
| Harter, Peter (5) | Harter, Polly (2) | Harter, Rachel (2) | Harter, Rebecca (3) |
| Harter, Robert (2) | Harter, Theodore (1) | Harter, William (2) | Hartfield, Alsy (1) |
| Hartfield, Elizabeth (1) | Hartfield, James (1) | Hartfield, Pter (1) | Hartfield, Wiley (1) |
| Harth, Clareda (1) | Harth, Daniel (1) | Harth, Sarah (1) | Harth, William (4) |
| Hartley, Elisa (3) | Hartley, Eliza (1) | Hartley, James (1) | Hartman, John (1) |
| Hartolive/?, Oliva (1) | Harts, Joseph (1) | Harts, Moses (1) | Harts, Samuel (1) |
| Hartsfield, A (1) | Hartsfield, Allen (1) | Hartsfield, Alsa (1) | Hartsfield, Andrew (5) |
| Hartsfield, Anthony (1) | Hartsfield, B (1) | Hartsfield, Berry (1) | Hartsfield, Durant (1) |
| Hartsfield, G (3) | Hartsfield, Godfrey (3) | Hartsfield, Henry (1) | Hartsfield, Isaac (1) |
| Hartsfield, Jackson (1) | Hartsfield, James (2) | Hartsfield, John (2) | Hartsfield, Leroy (1) |
| Hartsfield, Mary (1) | Hartsfield, Moses (4) | Hartsfield, Paul (1) | Hartsfield, Richard (1) |
| Hartsfield, Samuel (1) | Hartsfield, Thomas (1) | Hartsfield, W (1) | Hartsfield, Warren (2) |
| Hartsfield, William (3) | Hartsvelder, Jurian/Georgius (1) | Hartsvelder?, Andreas (2) | Harveston, Mattie (1) |
| Harvey, Catherine (1) | Harvey, Jessie (1) | Harvey, Maggie (1) | Harvey, Martha (1) |
| Harvey, Mary (1) | Harvey, Ollie (1) | Harvey, Parmelia (2) | Harvey, Permelia (2) |
| Harvey, Roy (2) | Harvey, Willis (3) | Harvy, Ann (1) | Harvy, Anna (1) |
| Harvy, Anne (1) | Harvy, Evaline (1) | Harvy, John (1) | Harvy, Rosanah (1) |
| Harvy, William (1) | Harzetta, James (1) | Hasenfang, Jan (1) | Hashfield, Washington (1) |
| Haskins, Sarah (1) | Hastings, Bettie (1) | Hastings, Betty (5) | Hastings, Celia (1) |
| Hatbell, Oliver (2) | Hatcher, Ada (2) | Hatcher, Jesse (1) | Hatefield, David (1) |
| Hatefield, Granville (1) | Hatefield, J (1) | Hatefield, Jeremiah (2) | Hatfeild, Aaron (1) |
| Hatfeild, Ale (1) | Hatfeild, Christian (1) | Hatfeild, Frank (1) | Hatfeild, George (2) |
| Hatfeild, Green (1) | Hatfeild, Jane (2) | Hatfeild, John (1) | Hatfeild, Josephine (1) |
| Hatfeild, Mary (1) | Hatfeild, Susanna (1) | Hatfeild, Susannah (1) | Hatfeild, Talbert (1) |
| Hatfeild, William (1) | Hatfeld, Betsey (1) | Hatfeld, Lewis (1) | Hatfeld, Louis (1) |
| Hatfeld, Richard (1) | Hatfeld, William (1) | Hatfeld, Wm (1) | Hatfelds, H (1) |
| Hatfelds, J (1) | Hatfelt, Samuel (1) | Hatfenny, John (1) | Hatfeold, George* (1) |
| Hatffield, Fererll (1) | Hatfhill, Clara (1) | Hatfhill, Elsworth (1) | Hatfhill, John (1) |
| Hatfiald, Francis (1) | Hatfiald, Mary (1) | Hatfideld, Frank (1) | Hatfidld, Alonzo (1) |
| Hatfieald, Daniel (1) | Hatfieald, Isaac (1) | Hatfieald, John (1) | Hatfieald, Zopher (1) |
| Hatfied, Charles (1) | Hatfied, Riley (1) | Hatfiel, Archibald (1) | Hatfiel, Charles (1) |
| Hatfiel, Elizabeth (1) | Hatfiel, George (1) | Hatfiel, Harvy* (1) | Hatfiel, Isaac* (1) |
| Hatfiel, John (1) | Hatfield, ---- (2) | Hatfield, ? (67) | Hatfield, _____ (2) |
| Hatfield, ______ (1) | Hatfield, _________ (2) | Hatfield, ____auch (1) | Hatfield, _inda (1) |
| Hatfield, A (55) | Hatfield, A_____ (1) | Hatfield, Aarian (1) | Hatfield, Aaron (58) |
| Hatfield, Aaron* (1) | Hatfield, Aas (1) | Hatfield, Ab (3) | Hatfield, Abagail (14) |
| Hatfield, Abarham (1) | Hatfield, Abb (1) | Hatfield, Abbadiah (1) | Hatfield, Abbie (7) |
| Hatfield, Abe (5) | Hatfield, Abel (30) | Hatfield, Abiah (1) | Hatfield, Abigail (19) |
| Hatfield, Abigal (1) | Hatfield, Abigil (1) | Hatfield, Abil (1) | Hatfield, Able (10) |
| Hatfield, Abner (84) | Hatfield, Abraham (156) | Hatfield, Abram (17) | Hatfield, Abrham (1) |
| Hatfield, Absalom (1) | Hatfield, Absalum (1) | Hatfield, Ace (1) | Hatfield, Achabald (2) |
| Hatfield, Achibald (1) | Hatfield, Achilles (8) | Hatfield, Acklous (1) | Hatfield, Aclas (1) |
| Hatfield, Ada (40) | Hatfield, Adah (1) | Hatfield, Adalilne (1) | Hatfield, Adalin (1) |
| Hatfield, Adaline (45) | Hatfield, Adam (194) | Hatfield, Add (2) | Hatfield, Addie (8) |
| Hatfield, Addison (1) | Hatfield, Adel (2) | Hatfield, Adelaide (2) | Hatfield, Adelia (1) |
| Hatfield, Adeline (33) | Hatfield, Adella (3) | Hatfield, Adene (1) | Hatfield, Adolph (1) |
| Hatfield, Adolphus (5) | Hatfield, Adonijah (1) | Hatfield, Adra (2) | Hatfield, Adrain (1) |
| Hatfield, Adrian (14) | Hatfield, Adron (1) | Hatfield, Ady (1) | Hatfield, Ae--ia (1) |
| Hatfield, Affie (1) | Hatfield, Agatha (3) | Hatfield, Aggey (2) | Hatfield, Aggie (1) |
| Hatfield, Agnes (10) | Hatfield, Ail (5) | Hatfield, Aileen (1) | Hatfield, Aiola (1) |
| Hatfield, Al (2) | Hatfield, Alafare (2) | Hatfield, Alafore (6) | Hatfield, Alafose (1) |
| Hatfield, Alameda (1) | Hatfield, Alben (1) | Hatfield, Alberet (2) | Hatfield, Albert (124) |
| Hatfield, Alberta (2) | Hatfield, Albin (13) | Hatfield, Albina (1) | Hatfield, Albion (1) |
| Hatfield, Alby (4) | Hatfield, Alcie (1) | Hatfield, Alcy (1) | Hatfield, Alcye (3) |
| Hatfield, Aldean (1) | Hatfield, Alden (2) | Hatfield, Aldon (1) | Hatfield, Ale (88) |
| Hatfield, Alefore (3) | Hatfield, Alellia (1) | Hatfield, Aler (1) | Hatfield, Alesander (2) |
| Hatfield, Aletha (2) | Hatfield, Alethia (1) | Hatfield, Alex (16) | Hatfield, Alex(?) (1) |
| Hatfield, Alexabder (2) | Hatfield, Alexander (116) | Hatfield, Alexander* (1) | Hatfield, Alexis (1) |
| Hatfield, Aley (3) | Hatfield, Alfaretta (1) | Hatfield, Alfonzo (3) | Hatfield, Alford (7) |
| Hatfield, Alfred (30) | Hatfield, Alfred (55) | Hatfield, Ali (26) | Hatfield, Alice (74) |
| Hatfield, Alifair (10) | Hatfield, Alifar (1) | Hatfield, Alin (1) | Hatfield, Alis (1) |
| Hatfield, Alitia (3) | Hatfield, Alla (2) | Hatfield, Allan (1) | Hatfield, Allcie (3) |
| Hatfield, Allegheny (3) | Hatfield, Allen (71) | Hatfield, Alley (1) | Hatfield, A---llia (1) |
| Hatfield, Allice (3) | Hatfield, Allie (8) | Hatfield, Allis (3) | Hatfield, Allison (1) |
| Hatfield, Ally (6) | Hatfield, Alma (26) | Hatfield, Almeda (18) | Hatfield, Almeta (1) |
| Hatfield, Almira (7) | Hatfield, Almond (7) | Hatfield, Almyra (8) | Hatfield, Almzra (1) |
| Hatfield, Alo (1) | Hatfield, Aloine (1) | Hatfield, Alonso (1) | Hatfield, Alonzo (19) |
| Hatfield, Alphare (1) | Hatfield, Alphonds (1) | Hatfield, Alphus (1) | Hatfield, Alsey (2) |
| Hatfield, Alsina (2) | Hatfield, Al---son (1) | Hatfield, Alta (15) | Hatfield, Altha (1) |
| Hatfield, Althea (1) | Hatfield, Altie (6) | Hatfield, Alva (1) | Hatfield, Alve (1) |
| Hatfield, Alverta (1) | Hatfield, Alvia (1) | Hatfield, Alvin (29) | Hatfield, Alvira (2) |
| Hatfield, Alvis (14) | Hatfield, Aly (25) | Hatfield, Alzina (5) | Hatfield, Amanda (120) |
| Hatfield, Amandy (2) | Hatfield, Amanel (2) | Hatfield, Amariah (4) | Hatfield, Amasetta (1) |
| Hatfield, Ambrose (2) | Hatfield, Amda (1) | Hatfield, Amelia (15) | Hatfield, America (67) |
| Hatfield, Americk (2) | Hatfield, Ames (1) | Hatfield, Amezetta (1) | Hatfield, Amonda (3) |
| Hatfield, Amos (33) | Hatfield, Amsteau (1) | Hatfield, Amy (12) | Hatfield, Amy* (1) |
| Hatfield, Ana (1) | Hatfield, Anastasia (9) | Hatfield, Ance (1) | Hatfield, Ancil (1) |
| Hatfield, And (1) | Hatfield, Anderson (100) | Hatfield, Andres (1) | Hatfield, Andrew (454) |
| Hatfield, Andrew (8) | Hatfield, Andrew? (1) | Hatfield, Andrfew (1) | Hatfield, Andrianas (2) |
| Hatfield, Andy (10) | Hatfield, Aneita (1) | Hatfield, Angeline (24) | Hatfield, Angie (1) |
| Hatfield, Angus (1) | Hatfield, Anita (1) | Hatfield, Ann (206) | Hatfield, Ann(a) (5) |
| Hatfield, Anna (290) | Hatfield, Anna/Rachel (2) | Hatfield, Annabel (2) | Hatfield, Annabelle (1) |
| Hatfield, Annah (1) | Hatfield, Anne (148) | Hatfield, Annetta (3) | Hatfield, Annette (2) |
| Hatfield, Anney (1) | Hatfield, Annia (1) | Hatfield, Annie (44) | Hatfield, Annna (1) |
| Hatfield, Anny (1) | Hatfield, Annyh (1) | Hatfield, Anouel (1) | Hatfield, Anthony (39) |
| Hatfield, Anuel (1) | Hatfield, Appolona (1) | Hatfield, April (1) | Hatfield, Aquilla (1) |
| Hatfield, Ara (3) | Hatfield, Araba (3) | Hatfield, Arabell (2) | Hatfield, Arabella (2) |
| Hatfield, Arabia (1) | Hatfield, Arah (1) | Hatfield, Araminta (12) | Hatfield, Aran (1) |
| Hatfield, Arascas(?) (1) | Hatfield, Arch (4) | Hatfield, Archibald (47) | Hatfield, Archie (3) |
| Hatfield, Archilus (1) | Hatfield, Archy (1) | Hatfield, Ardath (1) | Hatfield, Ardetha (1) |
| Hatfield, Arelia (3) | Hatfield, Arena (6) | Hatfield, Argent (2) | Hatfield, Arian (11) |
| Hatfield, Arie (1) | Hatfield, Arisba (1) | Hatfield, Arisba/Ausba/Arrisbey (9) | Hatfield, Arisby (1) |
| Hatfield, Arison (3) | Hatfield, Arkansas (5) | Hatfield, Arkie (1) | Hatfield, Arlean (1) |
| Hatfield, Arletta (1) | Hatfield, Arlie (3) | Hatfield, Arline (3) | Hatfield, Armantha (1) |
| Hatfield, Armasetta (1) | Hatfield, Armeda (4) | Hatfield, Armeldia (8) | Hatfield, Armenda (1) |
| Hatfield, Armetta (1) | Hatfield, Armina (2) | Hatfield, Arminda (3) | Hatfield, Arminta (17) |
| Hatfield, Armstard (1) | Hatfield, Armstead (29) | Hatfield, Armsted (3) | Hatfield, Arnetta (4) |
| Hatfield, Arnettie (1) | Hatfield, Arnold (6) | Hatfield, Aron (5) | Hatfield, Aron* (1) |
| Hatfield, Arra (1) | Hatfield, Arrabia (1) | Hatfield, Arrena (4) | Hatfield, Arron (1) |
| Hatfield, Arson (4) | Hatfield, Artamecia (1) | Hatfield, Artemicia (3) | Hatfield, Artemisia (8) |
| Hatfield, Artemoss (1) | Hatfield, Artha (1) | Hatfield, Arthelia (1) | Hatfield, Arthor (2) |
| Hatfield, Arthur (73) | Hatfield, Artie (4) | Hatfield, Artimisia (1) | Hatfield, Artur (1) |
| Hatfield, Arvilla (2) | Hatfield, Ary (7) | Hatfield, Arza (1) | Hatfield, Asa (7) |
| Hatfield, Asa/Ace (3) | Hatfield, Asahel (4) | Hatfield, Asburn (1) | Hatfield, Asbury (3) |
| Hatfield, Asel (1) | Hatfield, Ashby (2) | Hatfield, Astemisia (1) | Hatfield, Ato (1) |
| Hatfield, Aubrey (1) | Hatfield, Audie (1) | Hatfield, Audra (1) | Hatfield, Audrey (3) |
| Hatfield, Auga (1) | Hatfield, Augsutus (1) | Hatfield, August (1) | Hatfield, Augusta (3) |
| Hatfield, Augustin (2) | Hatfield, Augustine (4) | Hatfield, Augustus (9) | Hatfield, Aurell (1) |
| Hatfield, Austin (14) | Hatfield, Auther (2) | Hatfield, Ava (1) | Hatfield, Avalona (1) |
| Hatfield, Avines (3) | Hatfield, Avis (1) | Hatfield, Axcy (1) | Hatfield, Azalea (1) |
| Hatfield, Azariah (2) | Hatfield, Azeriah (1) | Hatfield, B (18) | Hatfield, Babe (1) |
| Hatfield, Bailey (1) | Hatfield, Bains (1) | Hatfield, Baker (1) | Hatfield, Ballard (2) |
| Hatfield, Barb (5) | Hatfield, Barbara (16) | Hatfield, Barbary (1) | Hatfield, Barbow (2) |
| Hatfield, Barnes (3) | Hatfield, Barnet (3) | Hatfield, Barnett (2) | Hatfield, Barney (1) |
| Hatfield, Barns (2) | Hatfield, Barrel (2) | Hatfield, Barret (1) | Hatfield, Bartley (1) |
| Hatfield, Barzellia (1) | Hatfield, Barzwill (1) | Hatfield, Basie (1) | Hatfield, Basil (41) |
| Hatfield, Bassheba (1) | Hatfield, Bathsheba (2) | Hatfield, Battle (4) | Hatfield, Baxter (1) |
| Hatfield, Baylor (2) | Hatfield, Bazaler (3) | Hatfield, Bazwell (1) | Hatfield, Bazzel (1) |
| Hatfield, Bazzle (1) | Hatfield, Beatrice (5) | Hatfield, Beatty (2) | Hatfield, Beaty (1) |
| Hatfield, Behellal (1) | Hatfield, Belinda (1) | Hatfield, Bell (2) | Hatfield, Belle (11) |
| Hatfield, Belva (5) | Hatfield, Ben (13) | Hatfield, Benj (3) | Hatfield, Benjamin (214) |
| Hatfield, Benjamine (1) | Hatfield, Benjn (1) | Hatfield, Bennet (1) | Hatfield, Benny (2) |
| Hatfield, Benton (1) | Hatfield, Beply (1) | Hatfield, Berbrige (2) | Hatfield, Bernadine (1) |
| Hatfield, Bernard (1) | Hatfield, Bernetta (4) | Hatfield, Bernice (4) | Hatfield, Bernie (1) |
| Hatfield, Berry (7) | Hatfield, Bert (9) | Hatfield, Bertha (65) | Hatfield, Bertram (4) |
| Hatfield, Beryl (3) | Hatfield, Bessa (3) | Hatfield, Bessie (28) | Hatfield, Bethsheba (1) |
| Hatfield, Betsey (3) | Hatfield, Betsy (7) | Hatfield, Bettie (17) | Hatfield, Betty (27) |
| Hatfield, Betty-Joe (1) | Hatfield, Beulah (4) | Hatfield, Beva (4) | Hatfield, Beverly (2) |
| Hatfield, Bidda (1) | Hatfield, Biddie (1) | Hatfield, Biddy (3) | Hatfield, Biggs (1) |
| Hatfield, Bill (5) | Hatfield, Billie (2) | Hatfield, Billy (4) | Hatfield, Bina (1) |
| Hatfield, Birdie (8) | Hatfield, Birl/Burwell (6) | Hatfield, Bisa (2) | Hatfield, Bithine? (1) |
| Hatfield, Blanch (1) | Hatfield, Blanche (17) | Hatfield, Blevins (1) | Hatfield, Bm (1) |
| Hatfield, Bn (1) | Hatfield, Boatner (1) | Hatfield, Bob (1) | Hatfield, Bobbi (1) |
| Hatfield, Bobbie (2) | Hatfield, Bobby (6) | Hatfield, Bolin (1) | Hatfield, Bon (1) |
| Hatfield, Bonanza (1) | Hatfield, Bonnie (5) | Hatfield, Boone (1) | Hatfield, Boothe (2) |
| Hatfield, Boutie (1) | Hatfield, Boyd (6) | Hatfield, Bradford (1) | Hatfield, Bradly (1) |
| Hatfield, Brandon (1) | Hatfield, Bremer (1) | Hatfield, Brenda (6) | Hatfield, Brent (1) |
| Hatfield, Brian (1) | Hatfield, Bridget (13) | Hatfield, Brighton (10) | Hatfield, Britan (1) |
| Hatfield, Brittain (2) | Hatfield, Britten (1) | Hatfield, Britton (1) | Hatfield, Broadus (1) |
| Hatfield, Brook (1) | Hatfield, Brooke (3) | Hatfield, Bruce (1) | Hatfield, Brunetta (1) |
| Hatfield, Bryant (4) | Hatfield, Bryon (6) | Hatfield, Buck (1) | Hatfield, Buckan (1) |
| Hatfield, Buckner (3) | Hatfield, Bud (3) | Hatfield, Budd (1) | Hatfield, Buddie (2) |
| Hatfield, Buddy (1) | Hatfield, Bufford (1) | Hatfield, Buford (1) | Hatfield, Bula (1) |
| Hatfield, Bulah (1) | Hatfield, Burb (1) | Hatfield, Burd (3) | Hatfield, Burel (1) |
| Hatfield, Burell (1) | Hatfield, Burl (9) | Hatfield, Burl/Burrell (4) | Hatfield, Burman (1) |
| Hatfield, Burnette? (1) | Hatfield, Burnettia (4) | Hatfield, Burnetty (2) | Hatfield, Burrel (17) |
| Hatfield, Burrell (6) | Hatfield, Burs (1) | Hatfield, Burt (1) | Hatfield, Burton (2) |
| Hatfield, Burtram (1) | Hatfield, Burwell (1) | Hatfield, Buster (3) | Hatfield, Buzwell (1) |
| Hatfield, Bynard (1) | Hatfield, Byrdie (2) | Hatfield, Byron (3) | Hatfield, C (33) |
| Hatfield, C______ (1) | Hatfield, Caldona (2) | Hatfield, Caldonia (1) | Hatfield, Caleb (23) |
| Hatfield, Calestin (1) | Hatfield, Calestine (2) | Hatfield, Caletia (1) | Hatfield, Calib (1) |
| Hatfield, Calip (1) | Hatfield, Calistine (2) | Hatfield, Calvan (1) | Hatfield, Calvary (28) |
| Hatfield, Calvery (4) | Hatfield, Calvey (1) | Hatfield, Calvin (87) | Hatfield, Candace (2) |
| Hatfield, Candess (1) | Hatfield, Candez (1) | Hatfield, Candice (8) | Hatfield, Cap (1) |
| Hatfield, Caperton (1) | Hatfield, Caphas (1) | Hatfield, Cap-rton (3) | Hatfield, Carey (7) |
| Hatfield, Carl (31) | Hatfield, Carline (4) | Hatfield, Carlis (1) | Hatfield, Carlisle (1) |
| Hatfield, Carlofs (1) | Hatfield, Carlos (6) | Hatfield, Carmella (1) | Hatfield, Carnet (2) |
| Hatfield, Carol (10) | Hatfield, Carole (2) | Hatfield, Carolina (1) | Hatfield, Caroline (96) |
| Hatfield, Carra (2) | Hatfield, Carrie (27) | Hatfield, Carrol (1) | Hatfield, Carroll (4) |
| Hatfield, Carry (1) | Hatfield, Carson (6) | Hatfield, Carver (1) | Hatfield, Casanda (3) |
| Hatfield, Casandra (1) | Hatfield, Caspar (2) | Hatfield, Cassa (1) | Hatfield, Cassandra (11) |
| Hatfield, Cassius (3) | Hatfield, Castle (1) | Hatfield, Cate (1) | Hatfield, Cath (1) |
| Hatfield, Catharin (1) | Hatfield, Catharine (86) | Hatfield, Catherine (270) | Hatfield, Cathorine (1) |
| Hatfield, Cathrine (1) | Hatfield, Cathryn (4) | Hatfield, Causby (21) | Hatfield, Cecil (14) |
| Hatfield, Cecile (1) | Hatfield, Cecilia (2) | Hatfield, Celeb (1) | Hatfield, Celestina (4) |
| Hatfield, Celestine (2) | Hatfield, Celia (45) | Hatfield, Celina (1) | Hatfield, Cenia (1) |
| Hatfield, Cephas (2) | Hatfield, Cephus (1) | Hatfield, Cerelda (1) | Hatfield, Cerrelda (1) |
| Hatfield, Chalmer (1) | Hatfield, Champion (1) | Hatfield, Charity (29) | Hatfield, Charlene (2) |
| Hatfield, Charles (446) | Hatfield, Charles* (1) | Hatfield, Charley (12) | Hatfield, Charlie (14) |
| Hatfield, Charlotte (50) | Hatfield, Charlottte (1) | Hatfield, Chas (13) | Hatfield, Chattie (3) |
| Hatfield, Chauncey (2) | Hatfield, Chess (1) | Hatfield, Chester (15) | Hatfield, Chesterfield (3) |
| Hatfield, Chett (4) | Hatfield, Chip (1) | Hatfield, Chloe (13) | Hatfield, Chris (2) |
| Hatfield, Chrisana (1) | Hatfield, Christ (1) | Hatfield, Christa (1) | Hatfield, Christeann (1) |
| Hatfield, Christena (4) | Hatfield, Christi (4) | Hatfield, Christian (25) | Hatfield, Christiana (18) |
| Hatfield, Christiane (1) | Hatfield, Christiann (3) | Hatfield, Christie (3) | Hatfield, Christina (30) |
| Hatfield, Christine (8) | Hatfield, Christley (1) | Hatfield, Christophe (2) | Hatfield, Christopher (34) |
| Hatfield, Churchill (2) | Hatfield, Chynthia (1) | Hatfield, Ciely (1) | Hatfield, Ciler (3) |
| Hatfield, Cintha (6) | Hatfield, Cinthy (1) | Hatfield, Ciseah (1) | Hatfield, Cisiah (2) |
| Hatfield, Citty (1) | Hatfield, Cl (2) | Hatfield, Claeat (2) | Hatfield, Clair (1) |
| Hatfield, Claistelle (1) | Hatfield, Clamantine (1) | Hatfield, Clamintine (2) | Hatfield, Clara (61) |
| Hatfield, Claracy (8) | Hatfield, Clarcy (2) | Hatfield, Clare (2) | Hatfield, Clarence (51) |
| Hatfield, Clarice (2) | Hatfield, Clarinda (14) | Hatfield, Clarinella (1) | Hatfield, Clarissa (14) |
| Hatfield, Clark (45) | Hatfield, Clarke (1) | Hatfield, Clarrie (1) | Hatfield, Clarrisa (2) |
| Hatfield, Clary (2) | Hatfield, Claud (3) | Hatfield, Claude (21) | Hatfield, Claude/Floyd (7) |
| Hatfield, Claudia (1) | Hatfield, Claudie (1) | Hatfield, Claudius (1) | Hatfield, Clavin (1) |
| Hatfield, Clayton (5) | Hatfield, Clead (1) | Hatfield, Clement (1) | Hatfield, Clementine (3) |
| Hatfield, Cleo (7) | Hatfield, Cleon (1) | Hatfield, Clessie (1) | Hatfield, Cletta (2) |
| Hatfield, Cleve (1) | Hatfield, Cleveland (3) | Hatfield, Clexius (1) | Hatfield, Clifford (5) |
| Hatfield, Clifton (4) | Hatfield, Clinton (8) | Hatfield, Clive (1) | Hatfield, Cloie (3) |
| Hatfield, Clotine (2) | Hatfield, Clyde (25) | Hatfield, Col (1) | Hatfield, Cole (1) |
| Hatfield, Coleman (12) | Hatfield, Colestia (1) | Hatfield, Colin (1) | Hatfield, Colonel (2) |
| Hatfield, Columbia (29) | Hatfield, Columbia(?) (1) | Hatfield, Columbus (8) | Hatfield, Comfort (7) |
| Hatfield, Commodore (2) | Hatfield, Comodore (1) | Hatfield, Conna (3) | Hatfield, Conney (3) |
| Hatfield, Connie (2) | Hatfield, Constance (1) | Hatfield, Conway (1) | Hatfield, Cora (98) |
| Hatfield, Corda (2) | Hatfield, Cordel (1) | Hatfield, Cordelia (11) | Hatfield, Cordell (9) |
| Hatfield, Cordella (2) | Hatfield, Cordia (3) | Hatfield, Cordie (3) | Hatfield, Corinne (1) |
| Hatfield, Corliss (1) | Hatfield, Cornelia (9) | Hatfield, Cornelius (34) | Hatfield, Cornet (5) |
| Hatfield, Cornia (8) | Hatfield, Cosby (7) | Hatfield, Cosby? (1) | Hatfield, Cossette (2) |
| Hatfield, Courtney (1) | Hatfield, Covie (1) | Hatfield, Coy (4) | Hatfield, Cozby (6) |
| Hatfield, Cozle (1) | Hatfield, Craig (12) | Hatfield, Craton (1) | Hatfield, Cricket (1) |
| Hatfield, Crocker (2) | Hatfield, Crocket (2) | Hatfield, Crockett (1) | Hatfield, Crystal (1) |
| Hatfield, Csatherine (1) | Hatfield, Cumberland (5) | Hatfield, Curtis (18) | Hatfield, Cyntha (22) |
| Hatfield, Cynthia (32) | Hatfield, Cynthianna (3) | Hatfield, Cyrena (3) | Hatfield, Cyrenor (1) |
| Hatfield, Cyrl (1) | Hatfield, Cyrus (24) | Hatfield, Cythia (1) | Hatfield, D (10) |
| Hatfield, Dacid (1) | Hatfield, Daisy (8) | Hatfield, Dak (1) | Hatfield, Dan (2) |
| Hatfield, Danial (1) | Hatfield, Daniel (3) | Hatfield, Daniel (134) | Hatfield, Danl (1) |
| Hatfield, Dant? (1) | Hatfield, Darcus (1) | Hatfield, Darl (1) | Hatfield, Darlee (2) |
| Hatfield, Darlee(?) (1) | Hatfield, Darlene (1) | Hatfield, Darrell (1) | Hatfield, Darris (1) |
| Hatfield, Daryl (2) | Hatfield, Dave (3) | Hatfield, David (313) | Hatfield, Davie (1) |
| Hatfield, Davis (50) | Hatfield, Davison (1) | Hatfield, Dawn (1) | Hatfield, Daymon (1) |
| Hatfield, Dea (1) | Hatfield, Dealla (1) | Hatfield, Debbie (3) | Hatfield, Debolt (1) |
| Hatfield, Deborah (23) | Hatfield, Debra (1) | Hatfield, Debro (1) | Hatfield, Dee (7) |
| Hatfield, Delamie (2) | Hatfield, Delbert (1) | Hatfield, Delia (9) | Hatfield, Delila (12) |
| Hatfield, Delilah (25) | Hatfield, Delitha (2) | Hatfield, Della (11) | Hatfield, Dellma (1) |
| Hatfield, Delmas (2) | Hatfield, Delmer (1) | Hatfield, Delores (1) | Hatfield, Deloris (1) |
| Hatfield, Delphene (1) | Hatfield, Delphia (6) | Hatfield, Demas (2) | Hatfield, Deming (2) |
| Hatfield, Denise (1) | Hatfield, Dennis (13) | Hatfield, Denver (1) | Hatfield, Derek (1) |
| Hatfield, Deronda (1) | Hatfield, Dessie (1) | Hatfield, Desta (2) | Hatfield, Destry (1) |
| Hatfield, Detroit (3) | Hatfield, Dewey (14) | Hatfield, Dewit (1) | Hatfield, DeWitt (25) |
| Hatfield, Diadama (2) | Hatfield, Diademia (1) | Hatfield, Diademy (1) | Hatfield, Diana (3) |
| Hatfield, Dianah (1) | Hatfield, Diane (2) | Hatfield, Dianna (1) | Hatfield, Didema (1) |
| Hatfield, Dillie (2) | Hatfield, Dimple (4) | Hatfield, Dina (1) | Hatfield, Dinah (1) |
| Hatfield, Diny (1) | Hatfield, Dixie (18) | Hatfield, Diza (6) | Hatfield, D-ngers (3) |
| Hatfield, Doc (1) | Hatfield, Dock (1) | Hatfield, Doctor (2) | Hatfield, Dodge (1) |
| Hatfield, Dolley (1) | Hatfield, Dollie (8) | Hatfield, Dolly (23) | Hatfield, Don (5) |
| Hatfield, Dona (1) | Hatfield, Donald (14) | Hatfield, Donesy (1) | Hatfield, Donna (5) |
| Hatfield, Donnah (1) | Hatfield, Dora (25) | Hatfield, Doran (1) | Hatfield, Doratha (1) |
| Hatfield, Dorcas (12) | Hatfield, Dorinda (1) | Hatfield, Doris (9) | Hatfield, Dorothy (27) |
| Hatfield, Dorsey (1) | Hatfield, Dortha (1) | Hatfield, Dot (1) | Hatfield, Douglas (1) |
| Hatfield, Dovie (4) | Hatfield, Dow (1) | Hatfield, Dray (1) | Hatfield, Drazella (1) |
| Hatfield, Dreusela (2) | Hatfield, Drewey (3) | Hatfield, Drewy (7) | Hatfield, Drucilla (1) |
| Hatfield, Druscilla (1) | Hatfield, Drusilla (4) | Hatfield, Dud (2) | Hatfield, Dudley (11) |
| Hatfield, Dudly (1) | Hatfield, Durham (1) | Hatfield, E (67) | Hatfield, Eamer (1) |
| Hatfield, Earl (37) | Hatfield, Earnest (2) | Hatfield, Easter (38) | Hatfield, Easter/Esther (2) |
| Hatfield, Easther (1) | Hatfield, Eathel (1) | Hatfield, Ebenezar (1) | Hatfield, Ebenezer (1) |
| Hatfield, Ed (3) | Hatfield, Eda (5) | Hatfield, Eddie (5) | Hatfield, Edeline (1) |
| Hatfield, Edgar (16) | Hatfield, Edger (1) | Hatfield, Edie (2) | Hatfield, Edith (33) |
| Hatfield, Editha (3) | Hatfield, Edmond (16) | Hatfield, Edmonia (2) | Hatfield, Edmund (3) |
| Hatfield, Edna (25) | Hatfield, Edna (5) | Hatfield, Edsel (1) | Hatfield, Edw (1) |
| Hatfield, Edwad (3) | Hatfield, Edwain (1) | Hatfield, Edward (189) | Hatfield, Edwd (1) |
| Hatfield, Edwin (19) | Hatfield, Edythe (1) | Hatfield, Effie (16) | Hatfield, Ehel (2) |
| Hatfield, Ehpriam (1) | Hatfield, Ehster (1) | Hatfield, Eileen (1) | Hatfield, Ela (1) |
| Hatfield, Elaine (2) | Hatfield, Elam (1) | Hatfield, Elander (1) | Hatfield, Elaz-ha (1) |
| Hatfield, Elbert (15) | Hatfield, Elbina (5) | Hatfield, Elder (1) | Hatfield, Eldon (4) |
| Hatfield, Eleanor (8) | Hatfield, Eleanora (2) | Hatfield, Electa (6) | Hatfield, Electious (1) |
| Hatfield, Elen (3) | Hatfield, Elender (9) | Hatfield, Elendor (3) | Hatfield, Elenor (2) |
| Hatfield, Elenore (5) | Hatfield, Eleonora (1) | Hatfield, Elexious (15) | Hatfield, Elexius (2) |
| Hatfield, Eley (1) | Hatfield, Elezur (1) | Hatfield, Eli (49) | Hatfield, Elias (144) |
| Hatfield, Elias(?) (1) | Hatfield, Elige (5) | Hatfield, Eliha (1) | Hatfield, Elihu (14) |
| Hatfield, Elijah (78) | Hatfield, E--lina (1) | Hatfield, Elinda (1) | Hatfield, E--linda (2) |
| Hatfield, Elinor (3) | Hatfield, Elis (1) | Hatfield, Elisa (3) | Hatfield, Elisabeth (35) |
| Hatfield, Elise (1) | Hatfield, Elisebeth (1) | Hatfield, Elisha (38) | Hatfield, Elishia (1) |
| Hatfield, Elison (1) | Hatfield, Eliuh (1) | Hatfield, Eliyah (3) | Hatfield, Eliz (4) |
| Hatfield, Eliza (177) | Hatfield, Eliza(?) (1) | Hatfield, Elizabeth (203) | Hatfield, Elizabeth (906) |
| Hatfield, Elize (1) | Hatfield, Elizeabth (1) | Hatfield, Elizzie (1) | Hatfield, Ella (87) |
| Hatfield, Ellander (1) | Hatfield, Elleann (1) | Hatfield, Ellen (53) | Hatfield, Ellender (4) |
| Hatfield, Ellenger (1) | Hatfield, Ellin (1) | Hatfield, Elliot (18) | Hatfield, Elliott (14) |
| Hatfield, Ellis (2) | Hatfield, Ellison (32) | Hatfield, Ellnora (1) | Hatfield, Ellsworth (3) |
| Hatfield, Elman (1) | Hatfield, Elmer (40) | Hatfield, Elmina (1) | Hatfield, Elmira (27) |
| Hatfield, Elmo (1) | Hatfield, Elmore (2) | Hatfield, Elnora (12) | Hatfield, Eloise (3) |
| Hatfield, Elphia (1) | Hatfield, Elsa (3) | Hatfield, Else (1) | Hatfield, Elselee (1) |
| Hatfield, Elsellee (4) | Hatfield, Elsey (11) | Hatfield, Elsie (17) | Hatfield, Elsworth (1) |
| Hatfield, Elton (2) | Hatfield, Elva (6) | Hatfield, Elvina (1) | Hatfield, Elviny (3) |
| Hatfield, Elvira (15) | Hatfield, Elviry (4) | Hatfield, Ely (11) | Hatfield, Elza (3) |
| Hatfield, Elziabeth (1) | Hatfield, Elzie (1) | Hatfield, Emaline (12) | Hatfield, Emaly (1) |
| Hatfield, Emanual (2) | Hatfield, Emanuel (79) | Hatfield, Emaretta (1) | Hatfield, Emary (3) |
| Hatfield, Emelia (2) | Hatfield, Emeline (13) | Hatfield, Emely (4) | Hatfield, Emerson (1) |
| Hatfield, Emery (2) | Hatfield, Emesetta (1) | Hatfield, Emett (1) | Hatfield, Emezell (1) |
| Hatfield, Emezette (1) | Hatfield, Emieline (2) | Hatfield, Emila (1) | Hatfield, Emiline (2) |
| Hatfield, Emiling (2) | Hatfield, Emily (93) | Hatfield, Emins (2) | Hatfield, Emizetta (1) |
| Hatfield, Emley (1) | Hatfield, Emly (1) | Hatfield, Emma (150) | Hatfield, Emmaline (1) |
| Hatfield, Emmazetta (4) | Hatfield, Emmeline (9) | Hatfield, Emmer (1) | Hatfield, Emmett (2) |
| Hatfield, Emsey (1) | Hatfield, Emsley (6) | Hatfield, Emsy (1) | Hatfield, Emzy (12) |
| Hatfield, Encus (3) | Hatfield, Engebo (1) | Hatfield, Enid (1) | Hatfield, Enman (1) |
| Hatfield, Enoch (9) | Hatfield, Enola (2) | Hatfield, Enos (6) | Hatfield, Ep (1) |
| Hatfield, Eper (1) | Hatfield, Eph (1) | Hatfield, Epharam (1) | Hatfield, Epharim (2) |
| Hatfield, Epheairm (2) | Hatfield, Ephrahim (3) | Hatfield, Ephraim (174) | Hatfield, Ephram (8) |
| Hatfield, Ephriam (35) | Hatfield, Ephrim (2) | Hatfield, Ephy (1) | Hatfield, Epp (9) |
| Hatfield, Epperson (11) | Hatfield, Epraign (1) | Hatfield, Epson (1) | Hatfield, Era (1) |
| Hatfield, Erakus (2) | Hatfield, Erasmus (4) | Hatfield, Ercelia (2) | Hatfield, Eric (1) |
| Hatfield, Ericus (24) | Hatfield, Erie (1) | Hatfield, Erma (4) | Hatfield, Ermal (1) |
| Hatfield, Erman (1) | Hatfield, Ermine (2) | Hatfield, Ermma (1) | Hatfield, Ermon (7) |
| Hatfield, Ernest (11) | Hatfield, Ernestine (1) | Hatfield, Ernie (1) | Hatfield, Ersie (1) |
| Hatfield, Erum (1) | Hatfield, Ervin (8) | Hatfield, Ervina (1) | Hatfield, Esewick (1) |
| Hatfield, Essie (3) | Hatfield, Esta (1) | Hatfield, Estel (1) | Hatfield, Estele (1) |
| Hatfield, Estella (2) | Hatfield, Estelle (5) | Hatfield, Ester (14) | Hatfield, Esther (38) |
| Hatfield, Etha (2) | Hatfield, Ethal (1) | Hatfield, Ethel (53) | Hatfield, Ethelda (2) |
| Hatfield, Ethellynn (1) | Hatfield, Ethie (3) | Hatfield, Etta (13) | Hatfield, Etter (1) |
| Hatfield, Eucus (1) | Hatfield, Eugene (15) | Hatfield, Eugenia (3) | Hatfield, Euhla (3) |
| Hatfield, Eul (1) | Hatfield, Eula (3) | Hatfield, Eunice (22) | Hatfield, Eupha (2) |
| Hatfield, Euricus (1) | Hatfield, Eu--sia (1) | Hatfield, Eustace (1) | Hatfield, Eva (29) |
| Hatfield, Evaline (4) | Hatfield, Evan (1) | Hatfield, Evangeline (5) | Hatfield, Eve (12) |
| Hatfield, Evelina (6) | Hatfield, Eveline (5) | Hatfield, Evelyn (9) | Hatfield, Everett (7) |
| Hatfield, Everette (1) | Hatfield, Evermint (1) | Hatfield, Evermont (5) | Hatfield, Evie (2) |
| Hatfield, Evina (2) | Hatfield, Evy (1) | Hatfield, Ewel (1) | Hatfield, Ewell (5) |
| Hatfield, Ewin (1) | Hatfield, Ewing (4) | Hatfield, Exie (3) | Hatfield, Ezeckial (1) |
| Hatfield, Ezeckial (3) | Hatfield, Ezekial (2) | Hatfield, Ezekiel (8) | Hatfield, Ezekiel* (1) |
| Hatfield, Ezra (17) | Hatfield, Ezuba (2) | Hatfield, F (17) | Hatfield, Fairy (1) |
| Hatfield, Fanney (1) | Hatfield, Fannie (46) | Hatfield, Fanny (49) | Hatfield, Farrell (2) |
| Hatfield, Fasdel (1) | Hatfield, Fay (4) | Hatfield, Faye (10) | Hatfield, Feba (2) |
| Hatfield, Felix (2) | Hatfield, female (1) | Hatfield, Feraby (1) | Hatfield, Ferdenz (1) |
| Hatfield, Ferdinand (2) | Hatfield, Fern (6) | Hatfield, Ferna (3) | Hatfield, Fernandez (21) |
| Hatfield, Fernando (6) | Hatfield, Ferrell (58) | Hatfield, Ferril (2) | Hatfield, Ferron (2) |
| Hatfield, Festus (1) | Hatfield, Fielding (4) | Hatfield, Fiona (1) | Hatfield, Fledie (1) |
| Hatfield, Fleener (1) | Hatfield, Fleetie (1) | Hatfield, Fletcher (4) | Hatfield, Flo (3) |
| Hatfield, Flora (27) | Hatfield, Florence (61) | Hatfield, Floria (1) | Hatfield, Florida (3) |
| Hatfield, Flossie (1) | Hatfield, Floyd (105) | Hatfield, Foley (2) | Hatfield, Fonnie (3) |
| Hatfield, Forest (19) | Hatfield, Forest? (1) | Hatfield, Forrest (11) | Hatfield, Foster (6) |
| Hatfield, Fowler (2) | Hatfield, Fragee (1) | Hatfield, Frances (133) | Hatfield, Francis (154) |
| Hatfield, Franie (3) | Hatfield, Frank (92) | Hatfield, Frank/Francis? (1) | Hatfield, Frankey (6) |
| Hatfield, Frankie (5) | Hatfield, Franklin (37) | Hatfield, Franky (5) | Hatfield, Frasee (1) |
| Hatfield, Fraser (1) | Hatfield, Frater (2) | Hatfield, Fraze (1) | Hatfield, Frazee (16) |
| Hatfield, Frazer (1) | Hatfield, Frazie (2) | Hatfield, Fred (31) | Hatfield, Freda (2) |
| Hatfield, Freddie (2) | Hatfield, Frederick (27) | Hatfield, Frederlick (1) | Hatfield, Fredia (1) |
| Hatfield, Fredrick (11) | Hatfield, Fredricka (6) | Hatfield, Freeland (7) | Hatfield, Freeman (4) |
| Hatfield, Fremont (1) | Hatfield, Fren (1) | Hatfield, French (2) | Hatfield, Friday (1) |
| Hatfield, Frigy (1) | Hatfield, Fritz (1) | Hatfield, Frona (1) | Hatfield, Fuller (1) |
| Hatfield, Fulton (3) | Hatfield, Furman (3) | Hatfield, Fuschia (1) | Hatfield, G (48) |
| Hatfield, Gabrella (1) | Hatfield, Gabriel (7) | Hatfield, Gabrilla (2) | Hatfield, Gains (5) |
| Hatfield, Garcell (1) | Hatfield, Garland (4) | Hatfield, Garmon (1) | Hatfield, Garnet (1) |
| Hatfield, Garnett (2) | Hatfield, Garnette (1) | Hatfield, Garret (2) | Hatfield, Garrett (1) |
| Hatfield, Garry (1) | Hatfield, Gary (4) | Hatfield, Gaston (4) | Hatfield, Gautinne (2) |
| Hatfield, Gautinne? (1) | Hatfield, Gay (1) | Hatfield, Gayle (2) | Hatfield, Gaylord (1) |
| Hatfield, Gene (5) | Hatfield, General (3) | Hatfield, Genetta (1) | Hatfield, Genette (1) |
| Hatfield, Geneva (9) | Hatfield, Geneve (3) | Hatfield, Genevieve (8) | Hatfield, Genira (2) |
| Hatfield, Genira/Geneva (5) | Hatfield, Geniva (1) | Hatfield, Gennette (1) | Hatfield, Geo (18) |
| Hatfield, Geoprge (2) | Hatfield, Georda (1) | Hatfield, Georg (1) | Hatfield, Georganna (1) |
| Hatfield, George (862) | Hatfield, George* (1) | Hatfield, George/Charles (11) | Hatfield, Georgia (19) |
| Hatfield, Georgiana (3) | Hatfield, Georgie (2) | Hatfield, Gerald (8) | Hatfield, Geraldine (2) |
| Hatfield, Gert (1) | Hatfield, Gertie (1) | Hatfield, Gertrude (19) | Hatfield, Gervaise (2) |
| Hatfield, Gideon (3) | Hatfield, Gienfea (1) | Hatfield, Gil (1) | Hatfield, Gilbert (42) |
| Hatfield, Gilbert* (1) | Hatfield, Giles (1) | Hatfield, Gilliam (1) | Hatfield, Gillian/Gilliam (2) |
| Hatfield, Gillis (1) | Hatfield, Gilmer (1) | Hatfield, Gilson (3) | Hatfield, Gincy (1) |
| Hatfield, Ginelle (1) | Hatfield, Ginger (1) | Hatfield, Ginnette (1) | Hatfield, Girdie/Gertrude (1) |
| Hatfield, Gladyce (1) | Hatfield, Gladys (18) | Hatfield, Glatha (1) | Hatfield, Glayds/Gladys? (1) |
| Hatfield, Glen (10) | Hatfield, Glendean (1) | Hatfield, Glenn (9) | Hatfield, Glennie (1) |
| Hatfield, Glocester (2) | Hatfield, Gloria (1) | Hatfield, Gloucester (2) | Hatfield, Gloyd (1) |
| Hatfield, Gobel (1) | Hatfield, Goerge (2) | Hatfield, Gola (2) | Hatfield, Golda (3) |
| Hatfield, Golden (1) | Hatfield, Goldie (6) | Hatfield, Goldine (1) | Hatfield, Gorde (1) |
| Hatfield, Gordon (5) | Hatfield, Grace (57) | Hatfield, Gracey (1) | Hatfield, Gracie (10) |
| Hatfield, Gracy (5) | Hatfield, Granfield (2) | Hatfield, Grant (3) | Hatfield, Granville (45) |
| Hatfield, Grat (1) | Hatfield, Gratton (1) | Hatfield, Green (14) | Hatfield, Greenberry (30) |
| Hatfield, Greenbery (2) | Hatfield, Greene (3) | Hatfield, Greene/Green (4) | Hatfield, Greenlee (1) |
| Hatfield, Greensford (1) | Hatfield, Greenway (15) | Hatfield, Greer (2) | Hatfield, Gretchen (1) |
| Hatfield, Grethel (3) | Hatfield, Griffith (7) | Hatfield, Grover (17) | Hatfield, Gurtrude (2) |
| Hatfield, Gus (2) | Hatfield, Gussie (3) | Hatfield, Gustava (1) | Hatfield, Guthrie (2) |
| Hatfield, Guy (22) | Hatfield, Gw (1) | Hatfield, Gypsie (1) | Hatfield, Gypsy (1) |
| Hatfield, H (34) | Hatfield, Hafford (5) | Hatfield, Halden (1) | Hatfield, Halie (2) |
| Hatfield, Hallie (3) | Hatfield, Hamilton (10) | Hatfield, Hamlet (1) | Hatfield, Hammel (1) |
| Hatfield, Hammett (1) | Hatfield, Hanah (8) | Hatfield, Hanceford (1) | Hatfield, Handley (1) |
| Hatfield, Haneford (1) | Hatfield, Hanley (1) | Hatfield, Hanmett (1) | Hatfield, Hanna (7) |
| Hatfield, Hannah (128) | Hatfield, Hannah(Anna) (1) | Hatfield, Hanner (1) | Hatfield, Hannibal (2) |
| Hatfield, Hansard (1) | Hatfield, Hanserd (6) | Hatfield, Hansford (4) | Hatfield, Hanson (1) |
| Hatfield, Hardin (2) | Hatfield, Hardy (16) | Hatfield, Hariet (3) | Hatfield, Harkiup (1) |
| Hatfield, Harland (6) | Hatfield, Harley (4) | Hatfield, Harlie (2) | Hatfield, Harmann (1) |
| Hatfield, Harmon (38) | Hatfield, Harmous (1) | Hatfield, Harold (79) | Hatfield, Harpie (1) |
| Hatfield, Harrell (1) | Hatfield, Harriet (108) | Hatfield, Harriet(?) (1) | Hatfield, Harriett (5) |
| Hatfield, Harris (1) | Hatfield, Harrison (37) | Hatfield, Harrold (2) | Hatfield, Harry (57) |
| Hatfield, Harvey (24) | Hatfield, Harvy (1) | Hatfield, Hattie (24) | Hatfield, Haygood (3) |
| Hatfield, Hayston (1) | Hatfield, Hayward (1) | Hatfield, Hazard (1) | Hatfield, Hazel (35) |
| Hatfield, Hazzard (1) | Hatfield, Heather (1) | Hatfield, Hector (1) | Hatfield, Heddie (1) |
| Hatfield, Heddie/Hettie/Esther (9) | Hatfield, Heidi (1) | Hatfield, Heit (1) | Hatfield, Helen (56) |
| Hatfield, Helena (28) | Hatfield, Hella (1) | Hatfield, Hellen (2) | Hatfield, Heman (3) |
| Hatfield, Henderson (2) | Hatfield, Henekaty (1) | Hatfield, Henery (1) | Hatfield, Henigar (2) |
| Hatfield, Henley (5) | Hatfield, Henretta (1) | Hatfield, Henrey (1) | Hatfield, Henrich (1) |
| Hatfield, Henrietta (9) | Hatfield, Henriette (6) | Hatfield, Henry (465) | Hatfield, Henryetta (1) |
| Hatfield, Hepsebah (1) | Hatfield, Herbert (17) | Hatfield, Herbet (1) | Hatfield, Herby (2) |
| Hatfield, Hereford (1) | Hatfield, Herit (1) | Hatfield, Herlie (1) | Hatfield, Herman (21) |
| Hatfield, Herny (1) | Hatfield, Herriford (1) | Hatfield, Herschel (1) | Hatfield, Hertha (1) |
| Hatfield, Hesekiah (4) | Hatfield, Hessie (1) | Hatfield, Hestella (1) | Hatfield, Hester (14) |
| Hatfield, Hetta (1) | Hatfield, Hettie (27) | Hatfield, Hetty (14) | Hatfield, Hezekiah (9) |
| Hatfield, Hibard (1) | Hatfield, Hibbard (8) | Hatfield, Hibbert (2) | Hatfield, Hiley (1) |
| Hatfield, Hilton (1) | Hatfield, Hiram (120) | Hatfield, Hiram(?) (1) | Hatfield, Hiran (1) |
| Hatfield, Hirm (1) | Hatfield, Hobart (4) | Hatfield, Hobert (2) | Hatfield, Hollie (1) |
| Hatfield, Hollis (3) | Hatfield, Homer (16) | Hatfield, Homserd (1) | Hatfield, Honley (1) |
| Hatfield, Hope (2) | Hatfield, Horace (9) | Hatfield, Horatio (10) | Hatfield, Horrace (3) |
| Hatfield, Horrel (1) | Hatfield, Horton (1) | Hatfield, Houston (1) | Hatfield, Houston(?) (1) |
| Hatfield, Houston/Hayston (2) | Hatfield, Howard (72) | Hatfield, Howell (1) | Hatfield, Hoyt (1) |
| Hatfield, Hubert (6) | Hatfield, Huckaby (1) | Hatfield, Hudson (1) | Hatfield, Hugh (31) |
| Hatfield, Hulda (22) | Hatfield, Huldah (4) | Hatfield, Humfrey (2) | Hatfield, Humphrey (10) |
| Hatfield, Hurley (3) | Hatfield, Hurshel (1) | Hatfield, Huston (3) | Hatfield, Hyatt (2) |
| Hatfield, I (1) | Hatfield, Ichabod (1) | Hatfield, Icie (2) | Hatfield, Icy (2) |
| Hatfield, Ida (61) | Hatfield, Idessa (3) | Hatfield, Ila (3) | Hatfield, illeg) (1) |
| Hatfield, Imanuel (4) | Hatfield, Imbert (1) | Hatfield, Imogene (1) | Hatfield, Ina (2) |
| Hatfield, India (2) | Hatfield, Indiana (2) | Hatfield, Iness (1) | Hatfield, Inez (8) |
| Hatfield, Ingabo (5) | Hatfield, Ingabo? (1) | Hatfield, Ingbo (1) | Hatfield, Ione (1) |
| Hatfield, Iowa (1) | Hatfield, Ira (53) | Hatfield, Ireen (1) | Hatfield, Ireland (3) |
| Hatfield, Irene (12) | Hatfield, Irma (4) | Hatfield, Irvin (2) | Hatfield, Irwin (3) |
| Hatfield, Isaac (212) | Hatfield, Isabel (27) | Hatfield, Isabell (2) | Hatfield, Isabella (13) |
| Hatfield, Isabelle (16) | Hatfield, Isadore (7) | Hatfield, Isaiah (17) | Hatfield, Isam (1) |
| Hatfield, Isham (20) | Hatfield, Isola (2) | Hatfield, Isom (1) | Hatfield, Israel (14) |
| Hatfield, Issam (1) | Hatfield, Iva (9) | Hatfield, Ivan (2) | Hatfield, Ivanree (1) |
| Hatfield, Ivory (1) | Hatfield, Ivy (1) | Hatfield, Izetta (1) | Hatfield, J (118) |
| Hatfield, Jack (14) | Hatfield, Jackie (1) | Hatfield, Jacksen (1) | Hatfield, Jackson (14) |
| Hatfield, Jacob (310) | Hatfield, Jacop (2) | Hatfield, Jake (7) | Hatfield, James (1219) |
| Hatfield, Jameson (1) | Hatfield, Jane (26) | Hatfield, Jane (172) | Hatfield, Janet (1) |
| Hatfield, Janetty (1) | Hatfield, Jannie (1) | Hatfield, Jas (7) | Hatfield, Jason (1) |
| Hatfield, Jaspar (2) | Hatfield, Jasper (34) | Hatfield, Jaunita (2) | Hatfield, Jawily (3) |
| Hatfield, Jay (24) | Hatfield, Jean (1) | Hatfield, Jeanette (3) | Hatfield, Jefferson (10) |
| Hatfield, Jeffery (1) | Hatfield, Jeffrey (1) | Hatfield, Jehn (1) | Hatfield, Jehu (1) |
| Hatfield, Jemima (22) | Hatfield, Jemimah (10) | Hatfield, Jemimia (1) | Hatfield, Jemina (1) |
| Hatfield, Jeminia (1) | Hatfield, Jenett (1) | Hatfield, Jenetta (6) | Hatfield, Jenette/Jenett (3) |
| Hatfield, Jennet (7) | Hatfield, Jennetta (1) | Hatfield, Jennette (4) | Hatfield, Jennie (47) |
| Hatfield, Jennison (1) | Hatfield, Jenny (12) | Hatfield, Jenny/Jennie (2) | Hatfield, Jepp (1) |
| Hatfield, Jeptha (1) | Hatfield, Jeraymiah (1) | Hatfield, Jeremiah (197) | Hatfield, Jeremiah? (1) |
| Hatfield, Jerimiah (4) | Hatfield, Jermiah (3) | Hatfield, Jerome (6) | Hatfield, Jerremiah (1) |
| Hatfield, Jerrill (1) | Hatfield, Jerrimiah (2) | Hatfield, Jerry (27) | Hatfield, Jerusha (14) |
| Hatfield, Jerymiah (1) | Hatfield, Jess (2) | Hatfield, Jesse (53) | Hatfield, Jessee (13) |
| Hatfield, Jessie (36) | Hatfield, Jessie/Josie (3) | Hatfield, Jessy (2) | Hatfield, Jettie (9) |
| Hatfield, Jettilee (1) | Hatfield, Jim (10) | Hatfield, Jimmie (3) | Hatfield, Jimmy (1) |
| Hatfield, Jincy (15) | Hatfield, Jinette (2) | Hatfield, Jinnetta (1) | Hatfield, Jinny (1) |
| Hatfield, Jno (9) | Hatfield, Jo (2) | Hatfield, Joallen (2) | Hatfield, Joan (3) |
| Hatfield, Joann (1) | Hatfield, Joanna (17) | Hatfield, Joanne (4) | Hatfield, Job (14) |
| Hatfield, Jobe (2) | Hatfield, Jobe** (1) | Hatfield, Joe (14) | Hatfield, Joel (10) |
| Hatfield, Johanna (1) | Hatfield, Johh (1) | Hatfield, John (167) | Hatfield, John (1900) |
| Hatfield, Johnathan (15) | Hatfield, Johnathon (1) | Hatfield, Johney (1) | Hatfield, Johnh (1) |
| Hatfield, Johnie (1) | Hatfield, Johnnie (1) | Hatfield, Johnson (60) | Hatfield, Jonah (11) |
| Hatfield, Jonas (51) | Hatfield, Jonathan (67) | Hatfield, Jonathin (3) | Hatfield, Jonathon (18) |
| Hatfield, Jones (6) | Hatfield, Jordan (1) | Hatfield, Jorse (1) | Hatfield, Jos (2) |
| Hatfield, Joseph (745) | Hatfield, Josephine (40) | Hatfield, Josephsephine (1) | Hatfield, Joshua (25) |
| Hatfield, Josia (1) | Hatfield, Josiah (40) | Hatfield, Josie (11) | Hatfield, Jospeh (2) |
| Hatfield, Josphe (1) | Hatfield, Jossie (1) | Hatfield, Journey (1) | Hatfield, Joy (1) |
| Hatfield, Joyce (5) | Hatfield, Jsoeph (1) | Hatfield, Juanita (1) | Hatfield, Judah (6) |
| Hatfield, Jude (1) | Hatfield, Judith (21) | Hatfield, Judy (1) | Hatfield, Julia (94) |
| Hatfield, Julian (6) | Hatfield, Juliann (3) | Hatfield, Julias (1) | Hatfield, Julie (1) |
| Hatfield, Julien (3) | Hatfield, Juliet (1) | Hatfield, Julietta (1) | Hatfield, Juliette (4) |
| Hatfield, Julius (4) | Hatfield, June (3) | Hatfield, Justice (1) | Hatfield, Justine (11) |
| Hatfield, Justus (1) | Hatfield, K (2) | Hatfield, Karen (2) | Hatfield, Kate (18) |
| Hatfield, Katharine (5) | Hatfield, Katherine (18) | Hatfield, Kathleen (6) | Hatfield, Kathrine (2) |
| Hatfield, Kathryn (5) | Hatfield, Kathy (1) | Hatfield, Katie (2) | Hatfield, Katy (1) |
| Hatfield, Keith (1) | Hatfield, Kelley (1) | Hatfield, Kelly (2) | Hatfield, Kelsie (1) |
| Hatfield, Ken (2) | Hatfield, Kenes (2) | Hatfield, Kenis (2) | Hatfield, Kenna (3) |
| Hatfield, Kennar (1) | Hatfield, Kenner (4) | Hatfield, Kenneth (6) | Hatfield, Kennie (3) |
| Hatfield, Kent (6) | Hatfield, Kentucky (6) | Hatfield, Kernie (3) | Hatfield, Kesiah (4) |
| Hatfield, Kezeah (3) | Hatfield, Kezia (3) | Hatfield, Keziah (16) | Hatfield, Kezzear (1) |
| Hatfield, Kiadama (1) | Hatfield, King (15) | Hatfield, Kisiah (2) | Hatfield, Kissiah (10) |
| Hatfield, Kissy (3) | Hatfield, Kittie (1) | Hatfield, Kitty (8) | Hatfield, Kiz (1) |
| Hatfield, Kizia (3) | Hatfield, Kiziah (3) | Hatfield, Kiziar (1) | Hatfield, Kizzie (1) |
| Hatfield, L (23) | Hatfield, Laban (7) | Hatfield, Labitha (1) | Hatfield, Lacie (1) |
| Hatfield, Lacy (1) | Hatfield, Laddy (1) | Hatfield, Lafaitt (1) | Hatfield, Lafayette (14) |
| Hatfield, Lake (3) | Hatfield, Lakie (1) | Hatfield, Lampson (1) | Hatfield, Lance (1) |
| Hatfield, Landon (14) | Hatfield, Landy (3) | Hatfield, Laney (2) | Hatfield, Langley (1) |
| Hatfield, Lapriel (1) | Hatfield, Laraine (1) | Hatfield, Lard (1) | Hatfield, Lari-ta (1) |
| Hatfield, Larkin (19) | Hatfield, Larry (5) | Hatfield, Lasher (2) | Hatfield, Lasozn(?) (1) |
| Hatfield, Lassie (1) | Hatfield, Lattie (1) | Hatfield, Launda (1) | Hatfield, Laura (122) |
| Hatfield, Laurabel (1) | Hatfield, Lauracy (1) | Hatfield, Lauren (1) | Hatfield, Laurence (6) |
| Hatfield, Lauretta (1) | Hatfield, Laurette (1) | Hatfield, Laurie (1) | Hatfield, Lavada (1) |
| Hatfield, Lavaun (1) | Hatfield, Laverne (1) | Hatfield, Lavicy (1) | Hatfield, Lavina (17) |
| Hatfield, Lavisa (1) | Hatfield, Lawrence (10) | Hatfield, Lawson (1) | Hatfield, Lawyer (13) |
| Hatfield, Lea (1) | Hatfield, Leah (17) | Hatfield, Lean (1) | Hatfield, Leander (44) |
| Hatfield, Leann (2) | Hatfield, Lear (6) | Hatfield, Leddia (1) | Hatfield, Lee (18) |
| Hatfield, LeEtta (1) | Hatfield, Lehiza (1) | Hatfield, Lela (14) | Hatfield, Leland (10) |
| Hatfield, Lelia (6) | Hatfield, Lelina (2) | Hatfield, Leman (1) | Hatfield, Lemmie (1) |
| Hatfield, Lemon (1) | Hatfield, Lemuel (3) | Hatfield, Lena (25) | Hatfield, Lenard (1) |
| Hatfield, Lenie (1) | Hatfield, Lenna (1) | Hatfield, Lennie (2) | Hatfield, Lenora (3) |
| Hatfield, Leo (7) | Hatfield, Leoma (1) | Hatfield, Leon (4) | Hatfield, Leona (7) |
| Hatfield, Leonard (17) | Hatfield, Leone (1) | Hatfield, Leonem (1) | Hatfield, Leora (1) |
| Hatfield, Leota (1) | Hatfield, LeRoy (8) | Hatfield, Leslie (12) | Hatfield, Lessie (4) |
| Hatfield, Lester (17) | Hatfield, Letcher (1) | Hatfield, Letha (14) | Hatfield, Letitia (3) |
| Hatfield, Letta (4) | Hatfield, Lettice (4) | Hatfield, Lettie (12) | Hatfield, Lettise (2) |
| Hatfield, Leven (1) | Hatfield, Levi (56) | Hatfield, Levicy (22) | Hatfield, Levin (9) |
| Hatfield, Levina (2) | Hatfield, Levinnia (1) | Hatfield, Levinnier (1) | Hatfield, Levis (1) |
| Hatfield, Levisa (16) | Hatfield, Lew (3) | Hatfield, Lewellen (14) | Hatfield, Lewellyn (1) |
| Hatfield, Lewis (120) | Hatfield, Libbie (1) | Hatfield, Lida (1) | Hatfield, Lidda (2) |
| Hatfield, Liddia (1) | Hatfield, Liddy (1) | Hatfield, Lidia (4) | Hatfield, Lidy (1) |
| Hatfield, Light (1) | Hatfield, Lightburn (1) | Hatfield, Lihue (1) | Hatfield, Lila (5) |
| Hatfield, Lilas (1) | Hatfield, Lilburn (3) | Hatfield, Lillian (22) | Hatfield, Lillie (17) |
| Hatfield, Lilly (6) | Hatfield, Lily (2) | Hatfield, Liminta (1) | Hatfield, Linch (8) |
| Hatfield, Lincoln (6) | Hatfield, Lind (2) | Hatfield, Linda (4) | Hatfield, Linda/Malinda (4) |
| Hatfield, Lindy (2) | Hatfield, Linna (1) | Hatfield, Linnie (2) | Hatfield, Linza (1) |
| Hatfield, Lionel (3) | Hatfield, lisa (1) | Hatfield, Lisie (2) | Hatfield, Litha (2) |
| Hatfield, Little (1) | Hatfield, Liza (1) | Hatfield, Lizza (4) | Hatfield, Lizzabeth (1) |
| Hatfield, Lizzie (26) | Hatfield, Llewellen (1) | Hatfield, Llewellyn (1) | Hatfield, Lloyd (36) |
| Hatfield, Loany (1) | Hatfield, Loate (1) | Hatfield, Logan (4) | Hatfield, Lois (13) |
| Hatfield, Lois/Louise (1) | Hatfield, Lola (8) | Hatfield, Lon (4) | Hatfield, Lona (5) |
| Hatfield, Londith (2) | Hatfield, London (2) | Hatfield, Lonnie (4) | Hatfield, Lonzo (1) |
| Hatfield, Lora (2) | Hatfield, Loraine (1) | Hatfield, Loren (6) | Hatfield, Lorena (6) |
| Hatfield, Lorengie (1) | Hatfield, Lorenza (1) | Hatfield, Lorenzo (28) | Hatfield, Loreta (1) |
| Hatfield, Loretta (5) | Hatfield, Lorin (1) | Hatfield, Lorinda (1) | Hatfield, Lorna (1) |
| Hatfield, Lorra (1) | Hatfield, Lorraine (1) | Hatfield, Lorrence (1) | Hatfield, Lorretta (1) |
| Hatfield, Lotan (4) | Hatfield, Lotta (2) | Hatfield, Lottie (13) | Hatfield, Lou (13) |
| Hatfield, Louella (4) | Hatfield, Louellen (2) | Hatfield, Loueza (1) | Hatfield, Louie (2) |
| Hatfield, Louis (80) | Hatfield, Louisa (95) | Hatfield, Louise (40) | Hatfield, Louisiana/Louise (2) |
| Hatfield, Louiza (4) | Hatfield, Lourence (1) | Hatfield, Lousa (1) | Hatfield, Lousia (3) |
| Hatfield, Louvisa (1) | Hatfield, Lovie (1) | Hatfield, Lowain (5) | Hatfield, Lowel (1) |
| Hatfield, Lowell (3) | Hatfield, Loyd (3) | Hatfield, Luancy (1) | Hatfield, Luanna (3) |
| Hatfield, Lucetta (1) | Hatfield, Lucian (5) | Hatfield, Lucilla (2) | Hatfield, Lucille (4) |
| Hatfield, Lucilley (1) | Hatfield, Lucind (2) | Hatfield, Lucinda (134) | Hatfield, Lucindia (9) |
| Hatfield, Lucious (1) | Hatfield, Lucius (5) | Hatfield, Luckype (1) | Hatfield, Lucrecia (1) |
| Hatfield, Lucresy (2) | Hatfield, Lucretia (44) | Hatfield, Lucretie (1) | Hatfield, Lucy (53) |
| Hatfield, Lucyan (2) | Hatfield, Luda (2) | Hatfield, Lueady (1) | Hatfield, Lueady(?) (2) |
| Hatfield, Luekype(?) (1) | Hatfield, Luella (7) | Hatfield, Luellen (11) | Hatfield, Lugan (1) |
| Hatfield, Luis (1) | Hatfield, Lula (25) | Hatfield, Lully (3) | Hatfield, Lulu (10) |
| Hatfield, Lundy (1) | Hatfield, Lurie (1) | Hatfield, Lurrinda (7) | Hatfield, Lusinda (1) |
| Hatfield, Lute (5) | Hatfield, Lutecia (1) | Hatfield, Luther (25) | Hatfield, Luvcina? (1) |
| Hatfield, Luverna (1) | Hatfield, Luvica (1) | Hatfield, Luvicey (1) | Hatfield, Luvicy (3) |
| Hatfield, Lyda (12) | Hatfield, Lydia (40) | Hatfield, Lydia (146) | Hatfield, Lydia(?) (1) |
| Hatfield, Lydian (1) | Hatfield, Lyle (2) | Hatfield, Lyman (7) | Hatfield, Lymn (1) |
| Hatfield, Lynch (103) | Hatfield, Lynis (1) | Hatfield, Lynn (3) | Hatfield, M (53) |
| Hatfield, Mabel (18) | Hatfield, Mabelle (1) | Hatfield, Mabia (2) | Hatfield, Mable (11) |
| Hatfield, Mack (4) | Hatfield, Madalin (2) | Hatfield, Madaline (3) | Hatfield, Madeline (2) |
| Hatfield, Madge (1) | Hatfield, Madison (30) | Hatfield, Mae (14) | Hatfield, Magdelane (3) |
| Hatfield, Mageline (1) | Hatfield, Maggie (30) | Hatfield, Maggy (1) | Hatfield, Magnolia (3) |
| Hatfield, Mahala (19) | Hatfield, Mahalah (8) | Hatfield, Mahaley (2) | Hatfield, Mahalia (1) |
| Hatfield, Mahlon (3) | Hatfield, Mahulda (4) | Hatfield, Maie (1) | Hatfield, Mainie (1) |
| Hatfield, Major (13) | Hatfield, Malan (1) | Hatfield, Malcolm (1) | Hatfield, male (4) |
| Hatfield, Malem (2) | Hatfield, Malen (9) | Hatfield, Malin (2) | Hatfield, Malinda (59) |
| Hatfield, Malisa (1) | Hatfield, Malissa (22) | Hatfield, Malissie (1) | Hatfield, Malon (1) |
| Hatfield, Malvina (7) | Hatfield, Malviney (1) | Hatfield, Malvirna (1) | Hatfield, Mamie (9) |
| Hatfield, Manda (7) | Hatfield, Mandy (4) | Hatfield, Manerva (20) | Hatfield, Manervy (1) |
| Hatfield, Manford (5) | Hatfield, Manoah (2) | Hatfield, Mansfield (21) | Hatfield, Manuel (4) |
| Hatfield, Mara (1) | Hatfield, Marah (2) | Hatfield, Marcella (1) | Hatfield, Marcellus (2) |
| Hatfield, Marcille (1) | Hatfield, Marcus (9) | Hatfield, Marehul (1) | Hatfield, Marena/Marina (5) |
| Hatfield, Margaret (388) | Hatfield, Margareth (1) | Hatfield, Margarett (4) | Hatfield, Margarette (1) |
| Hatfield, Margeret (2) | Hatfield, Margery (4) | Hatfield, Margie (7) | Hatfield, Margret (9) |
| Hatfield, Margrett (1) | Hatfield, Margth* (1) | Hatfield, Maria (52) | Hatfield, Mariah (9) |
| Hatfield, Mariam (2) | Hatfield, Marian (15) | Hatfield, Marica (3) | Hatfield, Marie (17) |
| Hatfield, Marienetta (1) | Hatfield, Marietta (19) | Hatfield, Marikin (6) | Hatfield, Marilda (2) |
| Hatfield, Marilla (2) | Hatfield, Marine (1) | Hatfield, Marion (36) | Hatfield, Marjorie (8) |
| Hatfield, Mark (33) | Hatfield, Marke (3) | Hatfield, Markus (1) | Hatfield, Marlen (2) |
| Hatfield, Marlena (1) | Hatfield, Marlene (1) | Hatfield, Maro (1) | Hatfield, Marry (3) |
| Hatfield, Marsa (1) | Hatfield, Marshal (5) | Hatfield, Marshall (23) | Hatfield, Mart (1) |
| Hatfield, Martha (593) | Hatfield, Martha? (1) | Hatfield, Marthena (1) | Hatfield, Marthey (1) |
| Hatfield, Marthy (1) | Hatfield, Martin (54) | Hatfield, Martina (1) | Hatfield, Marvin (26) |
| Hatfield, Mary (1170) | Hatfield, Mary (1062) | Hatfield, Mary(?) (1) | Hatfield, Mary/May (1) |
| Hatfield, Maryan (3) | Hatfield, Maryetta (1) | Hatfield, Maryette (4) | Hatfield, Mason (36) |
| Hatfield, Mate (1) | Hatfield, Mathew (1) | Hatfield, Mathias (4) | Hatfield, Mathilde (1) |
| Hatfield, Mathius (1) | Hatfield, Mathue (1) | Hatfield, Matilda (117) | Hatfield, Matison (2) |
| Hatfield, Matt (2) | Hatfield, Matthaias (1) | Hatfield, Matthew (15) | Hatfield, Matthias (41) |
| Hatfield, Mattie (33) | Hatfield, Mattison (1) | Hatfield, Maud (3) | Hatfield, Maude (22) |
| Hatfield, Maudie (10) | Hatfield, Maurice (1) | Hatfield, Maurine (2) | Hatfield, Maury (1) |
| Hatfield, Max (2) | Hatfield, Maxine (6) | Hatfield, Maxwell (1) | Hatfield, May (25) |
| Hatfield, Mayme (3) | Hatfield, Maynie (1) | Hatfield, Maysie (1) | Hatfield, Mcginnas (1) |
| Hatfield, McGinnis (23) | Hatfield, Mcginnus (1) | Hatfield, McKindry (1) | Hatfield, Mckinley (2) |
| Hatfield, McNeal (3) | Hatfield, Meagan (1) | Hatfield, Mearl (1) | Hatfield, Mearll (1) |
| Hatfield, Medora (1) | Hatfield, Meeky (1) | Hatfield, Mehaly (1) | Hatfield, Mela (1) |
| Hatfield, Melda (9) | Hatfield, Melinda (18) | Hatfield, Melipa (1) | Hatfield, Melisa (1) |
| Hatfield, Melissa (16) | Hatfield, Mellicca (2) | Hatfield, Mellie (1) | Hatfield, Melvin (26) |
| Hatfield, Melvina (62) | Hatfield, Menerva (1) | Hatfield, Menter (1) | Hatfield, Menton (1) |
| Hatfield, Mentor (1) | Hatfield, Mercy (2) | Hatfield, Merilynn (1) | Hatfield, Merl (3) |
| Hatfield, Merle (2) | Hatfield, Merline (3) | Hatfield, Merrill (1) | Hatfield, Merrit (1) |
| Hatfield, Merritt (1) | Hatfield, Mersha (9) | Hatfield, Merton (2) | Hatfield, Mervil (1) |
| Hatfield, Metha (1) | Hatfield, Mettie (1) | Hatfield, Mexico (1) | Hatfield, Michael (43) |
| Hatfield, Michelle (1) | Hatfield, Midge (1) | Hatfield, Mike (5) | Hatfield, Mikel (2) |
| Hatfield, Mildred (18) | Hatfield, Miles (2) | Hatfield, Miletus (1) | Hatfield, Miley (1) |
| Hatfield, Militus (1) | Hatfield, Milla (9) | Hatfield, Millard (7) | Hatfield, Milley (9) |
| Hatfield, Millie (29) | Hatfield, Mills (13) | Hatfield, Milly (14) | Hatfield, Milton (23) |
| Hatfield, Mima (3) | Hatfield, Mine (2) | Hatfield, Minerva (14) | Hatfield, Minna (1) |
| Hatfield, Minnie (83) | Hatfield, Minta (5) | Hatfield, Mintie (3) | Hatfield, Minton (2) |
| Hatfield, Miranda (7) | Hatfield, Misella (1) | Hatfield, Misha (1) | Hatfield, Miss (3) |
| Hatfield, Missouri (7) | Hatfield, Mitchell (24) | Hatfield, Mithel? (1) | Hatfield, Mittie (2) |
| Hatfield, Mizella (1) | Hatfield, Mohaley (1) | Hatfield, Molan (1) | Hatfield, Molley (2) |
| Hatfield, Mollie (27) | Hatfield, Molly (9) | Hatfield, Monro (1) | Hatfield, Monroe (9) |
| Hatfield, Mont (1) | Hatfield, Monterville (11) | Hatfield, Mordca (2) | Hatfield, Mordecai (1) |
| Hatfield, Mordica (24) | Hatfield, Morgan (7) | Hatfield, Moro (2) | Hatfield, Morris (14) |
| Hatfield, Morrow (1) | Hatfield, Morton (2) | Hatfield, Mose (1) | Hatfield, Moses (148) |
| Hatfield, Moss (3) | Hatfield, Mossie (1) | Hatfield, Mott (2) | Hatfield, Mr (1) |
| Hatfield, Mrs (13) | Hatfield, Munsey? (1) | Hatfield, Muriel (8) | Hatfield, Murl (4) |
| Hatfield, Murley (1) | Hatfield, Murry (22) | Hatfield, Murtle (1) | Hatfield, Murvin (5) |
| Hatfield, Mutt (1) | Hatfield, Myer (1) | Hatfield, Mynatt (1) | Hatfield, Myra (3) |
| Hatfield, Myrta (7) | Hatfield, Myrtle (37) | Hatfield, N (15) | Hatfield, Nadison? (1) |
| Hatfield, Naiomi (2) | Hatfield, Nancey (7) | Hatfield, Nancy (773) | Hatfield, Nancy (173) |
| Hatfield, Nannie (4) | Hatfield, Naomi (8) | Hatfield, Napolean (1) | Hatfield, Nat (2) |
| Hatfield, Nathalee (1) | Hatfield, Nathan (196) | Hatfield, Nathanial (2) | Hatfield, Nathaniel (116) |
| Hatfield, Nathanl (3) | Hatfield, Nathen (1) | Hatfield, Neal (1) | Hatfield, Neeley (1) |
| Hatfield, Neita (1) | Hatfield, Nell (4) | Hatfield, Nella (2) | Hatfield, Nelli (1) |
| Hatfield, Nellie (60) | Hatfield, Nelly (4) | Hatfield, Nelson (54) | Hatfield, Neonta (1) |
| Hatfield, Nervesta (4) | Hatfield, Nesse (1) | Hatfield, Nettie (19) | Hatfield, Neumen (1) |
| Hatfield, Neutie (1) | Hatfield, Nevada (1) | Hatfield, Newel (1) | Hatfield, Newman (1) |
| Hatfield, Newt (1) | Hatfield, Newton (12) | Hatfield, Newt--ville (1) | Hatfield, Nicholas (9) |
| Hatfield, Nick (4) | Hatfield, Nicodemus (1) | Hatfield, Nicy (1) | Hatfield, Nila (1) |
| Hatfield, Nimrod (15) | Hatfield, Nina (8) | Hatfield, Ninead (1) | Hatfield, Nita (1) |
| Hatfield, No (1) | Hatfield, Noah (50) | Hatfield, Noah* (1) | Hatfield, Nokie (1) |
| Hatfield, Noll (3) | Hatfield, Nona (2) | Hatfield, Nora (16) | Hatfield, Norah (2) |
| Hatfield, Nordacai (1) | Hatfield, Norma (7) | Hatfield, Norman (2) | Hatfield, North (1) |
| Hatfield, Numa (1) | Hatfield, Nuson (2) | Hatfield, Nydia (1) | Hatfield, O (8) |
| Hatfield, Oat (1) | Hatfield, Oathy (2) | Hatfield, Obadiah (2) | Hatfield, Obediance (6) |
| Hatfield, Obedience (13) | Hatfield, Oble (1) | Hatfield, Ocel (1) | Hatfield, Ocie (1) |
| Hatfield, Octava (3) | Hatfield, Octavia (28) | Hatfield, Octren(?) (1) | Hatfield, Oda (3) |
| Hatfield, Ode (3) | Hatfield, Odie (2) | Hatfield, Oen (1) | Hatfield, Oeven (1) |
| Hatfield, Ogden (1) | Hatfield, Ogdon (1) | Hatfield, Ola (5) | Hatfield, Oleva (1) |
| Hatfield, Oley (1) | Hatfield, Olga (1) | Hatfield, Olive (15) | Hatfield, Oliver (24) |
| Hatfield, Olivia (1) | Hatfield, Olla (1) | Hatfield, Olley (1) | Hatfield, Ollie (16) |
| Hatfield, Olly (3) | Hatfield, Olwin (1) | Hatfield, Omer (1) | Hatfield, Omia (1) |
| Hatfield, Ona (2) | Hatfield, Onia (3) | Hatfield, Opal (7) | Hatfield, Ophelia (2) |
| Hatfield, Ora (13) | Hatfield, Orbcy (1) | Hatfield, Orbin (1) | Hatfield, Orcelia (1) |
| Hatfield, Oren (1) | Hatfield, Orie (2) | Hatfield, Orilla (2) | Hatfield, Orison (1) |
| Hatfield, Orla (1) | Hatfield, Orlan (2) | Hatfield, Orlando (7) | Hatfield, Orlantha (2) |
| Hatfield, Orleana (2) | Hatfield, Orlen (1) | Hatfield, Orlena (3) | Hatfield, Orlie (1) |
| Hatfield, Orlo (1) | Hatfield, Orlow (4) | Hatfield, Oro (2) | Hatfield, Orpha (1) |
| Hatfield, Orphelia (1) | Hatfield, Orphy (1) | Hatfield, Orre (1) | Hatfield, Orrey (3) |
| Hatfield, Orrison (6) | Hatfield, Ortna/Artema (2) | Hatfield, Orton (1) | Hatfield, Orvil (1) |
| Hatfield, Orville (5) | Hatfield, Osa (1) | Hatfield, Oscar (30) | Hatfield, Osie (1) |
| Hatfield, Ota (1) | Hatfield, Otha (1) | Hatfield, Otis (10) | Hatfield, Ott (1) |
| Hatfield, Otto (1) | Hatfield, Overton (4) | Hatfield, Ovie (1) | Hatfield, Owen (75) |
| Hatfield, Owen(?) (1) | Hatfield, Ozena (1) | Hatfield, P (3) | Hatfield, Pa----- (1) |
| Hatfield, Paddy (1) | Hatfield, Paintly (1) | Hatfield, Paityn (1) | Hatfield, Palestine (2) |
| Hatfield, Palmer (1) | Hatfield, Palmera (1) | Hatfield, Pamilia (2) | Hatfield, Paney (1) |
| Hatfield, Paralee (2) | Hatfield, Paralie (4) | Hatfield, Parallee (1) | Hatfield, Parasida (1) |
| Hatfield, Parilee (2) | Hatfield, Parlee (8) | Hatfield, Parley (1) | Hatfield, Parlie (5) |
| Hatfield, Parmelia (10) | Hatfield, Parsidda (3) | Hatfield, Parthena (3) | Hatfield, Pat (2) |
| Hatfield, Paten (6) | Hatfield, Patience (34) | Hatfield, Patient (1) | Hatfield, Patricia (4) |
| Hatfield, Patrick (3) | Hatfield, Patsey (5) | Hatfield, Patsey/Palsey (1) | Hatfield, Patsy (10) |
| Hatfield, Patterson (7) | Hatfield, Paul (15) | Hatfield, Paula (1) | Hatfield, Paulina (4) |
| Hatfield, Pauline (12) | Hatfield, Payton (1) | Hatfield, Pearl (47) | Hatfield, Pearlie (9) |
| Hatfield, Pearly (3) | Hatfield, Peggy (4) | Hatfield, Pen_na (1) | Hatfield, Pendelton (1) |
| Hatfield, Peninah (9) | Hatfield, Penniah (1) | Hatfield, Peral (1) | Hatfield, Perazela (3) |
| Hatfield, Perce (2) | Hatfield, Percy (1) | Hatfield, Pere (1) | Hatfield, Perina (1) |
| Hatfield, Perkins (40) | Hatfield, Perlina (12) | Hatfield, Permela (3) | Hatfield, Permelia (13) |
| Hatfield, Permie (1) | Hatfield, Pernetty (1) | Hatfield, Perolea? (1) | Hatfield, Perry (18) |
| Hatfield, Persilla (1) | Hatfield, Petckner (1) | Hatfield, Pete (1) | Hatfield, Peter (100) |
| Hatfield, Pheba (7) | Hatfield, Phebe (43) | Hatfield, Pheby (2) | Hatfield, Phelby (1) |
| Hatfield, Pheliz (1) | Hatfield, Pherby (1) | Hatfield, Pheriba (7) | Hatfield, Phil (1) |
| Hatfield, Philander (1) | Hatfield, Philende (1) | Hatfield, Philip (5) | Hatfield, Phillip (9) |
| Hatfield, Phoeba(?) (1) | Hatfield, Phoebe (141) | Hatfield, Phrasey (2) | Hatfield, Phrazy (1) |
| Hatfield, Phyllis (2) | Hatfield, Pieter (4) | Hatfield, Pina (2) | Hatfield, Pinkie (1) |
| Hatfield, Pinky (1) | Hatfield, Pleas (1) | Hatfield, Pleasant (15) | Hatfield, Polk (3) |
| Hatfield, Polley (6) | Hatfield, Polly (143) | Hatfield, Pollyann (1) | Hatfield, Preston (3) |
| Hatfield, Price (2) | Hatfield, Pricey (5) | Hatfield, Pricie (1) | Hatfield, Pricilla (3) |
| Hatfield, Pricy (28) | Hatfield, Pricy (2) | Hatfield, Pricy/Orbcy (5) | Hatfield, Priscella (1) |
| Hatfield, Priscilla (23) | Hatfield, Prisy (1) | Hatfield, Prudence (3) | Hatfield, Prudy (1) |
| Hatfield, Prue (3) | Hatfield, Pryor (1) | Hatfield, Pryscilla (4) | Hatfield, Prysilla (2) |
| Hatfield, Purl (1) | Hatfield, Pusser (3) | Hatfield, Quinton (1) | Hatfield, R (28) |
| Hatfield, Raba (1) | Hatfield, Rabeca (3) | Hatfield, Rachael (32) | Hatfield, Rachal (8) |
| Hatfield, Rachard (1) | Hatfield, Rachel (220) | Hatfield, Rachel/Mary (2) | Hatfield, Rady (1) |
| Hatfield, Rae (1) | Hatfield, Rafe (5) | Hatfield, Rafel (1) | Hatfield, Ralph (91) |
| Hatfield, Randle (1) | Hatfield, Randolf (1) | Hatfield, Randolph (1) | Hatfield, Rankin (1) |
| Hatfield, Ransom (62) | Hatfield, Ransom(?) (1) | Hatfield, Ransome (1) | Hatfield, Ransoncalloway (1) |
| Hatfield, Raphe (17) | Hatfield, Ras (1) | Hatfield, Rausam (2) | Hatfield, Ray (11) |
| Hatfield, Raymond (22) | Hatfield, Raynie (1) | Hatfield, Ready (1) | Hatfield, Reama (1) |
| Hatfield, Rebeca (1) | Hatfield, Rebecca (233) | Hatfield, Rebeccy (2) | Hatfield, Rebeckah (2) |
| Hatfield, Rebeckey (1) | Hatfield, Rebecky (2) | Hatfield, Rebicca (1) | Hatfield, Reddeck (2) |
| Hatfield, Reddick (11) | Hatfield, Reddick* (1) | Hatfield, Regina (6) | Hatfield, Reginal (1) |
| Hatfield, Reginald (2) | Hatfield, Rella (2) | Hatfield, Rementie (2) | Hatfield, Rena (26) |
| Hatfield, Rensselaer (3) | Hatfield, Reny (1) | Hatfield, Reo (1) | Hatfield, Ressie (2) |
| Hatfield, Resulla (1) | Hatfield, Reta (1) | Hatfield, Retta (4) | Hatfield, Rettie (2) |
| Hatfield, Reuban (1) | Hatfield, Reuben (82) | Hatfield, Reubin (3) | Hatfield, Rex (1) |
| Hatfield, Reynolds (2) | Hatfield, Rheuben (1) | Hatfield, Rheudeane (1) | Hatfield, Rhoda (67) |
| Hatfield, Rhonda (11) | Hatfield, Ribble (1) | Hatfield, Ricahrd (1) | Hatfield, Richard (176) |
| Hatfield, Richd (1) | Hatfield, Rickland (1) | Hatfield, Ricy (4) | Hatfield, Rienzi (1) |
| Hatfield, Rilda (1) | Hatfield, Riley (18) | Hatfield, Rilla (2) | Hatfield, Rily (3) |
| Hatfield, Rinaldo (8) | Hatfield, Rinnie (4) | Hatfield, Rita (1) | Hatfield, Roalin (1) |
| Hatfield, Robbie (2) | Hatfield, Robena (5) | Hatfield, Robert (341) | Hatfield, Roberta (6) |
| Hatfield, Robin (1) | Hatfield, Robinson (11) | Hatfield, Robison (2) | Hatfield, Robret (1) |
| Hatfield, Robt (2) | Hatfield, Roby (1) | Hatfield, Rockey (1) | Hatfield, Rocky (2) |
| Hatfield, Roda (3) | Hatfield, Rodolph (1) | Hatfield, Rody (3) | Hatfield, Roe (3) |
| Hatfield, Roena (1) | Hatfield, Rofe (1) | Hatfield, Roger (1) | Hatfield, Roland (47) |
| Hatfield, Rolla (3) | Hatfield, Rolland (32) | Hatfield, Rollin (2) | Hatfield, Roma (1) |
| Hatfield, Ron (2) | Hatfield, Ronald (3) | Hatfield, Ronsseau (1) | Hatfield, Rosa (16) |
| Hatfield, Rosada (7) | Hatfield, Rosalee (2) | Hatfield, Rosamond (5) | Hatfield, Rosana (1) |
| Hatfield, Rosanna (1) | Hatfield, Roscoe (6) | Hatfield, Rose (19) | Hatfield, Roseanna (2) |
| Hatfield, Roseanne (3) | Hatfield, Rosebell (1) | Hatfield, Rosella (6) | Hatfield, Rosetta (18) |
| Hatfield, Rosey (1) | Hatfield, Rosia (10) | Hatfield, Rosie (7) | Hatfield, Ross (3) |
| Hatfield, Rossie (8) | Hatfield, Roweine (1) | Hatfield, Rowena (4) | Hatfield, Roxalena (1) |
| Hatfield, Roxanna (1) | Hatfield, Roxie (9) | Hatfield, Roxy (1) | Hatfield, Roy (55) |
| Hatfield, Royal (1) | Hatfield, Royce (1) | Hatfield, Rozell (1) | Hatfield, Rozella (3) |
| Hatfield, Rozettie (1) | Hatfield, Rp (1) | Hatfield, Ruben (6) | Hatfield, Rubie (1) |
| Hatfield, Rubin (1) | Hatfield, Ruby (18) | Hatfield, Rudolph (1) | Hatfield, Rufus (12) |
| Hatfield, Rupert (1) | Hatfield, Rush (1) | Hatfield, Russel (3) | Hatfield, Russell (18) |
| Hatfield, Ruth (97) | Hatfield, Rutha (1) | Hatfield, Ruthen (1) | Hatfield, Rutherford (1) |
| Hatfield, Rutheta (3) | Hatfield, Rynard (1) | Hatfield, S (52) | Hatfield, Sabine (5) |
| Hatfield, Sada (1) | Hatfield, Sadie (16) | Hatfield, Safronia (1) | Hatfield, Sah (1) |
| Hatfield, Sal--etta (1) | Hatfield, Salina (6) | Hatfield, Saline (7) | Hatfield, Salley (3) |
| Hatfield, Sallie (48) | Hatfield, Sally (55) | Hatfield, Sally (26) | Hatfield, Salome (5) |
| Hatfield, Sam (13) | Hatfield, Samanth (1) | Hatfield, Samantha (15) | Hatfield, Saml (8) |
| Hatfield, Sampson (21) | Hatfield, Samual (3) | Hatfield, Samuel (542) | Hatfield, Sandra (1) |
| Hatfield, Saney (1) | Hatfield, Sanford (5) | Hatfield, Sank (1) | Hatfield, Sanue (2) |
| Hatfield, Saphera (1) | Hatfield, Saphronia (4) | Hatfield, Sara (20) | Hatfield, Sarah (467) |
| Hatfield, Sarah (750) | Hatfield, Sareena (12) | Hatfield, Sarh? (1) | Hatfield, Sarilda (4) |
| Hatfield, Saronia (1) | Hatfield, Sarry (1) | Hatfield, Sary (13) | Hatfield, Savannah (1) |
| Hatfield, Savilla (1) | Hatfield, Sceney (5) | Hatfield, Schuyler (1) | Hatfield, Scot (2) |
| Hatfield, Scott (21) | Hatfield, Sedonia (1) | Hatfield, Sefronia (1) | Hatfield, Selah (2) |
| Hatfield, Selden (1) | Hatfield, Selma (6) | Hatfield, Semore (1) | Hatfield, Sena (2) |
| Hatfield, Seneca (1) | Hatfield, Senora (1) | Hatfield, Sepha (1) | Hatfield, Sepncer (1) |
| Hatfield, Serena (5) | Hatfield, Serepetha (1) | Hatfield, Sereptea (1) | Hatfield, Serrilda (2) |
| Hatfield, Servilla (1) | Hatfield, Seth (14) | Hatfield, Sevin (1) | Hatfield, Seymour (2) |
| Hatfield, Shade (1) | Hatfield, Shadrach (1) | Hatfield, Shadrack (1) | Hatfield, Shadric (1) |
| Hatfield, Shadrick (5) | Hatfield, Sharlotte (1) | Hatfield, Sharon (2) | Hatfield, Shedrick (1) |
| Hatfield, Shelby (5) | Hatfield, Shelda (1) | Hatfield, Shelley (1) | Hatfield, Shelton (1) |
| Hatfield, Shem (1) | Hatfield, Sheppard (2) | Hatfield, Sherman (25) | Hatfield, Sherri (1) |
| Hatfield, Sherry (3) | Hatfield, Shirley (7) | Hatfield, Sials (1) | Hatfield, Sibo (1) |
| Hatfield, Sid (1) | Hatfield, Sidie (1) | Hatfield, Sidney (21) | Hatfield, Sigle (1) |
| Hatfield, Signa (1) | Hatfield, Silas (28) | Hatfield, Silvany (1) | Hatfield, Silvia (1) |
| Hatfield, Silvina (1) | Hatfield, Simeon (3) | Hatfield, Simon (7) | Hatfield, Sina (2) |
| Hatfield, Sinclair (3) | Hatfield, Sinerva?S (1) | Hatfield, Sintha (8) | Hatfield, Siothia (2) |
| Hatfield, Sirelda (5) | Hatfield, Smiley (3) | Hatfield, Smith (98) | Hatfield, Soloman (2) |
| Hatfield, Solomon (11) | Hatfield, Solon (1) | Hatfield, Sonora (3) | Hatfield, Sophia (18) |
| Hatfield, Sophie (1) | Hatfield, Sophrania (1) | Hatfield, Sophronia (6) | Hatfield, Sovena (1) |
| Hatfield, Spencer (2) | Hatfield, Squire (1) | Hatfield, Sr (1) | Hatfield, Stacia (17) |
| Hatfield, Stacy (2) | Hatfield, Stafira (1) | Hatfield, Standly (2) | Hatfield, Stanely (1) |
| Hatfield, Stanley (51) | Hatfield, Stanley* (1) | Hatfield, Stanly (5) | Hatfield, Statia (1) |
| Hatfield, Stearl (2) | Hatfield, Stegill? (1) | Hatfield, Stella (16) | Hatfield, Stephen (87) |
| Hatfield, Stephen* (1) | Hatfield, Sterling (6) | Hatfield, Stevanes (1) | Hatfield, Steven (4) |
| Hatfield, Steward (5) | Hatfield, Stewart (32) | Hatfield, Stirl (2) | Hatfield, Stnaley (1) |
| Hatfield, Stockley (3) | Hatfield, Stronley (1) | Hatfield, Stuard (1) | Hatfield, Stuart (1) |
| Hatfield, Sudie (5) | Hatfield, Sue (5) | Hatfield, Sunny (1) | Hatfield, Supplee (1) |
| Hatfield, Surelda (3) | Hatfield, Surilda (3) | Hatfield, Susan (211) | Hatfield, Susan(?) (1) |
| Hatfield, Susanah (11) | Hatfield, Susanna (63) | Hatfield, Susannah (73) | Hatfield, Susanne (1) |
| Hatfield, Susia (1) | Hatfield, Susie (7) | Hatfield, Sussanna (1) | Hatfield, Suthie (1) |
| Hatfield, Suzan (2) | Hatfield, Suzannah (3) | Hatfield, Suzanne (1) | Hatfield, Sydney (11) |
| Hatfield, Sydnia (1) | Hatfield, Syerne (1) | Hatfield, Sylva (1) | Hatfield, Sylvania (18) |
| Hatfield, Sylvesta (2) | Hatfield, Sylvester (4) | Hatfield, Sylvester? (1) | Hatfield, Sylvia (5) |
| Hatfield, Syntha (6) | Hatfield, Synthe (1) | Hatfield, Synthia (1) | Hatfield, Syras (1) |
| Hatfield, Syrena (11) | Hatfield, T (21) | Hatfield, Tabbitha (1) | Hatfield, Tabitha (21) |
| Hatfield, Taffle (1) | Hatfield, Talbert/Tolbert (8) | Hatfield, Talbott (1) | Hatfield, Talley (1) |
| Hatfield, Tamar (1) | Hatfield, Tanda (1) | Hatfield, Tandy (17) | Hatfield, Tawly (1) |
| Hatfield, Taylor (15) | Hatfield, Ted (1) | Hatfield, Tedda (1) | Hatfield, Teddy (2) |
| Hatfield, Teetos (1) | Hatfield, Telinda (8) | Hatfield, Telitha (1) | Hatfield, Tena (1) |
| Hatfield, Tennessee (3) | Hatfield, Tennis (7) | Hatfield, Tennyson (13) | Hatfield, Terel (4) |
| Hatfield, Teresa (3) | Hatfield, Teressa (1) | Hatfield, Terissa (1) | Hatfield, Terrells (1) |
| Hatfield, Terriama (4) | Hatfield, Terry (6) | Hatfield, Thanly (1) | Hatfield, Tharon (1) |
| Hatfield, The? (3) | Hatfield, Theadore (2) | Hatfield, Theizof (1) | Hatfield, Thelma (13) |
| Hatfield, Theodisiaa (1) | Hatfield, Theodora (1) | Hatfield, Theodore (29) | Hatfield, Therdon (2) |
| Hatfield, Therdon? (1) | Hatfield, Theresa (3) | Hatfield, Thern (1) | Hatfield, Thezea (2) |
| Hatfield, Thoasm (1) | Hatfield, Thomas (162) | Hatfield, Thomas (447) | Hatfield, Thomps (1) |
| Hatfield, Thompson (21) | Hatfield, Thoms (1) | Hatfield, Thomsa (2) | Hatfield, Thos (11) |
| Hatfield, Thursdey (3) | Hatfield, Ti (1) | Hatfield, Tice (2) | Hatfield, Tilda (5) |
| Hatfield, Tillman (1) | Hatfield, Tim (2) | Hatfield, Timothy (14) | Hatfield, Tine (2) |
| Hatfield, Tiny (2) | Hatfield, Tobias (1) | Hatfield, Tobitha (4) | Hatfield, Todd (1) |
| Hatfield, Tolbert (21) | Hatfield, Toler (3) | Hatfield, Tolman (2) | Hatfield, Tom (5) |
| Hatfield, Tommy (2) | Hatfield, Tonya (1) | Hatfield, Townsend (1) | Hatfield, Tracy (3) |
| Hatfield, Tranquilla (1) | Hatfield, Travis (2) | Hatfield, Triphanne (2) | Hatfield, Tris (1) |
| Hatfield, Trivett (2) | Hatfield, Troy (5) | Hatfield, True (1) | Hatfield, Trueman (1) |
| Hatfield, Tula (4) | Hatfield, Turley (3) | Hatfield, Tyrenia (1) | Hatfield, U (1) |
| Hatfield, Ulea (1) | Hatfield, Ulster (1) | Hatfield, Ulysess (6) | Hatfield, Ulysis (1) |
| Hatfield, Ulysses (17) | Hatfield, Una (2) | Hatfield, Union (2) | Hatfield, Unis (1) |
| Hatfield, Unity (3) | Hatfield, Unknown (1) | Hatfield, unnamed (1) | Hatfield, Upham (1) |
| Hatfield, Ura (1) | Hatfield, Uriah (2) | Hatfield, V (4) | Hatfield, Vada (6) |
| Hatfield, Vader (1) | Hatfield, Val (1) | Hatfield, Valentine (186) | Hatfield, Van (1) |
| Hatfield, Vandalia (1) | Hatfield, Vandilla (1) | Hatfield, Vandora (3) | Hatfield, Vandoria (1) |
| Hatfield, Vannie (1) | Hatfield, Vauditto (2) | Hatfield, Vella (1) | Hatfield, Velma (4) |
| Hatfield, Venita (1) | Hatfield, Vera (8) | Hatfield, Verda (1) | Hatfield, Verdie (1) |
| Hatfield, Verlan (1) | Hatfield, Verlina (1) | Hatfield, Vermont (1) | Hatfield, Vern (8) |
| Hatfield, Verna (2) | Hatfield, Verne (2) | Hatfield, Vernice (1) | Hatfield, Vernie (1) |
| Hatfield, Vernon (4) | Hatfield, Verona (5) | Hatfield, Vessie (2) | Hatfield, Vesta (1) |
| Hatfield, Vesty (1) | Hatfield, Vicey (2) | Hatfield, Vicie (4) | Hatfield, Vickie (1) |
| Hatfield, Victor (7) | Hatfield, Victoria (30) | Hatfield, Vicy (2) | Hatfield, Vida (2) |
| Hatfield, Villa (1) | Hatfield, Vina (3) | Hatfield, Vincent (3) | Hatfield, Vinira (1) |
| Hatfield, Vint (7) | Hatfield, Vinton (23) | Hatfield, Viola (28) | Hatfield, Violet (1) |
| Hatfield, Violetta (6) | Hatfield, Violette (1) | Hatfield, Virdie (2) | Hatfield, Virena (2) |
| Hatfield, Virgie (1) | Hatfield, Virgil (9) | Hatfield, Virginia (82) | Hatfield, Virla (1) |
| Hatfield, Vivian (2) | Hatfield, Viz (1) | Hatfield, Vltn (1) | Hatfield, Vol (2) |
| Hatfield, Volentine (5) | Hatfield, Vonna (6) | Hatfield, W (59) | Hatfield, Wade (3) |
| Hatfield, Waine (1) | Hatfield, Waldo (1) | Hatfield, Walin (1) | Hatfield, Wallace (42) |
| Hatfield, Wallas (1) | Hatfield, Wallie (4) | Hatfield, Wallis (1) | Hatfield, Walter (69) |
| Hatfield, Walter (41) | Hatfield, Wanda (5) | Hatfield, Waneita (1) | Hatfield, Wanetta (2) |
| Hatfield, Wannie (1) | Hatfield, Ward (4) | Hatfield, Warner (1) | Hatfield, Warren (9) |
| Hatfield, Wash (1) | Hatfield, Washington (15) | Hatfield, Washinton (1) | Hatfield, Wayne (28) |
| Hatfield, Wd (1) | Hatfield, Wealthy (4) | Hatfield, Webster (1) | Hatfield, Weir (1) |
| Hatfield, Welby (6) | Hatfield, Wert (3) | Hatfield, Wes (1) | Hatfield, Wesley (13) |
| Hatfield, Weslie (1) | Hatfield, Wesly (1) | Hatfield, Wessley (1) | Hatfield, West (1) |
| Hatfield, Westley (1) | Hatfield, Westly (2) | Hatfield, Weston (1) | Hatfield, Wetzel (2) |
| Hatfield, Wh (2) | Hatfield, Wheatley (1) | Hatfield, Wheatly (6) | Hatfield, Wheeler (1) |
| Hatfield, Whitely (2) | Hatfield, Whitley (2) | Hatfield, Whitly (1) | Hatfield, Wid (3) |
| Hatfield, Widow (1) | Hatfield, Wilber (5) | Hatfield, Wilbur (5) | Hatfield, Wiley (33) |
| Hatfield, Wilhelmena (10) | Hatfield, Wilhelmina (2) | Hatfield, Wiliam (3) | Hatfield, Wililam (1) |
| Hatfield, Will (3) | Hatfield, Willaim (3) | Hatfield, Willard (34) | Hatfield, Willey (2) |
| Hatfield, William (1887) | Hatfield, William* (1) | Hatfield, Williard (2) | Hatfield, Willie (35) |
| Hatfield, Willis (12) | Hatfield, Willmina (3) | Hatfield, Wilma (4) | Hatfield, Wilmer (1) |
| Hatfield, Wilsie (1) | Hatfield, Wilson (29) | Hatfield, Wily (1) | Hatfield, Winfred (1) |
| Hatfield, Winna (1) | Hatfield, Winney (2) | Hatfield, Winnie (1) | Hatfield, Winnifred (1) |
| Hatfield, Winny (5) | Hatfield, Winonah (2) | Hatfield, Winston (1) | Hatfield, Wintworth (1) |
| Hatfield, Wirt (3) | Hatfield, Wisly (1) | Hatfield, Wlissus (1) | Hatfield, Wm (89) |
| Hatfield, Woodford (2) | Hatfield, Woodrow (1) | Hatfield, Woodward (1) | Hatfield, Woot (1) |
| Hatfield, Wristter (1) | Hatfield, Wyley (2) | Hatfield, Yantice (3) | Hatfield, Zacary (1) |
| Hatfield, Zach (2) | Hatfield, Zachariah (6) | Hatfield, Zachary (1) | Hatfield, Zacheriah (1) |
| Hatfield, Zachery (3) | Hatfield, Zadock (1) | Hatfield, Zarny (1) | Hatfield, Zebadiah (2) |
| Hatfield, Zee (2) | Hatfield, Zela (1) | Hatfield, Zelda (1) | Hatfield, Zella (4) |
| Hatfield, Zelma (1) | Hatfield, Zelta (1) | Hatfield, Zena (1) | Hatfield, Zenie (2) |
| Hatfield, Zerelda (2) | Hatfield, Zetta (5) | Hatfield, Zettie (8) | Hatfield, Zilpha (1) |
| Hatfield, Zinnery (3) | Hatfield, Zona (2) | Hatfield, Zophan* (1) | Hatfield, Zophar (1) |
| Hatfield, Zophen (1) | Hatfield, Zopher (10) | Hatfield, Zopher* (1) | Hatfield, Zophia* (1) |
| Hatfield, Zora (1) | Hatfield, Zota (1) | Hatfield, Zula (1) | Hatfield/Hadfield, Adam (1) |
| Hatfield/halfield, Hetty (1) | Hatfield/McCoy, Clarence (1) | Hatfield/McCoy, Maxie (1) | Hatfields, Caroline (1) |
| Hatfields, Samuel (1) | Hatfields, William (1) | Hatfield-Wagner, Charlie (2) | Hatfielf, Maria (2) |
| Hatfiell, Thomas (1) | Hatfiels, Margaret (1) | Hatfil, Thomas (1) | Hatfild, D (1) |
| Hatfild, Ellison (1) | Hatfild, Reubin (1) | Hatfild, William (1) | Hatfildia, Elizabeth (1) |
| Hatfiled, Melva (1) | Hatfiled, William (2) | Hatfiler, Joseph (1) | Hatfill, Adam (1) |
| Hatfill, Amanda (1) | Hatfill, Clarence (1) | Hatfill, Dorothy (1) | Hatfill, Earl (1) |
| Hatfill, Edith (1) | Hatfill, Enda (1) | Hatfill, Eulah (1) | Hatfill, Geneva (1) |
| Hatfill, Harlie (1) | Hatfill, Harold (1) | Hatfill, Henry (1) | Hatfill, Irma (1) |
| Hatfill, John (2) | Hatfill, Kenneth (1) | Hatfill, Leslie (1) | Hatfill, Martin (1) |
| Hatfill, Murl (1) | Hatfill, N (1) | Hatfill, Nancy (1) | Hatfill, Opal (1) |
| Hatfill, Orval (1) | Hatfill, Raymond (1) | Hatfill, Retha (1) | Hatfill, Roy (1) |
| Hatfill, Ruby (1) | Hatfill, Thomas (1) | Hatfill, Velma (1) | Hatfill, Virgil (1) |
| Hatfled, Elihu (1) | Hatfled, John (3) | Hatfled, Willson (1) | Hatflied, Caleb (2) |
| Hatflied, Matthias (1) | Hatflied, William (1) | Hatfuld, Mary (1) | Hatfuld, Willaim (1) |
| Hatfuld, William (1) | Hatgled, Caleb (1) | Hathaway, Abraham (1) | Hathaway, Amy (1) |
| Hathaway, Andy (1) | Hathaway, Cornelius (1) | Hathaway, Ebenezer (3) | Hathaway, Elisha (1) |
| Hathaway, Ephraim (3) | Hathaway, Ephriam (1) | Hathaway, Forest (1) | Hathaway, George (1) |
| Hathaway, Hannah (3) | Hathaway, Horace (1) | Hathaway, Irene (1) | Hathaway, Mary (1) |
| Hathaway, Naomi (1) | Hathaway, Perry (1) | Hathaway, Sarah (1) | Hatifield, John (1) |
| Hatifield, Marshall (1) | Hatifield, Mary (1) | Hatifield, Oliver (1) | Hatpell, Mansfield (1) |
| Hatpile, Azerick (1) | Hatsfield, Forrest (1) | Hatsfield, James (1) | Hattaway, Annie (1) |
| Hattfield, Amos (1) | Hattfield, Got (1) | Hattfield, J (2) | Hattfield, Mansfield (1) |
| Hattfield, Nany (1) | Hattfield, Nelson (1) | Hattfield, Thomas (1) | Hatville, Conna (1) |
| Hatyfield, James (1) | Hauhn, Francis (1) | Hause, Rebecca (1) | Haw, Benjamin (1) |
| Hawfield, Dewald (1) | Hawfield, Jacob (1) | Hawfield, James (1) | Hawfield, Mathias (1) |
| Hawfield, Matthias (1) | Hawkin, Margaret (1) | Hawkins, Archibald (1) | Hawkins, Charles (2) |
| Hawkins, Jeremiah (1) | Hawkins, Margret (1) | Hawkins, Peggy (1) | Hawks, Hattie (1) |
| Hawley, George (1) | Hawley, Maria (1) | Hay, Ernestine (1) | Hayda, Mary (1) |
| Hayden, Ella (1) | Hayden, William (1) | Hayes, Elizabeth (3) | Hayes, J (1) |
| Hayes, Malissa (2) | Hayes, Mary (1) | Hayner, Carolyn (1) | Haynes, Andrew (1) |
| Haynes, Jane (1) | Haynes, Lyda (1) | Haynes, Lydia (3) | Haynes, Mary (3) |
| Hays, Cynthia (1) | Hays, Dorothea (1) | Hays, Janice (1) | Hays, Robert (1) |
| Hayslip, David (1) | Haywood, Alferd (1) | Haywood, Alfred (1) | Hazel, William (1) |
| Hazlet, John (3) | Hazlett, Maggie (1) | Hazzard, Ellen (1) | Heacock, Isabella (1) |
| Head, James (1) | Headapohle, G (1) | Headfield, Mary (1) | Headricks, E (1) |
| Headricks, Martha (1) | Heard, Dora (2) | Heard, Thomas (1) | Heart, Stephen (1) |
| Heatfield, John (2) | Heath, Mary (1) | Heath, Sarah (2) | Heath, William (2) |
| Heather, Betsy (1) | Heather, Cecilla (1) | Heather, Elizabeth (1) | Heather, Frances (1) |
| Heather, Hesaey (1) | Heather, James (1) | Heather, John (1) | Heather, Leanna (1) |
| Heather, Lucinda (1) | Heather, Margaret (1) | Heather, Martha (1) | Heather, Mary (19) |
| Heather, Nancy (1) | Heather, Patsy (1) | Heather, Peggy (1) | Heather, Polly (2) |
| Heather, Rachel (1) | Heather, Sally (1) | Heather, Thomas (2) | Heather, Thorn (1) |
| Heather, William (4) | Heatherington, Benjamin (1) | Heatherington, William (1) | Heckerd, David (6) |
| Heckerd, Edna (3) | Heckerd, Rose (1) | Heckman, Laura (1) | Hedfield, Elizabeth (1) |
| Hedfield, Jeremiah (1) | Hedfield, Samuel (1) | Hedfield, Sarah (2) | Hedfield, William (1) |
| Hedgecoth, Alfred (9) | Hedgecoth, Elijah (5) | Hedgecoth, Elizabeth (2) | Hedgecoth, Emma (2) |
| Hedgecoth, Glen (3) | Hedgecoth, Hiram (2) | Hedgecoth, James (5) | Hedgecoth, Mary (11) |
| Hedgecoth, May (3) | Hedgecoth, Noah (1) | Hedges, Catharine (1) | Hedgpeth, James (1) |
| Hedrick, John (1) | Hefner, Amanda (1) | Heidhival, Richard (1) | Heintzelman, Grace (1) |
| Heistand, Helen (1) | Heitfield, John (1) | Helfenbine, Louisa (1) | Heller, Janice (1) |
| Helm, Elizabeth (2) | Helm, Frederick (1) | Helm, Hulda (1) | Helm, Mahala (4) |
| Helm, Matilda (16) | Helm, Phoebe (13) | Helms, Allen (1) | Helsley, William (1) |
| Helton, Dollie (2) | Helton, Hamilton (1) | Helvey, John (1) | Helvey, Priscilla (1) |
| Helvey, Sarah (3) | Hemenway, Stacy (1) | Hemingray, Samuel (1) | Henderson, Dingess (4) |
| Henderson, Douglas (1) | Henderson, Drake (1) | Henderson, Magnolia (1) | Henderson, Marion (3) |
| Henderson, Mary (1) | Henderson, Mattie (6) | Henderson, Riley (3) | Henderson, Susannah (1) |
| Hendrick, Jo (1) | Hendricks, Baker (1) | Hendricks, Elizabeth (1) | Hendrickson, Armitta (1) |
| Hendrickson, Emma (1) | Hendricus, Clara (2) | Hendrix, Amanda (1) | Hendrix, Felix (1) |
| Henry, Charles (1) | Henry, Ella (1) | Henry, Florence (1) | Henry, John (2) |
| Henry, Matthew (1) | Hensley, Andrew (1) | Hensley, Asa (1) | Hensley, Catharine (1) |
| Hensley, Catherine (3) | Hensley, Elijah (1) | Hensley, George (2) | Hensley, Mary (1) |
| Hensley, Rose (1) | Hensley, Sarah (7) | Hensley, Simon (2) | Hensley, Susanna (3) |
| Hensley, Thomas (1) | Henson, Anna (1) | Henson, James (1) | Hentem/Hamden/Hampton, Anna (4) |
| Henthorne, Lulu (1) | Herald, Mary (1) | Herbert, J (1) | Hereford, Pauline (1) |
| Herlon, M (2) | Hernice/Harness, Lucinda (12) | Heron, Elizabeth (4) | Heron, James (2) |
| Heron, John (3) | Herr, Frank (1) | Herrald, Elsey (1) | Herrell, Dicy (1) |
| Herring, Isabel (1) | Herron, Lulu (1) | Hess, Alma (1) | Hess, Elijah (1) |
| Hess, Elisha (1) | Hess, Joshua (1) | Hess, William (1) | Hessel, Phillip (1) |
| Hesser, Woodrow (1) | Hetfeild, John (1) | Hetfeld, Bell (1) | Hetfeld, Carl (1) |
| Hetfield, A (2) | Hetfield, Aaron (2) | Hetfield, Abagail (1) | Hetfield, Abigail (1) |
| Hetfield, Abigiel (1) | Hetfield, Abner (2) | Hetfield, Adam (2) | Hetfield, Alex (1) |
| Hetfield, Alexander (5) | Hetfield, Andrew (1) | Hetfield, Ann (3) | Hetfield, Anna (3) |
| Hetfield, Anne (3) | Hetfield, Caleb (1) | Hetfield, Camille (1) | Hetfield, Carrie (1) |
| Hetfield, Clarence (1) | Hetfield, Daisie (1) | Hetfield, Daniel (3) | Hetfield, David (3) |
| Hetfield, Dessie (1) | Hetfield, Elizabeth (4) | Hetfield, Emily (2) | Hetfield, Eva (1) |
| Hetfield, Ezra (2) | Hetfield, Fannie (1) | Hetfield, Fanny (1) | Hetfield, Floy (1) |
| Hetfield, Frank (1) | Hetfield, G (1) | Hetfield, George (3) | Hetfield, Grace (1) |
| Hetfield, Gvn (1) | Hetfield, Hannah (1) | Hetfield, Harold (1) | Hetfield, Harriet (1) |
| Hetfield, Harris (2) | Hetfield, Harry (1) | Hetfield, Hazel (1) | Hetfield, Helene (1) |
| Hetfield, Henrietta (2) | Hetfield, Henry (4) | Hetfield, Hiram (2) | Hetfield, Horace (1) |
| Hetfield, Horris (1) | Hetfield, Inez (1) | Hetfield, Isaac (2) | Hetfield, Isabel (1) |
| Hetfield, Isabell (1) | Hetfield, Isabella (1) | Hetfield, Jacob (2) | Hetfield, James (2) |
| Hetfield, John (6) | Hetfield, Jonathan (3) | Hetfield, Julia (1) | Hetfield, L (1) |
| Hetfield, Letty (1) | Hetfield, Levi (2) | Hetfield, Lewis (2) | Hetfield, Lindsey (1) |
| Hetfield, Louis (2) | Hetfield, M (1) | Hetfield, Margaret (3) | Hetfield, Marha (1) |
| Hetfield, Mariah (1) | Hetfield, Martha (4) | Hetfield, Martin (2) | Hetfield, Mary (5) |
| Hetfield, May (1) | Hetfield, Melissa (1) | Hetfield, Melvina (1) | Hetfield, Milicent (1) |
| Hetfield, Minnie (1) | Hetfield, Morris (1) | Hetfield, Moses (3) | Hetfield, Mrs (1) |
| Hetfield, Muton (1) | Hetfield, Myrtle (2) | Hetfield, Orlantha (2) | Hetfield, Quary (2) |
| Hetfield, Richard (6) | Hetfield, Robert (5) | Hetfield, S (2) | Hetfield, Sallie (1) |
| Hetfield, Sally (1) | Hetfield, Samuel (1) | Hetfield, Sarah (5) | Hetfield, Smith (2) |
| Hetfield, Solomon (6) | Hetfield, Theodore (2) | Hetfield, Venera (1) | Hetfield, Walter (1) |
| Hetfield, Wesley (1) | Hetfield, Wid (1) | Hetfield, William (8) | Hetfield, Y (1) |
| Hetfield, Zaphen (1) | Hetfield, Zapher* (1) | Hetfield, Zaphor (2) | Hetfield, Zerelda (1) |
| Hetfield, Zophar (2) | Hetfield, Zopher* (1) | Hethcote, ? (1) | Hewett, David (1) |
| Hewitt, Ethel (1) | Hibbard, Marion (10) | Hickey, Hannah (3) | Hicklin, Jesse (1) |
| Hickman, Ralph (1) | Hickman/huckman, Katherine (1) | Hicks, Anna (5) | Hicks, Archibald (1) |
| Hicks, Augustus (1) | Hicks, Charles (1) | Hicks, Ella (1) | Hicks, Jane (1) |
| Hicks, John (1) | Hicks, Martha (1) | Hicks, Mollie (1) | Hicks, Norma (1) |
| Hicks, Ruth (1) | Hicks, Thomas (1) | Hidibell, Thomas (1) | Hier, George (1) |
| Higginbottom, Samuel (1) | Higgins, Thomas (1) | Highley, William (1) | Higley, Simeon (1) |
| Hildreth, Brain (1) | Hildreth, Janet (1) | Hildreth, Jean (1) | Hildreth, John (1) |
| Hildreth, Mark (1) | Hildreth, Martin (1) | Hildreth, Matthew (1) | Hildreth, Robert (1) |
| Hiles, William (1) | Hilferink, ? (1) | Hilgenberg, Ben (2) | Hill, Deloss (1) |
| Hill, Francis (1) | Hill, Frank (2) | Hill, Joe (1) | Hill, John (1) |
| Hill, Joseph (1) | Hill, Lucetta (1) | Hill, Nellie (1) | Hillard, O'Berlin (1) |
| Hilliard, ? (1) | Hillman, Eunice (1) | Hillman, George (1) | Hillman, Jane (1) |
| Hillman, Nancy (18) | Hilton, Albert (2) | Hilton, Dellia/Ellen (1) | Hilton, Edith/Elinor (1) |
| Hilton, Eva (1) | Hilton, Everett (2) | Hilton, Flora (1) | Hilton, James (1) |
| Hilton, Julia (10) | Hilton, Mabel (1) | Hilton, Riva (2) | Hilton, Sophia (2) |
| Hilton, Susan (1) | Hilton, Thomas (14) | Hinchman, Adam (10) | Hinchman, Alf (1) |
| Hinchman, Anson (1) | Hinchman, Elizabeth (7) | Hinchman, Emily (1) | Hinchman, Florence (1) |
| Hinchman, Georgia (1) | Hinchman, James (1) | Hinchman, John (1) | Hinchman, Laura (1) |
| Hinchman, Leander (1) | Hinchman, Lewis (1) | Hinchman, Louis (1) | Hinchman, Margrite (1) |
| Hinchman, Martha (8) | Hinchman, Mary (1) | Hinchman, Nina (1) | Hinchman, Ruth (1) |
| Hinchman, Virgil (1) | Hinchman, Voilet (1) | Hinchman, Wesley (2) | Hinchman, William (9) |
| Hinde, Freda (1) | Hindman, Samuel (1) | Hindmarsh, Bernice (1) | Hinds, James (2) |
| Hinds, Josephine (1) | Hinds, Ulysses (1) | Hinds, Wallace (1) | Hines, Margret (1) |
| Hinghshell, Bobby (1) | Hinkle, ? (1) | Hinkle, Jane (1) | Hinkle, Mary (7) |
| Hinkle, Thomas (1) | Hirtz, Daniel (1) | Hischer, Katherine (1) | Hisel, Claracy (10) |
| Hisel, Eliza (1) | Hisel, Jonathon (1) | Hitable, Sarah (1) | Hitapole, Elizabeth (1) |
| Hite, Bailey (1) | Hite, Cynthia (1) | Hite, Linda (1) | Hitefield, Lewis (1) |
| Hitefield, Louis (1) | Hites, Alfred (1) | Hites, Alice (1) | Hites, Barbara (1) |
| Hites, Benjamin (1) | Hites, Catharine (11) | Hites, Catherine (2) | Hites, David (1) |
| Hites, Dennis (1) | Hites, Elizabeth (9) | Hites, Emanuel (2) | Hites, George (12) |
| Hites, John (10) | Hites, Jonathan (4) | Hites, Jonathon (1) | Hites, Katherine (1) |
| Hites, Maggie (1) | Hites, Margaret (7) | Hites, Mary (6) | Hites, Michael (9) |
| Hites, Nancy (1) | Hites, Sarah (8) | Hites, Susan (1) | Hites, Susanna (9) |
| Hites, William (1) | Hitfield, Jeremiah (1) | Hitfield, John (1) | Hitfield, Levi (1) |
| Hitfield, Levin (1) | Hitfield, Morris (1) | Hitfield, Solomon (1) | Hitfield, Thomas (2) |
| Hitfield, Willaim (1) | Hitfield, Willey (1) | Hitfield, William (1) | Hitflicker, Katharine* (1) |
| Hitt, Jayme (1) | Hitt, Ruth (2) | Hitt, Stanley (1) | Hittepole, George (1) |
| Hix, Spicey (1) | Hixson, Easter (1) | Hoag, Caroline (1) | Hoag, Daniel (1) |
| Hoag, Elizabeth (1) | Hoag, Isaac (5) | Hoag, Martha (3) | Hoag, Mary (1) |
| Hoag, Peter (1) | Hoag, Samuel (1) | Hoagland, John (1) | Hoaglin, Gertrude (1) |
| Hoaglin, James (2) | Hoalt, Caroline (1) | Hobart, William (1) | Hobb, Seamon (1) |
| Hobbs, Isaac (1) | Hobbs, John (1) | Hoberland, Sarah (1) | Hobson, Charles (1) |
| Hocum, Permelia (1) | Hodecker, Johnathan (1) | Hodge, Dillie (2) | Hodges, ? (1) |
| Hodges, Lucinda (1) | Hodges, Willaim (1) | Hodges, William (2) | Hodshire, Sarah (1) |
| Hodson, Deborah (1) | Hoedecker, Dennis (1) | Hoff, David (5) | Hoff, Francis (1) |
| Hoff, Mary (4) | Hoffman, John (1) | Hoffmire, Catherine (1) | Hogan, William (1) |
| Hogan, Wm (1) | Hoge, Joseph (1) | Hogland, Marietta (9) | Hogue, ? (1) |
| Hogue, Nancy (1) | Hohner, Michael (1) | Hohner, Sarah (1) | Hoisington, Ada (1) |
| Hoisington, Charles (1) | Hoisington, Clara (1) | Hoisington, Daniel (14) | Hoisington, David (1) |
| Hoisington, Elnora (1) | Hoisington, Freddie (1) | Hoisington, Grace (1) | Hoisington, Jesse (1) |
| Hoisington, Mary (11) | Hoisington, Pearl (1) | Holchin, Julia (1) | Holcomb, Carol (1) |
| Holden, Alonzo (3) | Holden, Edward (1) | Holden, Jeanette (1) | Holden, William (2) |
| Holenback, Peter (1) | Holestan, Elisha (1) | Holladay, William (1) | Holland, Agatha (1) |
| Holland, Cordelia (1) | Holland, Elizabeth (1) | Holland, Fanny (9) | Holland, George (2) |
| Holland, John (1) | Holland, Judith (1) | Holland, Lida (1) | Holland, Margaret (1) |
| Holland, Mary (5) | Holland, Sarah (1) | Holland, William (1) | Hollandsworth, Mary (1) |
| Holler, Ethel (1) | Holler, Nancy (3) | Hollingsworth, Thomas (1) | Hollins, M (1) |
| Hollis, Patrick (1) | Hollis, son (1) | Hollis, Thomas (1) | Hollon, Elizabeth (2) |
| Hollon, Jonothan (1) | Hollon, Susanah (1) | Hollon, Susanna (1) | Hollopeter, Charles (1) |
| Holloway, Alma (2) | Holloway, Edgar (1) | Holloway, Mollie (3) | Holloway, Myrtle (4) |
| Holloway, Patty (3) | Holman, Carl (1) | Holmes, Debbie (1) | Holmes, Emily (1) |
| Holmes, John (1) | Holmes, Mary (1) | Holmes, Nathan (2) | Holmes, Sarah (2) |
| Holmes, Stephen (1) | Holopeter, ? (1) | Holopeter, Charles (2) | Holsinger, Jacob (1) |
| Holstine, George (1) | Holstine, William (1) | Holt, Jeffrey (1) | Holt, Jerry (1) |
| Holt, Rodney (1) | Holt, Sean (1) | Holtzclaw, Grace (4) | Holtzinger, Jacob (1) |
| Holz, Marie (1) | Homistek, Yolanda (1) | Honea, Robert (1) | Honeycutt, John (3) |
| Honisek, Jane (1) | Hoober, Abraham (1) | Hoober, Abram (1) | Hoober, Augustus (2) |
| Hoober, Barbara (1) | Hoober, Benjamin (1) | Hoober, Frank (1) | Hoober, Jacob (1) |
| Hoober, James (5) | Hoober, Jas (1) | Hoober, Lewis (1) | Hoober, Louis (1) |
| Hoober, Margaret (1) | Hoober, Mary (3) | Hoober, Percilla (1) | Hoober, Persilla (1) |
| Hoober, Priscilla (1) | Hood, Hazel (1) | Hook, George (3) | Hook, Matilda (1) |
| Hook, Rebecca (1) | Hook, Sarah (12) | Hooker, Daisey (1) | Hooker, Robert (3) |
| Hooker, Thomas (1) | Hooks, Mr (1) | Hoopengardner, Ida (2) | Hoover, Barbara (1) |
| Hoover, Elizabeth (7) | Hoover, Jacob (3) | Hoover, James (3) | Hoover, Jas (2) |
| Hoover, Jno (1) | Hoover, John (2) | Hoover, Mary (1) | Hoover, Nellie (2) |
| Hoover, Priscilla (2) | Hoover, Sarah (1) | Hoover, William (1) | Hope, Francis (1) |
| Hope, Nancy (1) | Hopkins, Elizabeth (1) | Hopkins, Mary (4) | Hopkins, Millard (3) |
| Hopkins, Richard (2) | Hopkins, Rosa (1) | Hopkins, Thomas (1) | Hopper, Addie (1) |
| Hopper, Emma (1) | Hopper, John (2) | Hopper, Raleigh (1) | Horn, America (1) |
| Horn, Beatrice (1) | Horn, Bethel (1) | Horn, Coleth (1) | Horn, Delia (1) |
| Horn, Emily (1) | Horn, Emma (1) | Horn, Fannie (1) | Horn, Geneva (1) |
| Horn, George (6) | Horn, Gustava (1) | Horn, infant (2) | Horn, Josiah (1) |
| Horn, Louise (1) | Horn, Marion (3) | Horn, Mattie (1) | Horn, N (1) |
| Horn, Olivia (1) | Horn, Rufus (3) | Horn, Sarah (2) | Horn, William (1) |
| Hornback, Margaret (1) | Horne, Laura (2) | Horner, Charles (1) | Horner, Emma (2) |
| Horner, Ethel (1) | Horner, George (4) | Horner, Joshua (3) | Horner, Mary (1) |
| Horner, Phyllis (1) | Horner, Pierre (1) | Hornsby, Mary (1) | Hornville, Sarah (1) |
| Horsley, Rosa (1) | Horton, Jane (1) | Horton, Joshua (1) | Horton, Leah (2) |
| Horton, Lilburn (4) | Horton, Valentine (1) | Horton/Huston, Taylor (2) | Horton\Huston, Elizabeth (1) |
| Hoskins, Elizabeth (1) | Hoskinson, Iva (1) | Hosten, H (1) | Hostetler, Grace (1) |
| Hotefield, Moses (1) | Hotfield, Alexander (1) | Hotfield, Champion (1) | Hotfield, Matthew (1) |
| Hotfield, Moses (1) | Hotfield, Nelly (1) | Hotfile, Samuel (1) | Hott, Patricia (1) |
| Hottipeler, Mathias (1) | Hottipeler, Matthias (1) | Hough, Eleanor (1) | Hough, Elizabeth (1) |
| Hough, Isaac (1) | Hough, Issac (1) | Hough, John (1) | Hough, Joseph (1) |
| Hough, Mary (1) | Hough, Oliver (1) | Hough, Silas (1) | Hough, Susanna (1) |
| Hough, Thomas (1) | Hough, William (1) | Houghton, Cordelia (1) | Houghton, Elizasbeth (1) |
| Houghton, Roxie (5) | Houp, Daniel (1) | House, James (1) | House, Rebecca (1) |
| Housel, Sarah (1) | Housley, Henry (2) | Housley, Rementie (1) | Houston, Hannah (2) |
| Houton, Cordelia (3) | Howaker, Viola (4) | Howard, Abraham (1) | Howard, Ann (1) |
| Howard, Betty (1) | Howard, Bonnie (1) | Howard, Eligah (1) | Howard, Elijah (1) |
| Howard, Elizabeth (1) | Howard, Henry (2) | Howard, Isaac (1) | Howard, James (1) |
| Howard, Kathy (1) | Howard, Marguarite (2) | Howard, Stella (1) | Howard, Stephen (1) |
| Howard, Susannah (2) | Howard, Tempe (1) | Howard, William (4) | Howe, James (2) |
| Howell, Edith (1) | Howell, Elizabeth (1) | Howell, Frederick (1) | Howell, G (1) |
| Howell, James (1) | Howell, John (3) | Howell, Juliette (1) | Howerton, Mary (1) |
| Howes, Dorothy (1) | Howes, Frank (7) | Howes, James (1) | Howes, Jennings (2) |
| Howes, Joe (1) | Howes, John (1) | Howes, Marcus (2) | Howes, Mary (5) |
| Howes, Mason (1) | Howlett, Sophronia (1) | Hoy, Margaret (3) | Hoyman, Sally (1) |
| Hribal, Dolores (1) | Hribal, Isabelle (1) | Hribal, James (1) | Hribal, Kenneth (1) |
| Hribal, Lois (1) | Hribal, Raymond (1) | Hribal, William (1) | Hrina, Nellie (1) |
| Hross, Mary (1) | Hubb, ? (1) | Hubbard, Charles (1) | Hubbard, Elizabeth (1) |
| Hubbard, Hannah (1) | Hubbard, Henry (1) | Hubbard, Louise (6) | Hubbard, Margaret (3) |
| Hubbard, Mary (1) | Hubbard, Minne (1) | Huckby, Parsidy (1) | Huckman, Katherine (1) |
| Hudaboal, Lewis (2) | Hudaboal, Louis (2) | Huddle, ? (1) | Huddleson, Sarah (1) |
| Huddleston, George (1) | Huddock, Betty (1) | Hudephol, Joe (1) | Hudephol, John (1) |
| Hudephol, Joseph (1) | Hudephol, L (1) | Hudepohl, Henry (1) | Hudepohl, Kate (1) |
| Hudepohl, Lewis (1) | Hudepohl, Louis (1) | Hudepoll, Anton (1) | Hudival, Thomas (1) |
| Hudphol, Mary (1) | Hudpohl, Richard (1) | Hudson, Amanda (1) | Hudson, Henry (4) |
| Hudson, John (1) | Hudson, Lydia (1) | Hudson, Mary (1) | Hudson, Prerey (1) |
| Hudson, Roy (1) | Hudson, Solomon (1) | Hudson, Vonier (1) | Hudspeth, Ruth (1) |
| Huedepohl, Hermann (1) | Huetebold, Catharine (2) | Huff, Addie (1) | Huff, David (1) |
| Huff, Lavina (1) | Huff, Margaret (2) | Hufferd, Jacob (1) | Huffman, A (1) |
| Huffman, B (1) | Huffman, James (1) | Huffman, Jennie (1) | Huffman, Mary (1) |
| Huffman, William (1) | Hufford, Jacob (2) | Hufford, Lydia (2) | Huggins, Abraham (1) |
| Hughes, Arkansas (1) | Hughes, Joseph (3) | Hughes, Lydia (5) | Hughes, Susan (1) |
| Hughes, Terence (1) | Hughett, Thomas (1) | Hughs, Ada (1) | Hulett, Matilda (1) |
| Hulick, Stephen (1) | Hulin, James (1) | Hull, James (1) | Hull, John (1) |
| Hull, Kermit (1) | Humbarger, Joseph (2) | Humbarger, Noah (2) | Humbough, Henry (1) |
| Hume, Eupha (2) | Humphrey, Clair (1) | Humphrey, William (1) | Humphreys, Amanda (11) |
| Humphreys, Lurrinda (9) | Hundley, Ruth (1) | Hunley, Benjamin (1) | Hunley, Henriette (1) |
| Hunley, Noah (1) | Hunley, Peter (1) | Hunley, Phoebe (1) | Hunley, William (3) |
| Hunt, Cora (3) | Hunt, Elijah (1) | Hunt, Ellison (1) | Hunt, Franklin (1) |
| Hunt, Jane (1) | Hunt, John (3) | Hunt, Luerman (1) | Hunt, Maria (1) |
| Hunt, Marin (1) | Hunt, Mary (2) | Hunt, Moses (1) | Hunt, Nancy (2) |
| Hunt, Ollie (1) | Hunt, Susan (1) | Hunt, Thomas (1) | Hunt, Virginia (7) |
| Hunter, Charlotte (3) | Hunter, Elenore (8) | Hunter, Elinder (1) | Hunter, Elizabeth (1) |
| Hunter, George (1) | Hunter, J (1) | Hunter, Lois/Louise (3) | Hunter, Maggie (1) |
| Hunter, Michael (1) | Hunter, Mont (1) | Hunter, Monte (1) | Hunter, Sallie (1) |
| Hunter, Sally (1) | Hurley, Mrs (1) | Hurley, Nancy (2) | Hurry, William (3) |
| Hurst, Jewell (1) | Hurst, Mary (19) | Hurst, Polly (1) | Hurst, Robert (1) |
| Hurst, Shelby (2) | Hurst, Una (1) | Hurt, Ann (1) | Hurt, Anna (13) |
| Hurt, Anne (1) | Hurt, Essie (1) | Hurtt, Martha (1) | Hurtz, Barry (1) |
| Hustin, Lilborn (1) | Huston, Taylor (1) | Hutfield, Caroline (1) | Hvizdos, Maria (1) |
| I, Jessie (1) | Igartua, Silvia (1) | Igartua-guridi, Victoriano (1) | Igartua-ugalde, Felix (1) |
| Igartua-ugalde, Jesusa (1) | Igartua-ugalde, Jose (1) | Igartua-ugalde, Juan (1) | Igartua-ugalde, Maria (1) |
| Igartua-ugalde, Maritxu (1) | Igartua-ugalde, Pilar (1) | Igou, Mary (2) | Ii, Benjamin (7) |
| Ii, David (1) | Ii, John (1) | Ii, Joseph (18) | Ii, Richard (1) |
| Ii, William (2) | Iii, David (1) | Iii, Elexious (8) | Iii, Joseph (12) |
| Iii, Melvin (1) | Ingalls, Abagail (1) | Ingalls, Abigail (1) | Inman, Florence (1) |
| Inman, Henry (1) | Inman, Storenis (1) | Inman, Veronica (1) | Innis, John (1) |
| Innman, Henry (2) | Innman, Sirelda (1) | Irazabal, Francisca (1) | Ireland, Mary (1) |
| Ireland, Timothy (1) | Iris, ? (1) | Irvin, Manoah (2) | Irving, Matilda (1) |
| Irwin, George (1) | Irwin, Isabella (1) | Irwin, John (1) | Irwin, Margaret (8) |
| Irwin, Maria (1) | Irwin, Mary (1) | Isert, ? (1) | Isert, Iva (1) |
| Isherwood, William (1) | Ising, Vincent (1) | Israelson, Gustaf (1) | Issac, ? (1) |
| Ivers, Elizabeth (1) | Ivey, ? (1) | Ivy, Audrey (2) | J, Elizabeth (1) |
| J, Mattie (1) | J, Nancy (1) | Jack, Emily (4) | Jack, Hannah (2) |
| Jack, Sarah (3) | Jackson, ? (1) | Jackson, Alonzo (1) | Jackson, Aubrey (1) |
| Jackson, Danny (1) | Jackson, Elsie (2) | Jackson, Geneva (1) | Jackson, George (1) |
| Jackson, Harrison (1) | Jackson, Harry (1) | Jackson, Hobart (1) | Jackson, Jane (1) |
| Jackson, Joseph (2) | Jackson, Lenora (2) | Jackson, Lindsay (1) | Jackson, Lula (1) |
| Jackson, Malvina (1) | Jackson, Margaret (3) | Jackson, Maria (1) | Jackson, Martha (1) |
| Jackson, Mary (4) | Jackson, Nancy (2) | Jackson, Pamela (1) | Jackson, Robert (1) |
| Jackson, Susan (2) | Jackson, Telinda (10) | Jackson, Theodore (1) | Jackson, Tillinda (1) |
| Jackson, William (2) | Jackson, Willoby (1) | Jackson, Zorene (1) | Jacobs, Elizabeth (1) |
| Jacobs, Fannie (4) | Jacobs, Fanny (1) | Jacobs, Jonathan (2) | Jacobs, Mary (2) |
| Jacobs, Nancy (1) | Jacobs, Saralynn (1) | Jacobs, Theodocia (1) | Jakubowski, Victoria (1) |
| James, Anne (2) | James, Benjamin (2) | James, Catharine (2) | James, Charlotte (1) |
| James, Ellen (1) | James, John (1) | James, Will (1) | Jamison, Ernest (3) |
| Jamison/Jemison, Laura (12) | Jane, Mary (1) | Jane, Sarah (1) | Janes, Ann (2) |
| Janes, Lodina (1) | Janko, Mildred (1) | Janny, Rachel (2) | Jarnagan, Mike (1) |
| Jarrell, Elmira (1) | Jarrell, John (1) | Jarrell, Sallie (4) | Jarrells, Gertrude (1) |
| Jarvis, Rodney (1) | Jay, Martha (1) | Jean, Tommye (1) | Jeans, Frank (1) |
| Jeffers, Christine (1) | Jeffers, Louvernia (1) | Jefferson, Harold (1) | Jefferson, Harry (1) |
| Jeffery, Naomi (1) | Jeffrey, Naomi (2) | Jeffries, Cenia (1) | Jeffries, Cynthia (1) |
| Jeffries, Pearl (1) | Jeffries, William (1) | Jeffs, Beverly (1) | Jeffs, Bobby (1) |
| Jeffs, Carroll (1) | Jeffs, Kenneth (2) | Jeffs, Linda (1) | Jeffs, Loretta (1) |
| Jendruch, Maria (1) | Jenkins, Emeline (1) | Jenkins, James (1) | Jenkins, Jh (1) |
| Jenkins, Mary (1) | Jennings, Ann (1) | Jennings, Elizabeth (1) | Jennings, Esther (10) |
| Jennings, Hiram (1) | Jennings, Jessie (1) | Jennings, Jonathan (1) | Jennings, Nettie (2) |
| Jennings, Rhoda (7) | Jennings, Sarah (3) | Jennings, W (1) | Jennisen, Dorothy (1) |
| Jennison, Dorothy (1) | Jennison, Frances (1) | Jenny, Rose (1) | Jensen, George (1) |
| Jeresko, Andrew (1) | Jeresko, Elsie (1) | Jeresko, Francis (2) | Jeresko, Jeanne (1) |
| Jeresko, John (1) | Jeresko, Lawrence (1) | Jeresko, Thomas (1) | Jeresko, William (1) |
| Jermiah, Sr (1) | Jerry, Jr (1) | Jesse, Bertha (1) | Jesse, Marion (1) |
| Jesse, Nancy (1) | Jesse, Thurman (1) | Jessee, Alice (1) | Jester, James (1) |
| Jeter, Sadie (3) | Jewell, Martha (2) | Jo, Sandra (1) | Joan, ? (1) |
| Joblin, Basil (1) | John, ? (1) | John, America (1) | John, Ann (1) |
| John, Catherine (16) | John, Emanuel (1) | John, Joseph (1) | John, Mary (1) |
| John, Phoebe (1) | John, William (4) | Johnson, ? (1) | Johnson, Adam (1) |
| Johnson, Altie (5) | Johnson, Andy (2) | Johnson, Ann (3) | Johnson, Anna (1) |
| Johnson, Anne (1) | Johnson, Caroline (1) | Johnson, Catherine (1) | Johnson, Cathy (1) |
| Johnson, Charles (2) | Johnson, Charlie (1) | Johnson, Daniel (4) | Johnson, Easter (5) |
| Johnson, Edith (1) | Johnson, Edrie (1) | Johnson, Elvira (1) | Johnson, Emma (1) |
| Johnson, Ephraim (4) | Johnson, Etha (1) | Johnson, Euhla (2) | Johnson, Ezra (1) |
| Johnson, George (5) | Johnson, Henry (2) | Johnson, Homer (1) | Johnson, J (1) |
| Johnson, James (12) | Johnson, John (2) | Johnson, Joseph (1) | Johnson, Julie (1) |
| Johnson, Kathaleen (1) | Johnson, Lanty (1) | Johnson, Lucinda (1) | Johnson, Lucy (6) |
| Johnson, M (3) | Johnson, Maggie (1) | Johnson, Malcolm (1) | Johnson, Malvina (1) |
| Johnson, Margaret (1) | Johnson, Mariah (1) | Johnson, Marie (1) | Johnson, Mary (17) |
| Johnson, Melcum (1) | Johnson, Michael (1) | Johnson, Minnie (1) | Johnson, Mrs (1) |
| Johnson, Nancy (3) | Johnson, Pairlee (1) | Johnson, Patience (1) | Johnson, Pearl (2) |
| Johnson, Perl (1) | Johnson, Robert (1) | Johnson, Roy (2) | Johnson, Ruth (1) |
| Johnson, Sary (2) | Johnson, Silas (1) | Johnson, Sinclair (1) | Johnson, Soloman (1) |
| Johnson, Stella (1) | Johnson, Thomas (1) | Johnson, Wellington (1) | Johnson, William (12) |
| Johnson?, Mary (8) | Johnston, Annie (1) | Johnston, Edna (1) | Johnston, Electa (7) |
| Johnston, India (1) | Johnston, Micheal (2) | Johnston, Sarah (1) | Johnston, William (1) |
| Joiner, Rebecca (1) | Jones, ? (3) | Jones, Abbie (1) | Jones, Amos (2) |
| Jones, Arzetta (1) | Jones, Benjamin (1) | Jones, Blanche (1) | Jones, Briant (1) |
| Jones, Charles (4) | Jones, Cr (3) | Jones, Dave (1) | Jones, David (1) |
| Jones, Dora (1) | Jones, E (1) | Jones, Elizabeth (16) | Jones, Ella (3) |
| Jones, Emery (1) | Jones, Frank (1) | Jones, Grace (5) | Jones, Helen (1) |
| Jones, Henrieta (1) | Jones, Ida (4) | Jones, James (1) | Jones, Jeremiah (3) |
| Jones, Jonathan (1) | Jones, Joshua (1) | Jones, Julia (3) | Jones, Laura (1) |
| Jones, Levi (2) | Jones, Martha (1) | Jones, Mary (15) | Jones, Oliver (1) |
| Jones, Pearl (3) | Jones, Pricy (2) | Jones, Rebecca (2) | Jones, Roxanna (3) |
| Jones, Sandra (1) | Jones, Sarah (11) | Jones, Sophronia (1) | Jones, William (1) |
| Jordan, E (1) | Jordan, James (1) | Jordan, Lena (1) | Jouet, Cavalier (1) |
| Jowett, Hannah (1) | Joy, Mrs (1) | Joyce, ? (1) | Jr, James (2) |
| Jr, John (2) | Jr, Sam (1) | Jude, Anderson (1) | Jude, Elizabeth (1) |
| Jude, John (1) | Jude, Virgie (1) | Judy, Margarett (1) | Judy, Robert (1) |
| Julian, Sarah (3) | Julian, Shalaney (1) | Julian, Ted (1) | Julien, Lillie (1) |
| Julien, Taylor (2) | Jurgeit, Irmgard (1) | Juriga, Margaret (1) | Justice, ? (1) |
| Justice, Abner (14) | Justice, Augusta (1) | Justice, Benjamen (1) | Justice, Charles (1) |
| Justice, Claborn (1) | Justice, Clyde (1) | Justice, Dixie (2) | Justice, Edna (2) |
| Justice, Edney (1) | Justice, Elizabeth (1) | Justice, Florence (1) | Justice, Francis (1) |
| Justice, Frank (1) | Justice, Hiram (1) | Justice, Ira (1) | Justice, James (19) |
| Justice, Joab (1) | Justice, John (2) | Justice, Joseph (1) | Justice, Keziah (1) |
| Justice, Lacy (1) | Justice, Levicy (9) | Justice, Levisa (1) | Justice, Levisy (1) |
| Justice, Lillie (1) | Justice, Lydia (1) | Justice, Martha (3) | Justice, Mary (20) |
| Justice, Maude (2) | Justice, Mildred (1) | Justice, Nancy (4) | Justice, Ona (1) |
| Justice, Ora (1) | Justice, Polly (2) | Justice, Ralph (1) | Justice, Rebecca (1) |
| Justice, Richard (1) | Justice, Sarah (1) | Justice, Simeon (1) | Justice, Simon (1) |
| Justice, Thomas (2) | Justice, Thussie (1) | Justice, Virginia (15) | Justice, William (3) |
| Kaiser, Basil (1) | Kaiser, Fannie (2) | Kamensky, Marie (1) | Kamray, Frederika (1) |
| Kamray, Fredricka (8) | Kanapsky, Caroline (1) | Kanapsky, Frank (1) | Kanapsky, Jack (1) |
| Kaough, Nicholas (1) | Kapp, Elisabeth (1) | Kapp, Gregory (1) | Kaprive, Amy (2) |
| Kaprive, David (1) | Kaprive, Francis (1) | Kaprive, Frank (1) | Kaprive, John (1) |
| Kaprive, Mark (1) | Kaprive, Melissa (1) | Kaprive, Richard (1) | Kaprive, Tom (1) |
| Kaprive, Trina (1) | Karala, Andi (1) | Karns, Elisabeth (3) | Karns, Elizabeth (1) |
| Karpency, Caroline (1) | Kash, Barbara (2) | Kasson, Helen (1) | Kaufman, William (2) |
| Kay, Newton (1) | Kean, S (1) | Keefer, Eliz (1) | Keely, John (2) |
| Keen, Edith (2) | Keenan, Nancy (1) | Keene, Ruth (1) | Keens, Jane (2) |
| Keepar, Catharine (1) | Keepar, Elizabeth (1) | Keepar, John (1) | Keepar, Margaret (1) |
| Keepar, Samuel (1) | Kees, Daisy (1) | Kees, Mary (1) | Keesee, Alice (2) |
| Keesee, Cynthia (1) | Keesee, Hulda (1) | Keesee, Mary (1) | Keesee, Nancy (1) |
| Keesee, Richard (2) | Keeton, E (1) | Keeton, Ewel (2) | Keeton, Ewell (3) |
| Keeton, Mary (2) | Keffer, Emily (10) | Keffer, Frances (1) | Keffer, Will (1) |
| Keim, Catherine (1) | Keith, Cordie (1) | Keith, Jasper (2) | Keith, Nancy (1) |
| Keithly, B (1) | Keller, Cyrus (6) | Kelley, Brian (1) | Kelley, Charles (1) |
| Kelley, Chas (1) | Kelley, Lacy (1) | Kelley, Leslie (1) | Kelley, Michael (1) |
| Kelley, Nancy (1) | Kelley, Paul (1) | Kelley, Phoebe (1) | Kelley, Tessie (1) |
| Kelly, Amanda (15) | Kelly, Clarinda (1) | Kelly, Eliza (1) | Kelly, Harve (1) |
| Kelly, Ida (2) | Kelly, Jacob (1) | Kelly, John (1) | Kelly, Manda (1) |
| Kelly, Maranda (1) | Kelly, Martha (10) | Kelly, Nancy (2) | Kelsey, Abner (1) |
| Kelsey, Aden (1) | Kelsey, Ann (1) | Kelsey, Elizabeth (1) | Kelsey, Elmira (1) |
| Kelsey, Jonathan (1) | Kelsey, Jonathon (11) | Kelsey, Levi (1) | Kelsey, Lydia (1) |
| Kelsey, Ruth (1) | Kelsey, Samantha (1) | Kelsey, Sarah (10) | Kelsey, William (1) |
| Kelton, Flora (8) | Kemp, Lee (2) | Kemyon, Martha (1) | Kendall, Horace (1) |
| Kendall, Ruth (2) | Kenedy, Aly (1) | Kenedy, Christen (1) | Kenedy, Mary (1) |
| Kenn, Maud (1) | Kennady, Andrew (1) | Kennady, Charles (1) | Kennady, Elexius (1) |
| Kennady, Ephram (1) | Kennady, Jospeh (1) | Kennady, Margaret (1) | Kennady, Pheby (1) |
| Kennady, Pricey (1) | Kennady, Rachele (1) | Kenneda, F (1) | Kennedy, ? (1) |
| Kennedy, Abner (1) | Kennedy, Alonzo (1) | Kennedy, Amanda (1) | Kennedy, Artie (2) |
| Kennedy, Charles (5) | Kennedy, Daisy (1) | Kennedy, Elexious (2) | Kennedy, Eli (1) |
| Kennedy, Ephraim (2) | Kennedy, Grover (1) | Kennedy, John (1) | Kennedy, Joseph (2) |
| Kennedy, Laura (1) | Kennedy, Linda (1) | Kennedy, Margaret (1) | Kennedy, Mary (2) |
| Kennedy, Phoebe (2) | Kennedy, Pricey (2) | Kennedy, Rachael (2) | Kennedy, William (2) |
| Kennedy/Canady, Andrew (11) | Kennedy/Canady, Victoria (2) | Kennedy\Canady, Margaret (9) | Kennerson, Mildred (1) |
| Kent, Alpa (1) | Keran, Ann (1) | Keran, Anna (1) | Keran, Anne (1) |
| Keran, George (1) | Keran, Henry (1) | Keran, Hezikiah (1) | Keran, James (2) |
| Keran, L (1) | Keran, Mary (1) | Keran, Rachel (1) | Kern, Arlie (1) |
| Kern, Eva (1) | Kern, Jane (1) | Kern, Rella (1) | Kerns, William (1) |
| Kerr, Charles (1) | Kerrick, Fannie (1) | Kerrick, Fanny (1) | Kerrick, Franklin (1) |
| Kerrick, George (1) | Kerrick, Thomas (2) | Kerser, Ann (1) | Kerser, Anna (1) |
| Kerser, Anne (1) | Kessinger, Helen (1) | Kessler, Elizabeth (1) | Kestarsen, Mary (2) |
| Kesterson, Lucinda (1) | Kesterson, Mary (1) | Ketcham, Isaac (1) | Ketner, Philis (1) |
| Ketron, Allen (1) | Kettner, Mary (1) | Keurlis, Martha (1) | Keyes, Mary (2) |
| Keys, Alberta (1) | Keys, Amanda (1) | Keys, Eliza (1) | Keys, George (2) |
| Keys, Martha (1) | Keys, Mary (2) | Keys, Thomas (1) | Kible, Olga (1) |
| Kibler, Cornelia (3) | Kidd, Fred (1) | Kidd, Sue (1) | Kidd, Susanah (3) |
| Kidd, Susanna (7) | Kierstead, Sarah (1) | Killgore, Malinda (3) | Killion, Nola (1) |
| Killough, Elizabeth (5) | Killough, Finley (1) | Killough, John (1) | Killough, Richard (1) |
| Killough, Samuel (8) | Killough, William (1) | Kilpatrick, Mary (1) | Kiltner, Dorothy (1) |
| Kimball/Kindall, Sarah (11) | Kimple, Ettie (1) | Kinbrough, Adaline (1) | Kinbrough, Adeline (1) |
| Kincaid, Pauline (1) | Kincey, Frances (1) | Kinder, Ann (1) | Kinder, Anna (12) |
| Kinder, Anne (1) | Kinder, Emma (1) | Kinder, Raymond (1) | Kindrick, William (1) |
| King, ? (1) | King, Abner (1) | King, Ann (1) | King, Anna (2) |
| King, Burl (1) | King, Burwell (1) | King, Cora (1) | King, Don (2) |
| King, Elizabeth (1) | King, Estella (2) | King, George (1) | King, Isaac (1) |
| King, Jefferson (1) | King, John (1) | King, Kirby (1) | King, Lorene (1) |
| King, Lorie (1) | King, Lydia (3) | King, Mable (1) | King, Margaret (13) |
| King, Martha (1) | King, Mary (4) | King, Minnie (1) | King, Nancy (1) |
| King, Rebecca (1) | King, Sarah (1) | King, Verna (2) | King, William (16) |
| King, Willis (1) | Kingston, Simon (2) | Kinneman, Frederick (1) | Kinner, Elizabeth (1) |
| Kinner/Farmer, Elizabeth (6) | Kinsey, Joseph (1) | Kintier, Ezra (1) | Kip, Abigail (1) |
| Kip, Jane (1) | Kip, Thomas (1) | Kiper, Minnie (1) | Kiper, Wesley (1) |
| Kirby, Mable (4) | Kirk, ? (1) | Kirk, John (1) | Kirk, Lucretia (1) |
| Kirk, Mary (1) | Kirkpatrick, Jessie (1) | Kirkpatrick, Martha (9) | Kirsch, Dorothy (1) |
| Kirstead, Edwin (1) | Kiser, Dolly (1) | Kissee, Jasper (1) | Kissee, Sara (3) |
| Kissinger, Clara (3) | Kissinger, Elizabeth (1) | Kissinger, Permelia (2) | Kissinger, Silas (1) |
| Kister, Andrew (1) | Kister, Bradley (1) | Kister, Brittany (1) | Kister, Kyle (1) |
| Kister, Ryan (1) | Kitchen, Abagail (1) | Kitchen, Abigail (1) | Kitchen, Erasmus (1) |
| Kitchen, Margaret (1) | Kitchen, Mary (1) | Kittelson, Ben (1) | Kittelson, Clair (1) |
| Kittelson, Donald (1) | Kittelson, Eric (1) | Kittelson, Kit (1) | Kittelson, Kristen (1) |
| Kittelson, Kurt (1) | Kittelson, Steve (1) | Kittelson, Stu (1) | Kleven, Mary (2) |
| Kline, Arden (1) | Kline, Kittie (1) | Klinglesmith, Emma (1) | Klink, Katherine (2) |
| Knapp, Eunice (2) | Knapp, Lewis (1) | Knapp, Lillian (4) | Knapp, Lilly (1) |
| Knapp, Moses (3) | Kneier, Charles (1) | Kneier, Lois (1) | Kneisley, Catherine (10) |
| Kneisley, Elizabeth (2) | Kneisley, John (1) | Kneisley, Mary (1) | Kneisley, Solomon (1) |
| Knife, Thomas (1) | Knight, Caroline (1) | Knight, Clarence (1) | Knight, Eileen (2) |
| Knight, Frederick (1) | Knight, Jane (1) | Knight, Lilace (2) | Knight, Thomas (1) |
| Knipe, Thomas (2) | Knott, Eliza (1) | Knott, Laura (1) | Knotts, Ann (1) |
| Knotts, Mary (1) | Knotts, Nathan (1) | Knotts, Nathaniel (1) | Knotts, Richard (3) |
| Knotts, Samuel (2) | Knowles, Katherine (1) | Knowski, Ethellynn (1) | Knowski, George (1) |
| Knowski, Jack (1) | Knox, Hannah (3) | Knox, Maria (1) | Knox, Martha (1) |
| Kocinsky, Viola (1) | Koehler, Rosa (1) | Koerner, Albert (1) | Kohde, Marie (1) |
| Kohr, Samuel (2) | Kois, Walter (1) | Kolb, Emile (2) | Kolb, Mary (1) |
| Kolencik, Corrine (1) | Kolencik, Gabriel (1) | Kolencik, Jennifer (1) | Kolencik, Neil (1) |
| Kolencik, Nicole (1) | Koonce, Josie (6) | Koons, Edith (3) | Koperdak, Alex (1) |
| Kopp, Anna (1) | Kopp, Cecil (1) | Kovach, Marge (1) | Kovach, Mary (1) |
| Koyle, Mary (1) | Kozak, Irene (1) | Kozbelt, Andrew (2) | Kozbelt, Anna (3) |
| Kozbelt, Augustine (1) | Kozbelt, Catharina (1) | Kozbelt, Catherine (1) | Kozbelt, Elizabeth (1) |
| Kozbelt, Francis (2) | Kozbelt, John (2) | Kozbelt, Joseph (2) | Kozbelt, Julia (1) |
| Kozbelt, Karen (1) | Kozbelt, Laurie (1) | Kozbelt, Lloyd (2) | Kozbelt, Maria (2) |
| Kozbelt, Mary (2) | Kozbelt, Matthew (1) | Kozbelt, Peter (1) | Kozbial, Peter (1) |
| Kozub, Irene (1) | Kozub, Joseph (1) | Kozub, Marcella (1) | Kozul, Agnes (1) |
| Kozul, Betty (1) | Kozul, Helen (1) | Kozul, John (1) | Kozul, Laura (1) |
| Kozul, Madelyn (1) | Kozul, Richard (1) | Kozul, Steven (1) | Krahenbuhl, Denzil (1) |
| Krakenberg, John (1) | Kranning, Marie (1) | Krantz, James (1) | Krantz, Kyle (1) |
| Kredatus, Catherine (1) | Kroatsback/Kroatsdack, ? (1) | Kroeson, Charity (1) | Krueger, Kami (1) |
| Kruper, Paul (1) | Kubovtsik, Andreas (1) | Kubovtsik, Anna (2) | Kubovtsik, Jacob (1) |
| Kubovtsik, Katarina (1) | Kufrin, Darlene (1) | Kuhn, Eric (1) | Kuhn, Jonathan (1) |
| Kuhn, Larry (1) | Kuhn, Nicole (1) | Kuhnen, Elizabeth (1) | Kuhnle, Charles (2) |
| Kuhnle, Mary (1) | Kunce, Hiram (1) | Kunders/Cunreds/Conrad, Anthony (1) | Kurtz, Sallie (1) |
| Kurtz, Sally (1) | L, Bobby (1) | LaBarr, Carole (1) | Labbink, Henry (1) |
| Lacey, Crystal (3) | Lacey, Edgar (1) | Lacey, Lura (1) | Lachat, Clara (1) |
| Lackey, Caleb (1) | Lackey, Kevin (1) | Ladd, Alan (1) | Ladd, Brian (1) |
| Lafferty, Burt (1) | Lafferty, James (2) | LaFollette, Latelle (1) | LaFollette, Thelma (1) |
| Lagle, William (1) | Lagle, Wm (1) | Lahman, Frederick (1) | Lair, Sarah (16) |
| Laird, Joseph (1) | Lake, Christopher (1) | Lake, Edwin (1) | Lake, Elmira (2) |
| Lake, Homer (1) | Lake, Lindsey (1) | Lakin, Amanda (1) | Lakin, Cynthia (1) |
| Lakin, James (1) | Lakin, Louise (1) | Lakin, Martha (2) | Lakin, Mary (1) |
| Lakin, Sarah (1) | Lakin, Suisa? (1) | Lakin, Thomas (1) | Lakin, William (1) |
| LaLour, Elizabeth (1) | LaLour, Maximilian (3) | LaMaster, Abraham (1) | LaMaster, Orpha (1) |
| Lamb, Clarissa (1) | Lamb, Elizabeth (1) | Lamb, Gideon (1) | Lamb, Hiram (1) |
| Lamb, John (2) | Lamb, Mary (3) | Lamb, Matilda (1) | Lambert, Arthur (1) |
| Lambert, Bobby (1) | Lambert, Darrell (1) | Lambert, Ed (1) | Lambert, Elizabeth (2) |
| Lambert, Everett (1) | Lambert, Fay (1) | Lambert, Florence (1) | Lambert, Flossie (2) |
| Lambert, Frances (1) | Lambert, Frank (1) | Lambert, George (3) | Lambert, Hester (1) |
| Lambert, Hugh (1) | Lambert, Jack (1) | Lambert, Madison (2) | Lambert, Mahala (1) |
| Lambert, Mary (1) | Lambert, Sam (2) | Lambert, Winonia/Wessoney (2) | Lamon, Isaac (1) |
| Lampton, Zorado (1) | Land, Anna (12) | Landcastle, Evelyn (3) | Lander, Minnie (1) |
| Landess, Mary (1) | Lane, Alfretta (1) | Lane, Layton (1) | Lane/Lowe, Elizabeth (4) |
| Laneaux, D (1) | Lang, Sigfried (1) | Langford, Rosalie (1) | Langley, Ken (1) |
| Langley, Sudie (1) | Langworth, F (1) | Lannen, Mary (1) | Lanning, Isaac (1) |
| Lanshe, William (1) | Lantz, Paula (1) | Larimore, G (2) | Larimore, Maria (2) |
| Lark, Charles (1) | Larner, Emma (1) | Larramore, Julia (2) | Larrimore, Maria (1) |
| Larue, Sara (1) | Larue, Todd (1) | Laskey, George (1) | Latum, Benjamine (1) |
| Laubenheim, Elmer (1) | Lavitt, Courtney (1) | Lavorse, Elmire (1) | Law, Eliza (1) |
| Law, Kinimeda (1) | Lawbaugh, John (1) | Lawell, Matilda (1) | Lawhorn, Ann (1) |
| Lawhorn, Anna (1) | Lawhorn, Anne (1) | Lawrence, M (1) | Lawrence, Sarah (13) |
| Laws, Maggie (1) | Lawsen, Mimey (1) | Lawson, Carmie (1) | Lawson, George (2) |
| Lawson, Henry (1) | Lawson, Louisa (5) | Lawson, Minnie (5) | Lawson, Rachel (1) |
| Lawson, Sarah (11) | Lawson, Vicy (1) | Lawson, Viey (1) | Lawson, William (1) |
| Lay, Amanda (2) | Lay, Elizabeth (1) | Laycock, Almon (1) | Laycock, Sallie (1) |
| Laycock, Sally (1) | Layman, Jeminah (1) | Layne, Charlene (2) | Layne, Florence (3) |
| Layne, G (3) | Layne, Maud (1) | Lazarus, Harold (1) | Lazarus, Harry (1) |
| Lazpiur, Jose (1) | Lazpiur-bengoa, Dorotea (1) | Lazpiur-bengoa, Jose (1) | Lazpiur-bengoa, Polonia (1) |
| Lazpiur-loiti, Manuel (1) | Lea, Amanda (1) | Leabo, Rachel (1) | Leach, Abraham (1) |
| Leach, Abram (1) | Leach, Eliza (2) | Leach, Elzia (1) | Leahey, Ruth (1) |
| Leapper, Rosetta (1) | Lear, James (1) | Lear, Mary (1) | Leary, Lawrence (1) |
| Leas(e), Hattie (3) | Leatherwood, James (1) | Leatherwood, William (1) | Leclerc, Felix (1) |
| LeClere, James (2) | LeClere, Sallie (1) | Ledbetter, Victor (1) | Ledford, Bertha (2) |
| Ledford, Charles (1) | Ledford, Eva (1) | Ledger, Robert (1) | Lee, ? (1) |
| Lee, Amanda (1) | Lee, Ann (6) | Lee, Anna (2) | Lee, Anne (2) |
| Lee, Bersheba (2) | Lee, Christopher (1) | Lee, Emaline (1) | Lee, Emeline (3) |
| Lee, Erin (1) | Lee, Hannah (2) | Lee, Henry (1) | Lee, Jane (1) |
| Lee, June (1) | Lee, Mary (4) | Lee, Randall (1) | Lee, Snowden (1) |
| Lee, Thomas (1) | Lefever, John (1) | Lefevre, Catherine (1) | LeFevre, Charley (1) |
| LeFevre, George (1) | LeFevre, John (2) | LeFevre, Joseph (1) | Leforce, James (2) |
| Legett, Cornelia (1) | Legg, Etta (1) | Lehman, Brenda (1) | Lehmon, Irene (1) |
| Leiber, Mary (1) | Leigh, Edward (1) | Leighton, Ella (1) | Leister, Arammenty (1) |
| Leiter, Opal (1) | LeMaster, Mary (16) | Lemmon, F (1) | Lemon, Mattie (3) |
| Lenhart, Mary (1) | Lenocker, Mary (1) | Lent, Abraham (1) | Lent, Elizabeth (1) |
| Lent, Margaret (1) | Leonard, Eliza (2) | Leonard, J (1) | Lesko, Nellie (1) |
| Lesley, Melvin (1) | Leslie, Sarah (1) | Lessly, Elizabeth (1) | Lester, ? (2) |
| Lester, Alice (1) | Lester, Arnold (1) | Lester, Dorcas (8) | Lester, Edgar (1) |
| Lester, Elizabeth (2) | Lester, Emma (1) | Lester, Felix (2) | Lester, Franklin (1) |
| Lester, Hannah (1) | Lester, Isaac (1) | Lester, Isabel (16) | Lester, Louise (11) |
| Lester, Lucinda (2) | Lester, Martha (1) | Lester, Mary (2) | Lester, Pearl (1) |
| Lester, Plesant (1) | Lester, Sarah (1) | Lester, Virginia (1) | Lester, William (2) |
| Leumley, Hanna (1) | Levi, Frances (1) | Lewellen, Delilah (1) | Lewellen, John (1) |
| Lewellen, Nancy (1) | Lewellen, Phyllis (2) | Lewis, ? (2) | Lewis, Alfred (1) |
| Lewis, Hannigan (1) | Lewis, Harvey (1) | Lewis, Joesph (1) | Lewis, Joseph (1) |
| Lewis, Laura (2) | Lewis, Lena (1) | Lewis, Lizzie (1) | Lewis, Lura (2) |
| Lewis, Marjorie (1) | Lewis, Mary (1) | Lewis, Rebecca (10) | Lewis, Uriah (1) |
| Libby, Alvah (2) | Lickens, Adam (1) | Licklider, Mary (4) | Lidyard, Johnson (1) |
| Liebanguth, Christina (1) | Lieblang, Virginia (1) | Liekins, Catherine (4) | Liew, Augustus (1) |
| Liew, Katharine (1) | Lifard, James (1) | Liford, James (1) | Liford, Nancy (19) |
| Lightsey, Ruby (1) | Likens, Jennie (1) | Likes, Gladys (1) | Liles, Maxine (3) |
| Lilley, Phebe (1) | Lilley, Phoebe (1) | Linden, Jason (1) | Linden, Jimmy (1) |
| Linden, John (1) | Linden, Joseph (1) | Linder, Abraham (1) | Linder, Rosa (1) |
| Lindsay, Ann (18) | Lindsay, Anna (2) | Lindsay, Anne (2) | Lindsay, Christina (1) |
| Lindsay, James (1) | Lindsay, L (1) | Lindsay, Robert (1) | Lindsey, ? (1) |
| Lingenfelter, Archibald (1) | Linley, Charles (1) | Linsley, Charles (1) | Linsley, Kyleg (1) |
| Linville, Elizabeth (6) | Linville, Russell (1) | Lipniskas, Linda (1) | Liscum, John (2) |
| Liscum, Martha (1) | Litteral, Harriett (3) | Litteral, Mary (1) | Litteral, Stacia (19) |
| Little, Mrs (1) | Little, Phyllis (1) | Littlefield, Bert (1) | Littlefield, Frank (1) |
| Littlefield, Fred (2) | Littlefield, Henry (1) | Littlefield, Ruben (1) | Liukham, Jane (1) |
| Lively, Jane (4) | Lively, Mary (1) | Lively, Robert (1) | Lively, William (2) |
| Livermore, Alonzo (1) | Livesay, Della (4) | Livingston, Hattie (1) | Lloyd, Ann (1) |
| Lloyd, Anna (1) | Lloyd, Anne (1) | Lloyd, Arnold (1) | Lloyd, David (1) |
| Lloyd, James (1) | Lloyd, Jonny (1) | Loar, Ida (1) | Lockard, Andrew (1) |
| Lockard, Thomas (1) | Locke, John (1) | Lockerman, Mary (14) | Lockhardt, Margaret (1) |
| Lockhart, Angeline (3) | Lockhart, Audrey (1) | Lockhart, Byrd (1) | Lockhart, Daniel (1) |
| Lockhart, Ellen (2) | Lockhart, James (1) | Lockhart, Jane (6) | Lockhart, Jerry (1) |
| Lockhart, Lawrence (1) | Lockhart, Liddie (3) | Lockhart, Nancy (1) | Lockhart, Susan (2) |
| Lockhart, Susie (1) | Lockly, Silvera (2) | Lockman, Bertha (1) | Lockman, Sarah (5) |
| Lockwood, Charles (1) | Loder, Martha (3) | Logan, Judy (1) | Logan, Nancy (1) |
| Logue, Edith (2) | Lohner, ? (4) | Lohner, Anna (14) | Lohner, Babette (2) |
| Lohner, Carl (4) | Lohner, Johann (1) | Lohner, Justus (1) | Lohner, Karl (4) |
| Lohner, Marcia (1) | Lohner, Olga (4) | Lohner, Paul (1) | Lohner, Virginia (1) |
| Lois, ? (2) | Loiti, Juana (1) | Long, Ann (1) | Long, Anna (4) |
| Long, Anne (1) | Long, Annson (1) | Long, Daniel (1) | Long, David (2) |
| Long, Delilah (2) | Long, Donna (1) | Long, Edna (1) | Long, Elizabeth (1) |
| Long, Isaac (1) | Long, John (2) | Long, Lydia (1) | Long, Mollie (1) |
| Long, Rebecca (5) | Longacre, David (1) | Longacre, Lola (1) | Longberry, Margeret (4) |
| Longenecker, Carlton (1) | Longenecker, David (5) | Longenecker, Harold (1) | Longenecker, Jesse (1) |
| Longenecker, Lewis (1) | Longenecker, Mildred (1) | Longenecker, Minerva (1) | Longenecker, Randall (1) |
| Longenecker, Salome (4) | Longenecker, Verna (1) | Longenecker, Victor (1) | Longosky, Carl (1) |
| Longosky, Katy (1) | Longosky, Sarah (1) | Longworth, Jane (1) | Longworth, Nancy (12) |
| Lookinbill, Daniel (1) | Looney, Sarah (2) | Loper, Jacob (1) | Lopez, Verna (1) |
| Lord, ? (1) | Loson, Rachel (15) | Loson/lason, Rachel (1) | Lott, Mary (2) |
| Loucks, Byron (1) | Louise, ? (1) | Louise, Nancy (1) | Louthain, Sarah (1) |
| Louthan, Hugh (1) | Louthan, James (6) | Louthan, Mary (3) | Louthr, James (1) |
| Love, Aileen (1) | Love, Cora (1) | Love, Edgar (1) | Love, James (1) |
| Love, Louiza (1) | Love, Pauline (1) | Love, Sarah (1) | Lovejoy, Nancy (2) |
| Lovelace, Ambrose (1) | Loveland, John (1) | Lovett, Becky (1) | Lovins, Laura (2) |
| Low, Andrew (5) | Low, Elizabeth (1) | Low, Esther (1) | Low, James (3) |
| Low, Lizzie (1) | Low, Lucresy (1) | Low, Lucretia (18) | Low, Samuel (1) |
| Lowe, Bobby (1) | Lowe, Brooke (1) | Lowe, Ethel (1) | Lowe, Hassel (1) |
| Lowe, Ida (1) | Lowe, Jane (1) | Lowe, John (1) | Lowe, Matilda (3) |
| Lowe, Nancy (22) | Lowe, Nina (1) | Lowe, Orrison (1) | Lowe, Parmelia (1) |
| Lowe, Ross (1) | Lowe, Samuel (1) | Lowe, Thomas (6) | Lowell, Matilda (1) |
| Lower, Hannah (3) | Lowhorn, Minta (1) | Lowry, Clara (1) | Lowry, Frank (1) |
| Lows, Margaret (1) | Loyde, Mary (1) | Lucas, Ada (3) | Lucas, Elmira (1) |
| Lucas, Harry (1) | Lucas, Thomas (1) | Lucast, Norman (1) | Luce, William (1) |
| Lucille, ? (1) | Lucky, Jane (1) | Ludlow, John (1) | Ludlum, Joseph (4) |
| Luke, Bernice (1) | Luky, Janet (1) | Luna, James (1) | Lund, Ruby (1) |
| Lundy, Benj (1) | Lundy, Benjamin (1) | Lung, Justine (14) | Luny, Dora (2) |
| Luny, Justine (1) | Lusher, Charles (3) | Lusher, Chas (1) | Lusher, Emmazetta (1) |
| Lusk, Crockett (3) | Lusk, Elizabeth (1) | Lusk, Martha (2) | Lusk, Octavia (4) |
| Lusk, Reese (1) | Luster, William (1) | Luther, Israel (3) | Luther, Mahala (7) |
| Luther, Rachel (1) | Luttrell, Margaret (8) | Lykens, Joanna (1) | Lyles, Charles (2) |
| Lyles, Samuel (1) | Lyman, Maria (1) | Lynch, Stanley (1) | Lynn, Charles (1) |
| Lyon, Abraham (1) | Lyon, Abraham* (1) | Lyon, Hyat (1) | Lyon, John (1) |
| Lyon, Mary (1) | Lyon, Pheby (1) | Lyons, Abram (3) | Lyons, Catherine (1) |
| Lyons, Charity (1) | Lyons, George (1) | Lyons, Hannah (1) | Lyons, Isabella (1) |
| Lyons, James (2) | Lyons, Mary (1) | Lyons, Sarah (1) | Lytle, Julie (1) |
| M, Clary (1) | M, Harriet (1) | Mabitt, Elizabeth (2) | Mabry, Nancy (1) |
| MacDonald, Bernard (2) | MacDonald, Eunice (1) | Macdonald, Keryn (1) | Maciver, Irene (1) |
| Mackay, Francis (1) | Mackey, Francis (1) | Mackey, Robert (2) | Mackmer, Anna (1) |
| Macko, Dorothy (1) | Macomber, Victoria (1) | Madden, Elisha (1) | Madden, Emeline (2) |
| Madden, Robert (1) | Madison, Sallie (1) | Magaw, Robert (1) | Magee, ? (1) |
| Magee, Thomas (1) | Magger, Susan (1) | Magness, Catherine (2) | Magness, Elizabeth (1) |
| Maharry, Joseph (1) | Mahon, ? (1) | Mahon, Ace (1) | Mahon, Anthony (1) |
| Mahon, Docloer (5) | Mahon, Doctor (1) | Mahon, Early (4) | Mahon, Elizabeth (2) |
| Mahon, Eunice (1) | Mahon, Frank (1) | Mahon, Harley (2) | Mahon, James (4) |
| Mahon, John (1) | Mahon, Lon (1) | Mahon, Nancy (1) | Mahon, Noah (1) |
| Mahon, Pliant (7) | Mahon, Polly (2) | Mahon, Sally (3) | Mahon, Sam (1) |
| Mahon, Sarah (4) | Mahon, Thomas (1) | Mahon, Valentine (2) | Mahon, Victoria (5) |
| Mahon, Wall (1) | Mahorn, Lena (3) | Main, Fred (1) | Main, Lemuel (1) |
| Maize, Henry (3) | Maker, John (2) | Malcolm, Alpha (2) | Malcolm, James (1) |
| Malik, Bobby (1) | Malik, Robert (1) | Mallett, Pascal (1) | Mallory, Olive (1) |
| Malone, Dorothy (1) | Malone, Rebecca (1) | Man, Joseph (1) | Mancuso, George (1) |
| Mandrake, Jefferey (1) | Mangum, Conney (6) | Mangus, Minerva (1) | Manifold, Mary (2) |
| Manir, Elijah (1) | Mann, Ann (1) | Mann, Anna (1) | Mann, Anne (1) |
| Mann, Arlen (1) | Mann, Charles (1) | Mann, Earnest (1) | Mann, John (1) |
| Mann, Mary (3) | Mannick, Clara (1) | Mannick, Rudolph (1) | Manning, Mary (1) |
| Mannings, Harold (1) | Mannings, Harry (1) | Mansfield, Delilah (5) | Mansfield, Edward (1) |
| Manwaring, Susanna (1) | Manwaring, Susannah (1) | Mapes, Adeline (1) | Maple, Enoch (1) |
| Marchbanks, Ann/Anna (2) | Marcinak, Don (1) | Marcinak, Donnie (1) | Marcinak, Margie (1) |
| Marcum, Allen (1) | Marcum, Andrew (1) | Marcum, Elizabeth (12) | Marcum, Eunice (1) |
| Marcum, Geo (1) | Marcum, George (1) | Marcum, Jacob (1) | Marcum, Jacob (14) |
| Marcum, Martha (1) | Marcum, Mary (1) | Marcum, Rebecca (1) | Marcum, Rhoda (1) |
| Marcum, Sarah (1) | Marcum, Stephen (1) | Marcum, William (1) | Margaret, ? (1) |
| Marge, ? (1) | Maria, ? (1) | Marie, ? (1) | Marie, Susan (1) |
| Marilyn, ? (1) | Maris, W (1) | Marker, Ann (1) | Marker, Anna (1) |
| Marker, Anne (1) | Markham, Catherine (1) | Markham, Clara (12) | Markham, Jacob (1) |
| Markham, Jake (1) | Markham, Jane (1) | Markin, William (1) | Marple, David (1) |
| Marple, Elizabeth (1) | Marquand, Michael (1) | Marriotti, Elaine (1) | Marsee, Katherine (1) |
| Marsh, Margaret (1) | Marsh, William (1) | Marsh, Wm (1) | Marshall, ? (1) |
| Marshall, Elizabeth (3) | Marshall, Horace (1) | Marshall, Mary (5) | Marshall, Robert (2) |
| Marshall, Sarah (1) | Martell, Theodore (1) | Marter, Sarah (1) | Martin, America (9) |
| Martin, Charlotte (1) | Martin, Effie (1) | Martin, Emily (1) | Martin, Emma (1) |
| Martin, Esther (1) | Martin, Ethel (1) | Martin, George (1) | Martin, Gladys (1) |
| Martin, Hellna (2) | Martin, Henry (1) | Martin, Howard (1) | Martin, Jacob (2) |
| Martin, James (2) | Martin, Jane (1) | Martin, John (2) | Martin, Joseph (1) |
| Martin, Karen (1) | Martin, Marion (1) | Martin, Mary (4) | Martin, Matthew (1) |
| Martin, Mattie (8) | Martin, Miriam (1) | Martin, Mollie (1) | Martin, Mrs (1) |
| Martin, Pamela (1) | Martin, Rachael (1) | Martin, Richard (1) | Martin, Rose (1) |
| Martin, Roseanna (1) | Martin, Russell (1) | Martin, Samuel (3) | Martin, Sarah (1) |
| Martindale, John (1) | Martinsen, William (1) | Marton, Marchal (1) | Marvel, Grace (1) |
| Mary, ? (2) | Masari, Mary (1) | Masden, Edward (1) | Masden, Emmaline (1) |
| Masden, Fannie (1) | Masden, Francis (1) | Masden, James (5) | Masden, John (1) |
| Masden, Jonathan (1) | Masden, Louisa (1) | Masden, Matilda (1) | Masden, Mildred (1) |
| Masden, Samuel (1) | Masden, Squire (1) | Masden, Wilson (1) | Mase, Nancy (1) |
| Mason, Elizabeth (1) | Mason, Jonas (1) | Mason, Martin (2) | Mason, Nancy (3) |
| Mason, William (1) | Massie, Eva (1) | Massy, Sallie (1) | Massy, Sally (1) |
| Masters, Hannah (1) | Masters, John (1) | Mates, John (1) | Matheny, Harriett (2) |
| Matheny, Thomas (2) | Mather, Peter (1) | Mather, Roxalena (1) | Matherson, Vera (1) |
| Mathes, Jesse (1) | Mathew, Lucretia (1) | Mathews, Rachel (1) | Mathews, Sarah (3) |
| Mathis, Cass (1) | Mathis, Cassandra (9) | Mathis, Edna (1) | Mathis, Elizabeth (3) |
| Mathis, Ephriam (1) | Mathis, Henry (3) | Mathis, Jesse (12) | Mathis, Lynch (3) |
| Mathis, Malissa (3) | Mathis, Nancy (3) | Mathis, Patsy (3) | Mathis, Ralph (3) |
| Mathis, Susanna (1) | Mathis, Susannah (3) | Matney, Leuicy (1) | Matthews, Carol (1) |
| Matthews, David (1) | Matthews, John (1) | Matthews, Kirby (1) | Matthews, Rachael (2) |
| Matthews, Sharon (1) | Matthews, Tom (1) | Mattila, Jennifer (1) | Mattila, John (1) |
| Mattix, Homer (1) | Mattix/Maddox, George (2) | Mauldin, Rebecca (2) | Mause, Samuel (1) |
| Maxwell, Frances (1) | Maxwell, Jennie (1) | May, Artie (1) | May, Basil (2) |
| May, Dave (2) | May, David (2) | May, Dixie (1) | May, Elizabeth (2) |
| May, Ellison (1) | May, Emeline (1) | May, Emily (1) | May, Jacob (1) |
| May, John (4) | May, M (1) | May, Robert (1) | May, Seana (1) |
| May, Surrilda (3) | May, Talitha (2) | Mayberg, A (1) | Mayberry, Nellie (1) |
| Mayes, Stonewall (1) | Maynard, ? (1) | Maynard, Christopher (1) | Maynard, Clifford (1) |
| Maynard, David (3) | Maynard, Edith (1) | Maynard, Elizabeth (3) | Maynard, Ira (1) |
| Maynard, J (1) | Maynard, James (1) | Maynard, Jane (3) | Maynard, Jessie (6) |
| Maynard, Jim (2) | Maynard, John (1) | Maynard, Josephine (1) | Maynard, Judith (1) |
| Maynard, Kentucky (1) | Maynard, Louise (1) | Maynard, Mary (1) | Maynard, Matilda (1) |
| Maynard, Maud (1) | Maynard, Mildred (1) | Maynard, Mintie (1) | Maynard, Nancy (17) |
| Maynard, Paul (1) | Maynard, Robison (1) | Maynard, Sallie (2) | Maynard, Sally (1) |
| Maynard, Sarah (2) | Maynard, Taylor (1) | Maynard, Virginia (1) | Maynard, William (1) |
| Mayne, Lemuel (1) | Maynor, Blackburn (1) | Maynor, Joe (1) | Maynor, Lakie (3) |
| Maynor, Mary (1) | Maynor, Ophelia (4) | Mayo, Hattie (1) | Mayo, M (1) |
| Mayse, Will (1) | Mayton, Ollie (2) | Maze, W (1) | McAlester, Florence (2) |
| McBaine, Carol (1) | Mcbee, Samuel (1) | McBride, Aliganan (1) | McBride, Ann (10) |
| Mcbride, Cora (1) | McBride, Emanuel (4) | McBride, Joseph (1) | McBride, Lientitia (1) |
| Mcbride, Mary (1) | McBride, Roscoe (1) | McBride, Sarah (1) | McBride, William (1) |
| McBride, Zinilla (1) | McCain, Mary (5) | Mccall, T (1) | McCallister, Alexander (1) |
| McCallister, Helena (1) | McCallister, John (1) | McCallister, Manoah (1) | McCallister, Martha (10) |
| McCarthy, Thursey (2) | Mccartney, Thursey (1) | McCarty, Benjamin (1) | McCarty, Florence (1) |
| Mccarty, Julia (1) | Mccauley, Lela (1) | McClaflin, Mary (1) | McClain, Basil (2) |
| McClain, Myrtle (1) | McClaren, Delores (1) | McClatchey, Eula (1) | Mcclean, Charles (1) |
| McClellan, ? (1) | Mcclellan, Edith (1) | McClelland, Laura (1) | Mcclintick, William (1) |
| McCloud, John (1) | McClure, Caroline (3) | McColley, Thomas (1) | McComas, Ac (1) |
| McComas, Addison (1) | McComas, Andrew (1) | McComas, Benjamin (1) | McComas, Catherine (4) |
| McComas, Charles (3) | McComas, Christiana (2) | McComas, David (5) | McComas, Elisha (3) |
| McComas, Elizabeth (1) | McComas, Embuson (1) | McComas, George (1) | McComas, Hiram (1) |
| McComas, Irene (1) | McComas, Isaac (2) | McComas, James (1) | McComas, Jeff (1) |
| McComas, Jesse (1) | McComas, John (14) | McComas, Mary (12) | McComas, Matthew (1) |
| McComas, Minnie (1) | McComas, Moses (1) | McComas, Nancy (12) | McComas, Rufus (1) |
| McComas, Sarah (1) | McComas, Stephen (1) | McComas, Thomas (1) | McComas, William (5) |
| McComas, Ww (1) | McCombs, Virginia (1) | Mccommas, John (1) | McCorkle, Sarah (1) |
| McCormack, James (1) | McCoy, ? (6) | McCoy, Adelaide (1) | McCoy, Adison (1) |
| McCoy, Alafair (1) | McCoy, Albert (3) | McCoy, Alex (1) | McCoy, Allen (1) |
| McCoy, Allifair (1) | McCoy, Amanda (3) | McCoy, America (1) | McCoy, Andrew (4) |
| McCoy, Annie (9) | McCoy, Arch (1) | McCoy, Archibald (1) | McCoy, Asa (13) |
| McCoy, Benjamin (3) | McCoy, Bertha (1) | McCoy, Bette (1) | Mccoy, Biddie (1) |
| Mccoy, Boyd (1) | McCoy, Calvin (2) | Mccoy, Carson (1) | McCoy, Celista (1) |
| McCoy, Charles (1) | McCoy, Clifford (1) | McCoy, Cora (3) | McCoy, Cordella (1) |
| McCoy, Daisy (1) | McCoy, Daniel (3) | McCoy, Daryl (1) | McCoy, Delia (1) |
| McCoy, Dewey (1) | McCoy, Dixie (1) | Mccoy, Dollie (2) | McCoy, Dolly (1) |
| McCoy, Dulbey? (1) | McCoy, Easter (1) | McCoy, Eleanor (3) | McCoy, Elizabeth (22) |
| McCoy, Ellen (5) | McCoy, Ellenor (1) | McCoy, Elliott (1) | McCoy, Emily (1) |
| McCoy, Emma (2) | Mccoy, Ewel (1) | McCoy, Ewell (2) | McCoy, Ezekiel (1) |
| McCoy, Fanny (1) | McCoy, Floyd (3) | McCoy, Francis (3) | McCoy, Frank (1) |
| McCoy, Frankie (1) | McCoy, George (7) | McCoy, Harriett (1) | McCoy, Harrison (1) |
| Mccoy, Hatcher (1) | McCoy, Hiram (1) | McCoy, Hobert (1) | Mccoy, Iager (1) |
| McCoy, Ida (1) | McCoy, Inez (1) | McCoy, Jacob (1) | McCoy, Jake (2) |
| McCoy, James (6) | McCoy, Jane (2) | McCoy, Jasper (1) | McCoy, Jesse (1) |
| McCoy, Jim (1) | McCoy, John (31) | McCoy, Joseph (5) | McCoy, Josephine (1) |
| McCoy, Julia (1) | Mccoy, Kelsey (1) | Mccoy, Kirk (1) | Mccoy, L (1) |
| McCoy, Lark (1) | McCoy, Larkin (1) | Mccoy, Lea (1) | McCoy, Leander (1) |
| McCoy, Leonadis (2) | McCoy, Levicy (1) | McCoy, Lewis (1) | McCoy, Lilburn (1) |
| McCoy, Linsey (1) | McCoy, Lorenzo (1) | McCoy, Louis (1) | McCoy, Louisa (6) |
| McCoy, Louvicey (1) | McCoy, Lucinda (2) | McCoy, Lucy (1) | Mccoy, Lydia (1) |
| Mccoy, Lyle (1) | McCoy, M (1) | McCoy, Mabel (1) | McCoy, Malinda (1) |
| McCoy, Margaret (2) | McCoy, Martha (1) | McCoy, Martin (3) | McCoy, Mary (20) |
| McCoy, Matilda (1) | McCoy, Melvin (1) | McCoy, Millie (1) | McCoy, Minnesota (1) |
| McCoy, Missouri (1) | McCoy, Murphey (1) | Mccoy, Myrta (1) | McCoy, Myrtle (1) |
| McCoy, Nancy (49) | McCoy, Nannie (1) | Mccoy, Napoleon (2) | McCoy, Nathaniel (1) |
| McCoy, Nicholas (1) | McCoy, Octavia (6) | McCoy, Ollie (3) | McCoy, Opal (1) |
| Mccoy, Otway (1) | McCoy, Paris (1) | McCoy, Parlee (8) | McCoy, Paul (1) |
| McCoy, Perlina (1) | McCoy, Phamer (1) | McCoy, Pharmer (1) | McCoy, Phoebe (2) |
| McCoy, Polly (2) | McCoy, Pyrris (1) | McCoy, Randolph (4) | McCoy, Randolph/Randall (2) |
| McCoy, Rebecca (1) | McCoy, Rhoda (2) | McCoy, Richard (2) | McCoy, Robert (3) |
| McCoy, Rose (2) | McCoy, Roseanna (4) | McCoy, Rosette (1) | McCoy, Ross (1) |
| McCoy, Rubin (1) | McCoy, Ruth (1) | McCoy, Sam (3) | McCoy, Samuel (4) |
| McCoy, Sarah (10) | McCoy, Selkirk (2) | Mccoy, Solomon (1) | McCoy, Sterling (1) |
| McCoy, Sue (1) | McCoy, Surrelda (1) | McCoy, Surrilda (1) | McCoy, Tennessee (1) |
| McCoy, Thomas (3) | McCoy, Tolbert (1) | Mccoy, Trimble (1) | McCoy, Turner (1) |
| McCoy, Twinville (1) | McCoy, Ulissis (1) | McCoy, Ulysses (1) | McCoy, Uriah (5) |
| McCoy, Vandora (1) | McCoy, Vicy (1) | McCoy, Walter (1) | McCoy, Wayne (2) |
| McCoy, Wilburn (1) | McCoy, William (25) | McCoy, Willie (1) | McCoy, Woodrow (1) |
| McCoy/Hatfield, Sarah (1) | Mccracken, F (1) | Mccracken, John (1) | McCrady, Beulah (1) |
| McCraney, John (1) | McCraney, John (1) | Mccrary, Sarah (1) | McCray, Albert (2) |
| McCray, Annetta (2) | McCray, Edward (2) | McCray, Franklin (3) | McCray, George (1) |
| Mccray, Perry (1) | McCray, Robert (3) | McCray, Sarah (12) | McCray, Thomas (1) |
| McCray, Van (13) | McCray, Walter (2) | McCulla, Amy (1) | McCulla, Anna (1) |
| McCulla, Diana (1) | McCulla, Dolores (1) | McCulla, Francis (1) | McCulla, George (2) |
| McCulla, James (1) | McCulla, Jessica (1) | McCulla, Michelle (1) | McCulla, Regina (1) |
| McCulla, Roberta (1) | McCulla, Sandra (1) | McCullough, Anna (6) | Mccurdy, Maria (1) |
| McCutcheon, Ida (2) | Mccutcheon, John (1) | Mccutcheon, Phoebe (1) | Mcdaniel, Jane (1) |
| McDaniel, Mary (3) | Mcdaniel, Nathan (1) | Mcdaniel, Nathaniel (1) | Mcdannel, Maria (1) |
| Mcdivit, Susan (1) | McDonald, Alexander (8) | McDonald, Amelia (2) | McDonald, Andromica (1) |
| McDonald, Clarence (1) | Mcdonald, Eliz (2) | Mcdonald, Elizabeth (1) | McDonald, G (2) |
| Mcdonald, George (1) | Mcdonald, Harlen (1) | McDonald, Harrison (1) | McDonald, Henry (1) |
| McDonald, Isabel (6) | McDonald, Joel (2) | McDonald, Julian (1) | McDonald, Lena (1) |
| McDonald, Lewis (1) | Mcdonald, Lilly (1) | Mcdonald, Maria (1) | McDonald, Martha (1) |
| McDonald, Marvin (1) | McDonald, Mary (3) | McDonald, Parabia (1) | Mcdonald, Sam (1) |
| McDonald, Samuel (2) | Mcdonald, Susan (1) | McDonald, Thomas (2) | McDonald, Virginia (5) |
| Mcdonough, Annie (1) | Mcdowell, Sarah (1) | Mcevoy, Malack (1) | Mcgachey, ? (1) |
| Mcgath, May (1) | McGee, ? (1) | McGee, Jane (2) | McGhee, Jane (1) |
| Mcgill, James (4) | McGill, Kathleen (2) | Mcgill, Lucy (3) | McGill, Roy (1) |
| McGill, Thomas (2) | McGinley, Walter (2) | McGinnis, Albert (1) | McGinnis, Alvin (1) |
| McGinnis, Charles (1) | McGinnis, Florence (1) | McGinnis, James (1) | McGinnis, John (1) |
| Mcginnis, Mary (1) | McGinnis, Sanford (9) | McGinnis, Sarah (7) | Mcgowan, Mary (1) |
| Mcgowan, William (1) | Mcgown, Mary (1) | McGraw, Emaline (7) | Mcgrew, Ivy (1) |
| McGuffey, America (1) | McGuffey, Andrew (1) | McGuffey, Arthur (1) | McGuffey, Barbara (1) |
| McGuffey, Eliza (1) | McGuffey, Harriett (1) | McGuffey, James (14) | McGuffey, Jesse (1) |
| McGuffey, John (1) | McGuffey, Laura (1) | McGuffey, Martha (1) | McGuffey, Mary (1) |
| McGuffey, Sarah (1) | McGuffey, Susan (12) | Mcguines, Sandford (1) | Mcguire, William (1) |
| Mchale, Rebecca (1) | Mcharyne, Madison (1) | McHenry, Blanche (4) | McHenry, Everett (1) |
| McHenry, James (1) | McHenry, Martha (1) | McHenry, Merrill (1) | McHenry, Perry (1) |
| McHenry, Richard (1) | McHenry, Samuel (1) | McHenry, Sarah (2) | McHugh, Ruth (10) |
| Mcintier, Ezra (1) | Mcintire, John (1) | McIntyre, ? (1) | Mcintyre, Lizzie (1) |
| Mcjonan, M (1) | McKain, Era (3) | Mckasson, Frederick (1) | McKean, Mary (4) |
| Mckeand, Eliza (1) | McKee, ? (1) | McKee, Abraham (2) | Mckee, Alex (1) |
| Mckee, Alexander (1) | McKee, Betty (1) | McKee, Josephine (1) | McKee, Lucille (1) |
| McKee, Madge (1) | McKee, Paul (1) | Mckee, Thomas (1) | McKee, Virginia (3) |
| McKeen, Grace (1) | McKeever, Jeff (1) | McKeever, Robbie (1) | McKeever, Robert (1) |
| McKeever, Todd (1) | McKendree, George (1) | McKendree, Mary (1) | Mckie, Sarah (1) |
| Mckie, Thomas (3) | McKinley, Ann (1) | McKinley, Buck (1) | McKinley, Clarence (1) |
| McKinley, Mark (1) | McKinley, Steven (1) | McKinney, Alexander (1) | Mckinney, Ann (3) |
| Mckinney, Anna (3) | McKinney, Anne (25) | McKinney, Eva (1) | McKinney, John (3) |
| McKinney, Lillie (1) | McKinney, Marjorie (1) | Mckinney, Martha (1) | McKinney, Oscar (1) |
| McKinney, Roscoe (1) | McKinney, Rosetta (1) | Mcknab, Fannie (1) | Mcknab, Fanny (1) |
| Mcknit, James (1) | Mcknitt, James (1) | McKula, Emil (1) | McKula, Eugene (1) |
| McLallen, Ruth (9) | McLamb, Hattie (1) | McLane, Charles (1) | Mclane, Edmund (1) |
| McLane, Kathlyn (1) | Mclellan, Annie (1) | Mclellan, Marion (1) | Mcleod, Neil (1) |
| Mcmahan, John (2) | McMahon, Angeline (9) | McMahon, Joe (1) | Mcmellen, Caroline (1) |
| Mcmillen, Caroline (1) | McMillen, David (1) | McMillen, Ester (1) | McMin, Mary (1) |
| McMinn, Jessie (1) | Mcmullen, Hattie (1) | Mcmullen, James (2) | Mcmullin, J (1) |
| McNally, John (1) | Mcnarey, Samuel (1) | McNaughton, Theodocia (1) | McNeeley, Bertha (1) |
| Mcneil, Nancy (1) | McNew, Jermery (1) | McNew, Joel (1) | McNew, Joni (1) |
| McNicol, John (2) | Mcparland, Patrick (1) | Mcphail, Laura (1) | McPheters, Elizabeth (4) |
| Mcreel, Jese (1) | McReynolds, Caroline (8) | Mcwilliams, Harriet (1) | Mead, James (1) |
| Mead, Jemima (1) | Mead, Lewis (3) | Mead, Louis (1) | Meadaugh, Isabel (1) |
| Meadows, Anne (1) | Meadows, Edith (1) | Meadows, Hannah (1) | Meadows, Jacob (1) |
| Meadows, James (1) | Meadows, John (2) | Meadows, Miss (1) | Meadows, Sarah (1) |
| Meadows, Susan (1) | Meadows, Ulysses (1) | Meadows, Vincent (1) | Means, Polly (2) |
| Meddaugh, Gard (1) | Meddaugh, Oscar (1) | Medoiese, Claudine (1) | Meek, Belle (1) |
| Meeks, Emma (1) | Mehlhorn, Lena (1) | Meining, Charles (1) | Melancon, Ernest (1) |
| Mellinger, David (5) | Mellinger, Lydia (2) | Mellyn, Maria (1) | Meloy, Augusta (1) |
| Meloy, Eunice (1) | Meloy, Jane (2) | Meloy, John (1) | Meloy, Joseph (1) |
| Meloy, Lewis (1) | Meloy, Mary (1) | Meloy, Minor (1) | Meloy, Phoebe (1) |
| Meloy, Rezin (2) | Meloy, Sarah (1) | Melton, Evelina (2) | Melton, James (4) |
| Melton, Mary (1) | Melyn, Abraham (1) | Melyn, Cornelia (2) | Melyn, Cornelis (2) |
| Melyn, Isaac (1) | Melyn, Isaack (1) | Melyn, Jacob (1) | Melyn, Janneken (1) |
| Melyn, Joannes (1) | Melyn, Magdalen (1) | Melyn, Mariken (1) | Melyn, Mariken/Maria (1) |
| Melyn, Marikin (8) | Melyn, Susanna (1) | Melyn, Susannah (1) | Menary, Elizabeth (3) |
| Mendenhall, Sarah (1) | Mendenhall, William (1) | Mendivil, Rufino (1) | Mendivil-igartua, Luis (1) |
| Mendoza, Dawn (1) | Menod, Marie (1) | Mercer, Augustus (1) | Mercer, Richard (1) |
| Mercer, Sarah (1) | Mercur, Denise (1) | Mercur, Henry (1) | Mercur, James (2) |
| Mercur, John (1) | Mercur, Marietta (1) | Mercur, Mary (1) | Mercur, Rodney (2) |
| Mercur, Sarah (2) | Mercur, Ulysses (2) | Meredith, Elizabeth (4) | Meredith, James (1) |
| Meredith, Syrena (9) | Meredith, Wiliam (1) | Merrill, Benjamin (1) | Merriman, Jane (2) |
| Merritt, Brown (1) | Merritt, Hannah (4) | Merritt, Thomas (2) | Merryfield, Frederick (1) |
| Merryman, Mr (1) | Merton, Mary (1) | Meter, Daniel (1) | Methvin, Cornelia (1) |
| Meyer, Emma (1) | Meyers, Carl (1) | Meyers, Emeline (1) | Meyers, Marlyn (1) |
| Meyers, Sarah (2) | Michael, ? (2) | Michael, Almeda (1) | Michael, Elizabeth (2) |
| Michael, Robert (1) | Michael, Robt (1) | Michael, Susan (1) | Michael, William (1) |
| Michel, Benjamin (1) | Michel, Charles (1) | Michel, George (1) | Michel, John (1) |
| Michel, Lillian (1) | Michel, Lucinda (8) | Michel, William (10) | Midby, ? (1) |
| Middaugh, Isabel (4) | Middleswart, Matilda (2) | Middleton, Elizabeth (3) | Middleton, Jane (1) |
| Middleton, John (2) | Middleton, Lettia/Letta (1) | Middleton, Lettise (4) | Middleton, Martha (1) |
| Middleton, Mary (1) | Middleton, Sarah (1) | Middleton, Thomas (1) | Middleton, William (1) |
| Miers, W (1) | Miesen, Cora (1) | Miesen, Delbert (1) | Miesen, Elma (1) |
| Miesen, Harriet (6) | Miesen, Jennie (1) | Miesen, Joseph (8) | Miesen, Lula (1) |
| Mifflin, Jane (1) | Mihm, Darcey (1) | Mihm, Jennifer (1) | Mihm, John (2) |
| Mikel, Mary (3) | Mikula, Andrew (3) | Mikula, Ann (2) | Mikula, Anna (2) |
| Mikula, Antonia (1) | Mikula, Barbara (1) | Mikula, Brandon (1) | Mikula, Catherine (1) |
| Mikula, Cheryl (1) | Mikula, Christine (1) | Mikula, Cyril (1) | Mikula, Daniel (1) |
| Mikula, David (1) | Mikula, Dolores (2) | Mikula, Don (1) | Mikula, Dorothy (2) |
| Mikula, Edward (1) | Mikula, Edwina (1) | Mikula, Emil (1) | Mikula, Frances (1) |
| Mikula, Francis (2) | Mikula, George (3) | Mikula, Gilbert (1) | Mikula, Helen (1) |
| Mikula, Irene (1) | Mikula, Irma (2) | Mikula, Jack (1) | Mikula, Jacqueline (1) |
| Mikula, John (6) | Mikula, Joseph (2) | Mikula, Judy (1) | Mikula, Julia (2) |
| Mikula, Katarina (1) | Mikula, Kathy (2) | Mikula, Kim (1) | Mikula, Laura (1) |
| Mikula, Lorraine (1) | Mikula, Louise (1) | Mikula, Margaret (1) | Mikula, Mary (4) |
| Mikula, Maryann (1) | Mikula, Nancy (1) | Mikula, Nicholas (1) | Mikula, Patricia (1) |
| Mikula, Paul (1) | Mikula, Phyllis (1) | Mikula, Richard (4) | Mikula, Rita (1) |
| Mikula, Robert (1) | Mikula, Sara (1) | Mikula, Stephen (3) | Mikula, Steven (1) |
| Mikula, Terri (1) | Mikula, Thomas (3) | Mikula, Timothy (1) | Mikula, Veronica (3) |
| Milan, William (1) | Miles, Ellen (1) | Miles, Esther (1) | Miles, Hester (1) |
| Miles, Mary (1) | Miles, William (2) | Millar, Eliza (1) | Millard, J (1) |
| Millard, Virginia (5) | Miller, ? (1) | Miller, A (1) | Miller, Aaron (2) |
| Miller, Abraham (1) | Miller, Ada (10) | Miller, Alta (1) | Miller, Amdrew (1) |
| Miller, Andrew (1) | Miller, Anna (1) | Miller, Barbara (1) | Miller, Benjamin (2) |
| Miller, Betty (1) | Miller, Caroline (2) | Miller, Charles (1) | Miller, Claude (1) |
| Miller, Crawford (2) | Miller, David (5) | Miller, Elisabeth (2) | Miller, Eliza (5) |
| Miller, Elizabeth (20) | Miller, Ella (2) | Miller, Everett (1) | Miller, Frances (1) |
| Miller, Frederick (2) | Miller, George (3) | Miller, Georgia (1) | Miller, Gert (3) |
| Miller, H (3) | Miller, Hannah (11) | Miller, Harriet (1) | Miller, Henry (3) |
| Miller, Herman (1) | Miller, Hezekiah (1) | Miller, Isaac (1) | Miller, Isaiah (1) |
| Miller, James (9) | Miller, Jennie (1) | Miller, Jenny (1) | Miller, Job (1) |
| Miller, John (6) | Miller, Josephine (1) | Miller, Lavina (1) | Miller, Liddy (1) |
| Miller, Lucinda (3) | Miller, Lundie (1) | Miller, Martha (1) | Miller, Mary (18) |
| Miller, Matilda (1) | Miller, Minerva (1) | Miller, Mintie (2) | Miller, Octavia (1) |
| Miller, Paul (1) | Miller, Ray (1) | Miller, Richard (4) | Miller, Robert (9) |
| Miller, Sallie (1) | Miller, Sally (1) | Miller, Sarah (7) | Miller, Silvary (1) |
| Miller, Susan (2) | Miller, Susannah (12) | Miller, Terri (1) | Miller, Thomas (1) |
| Miller, Wiley (1) | Miller, William (6) | Milligan, Sarah (1) | Milliken, Mary (2) |
| Millinger, David (1) | Mills, Ada (8) | Mills, Bud (1) | Mills, Burt (1) |
| Mills, Caroline (2) | Mills, Fred (1) | Mills, G (1) | Mills, George (2) |
| Mills, Nettie (1) | Mills, Sarah (1) | Mills, Simon (1) | Millspaugh, William (1) |
| Milon, Albert (1) | Milon, Jack (1) | Milon, Lessie (1) | Milon, Nettie (1) |
| Miltenberger, Harry (1) | Miltenberger, Paul (1) | Miltenberger, Tracy (1) | Minejar(?), William (1) |
| Miner, Cyrus (1) | Mings, Nancy (2) | Minick, Minnie (1) | Minix, Elizabeth (2) |
| Mink, Andrew (1) | Mink, Avaline (1) | Mink, John (1) | Mink, Peter (6) |
| Mink, Rachael (5) | Mink, Robert (1) | Mink, Stephen (1) | Minnick, Mary (2) |
| Minor, Milton (2) | Minton, Catharine (1) | Minton, Catherine (1) | Minton, Rachel (2) |
| Minton, Rebecca (1) | Minton/Mintun/Minthorn, John (1) | Mintun, ? (1) | Mires, Emlia (1) |
| Mitchel, Mark (1) | Mitchel, William (1) | Mitchell, Andrew (1) | Mitchell, Brady (3) |
| Mitchell, Bridget (10) | Mitchell, David (1) | Mitchell, Dora (2) | Mitchell, Edgell (2) |
| Mitchell, Edgil (1) | Mitchell, Ella (1) | Mitchell, Elliot (1) | Mitchell, Emma (1) |
| Mitchell, Fannie (3) | Mitchell, Fanny (8) | Mitchell, Fulton (1) | Mitchell, Haven (1) |
| Mitchell, Henry (19) | Mitchell, Lucien (1) | Mitchell, Mamie (1) | Mitchell, Mark (1) |
| Mitchell, Mary (2) | Mitchell, Nan (1) | Mitchell, Sarah (3) | Mitchell, Seva (2) |
| Mitchell, Thomas (1) | Mitchell, William (1) | Mius, Marie (1) | Mize, R (1) |
| Mizer, Benjamin (1) | Mizner, Elizabeth (1) | Mizner, Nicholas (1) | Moad, Annie (1) |
| Moad, Buren (1) | Moad, Charles (1) | Moad, Chas (1) | Moad, Dennis (1) |
| Moad, Edward (1) | Moad, Florence (1) | Moad, Margaret (1) | Moad, William (1) |
| Moad, Wm (1) | Moats, Ruth (1) | Mock, Orlando (1) | Mode, James (1) |
| Mode, William (1) | Modglin, Roy (1) | Modglin, Terry (1) | Moffett, Jennie (1) |
| Moffett, Sarah (1) | Moffitt, William (1) | Mogle, Heather (1) | Mohn, Esther (2) |
| Molden, Edward (3) | Molden, Eliza (3) | Molden, Elizabeth (5) | Molden, Lindy (3) |
| Molden, Margret (3) | Molden, Shaderick (9) | Molden, Shedric (1) | Molden, William (3) |
| Moles, Josiah (2) | Moles, Margaret (1) | Monaghan, Billy (1) | Monaghan, Colleen (1) |
| Monaghan, Connie (1) | Monaghan, Davie (1) | Monaghan, Denise (1) | Monaghan, Ed (1) |
| Monaghan, Edward (1) | Monaghan, Elizabeth (1) | Monaghan, Francis (1) | Monaghan, Gary (1) |
| Monaghan, Irene (1) | Monaghan, James (1) | Monaghan, Jane (1) | Monaghan, Jimmy (2) |
| Monaghan, John (1) | Monaghan, Kathy (1) | Monaghan, Lori (1) | Monaghan, Matthew (1) |
| Monaghan, Melanie (1) | Monaghan, Michelle (1) | Monaghan, Nanette (1) | Monaghan, Patty (1) |
| Monaghan, Peggy (1) | Monaghan, Pj (1) | Monaghan, Richard (1) | Monaghan, Robert (2) |
| Monaghan, Sandra (1) | Monaghan, Ted (1) | Monaghan, William (1) | Mondello, Alfred (1) |
| Mondello, Danielle (1) | Mondloch, Anthony (1) | Mondloch, Cheryl (1) | Mondloch, Donald (1) |
| Mondloch, Michael (1) | Mondon, Benjamin (1) | Mongomery, Sarah (1) | Monk, Abner (1) |
| Monk, Jesse (1) | Monk, John (9) | Monk, Mary (1) | Monk, Moses (1) |
| Monk, Rosannah (1) | Monk, Sarah (6) | Monroe, Almyra (1) | Monroe, Elizabeth (11) |
| Monroe, Enoch (4) | Monroe, Mary (1) | Monske, Art (1) | Montcross, Enos (1) |
| Monteith, Ralph (1) | Montgomery, Robert (1) | Moody, Edward (1) | Moody, James (1) |
| Moon, ? (1) | Moore, Alf (1) | Moore, Arthur (1) | Moore, Barbara (1) |
| Moore, Charles (1) | Moore, Cynthia (1) | Moore, Dorcas (10) | Moore, Elizabeth (9) |
| Moore, Emma (1) | Moore, Ephraim (1) | Moore, Harriet (14) | Moore, Harvey (1) |
| Moore, Hattie (1) | Moore, James (17) | Moore, Jane (1) | Moore, Jasper (1) |
| Moore, Jeremiah (1) | Moore, John (2) | Moore, Johnnie (1) | Moore, Kristy (1) |
| Moore, Laura (1) | Moore, Lesta (1) | Moore, Lydia (1) | Moore, Margaret (1) |
| Moore, Mary (4) | Moore, Nancy (2) | Moore, Neva (1) | Moore, Oscar (1) |
| Moore, Patrick (1) | Moore, Polly (1) | Moore, Sarah (1) | Moore, Sophronia (2) |
| Moore, William (1) | Moorefield, D (1) | Mootz, Elizabeth (1) | Moran, Shirley (2) |
| Moranda, Bertha (1) | More, Elihu (1) | More, Theodore (1) | Moreen, Linda (1) |
| Moreland, Nancy (2) | Morgan, Anna (19) | Morgan, Carrie (2) | Morgan, Charley (2) |
| Morgan, Eli (1) | Morgan, Eliza (2) | Morgan, Emaline (6) | Morgan, Eva (2) |
| Morgan, Frank (1) | Morgan, George (1) | Morgan, J (2) | Morgan, James (6) |
| Morgan, Jim (3) | Morgan, Julia (1) | Morgan, Juliette (4) | Morgan, L (1) |
| Morgan, Lettie (1) | Morgan, Lewis (3) | Morgan, Louis (1) | Morgan, Maggie (1) |
| Morgan, Mal (1) | Morgan, Martha (2) | Morgan, Marthie (1) | Morgan, Mary (1) |
| Morgan, Sallie (2) | Morgan, Sally (2) | Morgan, Samuel (2) | Morgan, Sarah (18) |
| Morgan, Shelby (1) | Morgan, Sherman (2) | Morgan, Susan (14) | Morgan, Tollison (1) |
| Morgan, Victoria (2) | Morgan, Willie (1) | Morray, Elen (1) | Morray, Francis (1) |
| Morray, Pryscilla (1) | Morrell, Eliza (1) | Morris, ? (1) | Morris, Alma (3) |
| Morris, Carrie (1) | Morris, Charlotte (1) | Morris, Diadema (2) | Morris, Elisha (1) |
| Morris, Emily (1) | Morris, Estelle (1) | Morris, Eva (2) | Morris, Frederick (1) |
| Morris, Hannah (1) | Morris, Hardin (1) | Morris, James (1) | Morris, Jane (9) |
| Morris, Jesse (1) | Morris, Joel (4) | Morris, John (12) | Morris, Mary (2) |
| Morris, Melda (1) | Morris, Mickey (1) | Morris, Minta (1) | Morris, Minta (6) |
| Morris, Orvil (2) | Morris, Rebecca (4) | Morris, Sadie (1) | Morris, Sarah (7) |
| Morris, Silvania (1) | Morris, Sylvania (3) | Morris, William (1) | Morrison, Bert (3) |
| Morrison, Carl (1) | Morrison, Dorothy (1) | Morrison, Elzie (1) | Morrison, Ethel (1) |
| Morrison, Eve (10) | Morrison, Flossie (1) | Morrison, George (13) | Morrison, Icey (1) |
| Morrison, James (3) | Morrison, Lloyd (1) | Morrison, Luther (1) | Morrison, Margaret (2) |
| Morrison, Nancy (1) | Morrison, Nathan (1) | Morrison, Nathaniel (2) | Morrison, Nerva (1) |
| Morrison, Preston (3) | Morrison, Retta (1) | Morrison, Teddy (1) | Morrison, Verrell (1) |
| Morrisson, Indianna (1) | Morse, Elizabeth (2) | Morse, Fred (1) | Morse, Harvey (1) |
| Morse, Isaac (5) | Morse, Naomi (1) | Morse, Will (1) | Morton, ? (1) |
| Morton, Bryan (1) | Morton, Brynna (1) | Morton, Casie (1) | Morton, Charlotte (3) |
| Morton, Edyth (1) | Mosby, Dora (1) | Moses, Gertrude (1) | Moses, Mary (3) |
| Moses, Melton (1) | Moses, Milton (1) | Mosier, Goldie (1) | Mosley, Amanda (5) |
| Moss, Queen (1) | Mossbarger, Nancy (6) | Motgomery, Sandra (1) | Motley, Addie (1) |
| Mottweiler, Geo (1) | Mottweiler, George (1) | Mounts, Alice (1) | Mounts, Anderson (3) |
| Mounts, Anna (1) | Mounts, Buelah (1) | Mounts, Carl (2) | Mounts, Chloe (4) |
| Mounts, Clarence (1) | Mounts, Daniel (8) | Mounts, David (3) | Mounts, Dick (1) |
| Mounts, Dixie (4) | Mounts, Eda (1) | Mounts, Edna (1) | Mounts, Edward (1) |
| Mounts, Ellison (3) | Mounts, Ephraim (1) | Mounts, Fred (1) | Mounts, French (1) |
| Mounts, George (1) | Mounts, Harriet (6) | Mounts, Jackson (1) | Mounts, James (1) |
| Mounts, Jerry (1) | Mounts, John (2) | Mounts, Lillie (2) | Mounts, Lucille (1) |
| Mounts, Mandy (1) | Mounts, Margaret (2) | Mounts, Martha (1) | Mounts, Mary (1) |
| Mounts, Moses (3) | Mounts, Nancy (2) | Mounts, Octavia (2) | Mounts, Rachel (17) |
| Mounts, Robert (1) | Mounts, Roland (1) | Mounts, Sally (1) | Mounts, Sarah (4) |
| Mounts, Vicey (1) | Mounts, Vicie (2) | Mounts, William (2) | Mounts, Zelpha (1) |
| Moyer, Ethel (1) | Moyer, George (1) | Moyer, Mary (9) | Moyer, Rebecca (1) |
| Mraz, Andrew (2) | Mraz, Charles (1) | Mraz, Frank (1) | Mraz, Helen (1) |
| Mraz, Irene (1) | Mraz, Jack (1) | Mraz, Mary (1) | Mraz, Veronica (1) |
| Muise, Fleming (1) | Muise, James (1) | Muise, John (1) | Muise, Nancy (1) |
| Muise, Raleigh (1) | Mulinis, Thomas (1) | Mull, Mary (1) | Mullans, Vira (1) |
| Mullenix, Cora (3) | Mullenix, Rebecca (2) | Mullens, Belle (2) | Mullens, Charles (2) |
| Mullens, Nancy (1) | Mullens, Violet (2) | Mullican, John (1) | Mullikin, William (2) |
| Mullins, Cora (1) | Mullins, James (1) | Mullins, Louisa (1) | Mullins, We (1) |
| Muncy, Mary (3) | Mundell, Rebecca (2) | Munier, Addie (1) | Munier, August (2) |
| Munley, Emmett (2) | Munrode, Moses (2) | Munroe, Elizabeth (1) | Munroe, Emily (1) |
| Munroe, Joseph (1) | Munsell, Ella (1) | Munsell, Leonard (1) | Munsell, William (3) |
| Munsey, Elizabeth (1) | Munson, Charles (1) | Mure, Comfort (1) | Murphy, Amanda (8) |
| Murphy, Andy (1) | Murphy, Caldonia (1) | Murphy, Eliza (1) | Murphy, Elizabeth (2) |
| Murphy, J (2) | Murphy, John (2) | Murphy, Joseph (3) | Murphy, Major (1) |
| Murphy, Martha (10) | Murphy, Mary (3) | Murphy, Missouri (1) | Murphy, Mont (2) |
| Murphy, Nancy (1) | Murphy, Rachael (1) | Murphy, Vicie (1) | Murray, Catharine (1) |
| Murray, Charles (1) | Murray, Daniel (1) | Murray, Edward (1) | Murray, Eke (1) |
| Murray, J (1) | Murray, John (2) | Murray, Martha (1) | Murray, Mary (1) |
| Murray, Mollie (2) | Murray, Mort (1) | Murray, Picy (1) | Murray, Sarah (1) |
| Murray, Shawn (1) | Murray, Thomas (1) | Murray, Tom (1) | Murrell, Louise (1) |
| Murrill, William (1) | Murry, Charles (1) | Murten, ? (1) | Mury, Pricey (1) |
| Musick, Abraham (2) | Musick, Ann (1) | Musick, Anna (1) | Musick, Anne (8) |
| Musick, Celia (1) | Musick, David (1) | Musick, Elexious (2) | Musick, Elexius (1) |
| Musick, Elijah (1) | Musick, Emily (1) | Musick, Granville (1) | Musick, Jane (1) |
| Musick, Lydia (15) | Musick, Mary (6) | Musick, Nancy (1) | Musick, Noah (1) |
| Musick, Phoebe (4) | Musick, Rebecca (1) | Musick, Samuel (1) | Musselman, Jacob (1) |
| Musselman, John (1) | Musselman, Mary (2) | Musser, Bernyce (1) | Myers, Elizabeth (1) |
| Myers, Ella (5) | Myers, Emeline (1) | Myers, Emma (1) | Myers, Evie (1) |
| Myers, Henry (1) | Myers, Ida (1) | Myers, Leah (1) | Myers, Mary (1) |
| Myers, S (1) | Nabors, Lori (1) | Naef, Deloris (1) | Nall, Amanda (1) |
| Nall, Cornelius (2) | Nall, Elizabeth (6) | Nall, James (1) | Nance, Ms (1) |
| Naper, Robert (1) | Napier, Dicy (1) | Napier, Judith (1) | Napier, Lucy (1) |
| Narramore, Ambers (1) | Narramore, Flora (2) | Narramore, Julia (1) | Narramore, Kate (1) |
| Narramore, Thomas (1) | Nash, Catherine (1) | Nash, John (1) | Nash, Mary (13) |
| Nash, Vincent (1) | Naughn, Dollie (1) | Nave, Ezra (1) | Nay, ? (1) |
| Naylor, Edward (4) | Naylor, Elizabeth (1) | Neal, ? (1) | Neal, Dan (1) |
| Neal, Daniel (4) | Neal, Eliza (1) | Neal, Gladys (1) | Neal, Hazel (3) |
| Neal, Henrietta (1) | Neal, Ida (1) | Neal, Leona (1) | Neal, Mary (1) |
| Neal, Simeon (1) | Neal, Tabitha (1) | Neal, Walter (1) | Neal, William (1) |
| Needham, Savilla (1) | Neeley, Rebecca (1) | Neeley, William (1) | Neely, A (1) |
| Neely, John (1) | Neely, Paul (1) | Neer, Gaibrella (1) | Negly, James (1) |
| Neiff, Eliza (1) | Neille, Violet (1) | Neims, Thomas (1) | Nellcamp, Birdie (1) |
| Nellcamp, Robert (1) | Nellcamp, Willie (1) | Nelms, Thomas (3) | Nelson, A (1) |
| Nelson, Alice (1) | Nelson, Allen (1) | Nelson, Andrew (1) | Nelson, David (1) |
| Nelson, Elmer (3) | Nelson, Fannie (1) | Nelson, Floyd (1) | Nelson, George (9) |
| Nelson, Ida (1) | Nelson, Isabelle (1) | Nelson, Janet (1) | Nelson, Leo (1) |
| Nelson, Margaret (6) | Nelson, Marvin (1) | Nelson, Mossie (1) | Nelson, Pearl (1) |
| Nelson, Robert (1) | Nelson, Willie (1) | Nemcik, Bobby (1) | Nemcik, Jessica (1) |
| Nemcik, Joey (1) | Nemcik, Linda (1) | Nemcik, Michael (1) | Nemcik, Robert (2) |
| Nemus, Sallie (1) | Nemus, Sally (1) | Nestor, Ruhl (1) | Netestine, Jacob (1) |
| Netzer, Art (2) | Neuman, August (1) | Neuman, Helen (1) | Neuman, Irving (1) |
| Neuman, John (1) | Neuman, Roberta (2) | Nevius, David (1) | New, ? (1) |
| New, Andrew (1) | New, Caudle (1) | New, Celia (1) | New, Charlie (1) |
| New, Clara (1) | New, David (5) | New, Elizabeth (2) | New, Eva (1) |
| New, Grimes (1) | New, Ibby (1) | New, Ireland (1) | New, Issac (2) |
| New, Jane (3) | New, John (6) | New, Louisa (1) | New, Louise (3) |
| New, Martha (1) | New, Mary (1) | New, Nancy (3) | New, Phoeba (1) |
| New, Ramsey (1) | New, Reese (1) | New, Samuel (1) | New, Thomas (2) |
| New, Thos (2) | New, Walter (1) | New, William (1) | Newberry, Armis (1) |
| Newberry, Elijah (2) | Newberry, Elizabeth (1) | Newberry, Francis (1) | Newberry, George (1) |
| Newberry, Jackson (1) | Newberry, Nancy (2) | Newberry, Priscilla (2) | Newberry, Stephen (1) |
| Newberry, Thomas (1) | Newberry, William (1) | Newborn, Vivian (1) | Newby, Albert (2) |
| Newby, Paul (1) | Newcomb, Archibald (1) | Newcomb, Isaac (1) | Newcomb, John (1) |
| Newcomb, Silas (1) | Newcombe, Abigail (1) | Newcombe, Andrew (1) | Newcombe, Caroline (1) |
| Newcombe, George (15) | Newcombe, James (1) | Newcombe, Mary (13) | Newcombe, Thomas (1) |
| Newcomer, Thomas (1) | Newell, Bertha (1) | Newell, Joshua (2) | Newell, Laura (1) |
| Newell, Margaret (1) | Newell, Ulysses (1) | Newhouse, Adam (1) | Newhouse, John (2) |
| Newhouse, Mary (1) | Newhouse, William (1) | Newkirk, Sylpha (2) | Newlun, Kizziah (1) |
| Newlun, William (1) | Newman, Agnes (1) | Newman, Alex (1) | Newman, America (3) |
| Newman, Deborah (1) | Newman, Ebenezer (1) | Newport, Ezekiel (1) | Newsom, Frances (1) |
| Newsome, Nancy (1) | Newsome, Samuel (1) | Newton, Mary (12) | Niccolazzi, Angelina (1) |
| Nichols, ? (1) | Nichols, Alford (1) | Nichols, Eliza (1) | Nichols, Elizabeth (1) |
| Nichols, Franklin (1) | Nichols, George (1) | Nichols, John (1) | Nichols, Marta (1) |
| Nichols, Martha (14) | Nichols, Mary (1) | Nichols, Maxine (1) | Nichols, Nancy (1) |
| Nichols, Napoleon (1) | Nichols, William (1) | Nicholson, William (1) | Nickerson, Israel (1) |
| Nickerson, Prince (1) | Nickerson, Sarah (1) | Nicklous, Hannah (1) | Ninos, Christopher (1) |
| Ninos, Erika (1) | Ninos, Tom (1) | Nixon, Allen (3) | Nixon, Ann (1) |
| Nixon, Catherine (1) | Nixon, Clark (1) | Nixon, Elizabeth (1) | Nixon, Emma (1) |
| Nixon, George (1) | Nixon, Ida (1) | Nixon, John (1) | Nixon, Lewis (1) |
| Nixon, Linn (1) | Nixon, Martha (1) | Nixon, Minnie (1) | Nixon, Rachel (1) |
| Nixon, Samuel (3) | Nixon, Silas (1) | Nixon, William (1) | Noe, Clara (3) |
| Noe, Easter (1) | Noe, Elizabeth (3) | Noe, Emma (3) | Noe, George (1) |
| Noe, Harve (1) | Noe, Harvey (1) | Noe, James (6) | Noe, Joan (1) |
| Noe, John (8) | Noe, Martha (1) | Noe, Noah (3) | Noe, Roxie (1) |
| Noe, Smith (3) | Noel, Marie (1) | Noland, Margaret (1) | Nolt, Ila (1) |
| Norford, Harry (1) | Norford, James (1) | Norman, ? (1) | Norman, Amanel (1) |
| Norman, Amanuel (2) | Norman, Emanual (2) | Norman, Fonnie (1) | Norman, Mose (1) |
| Norman, Nancy (2) | Norman, Oliver (2) | Norman, Reilly (1) | Norman, Ronald (1) |
| Norman, Ronney (1) | Norman, Sandra (1) | Norman, William (2) | Norrid, Effie (2) |
| Norris, Amos (3) | Norris, Hardin (2) | Norris, John (1) | Northcutt, Eva (5) |
| Northern, Jane (1) | Northrup, Nancy (1) | Norvell, James (1) | Notestine, Emanuel (1) |
| Notestine, Jacob (9) | Notestine, Jane (1) | Notestine, Nancy (5) | Notestine, Thomas (1) |
| Nottingham, May (2) | Novotny, Veronica (1) | Nowhouse, John (1) | Nugent, Aki (1) |
| Nugent, Augustus (1) | Nugent, Bertha (1) | Nugent, Daniel (2) | Nugent, David (1) |
| Nugent, Fred (2) | Nugent, Jennifer (1) | Nugent, Jessica (1) | Nugent, John (2) |
| Nugent, Joseph (1) | Nugent, Louise (1) | Nugent, Mary (1) | Nugent, Ruth (1) |
| Nunley, Abbey (1) | Nunley, Albert (1) | Nunley, Alvin (1) | Nunley, Beech (1) |
| Nunley, Bill (1) | Nunley, Bud (1) | Nunley, Charles (1) | Nunley, Frank (2) |
| Nunley, Harry (1) | Nunley, Kate (1) | Nunley, Liz (1) | Nunley, Marsh (1) |
| Nunley, Ray (1) | Nunley, Rosa (1) | Nunley, Sally (1) | Nunley, Sis (1) |
| Nunley, Syria (1) | Nutt, Matilda (1) | Nutt, Richard (1) | Nutter, Sarah (1) |
| O, Nellie (5) | O, Patrick (1) | Oakley, Elizabeth (1) | Oakley, Fielding (1) |
| Oakley, Hannah (1) | Oakley, Nancy (4) | Oaks, Albert (2) | Oaldridge, William (1) |
| Oary, Alta (1) | Oary, Charles (13) | Oary, Clifford (1) | Oary, Gerald (1) |
| Oary, Goldie (1) | Oary, Isadore (1) | Oary, Jennie (11) | Oary, Lester (1) |
| Oary, Merna (1) | Oary, Murvin (1) | Oary, Ruby (1) | Oary, Sylvia (1) |
| Oary, Wayne (1) | Oary, William (1) | Oberleitner, Carol (1) | Oberleitner, Ernest (1) |
| Oberleitner, Paula (1) | Oberlin, George (1) | Oberlin, John (1) | Oblinger, Eve (3) |
| O'Bryan, Nancy (1) | O'camb, Vicki (1) | Ochensky, Margaret (4) | Ochensky, Ruben (1) |
| Ochs, Marjory (1) | O'connor, Agnes (1) | Odell, James (2) | Odom, Dovie (2) |
| Oellien, Frederick (1) | Ogden, Hannah (1) | Ogden, Phebe (1) | Ogden, Phoebe (7) |
| Ogden, Robert (5) | Ogden, Samuel (4) | O'Halloran, ? (2) | O'Halloran, Bernard (1) |
| O'Halloran, Bridget (3) | O'Halloran, John (1) | Ohrin, Irene (1) | Ohrin, Michael (2) |
| Ohrin, Michelle (1) | Ohrin, Stacy (1) | Ohrin, Steven (1) | Olaker, ? (1) |
| Olaker, Viola (1) | Oldham, Cora (1) | Oldham, Daniel (1) | Oldham, Estella (1) |
| Oldham, Grace (1) | Oldham, Guy (1) | Oldham, Harriett (1) | Oldham, Horace (1) |
| Oldham, Lena (1) | Oldham, Mollie (1) | Oldham, Myrtle (4) | Oldham, Paul (1) |
| Oldham, Robert (4) | Oldham, William (1) | Oliver, Mary (6) | Oliver, Richard (1) |
| Oliver, Robert (1) | Olmstead, Frank (2) | Olney, Joyce (1) | Olsen, Donna (1) |
| Olsen, Horst (1) | Olsen, Kara (1) | Olsen, Steven (1) | Olsvary, Elizabeth (1) |
| Olsvary, John (1) | Oneal, Lizzie (1) | Onsby, Margaret (1) | Onsby, Nancy (1) |
| Oocxs/Cox, Valentine (1) | Orick, Alvin (1) | Orick, Crayton (1) | Orick, Cummings (6) |
| Orick, Dora (1) | Orick, Dude (1) | Orick, Earl (1) | Orick, Elvin (1) |
| Orick, Emmett (1) | Orick, Garfield (1) | Orick, Geneva (1) | Orick, Hattie (1) |
| Orick, Ivory (1) | Orick, James (3) | Orick, Jim (1) | Orick, John (3) |
| Orick, Mary (5) | Orick, Millard (1) | Orick, Orden (1) | Orick/Hodges, William (1) |
| Orick/Jones, Charlie (1) | Orison, Jean (1) | Orr, Alonzo (3) | Orr, Arthur (1) |
| Orr, Edward (1) | Osborn, Amanda (1) | Osborn, Charles (2) | Osborn, Chas (1) |
| Osborn, Clark (1) | Osborn, George (1) | Osborn, Nancy (1) | Osborne, ? (1) |
| Osborne, Alice (1) | Osborne, Elizabeth (3) | Osborne, George (1) | Osborne, Jane (2) |
| Osborne, Robert (2) | Osborne, Sarah (9) | Osbourn, Mary (1) | Osgood, George (1) |
| Oshea, Nettie (1) | Ott, Nancy (1) | Ott, Robert (1) | Ottman, Dora (3) |
| Otto, L (2) | Otton, Jacob (1) | Ousby, Margaret (1) | Outland, Edward (1) |
| Ovel, Daniel (1) | Overall, Ann (1) | Overall, Anna (1) | Overall, Anne (1) |
| Overall, Isaac (1) | Overstreet, Edgar (1) | Overstreet, Geneva (1) | Overstreet, Montie (1) |
| Overstreet, Nellie (1) | Overstreet, Ray (2) | Overstreet, Russell (1) | Overstreet, Ruthel (1) |
| Overton, John (1) | Owen, Attie (1) | Owen, Bessie (3) | Owen, Clifford (2) |
| Owen, Curtis (1) | Owen, Elinor (3) | Owen, Eva (2) | Owen, F (1) |
| Owen, Homer (2) | Owen, Lori (1) | Owen, Martha (1) | Owen, Mr (1) |
| Owen, Payton (1) | Owen, Robert (2) | Owen, Sydney (2) | Owen, Vidocq (2) |
| Owenby, Reuben (1) | Owenby, Ruben (1) | Owens, Abe (2) | Owens, Ann (2) |
| Owens, Benjamin (1) | Owens, Charity (9) | Owens, Clorinza (1) | Owens, Delila (1) |
| Owens, Emmilssa (1) | Owens, Evaline (1) | Owens, Fanny (2) | Owens, Frances (13) |
| Owens, Hannah (1) | Owens, John (13) | Owens, Joseph (1) | Owens, Larkin (1) |
| Owens, Laura (1) | Owens, Margaret (1) | Owens, Marshall (1) | Owens, Mary (11) |
| Owens, Myrtle (1) | Owens, Nancy (2) | Owens, Pleasant (3) | Owens, Polly (11) |
| Owens, Rachel (1) | Owens, Reuben (18) | Owens, Sally (6) | Owens, Susan (1) |
| Owens, Thomas (2) | Owens, Washington (1) | Owens, William (1) | Owings, Sarah (4) |
| Owsley, Elizabeth (1) | Oxine, Nelly (1) | Pabody, ? (1) | Pabody, Effie (1) |
| Pabody, R (1) | Pace, Glessie (1) | Pace, Gracie (1) | Pace, Sarah (1) |
| Pacheco, Chela (1) | Pack, ? (1) | Pack, Minerva (1) | Pack, Samuel (1) |
| Paden, ? (1) | Paden, Nancy (1) | Padgett, Nancy (1) | Pai(oi)nter, Henry (1) |
| Paine, Daisy (1) | Paine, Emily (2) | Painter, William (1) | Pallemore, Elizabeth (1) |
| Palmer, ? (1) | Palmer, Birdie (5) | Palmer, Emma (1) | Palmer, James (1) |
| Palmer, Joe (1) | Palmer, Kimberly (1) | Palmer, Mary (1) | Palmer, Robert (1) |
| Parady/Paradijs, Cleas (1) | Paraijs, Claes (1) | Paramore, Stephen (1) | Paris, Bertha (10) |
| Paris, Mary (10) | Paris, Nancy (1) | Paris, Pheb (1) | Paris, Phebe (1) |
| Paris, Phoebe (1) | Paris, Samuel (1) | Paris, Viola (4) | Parish, Joyce (1) |
| Park, Alonzo (1) | Park, E (1) | Parker, Betsy (1) | Parker, Clora (1) |
| Parker, Elisha (1) | Parker, Jane (1) | Parker, Minnie (3) | Parker, Perry (1) |
| Parker, Sarah (5) | Parker, William (1) | Parker, Wilson (2) | Parker, Zenas (1) |
| Parkes, Elasha (1) | Parkey, John (2) | Parkey, Joseph (1) | Parkey, Julie (1) |
| Parkey, Laura (1) | Parkins, M (2) | Parkins, Stephen (1) | Parks, Harriet (1) |
| Parman, John (1) | Parnin, Victoria (1) | Parris, Adren (1) | Parris, Alpha (1) |
| Parris, Arthur (1) | Parris, Bada (1) | Parris, Basil (1) | Parris, Bernah (1) |
| Parris, Dwain (1) | Parris, Ethel (1) | Parris, George (1) | Parris, Jesse (12) |
| Parris, Leila (1) | Parris, Mildred (1) | Parris, Paul (1) | Parris, Sarah (10) |
| Parris, Velna (1) | Parsley, Susa (1) | Parsons, Jim (1) | Parsons, Ollie (3) |
| Parsons, Rosamond (1) | Parsons, Tessie (1) | Partee, Alexander (1) | Partin, Lucinda (11) |
| Partin, Matilda (1) | Parton, John (1) | Passons, Thurman (1) | Pat, ? (1) |
| Patent, Annie (1) | Paterson, John (1) | Patrick, Delvina (1) | Patrick, Elvira (6) |
| Patrick, Enoch (1) | Patrick, James (1) | Patrick, John (1) | Patrick, Sarah (1) |
| Patrick, Wilma (1) | Patterson, Daniel (1) | Patterson, Elizabeth (1) | Patterson, Emmitt (1) |
| Patterson, Ernestine (1) | Patterson, Faye (1) | Patterson, James (1) | Patterson, Jessica (1) |
| Patterson, Jimmy (1) | Patterson, John (1) | Patterson, Kathleen (1) | Patterson, Kenneth (3) |
| Patterson, Matilda (9) | Patterson, Obediah (1) | Patterson, Phyllis (1) | Patterson, Rachel (1) |
| Patterson, Robin (1) | Patterson, Sallie (1) | Patterson, Sarah (11) | Patterson, Shelton (1) |
| Patterson, Thomas (1) | Patterson, William (3) | Patterson, Zona (1) | Pattison, Joseph (1) |
| Patton, Ann (1) | Patton, Anna (1) | Patton, Anne (1) | Patton, David (2) |
| Patton, Elizabeth (1) | Patton, Esquire (1) | Patton, James (1) | Patton, Jane (1) |
| Patton, John (1) | Patton, Jonathan (1) | Patton, Joseph (1) | Patton, Margaret (11) |
| Patton, Martha (1) | Patton, Martin (1) | Patton, Minnie (1) | Patton, Rebecca (2) |
| Patton, Robert (1) | Patton, Sarah (11) | Patton, Z (1) | Pauff, Jane (1) |
| Paul, Joseph (2) | Paulen, Mary (1) | Pauley, Estell (1) | Pauley, Lace (1) |
| Pauley, Mary (10) | Paulk, Claude (3) | Paulk, Jacelyn (1) | Paulk, John (1) |
| Paulk, Judy (1) | Paulk, Manasseh (1) | Pauls, Katherine (5) | Pauls, Pete (1) |
| Paulson, Imo (1) | Pavey, John (1) | Pawling, Joseph (1) | Pawling, Rachel (2) |
| Paxon, Lydia (1) | Paxton, Huldah (1) | Payne, Ella (1) | Payne, Emily (1) |
| Payne, Isiah (1) | Payne, Mary (1) | Payne, N (2) | Payne, Naona (1) |
| Payne, Sarah (2) | Peachee, W (1) | Peacock, Ann (1) | Peacock, Anna (1) |
| Peacock, Anne (1) | Pearce, Maxine (1) | Pearl, Florida (6) | Pearl, James (1) |
| Pearl, Julie (1) | Pearl, Lucy (1) | Pearl, Mary (1) | Pearl, Nancy (1) |
| Pearson, J (1) | Pearson, Mattie (1) | Pearson, Minnie (1) | Pease, Alice (1) |
| Pease, John (1) | Pechin, Julia (2) | Peck, Millie (2) | Peck, Sarah (2) |
| Peckenpaugh, Catherine (1) | Peden, Lizzie (1) | Peer, Waneite (1) | Peery, Lizzie (3) |
| Peeters, Ann (1) | Peeters, Anna (1) | Peeters, Anne (1) | Peitzmeier, Richard (1) |
| Pele, Jane (1) | Pelt, Catherine (1) | Pelton, Martha (1) | Pelty, Bessie (1) |
| Pemberton, Anne (1) | Pemberton, Dollie (3) | Pemble, Albert (1) | Pence, Abraham (1) |
| Pence, Carrie (1) | Pence, Dorsey (1) | Pence, Eliza (1) | Pence, Elizabeth (1) |
| Pence, Ethel (1) | Pence, Gertrude (1) | Pence, Hattie (1) | Pence, Helen (1) |
| Pence, Jacob (1) | Pence, James (1) | Pence, Jane (1) | Pence, Joseph (1) |
| Pence, Laura (1) | Pence, Lena (1) | Pence, Lottie (1) | Pence, Malinda (1) |
| Pence, Mamie (4) | Pence, Mary (2) | Pence, Minnie (1) | Pence, Moses (2) |
| Pence, Nellie (1) | Pence, Noah (1) | Pence, Rutha (1) | Pence, Samuel (1) |
| Pence, Simon (1) | Pence, Susan (1) | Pence, Tobias (1) | Pendergraft, Nancy (1) |
| Pendergrass, Mary (6) | Pendock, Jane (1) | Penfield, Alfred (1) | Penley, Jaunita (1) |
| Penley, Jim (1) | Penley, Mary (3) | Penn, Sarah (1) | Pennell, Amanda (10) |
| Pennell, Frances (1) | Pennell, Francis (3) | Pennely, Reuben (1) | Pennely, Rubin (1) |
| Pennington, Amy (1) | Pennington, Caroline (1) | Pennington, James (1) | Pennington, Shelby (2) |
| Pennybaker, Frederick (1) | Penolt, ? (1) | Pense, Joseph (1) | Pense?, Mary (13) |
| Peoples, David (1) | Peoples, Wilbert (1) | Peppard, Jonathan (1) | Peppard, Margaret (1) |
| Pepper, ? (2) | Pepper, Sandra (2) | Pepper, William (9) | Perberton, Ruth (1) |
| Perduo, Hobart (1) | Perew, Mary (1) | Perigo, Daisy (1) | Perigo, Delilah (1) |
| Perigo, Fannie (1) | Perigo, Fleming (2) | Perigo, Lillie (1) | Perine, Mary (1) |
| Perkins, Ada (1) | Perkins, Alice (1) | Perkins, Carmen (1) | Perkins, Catherine (1) |
| Perkins, Cheryl (1) | Perkins, Cynthia (1) | Perkins, George (4) | Perkins, Gerald (3) |
| Perkins, Goldie (1) | Perkins, John (3) | Perkins, Lila (1) | Perkins, Lottie (2) |
| Perkins, Luellen (1) | Perkins, M (1) | Perkins, Samuel (1) | Perkins, Stephen (1) |
| Perlman, Lloyd (1) | Perrigo, Jack (3) | Perrine, Anne (1) | Perrine, Charles (1) |
| Perrine, Effie (1) | Perrine, Ina (1) | Perrine, John (1) | Perrine, Joseph (1) |
| Perrine, Lydia (1) | Perrine, Mary (3) | Perrine, Willaim (1) | Perrine, William (3) |
| Perry, Alberta (1) | Perry, Alice (1) | Perry, Andrew (1) | Perry, Anna (1) |
| Perry, Belville (1) | Perry, Bevel (1) | Perry, Celia (8) | Perry, Clara (1) |
| Perry, Delia (1) | Perry, Edna (1) | Perry, Elijah (1) | Perry, Emily (1) |
| Perry, Estace (1) | Perry, Frank (1) | Perry, George (1) | Perry, Henderson (1) |
| Perry, James (9) | Perry, Jane (1) | Perry, John (3) | Perry, Joseph (1) |
| Perry, Laura (5) | Perry, Lillian (1) | Perry, Lizzie (1) | Perry, Lyle (1) |
| Perry, M (2) | Perry, Marion (1) | Perry, Martha (1) | Perry, Mary (6) |
| Perry, Pearis (1) | Perry, Phoebe (4) | Perry, Raymond (1) | Perry, Thomas (1) |
| Perryman, J (1) | Peter, Elizabeth (1) | Peterman, Mary (1) | Peters, Anna (2) |
| Peters, Bertha (1) | Peters, Calvin (3) | Peters, Dorothy (3) | Peters, Edwin (1) |
| Peters, Eleanor (1) | Peters, Elizabeth (1) | Peters, Ellen (1) | Peters, Emanuel (1) |
| Peters, Emil (1) | Peters, Emma (1) | Peters, Erma (1) | Peters, Florence (1) |
| Peters, Francis (2) | Peters, Frank (1) | Peters, Gertrude (1) | Peters, Helen (1) |
| Peters, Jean (1) | Peters, Jerome (1) | Peters, John (2) | Peters, Kathleen (1) |
| Peters, Kenneth (1) | Peters, Lawrence (1) | Peters, Madison (1) | Peters, Mary (2) |
| Peters, Michael (2) | Peters, Mildred (1) | Peters, Patience (16) | Peters, Rachel (1) |
| Peters, Richard (1) | Peters, Robert (2) | Peters, S (1) | Peters, Stephen (1) |
| Peters, Sterling (1) | Peters, Thomas (1) | Peters, Victor (1) | Peters, Willard (1) |
| Peters, William (3) | Peterson, Carl (1) | Peterson, Clella (1) | Peterson, Ellen (1) |
| Peterson, Freda (1) | Peterson, Hc (1) | Petit?, ? (1) | Petit?, Dorothy (1) |
| Petras, Stephen (1) | Petree, Mary (1) | Petrun, David (2) | Petrun, Eli (1) |
| Petrun, Mark (1) | Petrun, Marlene (1) | Petrun, Noel (1) | Pettijohn, Ruth (8) |
| Pettis, Amelia (1) | Pettis, Caroline (1) | Pettis, Elisha (1) | Pettis, Elizabeth (12) |
| Pettis, Ella (1) | Pettis, Emmeline (1) | Pettis, James (1) | Pettis, Jane (1) |
| Pettis, John (15) | Pettis, Johnson (3) | Pettis, Lavinia (1) | Pettis, Mary (13) |
| Pettis, Olivia (1) | Pettis, Sarah (1) | Pettit, Martha (1) | Pettry, Betsey (1) |
| Pettry, Jessie (1) | Pettry, Sylvester (1) | Petty, Betsey (1) | Petty, Floyd (1) |
| Petty, Jonas (1) | Petty, Levi (3) | Petty, Sarah (3) | Pettyjohn, Ruth (1) |
| Peveler, Mary (4) | Pfan, Katherine (1) | Pfeifer, Georg (1) | Pfeiffer, Babette (2) |
| Phelan, Cordelia (1) | Phelps, Perintha (1) | Philip, Malcom (1) | Philips, Elsie (1) |
| Philips, Lydia (1) | Phillip, Andrew (2) | Phillip, Eleanor (1) | Phillip, Jack (1) |
| Phillip, James (1) | Phillip, Joseph (1) | Phillip, Kathryn (1) | Phillip, Patricia (1) |
| Phillip, Robert (1) | Philliphs, Marth (1) | Phillips, ? (1) | Phillips, Abraham (5) |
| Phillips, Asahel (6) | Phillips, Benjamin (1) | Phillips, Betty (1) | Phillips, Blanche (1) |
| Phillips, Charles (1) | Phillips, Cinderella (3) | Phillips, Columbia (10) | Phillips, Eddie (1) |
| Phillips, Elizabeth (13) | Phillips, Epperson (1) | Phillips, Ester (1) | Phillips, Esther (1) |
| Phillips, Flora (1) | Phillips, Frances (1) | Phillips, Frank (2) | Phillips, Franklin (2) |
| Phillips, Golda (1) | Phillips, Henry (1) | Phillips, Jabez (3) | Phillips, Jacob (4) |
| Phillips, Jane (2) | Phillips, Jennie (1) | Phillips, Jesse (9) | Phillips, Jessie (2) |
| Phillips, John (6) | Phillips, Kezia (2) | Phillips, Kizah (2) | Phillips, Lavina (6) |
| Phillips, Leslie (1) | Phillips, Lewis (1) | Phillips, Mariah (1) | Phillips, Marion (3) |
| Phillips, Martha (2) | Phillips, Mary (8) | Phillips, Matilda (1) | Phillips, Milly (1) |
| Phillips, Mollie (1) | Phillips, Nancy (4) | Phillips, Patterson (1) | Phillips, Pearl (1) |
| Phillips, Pearlie (1) | Phillips, Penina (1) | Phillips, Pricey (1) | Phillips, Rachel (1) |
| Phillips, Rebecca (9) | Phillips, Rhoda (1) | Phillips, Richard (1) | Phillips, Roy (1) |
| Phillips, Ruth (1) | Phillips, Sally (1) | Phillips, Sarah (2) | Phillips, Tabetha (1) |
| Phillips, Thomas (1) | Phillips, Victory (1) | Phillips, William (3) | Pickerill, Chester (1) |
| Pickerill, Maude (6) | Pickerill, Melvina (1) | Pickerill, Samuel (1) | Pickerill, Sarah (2) |
| Pickett, S (1) | Pickrel, Forrest (1) | Pickup, George (1) | Pickup, Roy (1) |
| Picture, Iva (2) | Pierce, Elizabeth (1) | Pierce, I (1) | Pierson, Johnnie (4) |
| Pierson, Maggie (1) | Pierson, Mahala (1) | Pike, Emily (7) | Pile, Elizabeth (8) |
| Piner, George (1) | Piner, William (1) | Pinkney, Amos (1) | Pinkney, Louisa (1) |
| Pinnell, Amanda (1) | Pinson, Aaron (2) | Pinson, Ann (2) | Pinson, Anna (11) |
| Pinson, Anne (2) | Pinson, Elizabeth (2) | Pinson, George (7) | Pinson, James (3) |
| Pinson, Louisa (2) | Pinson, Mary (1) | Pinson, Nancy (1) | Pinson, Sarah (3) |
| Pinson, Thomas (3) | Piper, Albert (1) | Piper, Ruth (3) | Pischiera, Katherine (1) |
| Pitman, J (1) | Pitts, Homer (1) | Plant, Moses (2) | Platnick, Joseph (2) |
| Plisko, Anna (1) | Plisko, Joe (1) | Pluckett/Pluckell/Puckett, Mary (3) | Plum, Thankful (1) |
| Plymale, Anthony (1) | Plymale, Gabriel (6) | Plymale, John (1) | Plymale, Mary (1) |
| Poe, Lydia (7) | Poindexter, E (1) | Pointer, ? (1) | Pointer, Birdie (3) |
| Pointer, Chester (3) | Pointer, Clyde (3) | Pointer, F (4) | Pointer, H (1) |
| Pointer, Harold (1) | Pointer, Harry (3) | Pointer, Helen (11) | Pointer, J (3) |
| Pointer, Mary (1) | Pointer, May (3) | Pointer, Own (1) | Pointer, William (17) |
| Polk, Jane (1) | Polk, Robert (1) | Pollard, Aaron (1) | Pollock, Fannie (1) |
| Pollock, James (2) | Pollock, Robert (1) | Pollock, Shirley (1) | Pomeroy, George (3) |
| Poor, Elizabeth (1) | Poore, Clara (1) | Poore, Irvin (1) | Pope, Daniel (3) |
| Pope, Emma (1) | Pope, John (1) | Pope, Mollie (2) | Pope, William (1) |
| Popelar, ? (1) | Popelar, Genevieve (1) | Popovich, Cecilia (1) | Popovich, Charles (1) |
| Popovich, Dorothy (1) | Popovich, George (2) | Popovich, John (1) | Popovich, Mary (2) |
| Popovich, Stephen (1) | Popple, Eleanor (1) | Porter, Alexander (1) | Porter, Edith (1) |
| Porter, Lyle (1) | Porter, Virginia (2) | Post, Cynthy (1) | Post, Edward (1) |
| Post, N (1) | Postle, Luke (1) | Postles, Luke (1) | Poston, Lucy (1) |
| Potter, Bert (2) | Potter, Bertha (2) | Potter, Cyrus (1) | Potter, David (2) |
| Potter, Estella (1) | Potter, Eva (1) | Potter, Fannie (1) | Potter, Fanny (1) |
| Potter, George (1) | Potter, Jay (3) | Potter, Joseph (2) | Potter, Mary (2) |
| Potter, Pearl (1) | Potter, Polly (1) | Potter, Sarah (1) | Potter, Thomas (3) |
| Potter, Willard (1) | Potter, Wilma (1) | Potts, Deiaster (1) | Potts, Mary (1) |
| Potts, Thomas (1) | Powell, ? (4) | Powell, Amanda (1) | Powell, Christina (13) |
| Powell, Elizabeth (1) | Powell, Emma (1) | Powell, Garrett (12) | Powell, Ida (1) |
| Powell, Joseph (1) | Powell, Levi (1) | Powell, Linda (1) | Powell, Louvina (1) |
| Powell, Margaret (1) | Powell, Martha (10) | Powell, Philo (2) | Powell, Reuben (1) |
| Powell, Susan (1) | Powell, William (3) | Powers, A (2) | Powers, Alvin (1) |
| Powers, Calvin (3) | Powers, Elizabeth (1) | Powers, John (3) | Powers, Joseph (3) |
| Powers, Lizzie (3) | Powers, Magaline (2) | Powers, Marion (3) | Powers, Sarah (8) |
| Powers, Wesley (3) | Powers, William (10) | Powers, Wm (1) | Powy, Henretta (1) |
| Prater, Jane (2) | Prater, P (1) | Pratt, Deborah (1) | Pratt, Harriett (2) |
| Pratt, Rebecca (4) | Pratt, S (1) | Preece, Freelin (1) | Preece, Zilpha (1) |
| Presley, Abigail (1) | Presley, Andrew (3) | Presley, Aurena (1) | Presley, Celia (2) |
| Presley, Cummings (1) | Presley, Elihu (1) | Presley, Elizabeth (1) | Presley, Emily (1) |
| Presley, Ephraim (1) | Presley, Ephriam (1) | Presley, Evans (1) | Presley, George (1) |
| Presley, Harmon (1) | Presley, Isaac (1) | Presley, Jacob (1) | Presley, James (14) |
| Presley, Jane (1) | Presley, Jefferson (1) | Presley, John (2) | Presley, Joseph (3) |
| Presley, Joshua (3) | Presley, Lorenzo (1) | Presley, Lydia (10) | Presley, Mahale (1) |
| Presley, Malissa (1) | Presley, Margaret (1) | Presley, Martha (1) | Presley, Mary (3) |
| Presley, Rebecca (1) | Presley, Sally (1) | Presley, Sampson (1) | Presley, Sarah (1) |
| Presley, Tazewell (1) | Presley, Thomas (1) | Presley, Vicey (1) | Presley, Virginia (1) |
| Presley, William (2) | Preston, Delphia (1) | Prettyman, Mary (1) | Prewett, Melvina (2) |
| Price, Abagail (1) | Price, Abigail (10) | Price, Benjamin (1) | Price, Burrned (1) |
| Price, Carrie (1) | Price, Charles (3) | Price, Christopher (9) | Price, Elias (1) |
| Price, Elizabeth (10) | Price, Francy (1) | Price, G (1) | Price, James (2) |
| Price, John (2) | Price, Joseph (1) | Price, Joshua (7) | Price, Lillian (1) |
| Price, Mary (12) | Price, Melinda (1) | Price, Mordcai (2) | Price, Mordecai (1) |
| Price, Nancy (3) | Price, Nicholas (1) | Price, Oliver (1) | Price, Rachel (1) |
| Price, Richard (1) | Price, Sarah (23) | Price, Susan (1) | Price, Thomas (1) |
| Prigmore, Laura (1) | Prime, Maria (1) | Primley, Sarah (3) | Prince, Frona (2) |
| Prince, Maria (2) | Prior, Samuel (1) | Prior, Susan (1) | Pritchard, William (1) |
| Proffitt, Elizabeth (2) | Proll, Cecilia (1) | Propes, James (3) | Proses, Jame (1) |
| Prosser, Mary (7) | Prouty, Bert (1) | Pruden, John (1) | Pruit, Adeline (1) |
| Pruit, Allen (1) | Pruit, Amanda (1) | Pruit, Belle (1) | Pruit, Charles (1) |
| Pruit, Dorothy (1) | Pruit, Edna (1) | Pruit, Frances (1) | Pruit, Frank (1) |
| Pruit, George (1) | Pruit, John (2) | Pruit, Julia (1) | Pruit, Lillie (1) |
| Pruit, Marion (1) | Pruit, Martha (1) | Pruit, Nannie (1) | Pruit, Sally (1) |
| Pruit, Samuel (2) | Pruit, Thomas (1) | Pruit, William (2) | Pruitt, ? (1) |
| Pruitt, Annie (1) | Pruitt, Ella (1) | Pruitt, Jonathan (1) | Pruitt, Margaret (1) |
| Prvett, Jonathan (1) | Pry, W (1) | Pryor, Sarah (1) | Puckett, Harpie (3) |
| Puckett, Hattie (1) | Puckett, Mary (1) | Puckett, Rosanne (1) | Puder, Dora (2) |
| Pugh, Sarah (5) | Pullen, Ashem (1) | Pullen, John (1) | Punderson, M (1) |
| Purcell, Leora (4) | Purdue, Thomas (1) | Purdy, Levina (1) | Purinton, Alta (1) |
| Purinton, John (1) | Purinton, Merle (1) | Purinton, Olevia (1) | Purkeypile, Alfred (1) |
| Purkeypile, Evalane (1) | Purkeypile, George (1) | Purkeypile, Hariet (1) | Purkeypile, Julietta (1) |
| Purkeypile, Matilda (1) | Purkeypile, Nancy (1) | Purnett, Feuly (2) | Pursel, Margaret (1) |
| Pursley, Ellen (1) | Pyle, Margaret (6) | Pyle, Octavius (1) | Pyle, Sarah (17) |
| Pyle, Sophronia (1) | Pyrtle, ? (1) | Quarles, Joseph (1) | Queen, Vicie (2) |
| Quehlsdorf, Amy (1) | Quehlsdorf, James (1) | Quick, Frank (1) | Quick, Jane (1) |
| Quick, Laura (1) | Quick, William (1) | Quillan, Elizabeth (1) | Quillen, Elizabeth (8) |
| Quiller, Lela (1) | Quilles, Lela (3) | Quinn, Obrie (1) | Quirk, Patrick (1) |
| Quisenberry, Nancy (3) | R, Agnes (2) | Rachel, ? (1) | Rachel, James (1) |
| Rader, Ama (1) | Rader, Anna (4) | Rader, Hannah (2) | Ragen, Gertie (1) |
| Ragland, Charles (1) | Ragland, Earl (1) | Ragland, Franklin (1) | Ragland, Granville (1) |
| Ragland, Hester (1) | Ragland, Laura (6) | Ragland, Mary (1) | Ragland, Samual (7) |
| Ragsdell, Thomas (1) | Rahn, Sue (1) | Raines, Arthur (1) | Raines, Martha (2) |
| Raines, Mattie (1) | Raines, Pete (1) | Raines, Zella (1) | Rainheimer, Catherine (1) |
| Rainy, James (1) | Ralls, Juanita (1) | Ralls, William (1) | Ralston, Emma (2) |
| Ramey, James (3) | Ramey, Leander (1) | Ramsey, M (1) | Ramsey, Myrtle (2) |
| Ramsey, William (1) | Randall, Earl (1) | Randall, Janet (1) | Randall, Karen (1) |
| Randall, Lori (1) | Randall, Michael (1) | Randall, Stephen (1) | Randall, Teresa (1) |
| Randolph, Blondena (1) | Rannels, Ann (1) | Rannels, Anna (9) | Rannels, Anne (1) |
| Ranney, Dwight (1) | Ransdell, G (1) | Rantovich, George (1) | Rantovich, Scott (1) |
| Rasden, Easter (1) | Rasey, Clyde (1) | Rasey, Mae (10) | Ratcliff, Elizabeth (1) |
| Ratcliff, Jane (1) | Ratcliff, Marquita (1) | Ratcliff, Richard (1) | Ratcliff, William (1) |
| Ratcliffe, Alice (1) | Ratcliffe, Molly (1) | Rathburn, Levi (1) | Ratliff, Alice (1) |
| Ratliff, Bessie (1) | Ratliff, Bobby (1) | Ratliff, Esther (1) | Ratliff, James (1) |
| Ratliff, Jenifer (1) | Ratliff, John (3) | Ratliff, Louisiana/Louise (1) | Ratliff, Mary (9) |
| Ratliff, Ollie (1) | Ratliff, Robert (1) | Rawlens, Jefferson (1) | Rawlings, Ezeckial (1) |
| Rawlings, Mary (17) | Rawlings, Nancy (1) | Ray, Ada (1) | Ray, Angeline (4) |
| Ray, David (2) | Ray, Edna (1) | Ray, Will (2) | Raymer, George (1) |
| Raymond, George (1) | Raymond, John (1) | Razor, ? (2) | Razor, James (2) |
| Rea, Elizabeth (1) | Reading, Biddy (1) | Reagae, G (1) | Reagan, G (1) |
| Reagan, Gertrude (1) | Reagan, Hannah (11) | Reagan, Madeline (1) | Reagon, G (2) |
| Reagon, Gertie (1) | Reagon, Gertrude (1) | Reames, Mary (1) | Reames, Silas (1) |
| Reams, Mary (18) | Reams(Rheams), Sarah (1) | Reamsnyder, Gloria (1) | Rearly, Edith (2) |
| Reatherford, Mary (2) | Rebar, Peter (1) | Record, Mary (4) | Records, Nancy (6) |
| Records, William (1) | Records, Willis (1) | Redden, Don (1) | Redden, Donna (1) |
| Reddick, Dicey (1) | Redding, Bridget (3) | Redding, Susannah (4) | Redett, Christian (1) |
| Redmon, Lee (1) | Reece, Benjamin (1) | Reece, Ethel (1) | Reece, John (1) |
| Reece, Rebecca (1) | Reed, Alice (2) | Reed, Allen (1) | Reed, Andrew (2) |
| Reed, Delilah (2) | Reed, Elisa (1) | Reed, Eliza (1) | Reed, Elizabeth (2) |
| Reed, Emily (3) | Reed, Fletcher (1) | Reed, Granville (1) | Reed, Harison (1) |
| Reed, Isaac (21) | Reed, Isabella (1) | Reed, John (9) | Reed, Joseph (6) |
| Reed, Julian (2) | Reed, Juveline (1) | Reed, Lucy (1) | Reed, Mary (2) |
| Reed, Nancy (1) | Reed, Periba (1) | Reed, Peter (3) | Reed, Pheriba (1) |
| Reed, Rachel (14) | Reed, Rebecca (1) | Reed, Sampson (1) | Reed, Sarah (1) |
| Reed, Sheryl (1) | Reed, Susan (1) | Reed, Susannah (7) | Reed, William (4) |
| Reeder, Silvacatherine (1) | Reeder, Sylvia (2) | Reehling, Clifford (1) | Rees, Philip (1) |
| Rees, Sarah (2) | Reese, Henry (1) | Reese, Kenneth (1) | Reese, Roy (1) |
| Reeves, Horton (2) | Reeves, Lechaa (1) | Reeves, Lilly (1) | Reeves, Sallie (1) |
| Reeves, Sally (1) | Reeves, William (1) | Reid, Ella (1) | Reider, John (1) |
| Reilly, Daniel (1) | Reilly, Keara (1) | Remires, Mary (1) | Remy, Florence (3) |
| Renbarger, Henry (1) | Render, Nancy (10) | Reneau, Gerald (1) | Renfro, George (1) |
| Resovsky, Dora (1) | Retallick, Oliver (1) | Rethaford, Jane (1) | Retherford, Anderson (1) |
| Rethoford, Anderson (1) | Reves, Tennesse (1) | Reves, Tennessee (1) | Reynolds, ? (3) |
| Reynolds, James (1) | Reynolds, Jayne (1) | Reynolds, Joseph (3) | Reynolds, Kathleen (1) |
| Reynolds, Lapriel (1) | Reynolds, Louise (3) | Reynolds, Mary (1) | Reynolds, Mr (1) |
| Reynolds, Redman (1) | Reynolds, Richard (2) | Reynolds, Sarah (1) | Reynolds, Steven (1) |
| Rhea, Elizabeth (10) | Rhoades, Carl (1) | Rhoades, Michael (2) | Rhoades, Parker (1) |
| Rhodes, ? (1) | Rhodes, Cynthia (1) | Rhodes, Drusilla (1) | Rhodes, Isaah (1) |
| Rhodes, Jesse (2) | Rhodes, Lawrence (1) | Rhodes, Letitia (2) | Rhodes, Olive (2) |
| Rhodes, William (2) | Rhoten, Hamer (1) | Rice, Ann (3) | Rice, Ida (2) |
| Rice, Jennie (1) | Rice, Michael (1) | Rice, Patricia (1) | Rice, Sarah (1) |
| Rich, Milta (1) | Richard, Junior (1) | Richards, ? (1) | Richards, George (3) |
| Richards, James (1) | Richards, Lydia (2) | Richards, Margaret (1) | Richardson, Eliza (2) |
| Richardson, Elizabeth (1) | Richardson, Flournoy (1) | Richardson, George (1) | Richardson, Israel (2) |
| Richardson, Jane (3) | Richardson, John (2) | Richardson, Lavina (2) | Richardson, Lavisa (1) |
| Richardson, Mary (14) | Richardson, Millie (20) | Richardson, Milly (1) | Richardson, Nancy (2) |
| Richardson, Nora (6) | Richardson, Polly (1) | Richardson, Robert (1) | Richardson, Sarah (1) |
| Richardson, Sherman (1) | Richardson, Stephen (2) | Richardson, Thomas (2) | Richardson, Vina (1) |
| Richey, George (1) | Richey, Nancy (11) | Richey, William (1) | Richmond, Janie (1) |
| Richmond, John (1) | Richwine, Delbert (1) | Rickard, Arthur (1) | Rickey, Jane (2) |
| Rickman, Hannah (1) | Riddle, Artemisia (6) | Riddle, Catharine (2) | Riddle, Corda (2) |
| Riddle, Emanuel (4) | Riddle, James (4) | Riddle, Jennie (1) | Riddle, Michael (3) |
| Riddle, Nancy (1) | Ridenour, Samuel (1) | Ridge, Phillip (1) | Ridgeway, Georgiana (1) |
| Riethley, Pricy (8) | Rife, Callie (1) | Riffe, Amanda (1) | Riffe, Anna (1) |
| Riffe, Anthony (1) | Riffe, Coonrod (16) | Riffe, Daniel (1) | Riffe, Electious (1) |
| Riffe, Elexious (1) | Riffe, Eliza (1) | Riffe, Gabe (1) | Riffe, Gabriel (4) |
| Riffe, George (2) | Riffe, Gordon (1) | Riffe, Isaiah (1) | Riffe, James (1) |
| Riffe, Jeremiah (1) | Riffe, John (2) | Riffe, Lucretia (1) | Riffe, Mary (12) |
| Riffe, Molly (1) | Riffe, Naomi (1) | Riffe, Osborn (1) | Riffe, Peity (1) |
| Riffe, Peter (1) | Riffe, Phoebe (1) | Riffe, Polly (1) | Riffe, Sally (1) |
| Riffe, William (1) | Riffle, L (1) | Rigdon, Nancy (1) | Rigg, Della (2) |
| Riggs, ? (1) | Riggs, Elma (1) | Riggs, J (1) | Riggs, Shirley (1) |
| Riley, Charles (1) | Riley, Conrad (1) | Riley, James (1) | Riley, Sophia (1) |
| Riley, William (2) | Rinehart, Arthur (2) | Rinehart, Sceney (3) | Rinehart, Simon (5) |
| Rines, John (1) | Riordan, Julie (1) | Risdon, Sally (1) | Risley, Ellen (1) |
| Rita, ? (2) | Ritch, Marena (1) | Ritch, Marena/Marina (7) | Ritch, Marina (1) |
| Ritchie, Mary (3) | Rittenhouse, Mary (19) | Rittenhouse, Mavis (1) | Rittenhouse, Nancy (1) |
| Rittenhouse, William (2) | Ritzman, Caroline (2) | Ritzman, Catherine (1) | Ritzman, Christof (2) |
| Ritzman, Ferdinand (2) | Ritzman, Frank (2) | Ritzman, Fredrick (2) | Ritzman, Henry (2) |
| Ritzman, Mary (1) | Roach, John (2) | Roach, W (1) | Roark, May (1) |
| Roberson, Jonathan (1) | Roberts, ? (1) | Roberts, Albert (1) | Roberts, Alson (1) |
| Roberts, Belle (4) | Roberts, Charlene (1) | Roberts, Dicy (2) | Roberts, Emeline (1) |
| Roberts, Emzy (1) | Roberts, Florence (1) | Roberts, Frank (1) | Roberts, Furinta (1) |
| Roberts, George (1) | Roberts, Harvey (1) | Roberts, Henry (1) | Roberts, Hugh (5) |
| Roberts, James (2) | Roberts, John (11) | Roberts, Joseph (2) | Roberts, Katherine (1) |
| Roberts, Loren (2) | Roberts, Mary (3) | Roberts, Nancy (4) | Roberts, Nathaniel (1) |
| Roberts, Newton (1) | Roberts, Pearl (1) | Roberts, Rebecca (8) | Roberts, Runah (1) |
| Roberts, Sarah/Sally (1) | Roberts, Susanna (1) | Roberts, Susannah (1) | Roberts, Virginia (1) |
| Roberts, Warrington (1) | Roberts, William (1) | Robertson, ? (1) | Robertson, Connie (1) |
| Robertson, Eva (2) | Robertson, F (1) | Robertson, James (1) | Robertson, Litha (1) |
| Robertson, Mary (2) | Robey, Etta (1) | Robinett, Nancy (2) | Robinett, Nathan (1) |
| Robinette, A (2) | Robinette, John (1) | Robinette, Steven (1) | Robinson, A (1) |
| Robinson, Abel (1) | Robinson, Adaline (1) | Robinson, Alec (1) | Robinson, Alva (2) |
| Robinson, Ambrose (1) | Robinson, Ann (3) | Robinson, Anna (4) | Robinson, Anne (3) |
| Robinson, Caroline (4) | Robinson, Charity (5) | Robinson, Ds (2) | Robinson, Effie (1) |
| Robinson, Emma (1) | Robinson, Frances (1) | Robinson, George (2) | Robinson, Green (1) |
| Robinson, Hezekiah (1) | Robinson, John (1) | Robinson, Jonathan (10) | Robinson, June (1) |
| Robinson, Louisa (2) | Robinson, Lydia (1) | Robinson, Margaret (1) | Robinson, Martin (2) |
| Robinson, Mary (10) | Robinson, Priscilla (1) | Robinson, Sarah (1) | Robinson, William (13) |
| Robison, Eliza (1) | Robison, Emma (2) | Robison, John (2) | Rochetti, Joseph (2) |
| Rockwell, M (1) | Rockwell, Martha (3) | Rockwell, Mattie (6) | Rockwell, Seth (1) |
| Roders, Queen (1) | Rodgers, John (1) | Rodriguez, Mary (2) | Roe, Emily (10) |
| Roe, Jonas (1) | Roger, Bell (1) | Rogers, Aletha (1) | Rogers, Alvin (1) |
| Rogers, Andrew (1) | Rogers, Anitta (1) | Rogers, Bishop (1) | Rogers, Charles (8) |
| Rogers, Christie (1) | Rogers, Clair (1) | Rogers, Commodore (1) | Rogers, Darren (1) |
| Rogers, David (1) | Rogers, Elizabeth (11) | Rogers, Elmer (1) | Rogers, Esther (1) |
| Rogers, Ethel (1) | Rogers, Fairibee (1) | Rogers, Fanny (1) | Rogers, Fern (1) |
| Rogers, Fletcher (1) | Rogers, George (3) | Rogers, James (1) | Rogers, Jennifer (1) |
| Rogers, John (3) | Rogers, Josiah (2) | Rogers, Julie (1) | Rogers, Latta (1) |
| Rogers, Leslie (1) | Rogers, Lorenzo (1) | Rogers, Marilyn (1) | Rogers, Mary (2) |
| Rogers, May (6) | Rogers, Melinda (1) | Rogers, Melvin (1) | Rogers, Meryl (1) |
| Rogers, Narcicca (1) | Rogers, Olga (1) | Rogers, Palestine (1) | Rogers, Pamela (1) |
| Rogers, Patience (1) | Rogers, Pheba (1) | Rogers, Pricy (1) | Rogers, Rev (1) |
| Rogers, Roberta (1) | Rogers, S (1) | Rogers, Savannah (1) | Rogers, Susannah (10) |
| Rogers, Thomas (1) | Rogers, William (3) | Rogers, Wt (1) | Rogers, Yvette (1) |
| Roggins, Ester (1) | Roler, Ida (1) | Rolfe, Hazel (1) | Rolfe, Jack (1) |
| Rolfe, Ransom (1) | Roller, Mollie (1) | Rollf, Florence (1) | Rollins, Charlotte (6) |
| Rolluhages, Hilulnnia (1) | Romaine, Samuel (1) | Romaines/Romans, Rebecca (1) | Roman, Alexander (1) |
| Roman, Annie (1) | Roman, Asa (1) | Roman, Elizabeth (1) | Roman, Isham (1) |
| Roman, James (1) | Roman, Jeremiah (1) | Roman, John (1) | Roman, Katherine (2) |
| Roman, Levi (1) | Roman, Margaret (1) | Roman, Mary (1) | Roman, Nancy (1) |
| Roman, William (3) | Ronels, Bertha (1) | Roof, Mary (1) | Roof, William (2) |
| Rook, Amonda (1) | Rook, Jacob (2) | Rookwood, Elizabeth (7) | Rookwood, H (1) |
| Rookwood, Hedgeman (9) | Rookwood, Hyram (1) | Rookwood, James (1) | Rookwood, Julia (1) |
| Rookwood, Lydia (1) | Rookwood, Mary (1) | Rookwood, Minnie (1) | Rookwood, Robert (1) |
| Rookwood, Thomas (1) | Rookwood, William (1) | Roop, Mary (1) | Roost, Frank (1) |
| Rooter, Mable (2) | Roper, Maude (2) | Roscliff, George (1) | Rose, Anna (1) |
| Rose, Arnold (1) | Rose, Catherine (22) | Rose, Clyde (1) | Rose, Elizabeth (1) |
| Rose, Ella (1) | Rose, Frances (1) | Rose, Helen (1) | Rose, Horace (1) |
| Rose, John (5) | Rose, Lee (1) | Rose, Lilloene (1) | Rose, Marvin (1) |
| Rose, Mary (21) | Rose, Nancy (1) | Rose, Nettie (1) | Rose, Patricia (1) |
| Rose, Samuel (8) | Rose, Verna (1) | Rose, Walter (3) | Rose, Willene (1) |
| Rose, William (5) | Rosenbarger, C (1) | Rosenlof, Frank (1) | Rosenlof, Nils (1) |
| Roseschlaub, George (1) | Ross, ? (1) | Ross, Ann (1) | Ross, Anna (1) |
| Ross, Flora (1) | Ross, Hannah (1) | Ross, Henry (1) | Ross, Isreal (1) |
| Ross, Lavina (4) | Ross, Lawrence (1) | Ross, Maude (1) | Ross, Viola (1) |
| Rot, ? (1) | Rounds, Hatfield (1) | Rouse, Lewis (1) | Rouse, Louis (1) |
| Roush, Emma (1) | Roush, Raymond (2) | Rowcliff, George (1) | Rowe, Greg (1) |
| Rowe, Mary (1) | Rowe, Pricy (3) | Rowland, Amelia (1) | Rowland, Finis (2) |
| Rowland, James (1) | Rowland, Kinze (1) | Rowley, Alvira (1) | Rowley, Levi (1) |
| Rowley, Nancy (1) | Rowley, Wealthy (6) | Royalty, Reva (1) | Rozen, Katie (1) |
| Rucker, Nancy (3) | Rucker, Nell (1) | Ruley, Thomas (2) | Runyans, Joseph (1) |
| Runyon, ? (1) | Runyon, Adron (2) | Runyon, Ancie (1) | Runyon, Arena (1) |
| Runyon, Bobby (1) | Runyon, Charity (2) | Runyon, Columbia (5) | Runyon, Conard (2) |
| Runyon, Emogene (1) | Runyon, Ernest (1) | Runyon, Exer (1) | Runyon, George (3) |
| Runyon, Gladys (1) | Runyon, Ira (1) | Runyon, Jane (3) | Runyon, John (1) |
| Runyon, Joseph (6) | Runyon, Louisa (2) | Runyon, Luvicia (2) | Runyon, Mary (23) |
| Runyon, Mary (10) | Runyon, Melda (3) | Runyon, Nancy (1) | Runyon, Olive (1) |
| Runyon, Orison (1) | Runyon, Pauiine (1) | Runyon, Pharisene (1) | Runyon, Polly (3) |
| Runyon, Rebecca (1) | Runyon, Sarah (1) | Runyon, Thomas (1) | Runyon, Vada (1) |
| Runyon, Willie (1) | Runyons, Aaron (1) | Runyons, Biddy (1) | Runyons, David (1) |
| Runyons, George (1) | Runyons, Issac (1) | Runyons, Jane (1) | Runyons, Joseph (1) |
| Runyons, Mary (1) | Runyons, Polly (1) | Runyons, Sarah (1) | Rush, Hardy (1) |
| Rush, Martha (1) | Rush, Rebecca (1) | Rush, Samuel (3) | Rush, Susannah (1) |
| Rusk, Debra (1) | Rusk, Jason (1) | Rusk, Richard (1) | Rusk, Stacy (1) |
| Rusk, Teresa (1) | Russ, John (1) | Russel, Anthony (1) | Russel, Barbara (1) |
| Russel, Winston (1) | Russell, Allen (1) | Russell, Catherine (1) | Russell, Hiram (4) |
| Russell, Kate (2) | Russell, Luella (1) | Russell, Matilda (1) | Russell, Matilda/Malinda (2) |
| Russell, Sarah (1) | Russell, Susan (1) | Russels, Amanda (5) | Russow, Rachel (1) |
| Rust, Rose (8) | Ruth, Annie (1) | Ruth, Clifford (1) | Ruth, Katie (2) |
| Ruth, Leslie (1) | Ruth, Michael (1) | Ruth, Richard (1) | Ruth, Roberta (1) |
| Ruth, Russell (1) | Rutherford, Anna (1) | Rutherford, Bailey (1) | Rutherford, Basheba (1) |
| Rutherford, E (1) | Rutherford, Elizabeth (2) | Rutherford, Elliot (1) | Rutherford, Harley (1) |
| Rutherford, Isa (1) | Rutherford, Jane (13) | Rutherford, John (3) | Rutherford, Lucy (1) |
| Rutherford, Luvicia (1) | Rutherford, Lydia (2) | Rutherford, Mary (1) | Rutherford, Nancy (3) |
| Rutherford, Reuben (1) | Rutherford, William (2) | Rwan, Julius (1) | Ryan, ? (1) |
| Ryan, Ida (1) | Ryan, Martin (2) | Ryding, Craig (1) | Ryel, ? (1) |
| Ryel, Charles (1) | Rymer, Robert (1) | Rysor, Catharine (1) | Sackett, Hattie (3) |
| Sackett, Joel (1) | Sackrider, Allen (1) | Saddler, J (1) | Saddler, Jean (1) |
| Sala, Virginia (1) | Sallee, Catherine (1) | Sallee, Rena (3) | Salling, William (1) |
| Salman, Cora (2) | Salmons, Joel (1) | Salnave, John (3) | Salnave, Sarah (1) |
| Salt, Ronald (1) | Sammis, Frederick (1) | Sammons, ? (1) | Sample, Hannah (13) |
| Sampson, Ellen (1) | Sampson, M (1) | Samson, Dorthea (1) | Samuelsen, August (1) |
| Sandall, Eliza (1) | Sander, Robert (1) | Sanders, Branson (1) | Sanders, Ercelia (4) |
| Sanders, Jackie (1) | Sanders, Joseph (1) | Sanders, Josiah (1) | Sanders, Mary (12) |
| Sanderson, George (3) | Sanderson, Winona (1) | Sandford, Phila (1) | Sandlir, Rebecca (1) |
| Sands, Christena (1) | Sands, Christina (6) | Sandy, ? (1) | Sansom, Anthony (1) |
| Sansom, Chloe (2) | Sansom, Cloe (1) | Sansom, Elizabeth (1) | Sansom, J (1) |
| Sansom, Millie (1) | Sansom, S (1) | Sansom, William (1) | Sanson, John (1) |
| Sapp, Henry (1) | Sarah, ? (1) | Sargarht, Albert (1) | Sargent, Letha (2) |
| Sartain, Sarah (1) | Sarver, Beauford (1) | Sarver, Bertie (1) | Sarver, Lutie (1) |
| Sather, ? (1) | Sather, Iris (1) | Sather, Mary (3) | Satterfield, David (1) |
| Satterfield, Ruby (1) | Satterfield, Sarah (1) | Sauer, Catherine (1) | Saulnier, Carlotta (1) |
| Saunders, Esther (1) | Saunders, Jacob (3) | Saunders, Massie (2) | Saveley, Matilda (3) |
| Sawders, Almira (1) | Sawders, Almyra (1) | Sawyer, Carroll (2) | Sawyer, Jennie (1) |
| Sawyer, Mary (1) | Saylors, Irene (1) | Saylors, Marvin (3) | Scalf, Maudie (2) |
| Scamahorn, Jacob (2) | Scamahorn, Josephine (2) | Scamahorn, Susan (1) | Scammahorn, Clara (2) |
| Scammahorn, Jacob (1) | Scepter, Mary (12) | Schaffer, David (1) | Scharff, Nora (1) |
| Schelling, Jacob (1) | Schertz, Margaret (3) | Schiavon, Albert (1) | Schiavon, Carol (1) |
| Schiavon, Cheryl (1) | Schiavon, Jay (1) | Schiavon, Sandra (1) | Schiavon, Tony (1) |
| Schiavon, V (1) | Schinault, Stella (1) | Schincke, David (1) | Schincke, Judith (1) |
| Schincke, Paul (1) | Schincke, Richard (1) | Schindel, Margaret (8) | Schleper, ? (1) |
| Schmidt, Annette (1) | Schmidt, Peter (1) | Schmidt, Robert (1) | Schmutzer, Johan (1) |
| Schmutzer, Johanna (1) | Schneider, Henry (1) | Schnicke, Dale (1) | Schnicke, Doris (1) |
| Schnicke, Freida (1) | Schnicke, Karl (1) | Schnicke, Lena (1) | Schnicke, Leroy (1) |
| Schnicke, Otto (1) | Schnicke, Ronnie (1) | Scholl, Kate (6) | Schomberg, Harold (1) |
| Schooling, Francis (1) | Schrack, Elizabeth (1) | Schrader, Adolph (2) | Schrader, Edith (1) |
| Schram, Alice (1) | Schreck, Ellen (1) | Schrock, Christian (1) | Schrock, Margaret (8) |
| Schrock, Margareth (1) | Schuler, Sophie (2) | Schulz, Charles (2) | Schutchfield, ? (1) |
| Schwartz, ? (1) | Schwartz, Anna (1) | Schweers, Pearl (2) | Schwin, George (1) |
| Scites, Cora (1) | Scites, Leonard (1) | Scites, William (2) | Scofel, Charity (1) |
| Scott, ? (2) | Scott, A (1) | Scott, Action (1) | Scott, Alice (1) |
| Scott, Anderson (3) | Scott, Andrew (3) | Scott, Axton (1) | Scott, Barnabus (1) |
| Scott, Benjamin (1) | Scott, Big (1) | Scott, Bob (1) | Scott, Brooks (3) |
| Scott, Buff (1) | Scott, Bunny (1) | Scott, Carl (1) | Scott, Charity (1) |
| Scott, Charley (1) | Scott, Charlie (1) | Scott, Daniel (3) | Scott, Dewey (1) |
| Scott, Dixie (9) | Scott, Dorothy (1) | Scott, Dovil (1) | Scott, Edna (1) |
| Scott, Elizabeth (2) | Scott, Emery (1) | Scott, Emory (3) | Scott, Eperson (2) |
| Scott, Epperson (8) | Scott, Ermine (1) | Scott, Esther (1) | Scott, Ethel (4) |
| Scott, Evan (1) | Scott, Fern (1) | Scott, Ferna (1) | Scott, Floyd (3) |
| Scott, Goldie (1) | Scott, Guy (2) | Scott, Hannah (1) | Scott, Hattie (2) |
| Scott, Hazel (2) | Scott, Henderson (1) | Scott, Hettie (1) | Scott, Homer (1) |
| Scott, Jackie (1) | Scott, James (4) | Scott, Jane (5) | Scott, Jenet (1) |
| Scott, John (6) | Scott, Jonah (1) | Scott, Judy (1) | Scott, Julia (1) |
| Scott, Julius (6) | Scott, Kenny (1) | Scott, Laura (1) | Scott, Lavicey (1) |
| Scott, Lee (1) | Scott, Lydia (1) | Scott, Maggie (5) | Scott, Mary (19) |
| Scott, Maudie (1) | Scott, Melda (1) | Scott, Melvin (1) | Scott, Nancy (22) |
| Scott, Patsy (1) | Scott, Peggy (1) | Scott, Percie (1) | Scott, Perlina (2) |
| Scott, Pete (1) | Scott, Phoebe (7) | Scott, Polley (1) | Scott, Polly (4) |
| Scott, R (1) | Scott, Rebecca (2) | Scott, Rena (11) | Scott, Robert (1) |
| Scott, Rosa (1) | Scott, Rosalee (4) | Scott, Rozettie (2) | Scott, Rush (1) |
| Scott, Rushie (1) | Scott, Samuel (1) | Scott, Sherman (2) | Scott, Teddy (1) |
| Scott, Thomas (1) | Scott, Tom (1) | Scott, Tony (1) | Scott, Vina (1) |
| Scott, Virginia (1) | Scott, W (3) | Scott, Wamena (1) | Scott, Wayne (1) |
| Scott, Wilkie (1) | Scott, William (3) | Scott, Woodrow (1) | Scratchfield, Sarah (1) |
| Screven, Mary (1) | Screven, Thomas (1) | Scudder, Isaac (1) | Scudder, John (2) |
| Scudder, William (1) | Sealy, Anna (1) | Seamonds, Mary (6) | Seamonds, William (1) |
| Searcy, Adia (1) | Searight, Laura (1) | Searlete, John (1) | Sears, Edward (1) |
| Seawell, Reddick (1) | Secrest, David (1) | Secrest, Sara (1) | Sedlock, Francine (1) |
| Seetzen, Fred (1) | Seideman, Wilma (2) | Sein, Mary (1) | Seiper, John (1) |
| Selby, Caroline (1) | Self, Charlotte (1) | Self, Mary (3) | Self, Matilda (1) |
| Sellman, Margaret (1) | Sells, Grace (2) | Sells, Holmes (1) | Sells, Mary (2) |
| Selly, Lydia (1) | Semler, Mattie (1) | Sepple, Joseph (1) | Sesco, Jacob (2) |
| Sesco, Victoria (2) | Setty/Citty, Adam (1) | Setty/Citty, Andrew (1) | Setty/Citty, Daniel (1) |
| Setty/Citty, George (1) | Setty/Citty, Jessie (1) | Setty/Citty, John (1) | Setty/Citty, Joshua (2) |
| Setty/Citty, Martha (1) | Setty/Citty, Mary (1) | Setty\Citty, Sarah (1) | Severt, Mattie (1) |
| Sevitz, Elmira (13) | Sewell, Lula (2) | Sexton, Roscoe (1) | Seymour, Charles (1) |
| Shackelford, Sarah (2) | Shadley, Amelia (1) | Shaffer, ? (1) | Shaffer, George (1) |
| Shaffer, Maria (1) | Shain, Anna (1) | Shain, Irene (1) | Shain, John (3) |
| Shain, John* (1) | Shain, Mary (1) | Shain, Nancy (7) | Shain, Nann (1) |
| Shain, Norma (1) | Shain, William (1) | Shane, John (2) | Shane, Nancy (1) |
| Shank, Henry (1) | Shank, John (1) | Shank, Mariette (1) | Shank, Michael (1) |
| Shank, Mrs (1) | Shanklin, Charlotte (1) | Shanklin, Dorothy (2) | Shannon, Zaccheus (1) |
| Sharp, Alfred (3) | Sharp, Elizabeth (2) | Sharp, Eva (1) | Sharp, Jesse (2) |
| Sharp, Joseph (1) | Sharp, Martha (1) | Sharp, Pansy (1) | Sharp, Sarah (2) |
| Sharp, Thomas (1) | Sharpe, Elbert (1) | Sharr, Joseph (2) | Shasha, Susan (1) |
| Shaw, Amberson (1) | Shaw, Aramenta (1) | Shaw, Chambers (1) | Shaw, Elizabeth (11) |
| Shaw, Elmina (1) | Shaw, Ephraim (1) | Shaw, George (1) | Shaw, Harriett (1) |
| Shaw, Martina (1) | Shaw, Mary (1) | Shaw, Mersilla (1) | Shaw, Nancy (2) |
| Shaw, Rebecca (12) | Shaw, Robert (2) | Shaw, Ryan (1) | Shaw, Sarah (7) |
| Shaw, Sarilda (1) | Shaw, Shelby (1) | Shaw, Sylvester (12) | Shaw, Webster (1) |
| Shaw, William (1) | Shaw, Zanetta (1) | Shawhan, Robert (1) | Shawler, Mary (2) |
| Shay, Elizabeth (4) | Shay, Isaiah (2) | Shay, Mary (13) | Shead, Emily (1) |
| Shearer, William (1) | Sheatt, Francis (1) | Sheets, ? (1) | Sheets, George (3) |
| Sheets, John (2) | Sheff, Diana (3) | Sheffield, William (1) | Sheirbon, Hannah (1) |
| Sheldon, William (1) | Shelly, Andrew (2) | Shelly, David (4) | Shelly, L (1) |
| Shelmire, William (1) | Shelton, Jennie (2) | Shelton, Thomas (1) | Shepherd, Belle (1) |
| Shepherd, George (1) | Shepherd, Harvey (2) | Shepherd, James (1) | Sheranko, Frank (1) |
| Sherer, Thomas (1) | Sheridan, Andrew (1) | Sheridan, Daniel (1) | Sherman, Abel (1) |
| Sherman, Andrew (1) | Sherman, Eli (1) | Sherman, Elizabeth (1) | Sherman, Isabel (1) |
| Sherman, Lillian (1) | Sherman, Lois (4) | Sherman, Lucretia (1) | Sherman, Margaret (1) |
| Sherman, Mattie (1) | Sherman, Nellie (7) | Sherman, Otis (1) | Sherman, William (8) |
| Sherry, Elizabeth (1) | Sherry, William (1) | Sherwood, Harold (1) | Sherwood, Harry (1) |
| Shinabery, Absalom (1) | Shinabery, Emma/Amy (2) | Shinabery, John (1) | Shinabery, Nancy (1) |
| Shinabery, Sarah (7) | Shinabery, Washington (2) | Shinnebery, Sarah (1) | Ship, Jordan (1) |
| Shipman, Elizabeth (1) | Shipman, Elsellee (1) | Shipman, Howard (1) | Shipman, Jefferson (2) |
| Shipman, Jefferson* (1) | Shipman, Mary (1) | Shipman, Samuel (2) | Shipman, Sarah (1) |
| Shipton, Sarah (1) | Shireman, ? (1) | Shirley, ? (1) | Shirley, Allison (1) |
| Shirley, Cravens (1) | Shirley, Edwin (1) | Shirley, Elizabeth (5) | Shirley, John (6) |
| Shirley, Mansfield (1) | Shirley, Myra (1) | Shiver, Emer (1) | Shoaf, Prentice (1) |
| Shock, Harold (1) | Shock, Harry (1) | Shockley, Ivon (1) | Shoemaker, Ella (1) |
| Shoemaker, George (1) | Shoemaker, Joseph (1) | Sholer, John (1) | Sholler, John (1) |
| Shooke, Lydia (21) | Shope, Amanda (2) | Shoptaugh, Clara (1) | Shoptaugh, Thomas (1) |
| Shoptaugh, Viola (6) | Shore, Alma (5) | Shore, Andrew (1) | Shore, James (1) |
| Shore, John (1) | Shore, Laura (1) | Short, Hazel (1) | Short, Mary (1) |
| Short, Minnie (1) | Short, Nelly (1) | Shortridge, Donna (6) | Shots, Henry (1) |
| Showalters, Almeda (1) | Shuey, Henry (1) | Shugart, ? (1) | Shugart, Laurette (3) |
| Shugart, Sarah (7) | Shulan, Emaline (3) | Shuler, Emolin (1) | Shultz, Levi (1) |
| Shumate, Eliza (2) | Shupe, B (2) | Shurtleff, Vincent (1) | Shuster, George (1) |
| Shute, Doris (1) | Sidebottom, S (1) | Siebert, Francie (1) | Siebert, William (1) |
| Sikes, Lecta (1) | Siko, Arnold (1) | Siko, Lawrence (1) | Siko, Lisa (1) |
| Siko, Lori (1) | Siko, Louis (1) | Siko, Mark (1) | Siko, Matthew (1) |
| Siko, Regis (1) | Siko, Stacy (1) | Siko, Thomas (2) | Sikora, Debbie (1) |
| Sikora, Gilbert (1) | Sikora, Paul (2) | Sikora, Ronnie (1) | Sikora, Steven (1) |
| Silkwood, Thomas (1) | Sill, Catharine (1) | Silverthorne, Fred (1) | Silverthorne, Melissa (1) |
| Silverthorne, Roberta (1) | Silverthorne, Tabitha (1) | Silveus, James (1) | Simcox?, Bertie (1) |
| Simerman, Lora (1) | Simmons, Frank (1) | Simmons, James (1) | Simmons, John (1) |
| Simmons, Letha (1) | Simms, Ailey (1) | Simonton, Anna (1) | Simonton, David (1) |
| Simonton, Eliza (1) | Simonton, Elizabeth (1) | Simonton, Hiram (1) | Simonton, Jane (1) |
| Simonton, John (1) | Simonton, Joseph (1) | Simonton, Mary (2) | Simonton, Richard (3) |
| Simonton, William (1) | Simpkins, ? (2) | Simpkins, Andrew (1) | Simpkins, Belle (2) |
| Simpkins, Dolly (2) | Simpkins, Elias (2) | Simpkins, Elizabeth (9) | Simpkins, Homer (1) |
| Simpkins, Ira (1) | Simpkins, Isaac (1) | Simpkins, John (1) | Simpkins, Joseph (9) |
| Simpkins, Josephine (10) | Simpkins, Julius (2) | Simpkins, Louisa (2) | Simpkins, Mary (4) |
| Simpkins, Nancy (2) | Simpkins, R (2) | Simpkins, Robert (5) | Simpkins, Vici (2) |
| Simpkins?, Andrew (3) | Simpkins?, Arisba/Ausba/Arrisbey (2) | Simpson, Amanda (1) | Simpson, Hattie (1) |
| Simpson, James (1) | Simpson, Jim (1) | Sims, Nancy (8) | Sinclair, Eliza (4) |
| Sinclair, Hason (3) | Sinclair, Ida (6) | Sinclair, Ira (3) | Sinclair, Michael (4) |
| Sinclair, Myrta (12) | Sinclair, Seymore (1) | Singleton, Andrew (4) | Singleton, George (1) |
| Sinnott, James (1) | Sipple, E (1) | Sipple, Elizabeth (3) | Sipple, Goldie (1) |
| Sipple, L (2) | Sipple, Leander/Leroy (5) | Sipple, Leroy (2) | Sipple, Mary (1) |
| Sipple, Toler (1) | Sipple, Tunis (1) | Sipple, Victoria (1) | Siprell, ? (1) |
| Siprell, Maud (1) | Sironen, Alina (1) | Sironen, Emma (1) | Sironen, Glen (1) |
| Sironen, Kyle (1) | Sisk, Susan (1) | Sisler, John (2) | Sisler, Tabitha (1) |
| Sisson, Mabel (1) | Siters, William (1) | Sittison, Ann (1) | Sittison, Anna (1) |
| Sittison, Anne (1) | Six, Sarah (1) | Sizemore, Elizabeth (1) | Sizemore, Jackson (2) |
| Sizemore, Maime (1) | Sizemore, Sarah (1) | Skaggs, Jemima (9) | Skaggs, Malinda (1) |
| Skeans, Sarah (1) | Skeen, Elanor (1) | Skeens, Sarah (6) | Skees, Vess (1) |
| Skeggs, Jemima (1) | Skinner, ? (1) | Skinner, Amelia (1) | Skinner, Mary (1) |
| Skinner, Wiley (3) | Slabaugh, Gwen (1) | Slane, Francis (2) | Slanker, Hannah (2) |
| Slanker, Myron (1) | Slanker, Samuel (1) | Slanker, Solomon (3) | Slater, J (1) |
| Slater, Michael (1) | Slater, Minnie (3) | Slater, Rose (1) | Slater, Zachariah (1) |
| Slathern, Sallie (1) | Slaughter, Julie (1) | Slavin, Nancy (1) | Slayton, Sally (1) |
| Sleeper, Amasa (1) | Sleeper, Amisy (2) | Sleeper, Mary (1) | Slife, Rozella (6) |
| Slinker, Herman (1) | Slinker, Iva (1) | Sloan, Eliza (1) | Sloane, Mary (1) |
| Slocum, Rebecca (1) | Slone, ? (1) | Slone, Billie (1) | Slone, Emery (1) |
| Slone, Emezell (4) | Slone, Gladys (1) | Slone, Jim (2) | Slone, Madge (1) |
| Slone, Mary (1) | Slone, Rettie (1) | Slone, Roxie (1) | Small, Nicola (1) |
| Smallwood, Daisey (1) | Smallwood, Phoebe (2) | Smarr, Joann (1) | Smead, John (1) |
| Smead, Rachel (1) | Smedley, Alvinia (1) | Smedley, Alzina (7) | Smedley, Jacob (1) |
| Smedley, Jefferson (1) | Smedley, Julia (1) | Smedley, Sarah (1) | Smelzer, George (5) |
| Smidt, Hans (1) | Smith, ? (2) | Smith, Aaron (1) | Smith, Abigail (1) |
| Smith, Ada (1) | Smith, Addison (2) | Smith, Ale (2) | Smith, Alfred (1) |
| Smith, Alice (1) | Smith, Aly (1) | Smith, Americus (1) | Smith, Amy (7) |
| Smith, Andrew (4) | Smith, Angela (1) | Smith, Angeline (13) | Smith, Ann (7) |
| Smith, Anthony (2) | Smith, Aremetha (1) | Smith, Bailey (1) | Smith, Ballard (2) |
| Smith, Bartram (1) | Smith, Bazalech (1) | Smith, Beatrice (1) | Smith, Bertha (1) |
| Smith, Bessie (4) | Smith, Beulah (1) | Smith, Brigitta (5) | Smith, Brookie (1) |
| Smith, C (1) | Smith, Calvin (1) | Smith, Carroll (1) | Smith, Charity (2) |
| Smith, Charles (2) | Smith, Charlotte (1) | Smith, Christopher (1) | Smith, Clarissa (2) |
| Smith, Clayton (1) | Smith, Clercy (1) | Smith, Clifford (1) | Smith, Curtis (1) |
| Smith, Cynthia (2) | Smith, Daniel (1) | Smith, David (3) | Smith, Deborah (4) |
| Smith, Don (1) | Smith, Earl (1) | Smith, Ed (10) | Smith, Eddie (1) |
| Smith, Edgar (1) | Smith, Edith (1) | Smith, Edna (1) | Smith, Elijah (1) |
| Smith, Elizabeth (10) | Smith, Ellen (1) | Smith, Ellender (1) | Smith, Elmo (1) |
| Smith, Emma (5) | Smith, Ericus (9) | Smith, Eska (1) | Smith, Espher (1) |
| Smith, Ethel (1) | Smith, F (1) | Smith, Fannie (4) | Smith, Faye (1) |
| Smith, Floyd (1) | Smith, Frances (18) | Smith, Frank (2) | Smith, Franklin (1) |
| Smith, Geoff (2) | Smith, Georgia (1) | Smith, Goldie (1) | Smith, Granville (3) |
| Smith, Guy (1) | Smith, Harriet (3) | Smith, Harriett (1) | Smith, Harvey (1) |
| Smith, Hayse (3) | Smith, Henry (5) | Smith, Herston (1) | Smith, Hetty (1) |
| Smith, Horace (1) | Smith, Ina (1) | Smith, Isaac (3) | Smith, Isabella (1) |
| Smith, Izora (1) | Smith, Jacob (3) | Smith, James (5) | Smith, Jane (3) |
| Smith, Jessie (1) | Smith, John (10) | Smith, Joseph (1) | Smith, Julia (3) |
| Smith, June/Jane (1) | Smith, Ken (1) | Smith, Larkin (4) | Smith, Laureyn (1) |
| Smith, Lavina (8) | Smith, Lee (1) | Smith, Leland (1) | Smith, Leonard (2) |
| Smith, Lewis (1) | Smith, Linzey (1) | Smith, Louise (1) | Smith, Lowell (1) |
| Smith, Luke (1) | Smith, Luther (1) | Smith, Lydia (1) | Smith, Lyle (1) |
| Smith, Mahala (1) | Smith, Margaret (11) | Smith, Margy (1) | Smith, Marion (1) |
| Smith, Martha (1) | Smith, Martin (1) | Smith, Mary (48) | Smith, Matilda (4) |
| Smith, McKinley (1) | Smith, Melvina (3) | Smith, Millie (1) | Smith, Milly (1) |
| Smith, Minnie (10) | Smith, Missouri (1) | Smith, Myrtle (2) | Smith, Nancy (37) |
| Smith, Naomi (1) | Smith, Olive (1) | Smith, Ona (1) | Smith, Oscar (1) |
| Smith, Pearl (1) | Smith, Phoebe (4) | Smith, Polly (1) | Smith, R (3) |
| Smith, Rachel (14) | Smith, Rebecca (13) | Smith, Reden/Riden/Rider (1) | Smith, Regina (2) |
| Smith, Regis (1) | Smith, Richard (1) | Smith, Rosanna (1) | Smith, Ruth (2) |
| Smith, Samuel (1) | Smith, Sarah (13) | Smith, Seiglinde (1) | Smith, Sharon (2) |
| Smith, Smieon (1) | Smith, Sophia (5) | Smith, Stella (1) | Smith, Stewart (2) |
| Smith, Suzanna (1) | Smith, Tennessee (1) | Smith, Thomas (7) | Smith, Tilda (1) |
| Smith, Ulysses (1) | Smith, Vicie (5) | Smith, Victory (1) | Smith, Vicy (3) |
| Smith, Virgil (1) | Smith, Wade (1) | Smith, Walter (1) | Smith, Wes (1) |
| Smith, Wilbert (1) | Smith, William (22) | Smith, Willie (1) | Smith, Woodrow (1) |
| Smith, Wylie (2) | Smith, Zella (1) | Smith?, Elizabeth (14) | Smither, Calvin (2) |
| Smock, James (2) | Smock, Martha (1) | Smoot, Jh (1) | Smoot, Miss (1) |
| Snead, Clemmia (1) | Snell, Julia (1) | Snider, Elizabeth (13) | Snider, Jacob (1) |
| Snider, Mahala (1) | Snidow, Christian (3) | Snidow, Christina (3) | Snidow, Jacob (4) |
| Snidow, John (1) | Snidow, John/Jacob (1) | Snidow, Phillip (2) | Snodgrass, Rella (2) |
| Snodgrass, Sarah (1) | Snow, L (1) | Snow, Larkin (1) | Snow, Mary (16) |
| Snow, Myrtle (1) | Snyder, Cora (2) | Snyder, Florence (1) | Snyder, Flossie (1) |
| Snyder, Jacob (2) | Snyder, John (1) | Snyder, Sarah (1) | Soblesky, Bertha (1) |
| Solner, Evelyn (1) | Solomon, Elisha (1) | Soltis, Agnes (1) | Soltis, Anna (1) |
| Soltis, Ashley (1) | Soltis, David (1) | Soltis, Edward (3) | Soltis, Heather (1) |
| Soltis, Helen (1) | Soltis, Jason (1) | Soltis, Joseph (2) | Soltis, Julie (1) |
| Soltis, Kathryn (1) | Soltis, Kelly (1) | Soltis, Lindsey (2) | Soltis, Luann (1) |
| Soltis, Michael (2) | Soltis, Mike (1) | Soltis, Nancy (1) | Soltis, Samuel (1) |
| Soltis, Sandra (1) | Soltis, Susan (1) | Somers, Charles (1) | Sonoga, Anne (1) |
| Sonoga, Richard (1) | Sonoga, Robert (1) | Sonoga, Stephen (1) | Sonoga, Tom (1) |
| Soper, Arthur (4) | Soper, Stephen (1) | Soper, Vanransler (1) | Sorrells, William (1) |
| Sowders, Nancy (1) | Spafford, Horace (1) | Spahn, Anthony (1) | Spahn, Bonnie (1) |
| Spahn, Lloyd (2) | Spahn, Melanie (1) | Spahn, Rudolph (1) | Spahn, Sherrie (1) |
| Spahn, Steven (1) | Spangler, Robert (1) | Sparks, C (1) | Sparks, Cecil (1) |
| Sparks, Jessie (1) | Sparks, Mabel (1) | Sparks, Mila (2) | Sparks, Samuel (1) |
| Sparks, Thelma (1) | Spaulding, Augustine (1) | Speargrove, George (1) | Spears, D (1) |
| Spears, Earnest (1) | Spears, Fred (1) | Spears, Jenny/Jennie (1) | Spears, Melissa (1) |
| Spears, Nancy (9) | Spears, Nell (1) | Speckman, Minnie (1) | Speed, Emily (3) |
| Speed, Isaac (3) | Speed, Jeremiah (6) | Speed, Sarah (3) | Spegal, Catherine (2) |
| Speir, George (1) | Spence, J (1) | Spence, Tamar (1) | Spencer, Arthur (1) |
| Spencer, Caroline (1) | Spencer, Jesse (1) | Spencer, Julia (4) | Spencer, Lea (1) |
| Spencer, Louisa (2) | Spencer, Roy (1) | Spencer, William (3) | Spicer, George (1) |
| Spicer, Solomon (1) | Spielman, Carol (1) | Spielman, Clemens (1) | Spielman, John (1) |
| Spinks, Elizabeth (1) | Spinks, Jonathan (3) | Spinks, Sarah (13) | Spock, Barbara (1) |
| Spock, John (1) | Spock, Margaret (1) | Spradlin, Elmira (1) | Spradlin, Jonathan (1) |
| Spradlin, Nehemiah (1) | Spradlin, Patrick (1) | Spradlin, Sarah (1) | Spragg, Leah (1) |
| Spratt, Isaac (1) | Spratt, Kate (1) | Springston, Ann(a) (2) | Springston, Isaac (4) |
| Springston, Moses (4) | Springston, Peter (4) | Springton, Moses (1) | Sprinkles, Emily (1) |
| Sproul, John (2) | Sproul, Joseph (1) | Sprouse, Benjamin (1) | Sprouse, Nancy (1) |
| Spruill, Fannie (2) | Spruill, Fanny (2) | Spruill, Herman (1) | Spruill, Naomi (1) |
| Spruill, Sarah (1) | Spruill, Sary (1) | Sr, James (1) | Sr, Richard (1) |
| Stacy, Arminta (13) | Stacy, Mintie (1) | Stacy, Perlina (1) | Stacy, Polly (1) |
| Stacy, Thomas (1) | Stafford, Bessie (2) | Stafford, Boyd (1) | Stafford, Dimple (1) |
| Stafford, Fanny (1) | Stafford, Flora (10) | Stafford, Hiram (2) | Stafford, J (1) |
| Stafford, Jack (1) | Stafford, John (1) | Stafford, Leo (3) | Stafford, Louvicey (2) |
| Stafford, Luvinia (1) | Stafford, Lydia (3) | Stafford, Mary (1) | Stafford, Miles (1) |
| Stafford, Nancy (3) | Stafford, Perlina (1) | Stafford, Sarah (1) | Stafford, Thomas (1) |
| Stafford, William (1) | Stagg, John (1) | Stailey, Cordie (1) | Stalfield, Francis (1) |
| Stallings, Athelene (1) | Stallings, Ora (5) | Stallions, Nancy (7) | Stamper, Richard (1) |
| Stamps, Ada (1) | Stamps, Eunice (1) | Standard, Frances (1) | Standeford, Elizabeth (1) |
| Standifer, William (1) | Standish, Silas (2) | Standsford, Elizabeth (1) | Stanely, Caitlin (1) |
| Stanifer, Roy (1) | Stanley, Ada (1) | Stanley, Alfred (5) | Stanley, Annie (1) |
| Stanley, Bertha (1) | Stanley, Cecelia (1) | Stanley, Charles (2) | Stanley, Charlotte (1) |
| Stanley, Christopher (1) | Stanley, Clarissa (1) | Stanley, Cyrena (6) | Stanley, David (1) |
| Stanley, Delores (2) | Stanley, Eli (1) | Stanley, Elizabeth (1) | Stanley, Eva (1) |
| Stanley, Fannie (2) | Stanley, Fay (1) | Stanley, Flora (1) | Stanley, Frances (1) |
| Stanley, Francis (3) | Stanley, Harold (1) | Stanley, Heath (1) | Stanley, Inze (1) |
| Stanley, Jesse (2) | Stanley, John (2) | Stanley, Joseph (2) | Stanley, Julietta (1) |
| Stanley, Lafayette (1) | Stanley, Lemuel (1) | Stanley, Leon (1) | Stanley, Lord (1) |
| Stanley, Louanna (1) | Stanley, Louisa (1) | Stanley, Luanna (1) | Stanley, Marion (1) |
| Stanley, Martha (1) | Stanley, Mary (2) | Stanley, Marzella (1) | Stanley, Massie (3) |
| Stanley, Minnie (1) | Stanley, Moses (1) | Stanley, Mr (1) | Stanley, Nancy (13) |
| Stanley, Nettie (1) | Stanley, Newton (2) | Stanley, Norma (1) | Stanley, Okey (2) |
| Stanley, Oliver (14) | Stanley, Oliver (2) | Stanley, Oren (1) | Stanley, Orville (1) |
| Stanley, Otha (2) | Stanley, Owen (1) | Stanley, Ozias (1) | Stanley, Park (1) |
| Stanley, Perry (1) | Stanley, Ransom (1) | Stanley, Rebecca (1) | Stanley, Rufus (1) |
| Stanley, Sarah (4) | Stanley, Trudie (1) | Stanley, Virginia (1) | Stanley, William (3) |
| Stanly, Horace (1) | Stansell, Henry (1) | Stanton, Sarah (1) | Staples, B (2) |
| Staples, Clara (6) | Staples, Eric (1) | Staples, Fred (1) | Staples, Margaret (1) |
| Stark, Helena (1) | Stark, Nettie (1) | Starks, Nathan (2) | Starks, Nathen (1) |
| Starnes, Mary (2) | Starr, James (1) | Starr, L (1) | Starr, Lucinda (1) |
| Starr, Norman (1) | Staten, ? (1) | Staten, Emma (3) | Staten, Nancy (1) |
| Staten, Sarah (1) | Staten, Sarann (1) | Staten, Thomas (1) | Staten, Vicky (1) |
| Statfield, Francis (1) | Statom, Maggie (1) | Staton, Charles (1) | Staton, Elliott (1) |
| Staton, Esther (1) | Staton, Evermont (1) | Staton, Jane (1) | Staton, John (1) |
| Staton, Lewis (1) | Staton, Lizzie (1) | Staton, Maggie (2) | Staton, Malachi (1) |
| Staton, Nancy (18) | Staton, Polly (13) | Staton, Rachel (1) | Staton, Sarah (13) |
| Staton, William (3) | Stclare, James (1) | Stearns, Betsey (1) | Steckmeyer, Carole (3) |
| Steel, Anderson (1) | Steel, Archibald (5) | Steel, Eleanor (1) | Steel, James (1) |
| Steel, John (1) | Steel, Lucy (1) | Steel, Luhetta (1) | Steel, Margaret (1) |
| Steel, Nancy (1) | Steel, Thomas (1) | Steele, Abednigo (1) | Steele, Adron (1) |
| Steele, Alfered (1) | Steele, Allis (1) | Steele, Bertha (1) | Steele, Catharine (1) |
| Steele, Charles (4) | Steele, Charlotte (1) | Steele, Debra (1) | Steele, Dollie (1) |
| Steele, Elisa (1) | Steele, Eliza (3) | Steele, Everett (1) | Steele, Frank (1) |
| Steele, George (6) | Steele, Harrison (8) | Steele, Hawkins (1) | Steele, Henry (1) |
| Steele, Iaeger (1) | Steele, Ila (1) | Steele, Jimmy (1) | Steele, John (3) |
| Steele, Johnia (1) | Steele, Joni (1) | Steele, Leander (1) | Steele, Lena (1) |
| Steele, Lewis (1) | Steele, Lillian (1) | Steele, Linda (1) | Steele, Lon (1) |
| Steele, Lonzo (1) | Steele, Lorenza (1) | Steele, Louic (1) | Steele, Lousa (1) |
| Steele, Lucinda (1) | Steele, Luther (4) | Steele, Margaret (2) | Steele, Mary (2) |
| Steele, Melda (1) | Steele, Meshack (1) | Steele, Milliard (1) | Steele, Nancy (6) |
| Steele, Perry (2) | Steele, Polly (1) | Steele, Pricy (1) | Steele, Ralph (3) |
| Steele, Raphael (3) | Steele, Reason (1) | Steele, Rebecca (2) | Steele, Rezin (1) |
| Steele, Richard (1) | Steele, Roma (1) | Steele, Roy (1) | Steele, Ruth (1) |
| Steele, Rutha (1) | Steele, Samuel (2) | Steele, Sarah (1) | Steele, Shadrack (1) |
| Steele, Sippi (1) | Steele, Smith (2) | Steele, Stella (1) | Steele, Thomas (1) |
| Steele, William (3) | Steele, Willie (2) | Stefan, Joe (1) | Stefana, Anna (1) |
| Stefancik, Carolyn (1) | Stefancik, Emery (1) | Stefancik, Susan (1) | Stefanko, Elizabeth (1) |
| Stefanko, Katherine (1) | Stefano, Rocco (1) | Steffey, Hattie (1) | Steffey, Wesley (1) |
| Steinert, ? (1) | Steinert, Parlee (1) | Steitz, Grace (2) | Stem, Dora (1) |
| Stemets, Jane (1) | Stenchfield, Ella (1) | Stephan, Daniel (1) | Stephanie, ? (1) |
| Stephen, Eli (1) | Stephens, Alanson (1) | Stephens, Caroline (1) | Stephens, Eli (2) |
| Stephens, Elizabeth (1) | Stephens, Nancy (1) | Stephens, Stacy (3) | Stephenson, Celia (2) |
| Stephenson, Dilana (1) | Stephenson, Emma (5) | Stephenson, Eri (3) | Stephenson, Frederick (1) |
| Stephenson, H (1) | Stephenson, Harvey/Henry (2) | Stephenson, Hester (1) | Stephenson, Ira (3) |
| Stephenson, Isaac (2) | Stephenson, Jane (5) | Stephenson, John (14) | Stephenson, Joseph (1) |
| Stephenson, Luella (1) | Stephenson, Lydia (1) | Stephenson, Mary (5) | Stephenson, Rebecca (1) |
| Stephenson, Samuel (3) | Stephenson, Sarah (1) | Stephenson, Seely (1) | Stephenson, William (3) |
| Stepp, Elias (2) | Stepp, Esten (1) | Stepp, Ora (2) | Stepp, Vicy (1) |
| Stepp, Zeph (1) | Sterle, Evelyn (1) | Sterling, Norma (3) | Stern, Phebe (1) |
| Stern, Phoebe (1) | Stessel, George (1) | Stevens, Alford (1) | Stevens, Bettie (1) |
| Stevens, Edmund (1) | Stevens, Frank (1) | Stevens, Lindsey (1) | Stevens, Mary (3) |
| Stevenson, J (1) | Stevenson, Jane (1) | Stevenson, John (1) | Steveson, Martha (1) |
| Stevick, Anna (5) | Steward, Nancy (5) | Stewart, A (1) | Stewart, Elizabeth (1) |
| Stewart, George (1) | Stewart, Georgia (1) | Stewart, Harold (1) | Stewart, Harriet (1) |
| Stewart, Harry (1) | Stewart, Isabelle (1) | Stewart, Jane (1) | Stewart, John (1) |
| Stewart, Martha (1) | Stewart, Mary (1) | Stewart, Minnie (3) | Stewart, Mittie (1) |
| Stewart, Nadine (1) | Stewart, Nancy (4) | Stewart, Wayne (1) | Stewart, Will (1) |
| Stewart, William (3) | Stewart, Wulliam (1) | Stiles, Byron (1) | Stiles, Gina (1) |
| Stiles, Steven (1) | Still, Rena (1) | Stiltner, Jacob (1) | Stiltner, Sarah (1) |
| Stimets, Nancy (2) | Stimets, Nellie (1) | Stimets, Nelly (1) | Stimson, Sophia (2) |
| Stinehagen, Kate (1) | Stingin, Ida (1) | Stinson, Cumming (1) | Stinson, Sylvesta (1) |
| Stironek, Andrew (1) | Stironek, Keith (1) | Stironek, Laura (1) | Stironek, Lisa (1) |
| Stith, Rosa (1) | Stobaugh, Jane (1) | Stockett, John (1) | Stockton, Mary (1) |
| Stockton, Richard (3) | Stockwell, Marietta (1) | Stokes, ? (1) | Stokes, Bessie (1) |
| Stokesberry, David (1) | Stolts, John (1) | Stone, Alice (1) | Stone, Crispin (1) |
| Stone, Eliza (1) | Stone, Elizabeth (1) | Stone, Emily (1) | Stone, Hannah (1) |
| Stone, Henry (1) | Stone, Irvin (1) | Stone, James (2) | Stone, Jefferson (1) |
| Stone, Jennie (1) | Stone, John (2) | Stone, Juanita (1) | Stone, Linnie (1) |
| Stone, Martha (1) | Stone, Mary (3) | Stone, Milton (1) | Stone, Nancy (1) |
| Stone, Samuel (17) | Stone, Solomon (1) | Stone, Walter (1) | Stone, William (1) |
| Stonell, Lena (3) | Storm, Cornelius (1) | Stotler, Daniel (1) | Stotter, Daniel (1) |
| Stough, Fidelia (1) | Stough, Harriet (1) | Stough, John (1) | Stout, Daniel (1) |
| Stout, Maggie/Margaret? (1) | Stout, Martha (1) | Stout, Nancy (1) | Stout, Sarah (1) |
| Stout, William (1) | Stover, Barbara (1) | Stover, Jessie (1) | Stover, Joel (1) |
| Stowers, Elizabeth (1) | Strader, Mary (1) | Stradley, Frances (1) | Strahl, Frances (1) |
| Strahl, George (2) | Strain, Mariah (4) | Straining, Charles (2) | Straining, Idessa (1) |
| Straka, Mr (1) | Straley, Daniel (1) | Straley, Jacob (1) | Straley, Sallie (1) |
| Stratton, Fannie (4) | Strayer, Mary (1) | Streeckman, Arnold (1) | Stretsbery, Elsie (1) |
| Stricklin, Carvel (1) | Stricklin, Charles (1) | Stricklin, Charley (1) | Stricklin, Hurshel (1) |
| Stricklin, J (1) | Stricklin, Mary (1) | Stricklin, Odessa (1) | Stricklin, William (1) |
| Strimple, Charles (1) | Stringer, Joesph (1) | Strode, Nathan (1) | Strode, Nathaniel (1) |
| Strom, W (1) | Strong, Dora (4) | Strong, Eva (1) | Strong, Hannah (1) |
| Strong, Ira (1) | Strosmder, ? (1) | Strosnider, E (3) | Strosnider, Ella (1) |
| Strouse, Sarah (3) | Strowdn, Ella (1) | Strusacker, Martha (1) | Stryker, William (1) |
| Stuart, Ornan (1) | Stubblefield, Corey (1) | Stubblefield, Gary (1) | Studley, Alsy (1) |
| Studley, Benjamin (1) | Studley, Bertha (1) | Studley, Chester (1) | Studley, Harry (1) |
| Studley, Mary (1) | Studley, Oscar (1) | Studley, Silas (2) | Studley, William (1) |
| Stull, Clarence (1) | Stull, Ethel (1) | Stull, Grace (1) | Stull, Homer (1) |
| Stull, Lucy (1) | Stull, Mary (12) | Stull, Robert (1) | Stull, Viola (1) |
| Stultz, Anna (3) | Stump, Andrew (1) | Stump, Ermal (1) | Stump, Frank (2) |
| Stump, Glen (1) | Stump, James (1) | Stump, Janice (1) | Stump, Jeanette (1) |
| Stump, Justine (1) | Stump, Lorenzo (1) | Stump, Martha (1) | Stump, Pauline (1) |
| Stump, Racine (1) | Stump, Rhoda (2) | Stump, Shelby (1) | Stump, Virginia (1) |
| Stump, William (1) | Sturgill, Watt (1) | Sturm, Carolyn (1) | Sturtevant, Albert (3) |
| Sturtevant, Aleah (1) | Sturtevant, Alfred (7) | Sturtevant, Alice (3) | Sturtevant, Alva (5) |
| Sturtevant, Alvah (1) | Sturtevant, Bessie (3) | Sturtevant, Church (10) | Sturtevant, Cora (5) |
| Sturtevant, Daisy (3) | Sturtevant, Elizabeth (2) | Sturtevant, Fred (1) | Sturtevant, Frederick (3) |
| Sturtevant, Ida (5) | Sturtevant, Joseph (14) | Sturtevant, Lula (8) | Sturtevant, Mary (5) |
| Sturtevant, Peter (2) | Sturtevant, Rebecca (6) | Sturtevant, Rosie (2) | Sturtevant, William (7) |
| Sue, Pamela (1) | Sullivan, Allie (1) | Sullivan, Bob (1) | Sullivan, Caroline (1) |
| Sullivan, Charlotte (1) | Sullivan, Cora (8) | Sullivan, Flora (1) | Sullivan, George (5) |
| Sullivan, Hardin (1) | Sullivan, Kate (1) | Sullivan, Mary (9) | Sullivan, Nancy (1) |
| Sullivan, Nicholas (1) | Sullivan, Sarah (1) | Sullivan, Thelia (1) | Summerlott, Rebecca (1) |
| Summers, A (1) | Summers, Anderson (1) | Summers, Cozbi (1) | Summers, Cozby (8) |
| Summers, James (1) | Summers, Lemuel (2) | Summers, Ludina (1) | Summers, Nancy (15) |
| Summers, Rebecca (8) | Summers, Susan (1) | Summers, William (1) | Summers?, Unity (3) |
| Summey, C (2) | Summitt, Bonnie (1) | Sumney, C (1) | Sumpter, John (1) |
| Sumpter, Lucinda (5) | Sumpter, Rebecca (1) | Sumter, Lucinda (1) | Sunderland, Joseph (1) |
| Supple, Catherine (2) | Supplee, Andrew (1) | Supplee, Catherine (9) | Sursa, Emma (1) |
| Sutherland?, Mary (3) | Sutherlin, Lisa (1) | Suthers, Nancy (1) | Sutton, Amanda (5) |
| Suzanne, ? (1) | Swafford, Nancy (1) | Swaford, Nance (1) | Swaim, Glenda (2) |
| Swain, Frances (1) | Swainer, Henry (1) | Swallow, Sarah (4) | Swan, Hezekiah (2) |
| Swan, Jane (1) | Swan, Louisa (9) | Swaney, Robert (1) | Swango, Grace (2) |
| Swank, Onie (1) | Swann, Anzonetta (1) | Swann, B (1) | Swann, Ballard (1) |
| Swann, Benjamin (3) | Swann, Catherine (4) | Swann, Henley (1) | Swann, Hezekiah (7) |
| Swann, Isaiah (1) | Swann, Louisa (1) | Swann, Patrick (1) | Swann, Virginia (11) |
| Swann, Walter (1) | Swanner, Henry (2) | Swanson, George (2) | Swanson, Selma (6) |
| Swartz, Bob (1) | Swartz, Ethel (1) | Swartz, Robert (1) | Swearer, James (1) |
| Sweat, Charlotte (1) | Sweat, James (1) | Sweate, Charlotte (2) | Sweek, Willie (2) |
| Sweeney, Clercy (2) | Sweeney, Elmadora (1) | Sweeney, Josaphine (1) | Sweeney, Lena (3) |
| Sweeney, Lillie (1) | Sweeney, Mary (1) | Sweeney, Melroy (1) | Sweeney, Pearlie (11) |
| Sweeney, Sherman (1) | Sweeney, Vester (1) | Sweet, Charlotte (9) | Sweet, Rebecca (1) |
| Sweney, Isabella (1) | Swetman, Edford (1) | Swett, Mary (1) | Swift, John (1) |
| Swift, Thomas (1) | Swift, William (1) | Swift, Wm (1) | Swindell, Horace (1) |
| Swindle, Samuel (1) | Swope, Matilda (1) | Swope, Sr (1) | Sybrandt, James (1) |
| Sybrandt, Joanna (1) | Sybrandt, Sovereign (1) | Sylar, Dora (1) | Szopko, Maria (1) |
| Tabbett, Emma (2) | Tabor, Patti (1) | Tackaberry, Benjamin (1) | Tacket, James (1) |
| Tackett, Ailsy (1) | Tackett, Alexander (1) | Tackett, Andrew (1) | Tackett, Chloe (1) |
| Tackett, Elisabeth (1) | Tackett, Elizabeth (1) | Tackett, Ewell (1) | Tackett, James (2) |
| Tackett, Joseph (1) | Tackett, Lawrance (1) | Tackett, Levi (1) | Tackett, Lucy (1) |
| Tackett, Lurinda (1) | Tackett, Margaret (1) | Tackett, Mary (1) | Tackett, Rebecca (1) |
| Tackett, Sarah (1) | Tadlock, Thomas (1) | Tafel, Sophie (1) | Taft, Elizabeth (1) |
| Taggart, Mary (3) | Talbert, Luther (1) | Taliaferro, William (1) | Taliaffero, William (1) |
| Tamaris, York (1) | Tamplin, Charles (1) | Tanner, Judith (1) | Tanzy, Erma (1) |
| Tarman, Grover (1) | Tartal, Mary (2) | Tate, H (1) | Tate, Louisa (1) |
| Tatum, Martha (10) | Taylor, ? (1) | Taylor, Cecil (1) | Taylor, Elizabeth (2) |
| Taylor, Essie (1) | Taylor, Ethel (3) | Taylor, G (3) | Taylor, George (1) |
| Taylor, Ida (1) | Taylor, James (1) | Taylor, Jennie (6) | Taylor, John (4) |
| Taylor, Julie (1) | Taylor, Margaret (1) | Taylor, Mary (1) | Taylor, Matilda (4) |
| Taylor, Nannie (1) | Taylor, Nellie (1) | Taylor, Sarah (1) | Taylor, Tabitha (16) |
| Taylor, W (2) | Taylor, Washinton (1) | Taylor, William (1) | Teats/Teets, Christian/Christopher (2) |
| Teats\Teets, Mahalia (3) | Teeter, Albert (2) | Teeter, French (1) | Teeter, Sarah (1) |
| Teets, Thomas (1) | Teets/Teats, Margaret (15) | Telleria, Zoilo (1) | Telleria-ugalde, Carmen (1) |
| Telleria-ugalde, Jesusa (1) | Templar, Wayne (1) | TenBrink, Eunice (1) | TenBrink, Jacob (2) |
| Tensley, Bertha (5) | Tensley, John (1) | Tensley, Mollie (1) | Terrell, Richard (1) |
| Terry, Amelia (2) | Terry, Andrew (1) | Terry, Clara (1) | Terry, Dolly (1) |
| Terry, Elizabeth (6) | Terry, Emezell (7) | Terry, Harriet (2) | Terry, James (1) |
| Terry, John (1) | Terry, Joseph (1) | Terry, Leonard (1) | Terry, Mary (1) |
| Terry, Nancy (1) | Terry, Phillip (1) | Terry, William (2) | Testerman, Cable (1) |
| Testerman, Jessie (1) | Teter, Elizabeth (1) | Tetlow, William (1) | Tetus, Dora (1) |
| Tevis, Mary (1) | Thacker, Martha (2) | Thacker, Matilda (1) | Tharp, Mary (1) |
| Thayer, Ann (2) | Theleman, Martha (1) | Therrell, M (2) | Thomas, Deborah (1) |
| Thomas, Eleanor (1) | Thomas, Eliza (1) | Thomas, Elizabeth (1) | Thomas, Esther (1) |
| Thomas, Isaac (1) | Thomas, Jana (1) | Thomas, Jessie (2) | Thomas, John (3) |
| Thomas, Joseph (1) | Thomas, Martha (1) | Thomas, Nellie (1) | Thomas, Rebeca (1) |
| Thomas, Reuben (4) | Thomas, Samuel (1) | Thomas, Sarah (1) | Thomas, Stephen (1) |
| Thomas, Tammy (1) | Thomas, Thomas (1) | Thomas, Vonna (7) | Thomas, Walter (1) |
| Thomas, William (1) | Thomason, Elenora (1) | Thompson, A (1) | Thompson, Burwell (2) |
| Thompson, Cecil (1) | Thompson, Cordelia (1) | Thompson, David (1) | Thompson, Davis (1) |
| Thompson, Earl (1) | Thompson, Eliza (4) | Thompson, Elnora (12) | Thompson, Elvira (2) |
| Thompson, Emily (1) | Thompson, Emma (1) | Thompson, Ethie (5) | Thompson, Evallina (1) |
| Thompson, Fidelia (1) | Thompson, Grace (1) | Thompson, H (1) | Thompson, Hannah (1) |
| Thompson, Hazel (3) | Thompson, Henry (3) | Thompson, Ivy (1) | Thompson, Jane (11) |
| Thompson, John (4) | Thompson, Lelia (1) | Thompson, Lydia (18) | Thompson, Margaret (1) |
| Thompson, Martha (4) | Thompson, Mary (14) | Thompson, May (1) | Thompson, Nancy (1) |
| Thompson, Nellie (3) | Thompson, Pearl (1) | Thompson, Rebecca (1) | Thompson, Roberta (1) |
| Thompson, Roy (1) | Thompson, Sallie (1) | Thompson, Sally (1) | Thompson, Samuel (4) |
| Thompson, Sarah (1) | Thompson, Susannah (1) | Thompson, Ta (1) | Thompson, Uel (1) |
| Thompson, Virginia (1) | Thompson, W (1) | Thompson, Walter (2) | Thompson, William (4) |
| Thomspson, A (1) | Thornburgh, George (1) | Thornburgh, Isaac (1) | Thorne, Deborah (1) |
| Thornsbury, W (1) | Thorp, Lain (1) | Thrailkill, Milton (3) | Thrailkill, Sarah (1) |
| Thrasher, Fg (1) | Thurbet, Perry (1) | Tibbals, Clara (1) | Tibbets, Robert (3) |
| Tidball, Ealenes (1) | Tierney, John (1) | Tietz, Mike (1) | Tifft, Carrie (1) |
| Tiller, ? (1) | Tiller, Martha (4) | Tiller, Ona (2) | Tiller, Sally (2) |
| Tillinghast, Catherine (1) | Tillinghast, Charles (4) | Tillinghast, Charles (11) | Tillinghast, Eliza (1) |
| Tillinghast, George (1) | Tillinghast, Jerusha (14) | Tillinghast, John (1) | Tillinghast, Mary (1) |
| Tillinghast, Robert (1) | Tillinghast, Sarah (1) | Tillinghast, William (1) | Timmons, Nancy (12) |
| Tincher, James (3) | Tincher, Mary (1) | Tincher, Mildred (1) | Tincher, Sally (1) |
| Tinsley, James (1) | Tipps, Mary (1) | Tipton, Henry (1) | Todd, Bathsheba (1) |
| Todd, Jackson (1) | Todd/Toole, Emma (19) | Toenjes, Henry (1) | Toladay, Mahala (1) |
| Toler, Andrew (4) | Toler, Delila (11) | Toler, Elizabeth (1) | Toler, Ellis (1) |
| Toler, Emanuel (1) | Toler, Hannah (1) | Toler, John (2) | Toler, Laurney (1) |
| Toler, Levisa (1) | Toler, Martha (1) | Toler, Melvin (2) | Toler, Rachel (19) |
| Toler, Rebecca (2) | Toler, Rinnie (5) | Toliver, Hugh (1) | Toliver, John (1) |
| Tollervey, Emma (1) | Tolliver, Hugh (1) | Tolliver, James (1) | Tolliver, Jestine (2) |
| Tolliver, Rachel (1) | Tomasino, Linda (1) | Tomlinson, Oscar (1) | Tompkins, Eva (1) |
| Tompkins, Hannah (1) | Tomsovic, Cindy (1) | Tooker, Nehemiah (1) | Tooley, Minnie (5) |
| Topp, Albert (1) | Topp, Conrad (2) | Topp, Douglas (1) | Topp, Elizabeth (1) |
| Topp, Konrad (2) | Topp, Leonard (1) | Totten, Zachariah (1) | Towers, Dorothy (1) |
| Towns, Scott (1) | Townsend, Eva (2) | Townsend, Florence (17) | Townsend, Joseph (4) |
| Townsend, Lucy (1) | Townsend, Sarah (2) | Tracy, James (2) | Tracy, William (1) |
| Trader, Mahalah (2) | Trader, Mary (4) | Trader, Sarah (1) | Trader, Tegle (3) |
| Tragnitz, Charlotte (7) | Tragnitz, Julius (1) | Tragnitz, Marie (1) | Tragnitz, Wilma (1) |
| Trammel, Elizabeth (1) | Travale, Eleanor (1) | Traver, Magdalena (1) | Traver, Magdelane (5) |
| Travis, Elizabeth (4) | Tredwell, Samuel (2) | Tremble, Abagail (12) | Tremble, Abigail (1) |
| Trent, Burell (1) | Trent, Humphrey (2) | Trent, Judy (1) | Trent, Leona (3) |
| Trent, Martha (1) | Trent, Miss (1) | Trent, Patsy (8) | Trent, Susan (15) |
| Tressler, Fredrick (1) | Tretheway, Betty (1) | Tretheway, Jack (1) | Tretheway, Joseph (1) |
| Tretheway, Roberta (1) | Trigg, Mary (1) | Triplet, ? (1) | Tripp, Albert (2) |
| Tripp, Helena (1) | Tripp, Lena (1) | Tritch, Joseph (1) | Tritch, Martha (1) |
| Tritch, Mary (1) | Tritch, Nancy (4) | Tritch, William (6) | Trott, Elizabeth (3) |
| Trotter, Linda (1) | Trotter, William (2) | Trotti, Samuel (1) | Troutman, Elmira (5) |
| Troutman, Ferdinand (1) | Troutman, Josephina (2) | Trowbridge, Bert (1) | Trowbridge, George (1) |
| Trowbridge, Hallie (1) | Trowbridge, Ollie (1) | Troy, Columbus (1) | Troyer, William (1) |
| Truckenmiller, Lewis (3) | Truckenmiller, Louis (2) | Truckenmiller, Rachel (2) | True, Sylvia (1) |
| Truesdale, Isabelle (7) | Truesdale, James (2) | Truesdale, John (2) | Truitt, Bessie (2) |
| Truitt, Lucile (1) | Truitt, Paul (5) | Truman, Elvira (1) | Trunce, Clella (1) |
| Trunce, Ginger (1) | Trunce, Kerry (1) | Trusdall, James (1) | Trusty, Nancy (15) |
| Tschud, Ii (1) | Tschud, Nancy (1) | Tschudi, Nancy (1) | Tshudi, Nancy (1) |
| Tucker, Arthur (1) | Tucker, Hannah (1) | Tucker, Henry (2) | Tucker, Jane (2) |
| Tucker, Levi (5) | Tucker, Rachel (2) | Tucker, William (1) | Tuckett, Lelia (1) |
| Tufts, Thoma (1) | Tuggle, Thomas (2) | Tull, William (1) | Tullis, J (1) |
| Tullis, Thomas (1) | Tulloh, Betty (1) | Tulloh, Billy (1) | Tulloh, Charlene (1) |
| Tulloh, Charles (4) | Tulloh, Donald (1) | Tulloh, Douglas (1) | Tulloh, James (1) |
| Tulloh, Marian (1) | Tulloh, Max (1) | Tulloh, Pauline (1) | Tulloh, Phillip (1) |
| Tulloh, Ray (1) | Tunnell, Elizabeth (1) | Tunnellier, Gulliam (1) | Turner, Amanda (1) |
| Turner, Angeline (1) | Turner, Bertie (1) | Turner, David (1) | Turner, Girtie (1) |
| Turner, Gladys (1) | Turner, Isabelle (1) | Turner, J (1) | Turner, John (5) |
| Turner, Joseph (4) | Turner, Lenney (2) | Turner, Mack (1) | Turner, Mary (1) |
| Turner, Miles (1) | Turner, Missouri (1) | Turner, N (1) | Turner, Nancy (2) |
| Turner, Osie (3) | Turner, Priscilla (17) | Turner, William (2) | Turner, Zachariah (1) |
| Turpin, Sue (1) | Tustison, Leo (1) | Tuttle, Catherine (1) | Tuttle, Daniel (1) |
| Tuttle, Emmett (1) | Tuttle, Marcus (1) | Tweddalle, Natalie (1) | Tweedy, Minnie (1) |
| Tye, Ruby (1) | Tyler, Cyrus (1) | Tyler, Peggy (1) | Ugalde-azcarate, Jose (1) |
| Ugalde-azcarate, Marcelino (3) | Ugalde-azcoaga, Gavina (1) | Ugalde-azcoaga, Ramon (1) | Ugalde-lazpiur, Eulalia (1) |
| Ugalde-lazpiur, Facunda (1) | Ugalde-lazpiur, Felix (1) | Ugalde-lazpiur, Jose (1) | Ugalde-lazpiur, Julita (1) |
| Ugarte-igartua, Vicente (1) | Ugarte-telleria, Ana (1) | Ugarte-telleria, Xabier (1) | Uki, ? (1) |
| Umble, Margaret (1) | Underdown, John (1) | Underhill, David (2) | Underhill, Isaac (1) |
| Underwood, George (1) | Unrue, ? (1) | Upchurch, Rachel (1) | Uplinger, Catherine (10) |
| Upton, Nancy (8) | Urbany, Arabelle (1) | Urbany, David (1) | Urbany, Dorothy (1) |
| Urbany, Ed (1) | Urbany, Eddy (1) | Urbany, Elizabeth (1) | Urbany, Jimmy (1) |
| Urbany, Joe (1) | Urbany, John (1) | Urbany, Mary (1) | Urguhart, Elizabeth (1) |
| Urguhart, Mary (1) | Usery, Willie (1) | Utzler, Sarah (13) | Uzell, Charlene (1) |
| Vail, E (1) | Vail, Elizabeth (1) | Vail, Harriet (1) | Vail, Tiddeman (1) |
| Valentine, Elizabeth (1) | Valentine, Malinda (1) | Valentine, Melinda (14) | Vanator, Elizabeth (4) |
| Vanbenson, Martin (2) | Vancamp, Charlotte (1) | Vance, Abner (3) | Vance, Acentha (1) |
| Vance, Alena (1) | Vance, Amelia (1) | Vance, Amy (1) | Vance, Celie (1) |
| Vance, Charles (1) | Vance, Darby (1) | Vance, Earl (1) | Vance, Early (1) |
| Vance, Eli (1) | Vance, Elijah (1) | Vance, Elizabeth (8) | Vance, Ephraim (1) |
| Vance, Gallie (1) | Vance, Greenway (3) | Vance, Hannah (1) | Vance, Harvey (1) |
| Vance, Isabel (1) | Vance, Isabelle (11) | Vance, James (6) | Vance, Jane (2) |
| Vance, John (15) | Vance, Judah (6) | Vance, Judah (2) | Vance, Judy (1) |
| Vance, Julius (1) | Vance, Levi (2) | Vance, Lucinda (1) | Vance, Manerva (1) |
| Vance, Marinda (1) | Vance, Mary (12) | Vance, Nancy (24) | Vance, Orville (1) |
| Vance, Phoebe (12) | Vance, Rachel (18) | Vance, Randy (1) | Vance, Rebecca (15) |
| Vance, Richard (2) | Vance, Rody (1) | Vance, Rosa (2) | Vance, Rosanna (2) |
| Vance, Sarah (2) | Vance, Sena (1) | Vance, Susannah (2) | Vance, Tabitha (6) |
| Vance, Thomas (1) | Vance, Troy (1) | Vance, Vicey (1) | Vance, William (3) |
| Vance, Zeb (1) | Vancil, Sarah (1) | Vanderburgh, Hannah (1) | Vandergriff, Berthina (1) |
| Vandergriff, Jacob (1) | Vandergriff, M (1) | Vandergriff, Merthena (1) | Vanderpool, Martha (4) |
| Vandewater, Arch (3) | Vandewater, Faye (1) | Vandewater, Merle (1) | Vandewater, Shirley (1) |
| Vandoren, Minnie (1) | Vandozen, Enoch (1) | Vandusen, Charles (1) | VanDyke, ? (1) |
| Vanguilder, Lydia (1) | Vanhorn, David (1) | Vanlandingham, Susan (1) | Vannatter, Sarah (1) |
| Vannel, Sebastienne (2) | VanNorden, Mary (1) | Vansky, Elizabeth (3) | VanWinkle, Ruby (1) |
| Vardaman, ? (1) | Vardeman, Leona (1) | Varney, A (1) | Varney, Adrian (1) |
| Varney, Adron (1) | Varney, Albert (4) | Varney, Alexander (5) | Varney, Anderson (1) |
| Varney, Andrew (5) | Varney, Anney (1) | Varney, Arisba/Ausba/Arrisbey (1) | Varney, Belle (1) |
| Varney, Betty (10) | Varney, Biddie (1) | Varney, Caldona (1) | Varney, Chloe (1) |
| Varney, Claude (1) | Varney, Claudette (1) | Varney, Cosby (1) | Varney, Delila (1) |
| Varney, Eleanor (1) | Varney, Elias (1) | Varney, Ella (3) | Varney, Emma (6) |
| Varney, Emogene (1) | Varney, Engabo (1) | Varney, Ephraim (1) | Varney, Flemming (1) |
| Varney, Flemmon (6) | Varney, Flemon (1) | Varney, Harrison (6) | Varney, Henderson (1) |
| Varney, Henry (1) | Varney, Hudson (1) | Varney, James (1) | Varney, Jane (2) |
| Varney, Jefferson (1) | Varney, Joe (1) | Varney, John (18) | Varney, Joseph (1) |
| Varney, Larkin (1) | Varney, Levicy (1) | Varney, Lewis (1) | Varney, Liza (1) |
| Varney, Lydia (1) | Varney, Maggie (1) | Varney, Mahulda (1) | Varney, Martha (10) |
| Varney, Mary (2) | Varney, Matilda (6) | Varney, Maud (1) | Varney, Melvin (1) |
| Varney, Nana (1) | Varney, Nancy (6) | Varney, Nicholas (1) | Varney, Parlie (8) |
| Varney, Phebe (1) | Varney, Phoebe (4) | Varney, Pliant (1) | Varney, Polley (1) |
| Varney, Pricey (1) | Varney, Richard (1) | Varney, Roland (1) | Varney, Rosette (1) |
| Varney, Rutha (1) | Varney, Salley (1) | Varney, Sallie (1) | Varney, Sally (2) |
| Varney, Samuel (2) | Varney, Sarah (12) | Varney, Thomas (3) | Varney, Vicy (1) |
| Varney, Whetzel (1) | Varney, William (5) | Vaugh, Charles (2) | Vaugh, Gertrude (1) |
| Vaughan, Alice (1) | Vaughan, Allice (1) | Vaughan, Aris (1) | Vaughan, Cary (1) |
| Vaughan, Daniel (2) | Vaughan, Elizabeth (1) | Vaughan, Eva (1) | Vaughan, John (3) |
| Vaughan, Julia (1) | Vaughan, Nehemiah (1) | Vaughan, Oscar (1) | Vaughan, Patrick (5) |
| Vaughan, Sarah (1) | Vaughan, Susan (4) | Vaughan, Van (1) | Vaughan, William (1) |
| Vaughan, Winny (8) | Vaughan?, John (1) | Vaughn, ? (1) | Vaughn, Billy (2) |
| Vaughn, Charles (1) | Vaughn, Chas (1) | Vaughn, Debbie (1) | Vaughn, Dogu (1) |
| Vaughn, Dulcie (1) | Vaughn, Dwayne (1) | Vaughn, Elizabeth (2) | Vaughn, John (2) |
| Vaughn, Leland (1) | Vaughn, Marcy (1) | Vaughn, Mary (1) | Vaughn, Micklel(?) (1) |
| Vaughn, Patrick (10) | Vaughn, Ronnie (1) | Vaughn, Roy (1) | Vaughn, Sarah (2) |
| Vaughn, Susanna (6) | Vaughn, Thelma (1) | Vaughn, Van (2) | Vaughn, Wayne (1) |
| Vaughn, Wilburn (1) | Veach, Sarah (1) | Veance, Isaac (1) | Veance, James (1) |
| Veance, Jim (1) | Veance, Juda (1) | Veance, Martha (1) | Veech, James (1) |
| Venable, Elizabeth (3) | Veneranda, ? (1) | Vergereau, Peter (3) | Vernia, T (1) |
| Vernon, Grace (1) | Vertrees, Richard (1) | Vick, Elza (1) | Vick, Samuel (1) |
| Vidonich, Mary (1) | Vidovic, Barbara (1) | Vidovic, Mary (1) | Vidovic, Peter (1) |
| Vieweg, Fred (1) | Vilscek, Anna (1) | Vilscek, August (2) | Vilscek, Beth (1) |
| Vilscek, Betty (1) | Vilscek, Brady (1) | Vilscek, Christopher (1) | Vilscek, Dorothy (1) |
| Vilscek, Jack (1) | Vilscek, Jan (1) | Vilscek, Jane (1) | Vilscek, Jay (1) |
| Vilscek, Jessica (1) | Vilscek, Jimmy (3) | Vilscek, John (2) | Vilscek, Joseph (4) |
| Vilscek, Judy (1) | Vilscek, Katherine (1) | Vilscek, Kathy (1) | Vilscek, Keith (1) |
| Vilscek, Kristen (1) | Vilscek, Linda (1) | Vilscek, Lois (1) | Vilscek, Lou (1) |
| Vilscek, Louis (1) | Vilscek, Margaret (1) | Vilscek, Mary (1) | Vilscek, Nina (1) |
| Vilscek, Robbie (1) | Vilscek, Robert (2) | Vilscek, Scott (2) | Vilscek, Wendy (1) |
| Vilscek, William (1) | Vilvin, John (1) | Vines, Cora (2) | Vines, John (1) |
| Vines, Mattie (1) | Violett, Mary (1) | Vipperman, Elbert (1) | Vipperman, Nettie (5) |
| Virgili, Cecelia (1) | Virgili, Romono (1) | Virgili, Seiglinda (1) | Viris, Morgan (1) |
| Vitz, Colleen (1) | Vitz, Erin (1) | Vitz, Kathleen (1) | Vitz, Mary (1) |
| Vitz, Paula (1) | Vitz, Thomas (1) | Vitz, Walter (1) | Vogel, Jacob (1) |
| Volentine, Rebecca (3) | Vorhees, Josiah (1) | Vrabel, Jerome (1) | Vrabel, Mary (1) |
| Vrabel, Michael (1) | Wacker, Aja (1) | Wacker, Gregory (1) | Wacker, Jude (1) |
| Waddle, Mary (1) | Wade, Alfred (1) | Wade, Asa (1) | Wade, Calberta (1) |
| Wade, Clarissa (1) | Wade, Edmund (1) | Wade, Hampton (1) | Wade, Jane (1) |
| Wade, John (1) | Wade, Leslie (1) | Wade, Lucy (1) | Wade, Martha (1) |
| Wade, Mary (1) | Wade, Richard (1) | Wade, Rugh (1) | Wade, Thelma (5) |
| Wadkins, Nathan (1) | Wadkins, Nathaniel (1) | Wadman, Maude (1) | Wadnizak, Michael (2) |
| Wadnizak, Mikele (1) | Wadnizak, Peter (1) | Waggoner, Alice (2) | Waggoner, Ella (2) |
| Waggoner, Joseph (1) | Wagner, ? (1) | Wagner, Ellis (1) | Wagner, Louisa (1) |
| Wagner, Maude (1) | Wagoner, Ruth (1) | Wahlraub, Julie (1) | Wair, Sarah (10) |
| Wakeman, Eliza (1) | Walden, D (1) | Walden, Elizabeth (5) | Walden, Feelex (1) |
| Walden, James (2) | Walden, Martha (1) | Walden, Sarah (3) | Waldruff, Belinda (1) |
| Waldruff, John (2) | Walker, Alonzo (1) | Walker, Cora (10) | Walker, Edward (1) |
| Walker, Elbert (1) | Walker, Elizabeth (1) | Walker, Emanuel (1) | Walker, James (2) |
| Walker, Margaret (2) | Walker, Mindy (1) | Walker, Rebecca (2) | Walker, Sarah (1) |
| Walkowski, Brenda (1) | Walkowski, Christine (1) | Walkowski, Colleen (1) | Walkowski, Francis (1) |
| Walkowski, Karen (1) | Walkowski, Kathleen (1) | Walkowski, Michael (1) | Walkowski, Nichole (1) |
| Wall, Helena (1) | Wall, Jerry (2) | Wall, Lena (1) | Wall, Mary (1) |
| Wallace, Caroline (1) | Wallace, Velma (2) | Wallace, Vivian (3) | Wallen, Priscilla (1) |
| Wallen, Sallie (1) | Wallen, Sally (3) | Waller, Bernice (1) | Waller, Bill (1) |
| Waller, Cliff (1) | Waller, Esther (1) | Waller, George (1) | Waller, Gladys (1) |
| Waller, Howard (1) | Waller, Mary (1) | Waller, Mildred (3) | Waller, Ruth (1) |
| Waller, Sallie (1) | Waller, Sally (1) | Walls, Anderson (1) | Walls, Celia (1) |
| Walls, Dixie (6) | Walls, Donald (1) | Walls, Donna (1) | Walls, Jeanne (1) |
| Walls, Kelly (1) | Walls, Lorenzo (1) | Walls, Sarah (2) | Walls, William (3) |
| Walser, Jerome (1) | Walsh, Cora (3) | Walsh, Eunice (1) | Walsh, John (1) |
| Walsh, Mary (1) | Walter, Hattie (2) | Walter, Isaac (2) | Walter, J (1) |
| Walter, John (1) | Walter, Mamie (1) | Walter, W (1) | Walters, Alfred (1) |
| Walters, Anna (1) | Walters, Dewey (1) | Walters, Elisa (1) | Walters, Elvira? (1) |
| Walters, Faye (1) | Walters, Florence (1) | Walters, Ibby (1) | Walters, J (1) |
| Walters, James (1) | Walters, Jane (2) | Walters, John (1) | Walters, Leuisa (1) |
| Walters, Martha (1) | Walters, Mary (1) | Walters, Minnie (1) | Walters, Myrtle (1) |
| Walters, Nancy (1) | Walters, Rachel (3) | Walters, Ruth (2) | Walters, Sadie (8) |
| Walters, Sarah (14) | Walters, Thomas (1) | Walters, Thos (1) | Walters, William (1) |
| Walters/Waters, Martha (2) | Waltie, Rosemary (1) | Waltman, Helena (1) | Waltman, Lana (1) |
| Walton, Gary (1) | Walton, Sarah (1) | Waltrip, Laura (2) | Wandless, William (1) |
| Wanick, John (2) | Wanner, Glenda (1) | Ward, Mildred (1) | Ward, Phebe (1) |
| Ward, Phoebe (1) | Ward, Robert (3) | Ward, Ruth (1) | Ward, Thomas (2) |
| Ward, William (1) | Ward, Willie (1) | Wardle, Verla (1) | Ware, Fannie (1) |
| Ware, Fanny (1) | Ware, Olantha(?) (1) | Warfield, William (1) | Warner, Matilda (1) |
| Warnick, John (1) | Warnick, Martha (1) | Warrant, Thomas (1) | Warre, Nancy (1) |
| Warren, Amanda (1) | Warren, Catherine (3) | Warren, David (2) | Warren, Fannie (1) |
| Warren, Fanny (1) | Warren, Mary (2) | Warren, Mason (1) | Warren, Michael (5) |
| Warren, Mitcheal (1) | Warren, Nancy (1) | Warren, Susan (7) | Warren, Thomas (1) |
| Warren, William (2) | Warrenberg, Claude (1) | Warrenburg, Jasper (2) | Warrick, Abner (1) |
| Warrick, Catherine (1) | Warrick, Charles (3) | Warrick, Elizabeth (2) | Warrick, Francis (1) |
| Warrick, Henry (1) | Warrick, Margaret (1) | Warrick, Margeratt (1) | Warrick, Martha (13) |
| Warrick, Mary (1) | Warrick, Moses (1) | Warrick, Peggy (1) | Warrick, Rebecca (7) |
| Warrick, Robert (16) | Warrick, Thomas (2) | Warrick, William (2) | Washburn, Cora (10) |
| Washburn, Vinnora (1) | Washington, Henry (1) | Wassen, Flora (1) | Water, Jessie (1) |
| Waterman, Grace (2) | Waters, Grover (1) | Waters, Josie (1) | Waterstradt, Harry (2) |
| Watkins, Jonathon (1) | Watkins, Rachel (11) | Watkins, Thelma (1) | Watson, Cora (2) |
| Watson, Edna (1) | Watson, George (1) | Watson, J (1) | Watson, Jane (1) |
| Watson, John (2) | Watson, Manirva (2) | Watson, Mary (3) | Watson, Veta (1) |
| Watts, Ann (1) | Watts, George (1) | Watts, Nancy (1) | Watts, Sarah (1) |
| Wauthier, Janice (1) | Wauthier, Jerry (1) | Wauthier, Jimmy (1) | Wauthier, Lee (1) |
| Wauthier, Mary (1) | Wauthier, Ray (1) | Weathers, Seaborn (1) | Weaver, Ann (1) |
| Weaver, Anna (1) | Weaver, Anne (3) | Weaver, Annie (1) | Weaver, Daniel (1) |
| Weaver, Dorchas (1) | Weaver, Izakiah (1) | Weaver, James (1) | Weaver, Jas (1) |
| Weaver, John (2) | Weaver, M (1) | Weaver, Mary (1) | Weaver, Nathaniel (1) |
| Weaver, Peter (2) | Weaver, Sarah (2) | Webb, ? (1) | Webb, Ann (6) |
| Webb, Asbery (2) | Webb, Burgess (2) | Webb, Calissa (2) | Webb, Charley (2) |
| Webb, Clifford (2) | Webb, Delilah (1) | Webb, E (2) | Webb, Edward (2) |
| Webb, Ella (4) | Webb, Fannie (1) | Webb, Frankie (2) | Webb, George (2) |
| Webb, Harold (1) | Webb, Hattie (1) | Webb, Hiram (1) | Webb, James (3) |
| Webb, John (1) | Webb, Joseph (1) | Webb, Litleton (2) | Webb, Littleton (1) |
| Webb, Lucinda (8) | Webb, Mark (8) | Webb, Mary (1) | Webb, Nancy (3) |
| Webb, Nellie (1) | Webb, R (1) | Webb, Sarah (3) | Webb, Sorena (2) |
| Webb, Theodore (2) | Weber, Carol (1) | Weber, Matilda (1) | Webster, Jane (2) |
| Webster, Josie (2) | Webster, Tami (1) | Weckwerth, Lenora (2) | Weddington, ? (1) |
| Weddington, Grace (1) | Weddington, Lydia (1) | Weddington, Martha (15) | Weddington, Orlando (4) |
| Weddington, Viola (1) | Weed, Isabella (1) | Weedman, George (2) | Weedman, Mary (1) |
| Weer, Abagail (3) | Weer, Abigail (1) | Wehn, Bernadine (3) | Weidman, Barbara (1) |
| Weidman, John (1) | Weidman, Polly (7) | Weir, Calvin (2) | Weir, Charles (2) |
| Weir, David (1) | Weir, Dr (2) | Weir, Elizabeth (2) | Weir, Emily (2) |
| Weir, Francis (2) | Weir, Henry (1) | Weir, Keziah (11) | Weir, Margaret (2) |
| Weir, Martin (2) | Weir, Susan (1) | Weir, Viana (2) | Weir, William (2) |
| Weiss, ? (2) | Weitzman, Chris (1) | Welch, Harold (1) | Welch, Harry (1) |
| Welch, Katherine (1) | Welch, Marshall (1) | Welden, Harrison (1) | Weldon, Andrew (3) |
| Weldon, Charity (3) | Weldon, Harrison (12) | Weldon, Louisa (3) | Weldon, Matilda (3) |
| Weldon, Nancy (10) | Weldon, Rachel (3) | Weldon, Reuben (3) | Weldon, Sethenia (3) |
| Weldon, Sherman (3) | Weldon/weleron, Harrison (1) | Wellerdine, Elizabeth (1) | Wellman, Hester (1) |
| Wells, Arisba/Ausba/Arrisbey (1) | Wells, John (4) | Wells, Lloyd (4) | Wells, Mary (1) |
| Wells, Rebecca (7) | Wells, Zelda (2) | Welt, Sarah (1) | Wenrick, Susan (3) |
| Werner, Ardith (1) | Werner, Omar (1) | West, America (6) | West, Americus (2) |
| West, Cassander (1) | West, Edna (2) | West, Elizabeth (1) | West, Emma (1) |
| West, Jane (1) | West, Jemma (1) | West, Jeremiah (1) | West, John (1) |
| West, Joseph (5) | West, Lewvernia (1) | West, Lisey (1) | West, O (1) |
| West, Ortna (1) | West, Ortna/Artema (4) | West, Rebecca (1) | West, Russell (1) |
| West, Sarah (2) | West, Susan (1) | Westcole, Alta (13) | Westerfall, Charles (2) |
| Westfall, ? (1) | Westfall, Charles (1) | Westfall, Isaac (1) | Weston, Agnes (6) |
| Westphal, Henry (1) | Wetmore, Cynthia (2) | Wetmore, Deborah (1) | Wetmore, Mary (1) |
| Wetmore, Oliver (1) | Wetmore, Polly (15) | Wetmore, Rhonda (13) | Wetmore, Thomas (1) |
| Wetzel, Cecil (1) | Wetzel, Kathy (1) | Wetzel, Kay (1) | Whaley, Sarah (4) |
| Wheatley, J (1) | Whechel, Margaret (10) | Wheeler, Bertha (1) | Wheeler, Daniel (1) |
| Wheeler, Franklin (1) | Wheeler, Gabriel (1) | Wheeler, Jeremiah (1) | Wheeler, Nathan (1) |
| Wheeler, Nathaniel (1) | Wheeler, Rutha (1) | Wheeler, Sarepta (1) | Whit, James (1) |
| Whitaker, William (1) | Whitby, Richard (1) | Whitby, Richardson (1) | White, ? (1) |
| White, Anges (1) | White, Belle (1) | White, Charles (1) | White, Charlotte (1) |
| White, Christopher (1) | White, Coyenn (1) | White, Edward (1) | White, Ella (1) |
| White, Eria (1) | White, Francis (1) | White, Ida (6) | White, James (1) |
| White, John (3) | White, Josephine (1) | White, Lance (1) | White, Larry (1) |
| White, Leslie (1) | White, Lillian (1) | White, Lucy (1) | White, M (1) |
| White, Maria (1) | White, Mary (14) | White, N (1) | White, Nathan (1) |
| White, Nathaniel (1) | White, Paul (2) | White, Polly (1) | White, Preston (1) |
| White, Rebecca (1) | White, Richard (1) | White, S (1) | White, son (1) |
| White, Terry (1) | White, Theodore (2) | White, Vada (1) | White, Valeria (1) |
| White, William (2) | Whiteaker, Mollie (1) | Whiteaker, William (4) | Whitecotten, Aaron (1) |
| Whitecotton, Aaron (17) | Whitecotton, Cecelia (1) | Whitecotton, Elizabeth (1) | Whitecotton, Elvira (1) |
| Whitecotton, George (1) | Whitecotton, Isaac (1) | Whitecotton, James (1) | Whitecotton, Keziah (1) |
| Whitecotton, Mary (1) | Whitecotton, Nancy (10) | Whitecotton, Sarah (1) | Whitecotton, Smith (1) |
| Whitecotton, Wayne (2) | Whited, Rebecca (1) | Whitely, Willie (2) | Whitfield, Ann (1) |
| Whitfield, Anna (1) | Whitfield, Anne (1) | Whitley, Lucinda (1) | Whitmore, Allen (1) |
| Whitmore, Charles (1) | Whitney, Abagail (1) | Whitney, Abigail (1) | Whitt, Anna (2) |
| Whitt, Bertha (3) | Whitt, Bill (1) | Whitt, Buna (2) | Whitt, Charley (5) |
| Whitt, Charlie (2) | Whitt, Clarence (2) | Whitt, Daniel (2) | Whitt, Gardner (2) |
| Whitt, George (17) | Whitt, Glados (2) | Whitt, Henderson (1) | Whitt, Henry (1) |
| Whitt, Ibby (1) | Whitt, Jacob (1) | Whitt, Jane (1) | Whitt, Jenetta (1) |
| Whitt, Jennie (3) | Whitt, John (1) | Whitt, Lillie (3) | Whitt, Margaret (4) |
| Whitt, Margret (1) | Whitt, Maudie (2) | Whitt, Maudy (2) | Whitt, Millard (2) |
| Whitt, Nancy (35) | Whitt, Octavia (13) | Whitt, Pricey (1) | Whitt, Roland (6) |
| Whitt, Vada (4) | Whitt, Vicy (1) | Whitt, Virgil (2) | Whitt, Wheeler (2) |
| Whitt, William (2) | Whitting, Winder (1) | Whittington, Winder (1) | Whitworth, Harriett (1) |
| Whitworth, Lucy (1) | Whitworth, Thomas (1) | Whorton, Alice (5) | Wicknmam, Jesse (1) |
| Wideman, Julia (1) | Wier, James (1) | Wiesner, Victoria (1) | Wiggens, Lottie (1) |
| Wiggins, Charlotte (5) | Wilboune, John (1) | Wilbur, George (1) | Wilburn, Lewis (2) |
| Wilburn, Louis (2) | Wilburn, Malissa (14) | Wilburn, Melissa (1) | Wilcox, ? (1) |
| Wilcox, Mary (1) | Wild, Ann (1) | Wild, Anna (1) | Wild, Anne (1) |
| Wildemuth, Bridget (1) | Wilder, Oscar (1) | Wilder, Sarah (1) | Wildermuth, Ronald (1) |
| Wiley, ? (1) | Wiley, Elizabeth (1) | Wiley, Hazel (1) | Wiley, John (5) |
| Wilhelm, Millie (1) | Wilhelm, Milly (1) | Wilhite, Fannie (1) | Wilhite, Fanny (1) |
| Wilhite, William (1) | Wilkes, Cora (1) | Wilkey, Alice (1) | Wilkie, Martha (6) |
| Wilkins, Edward (1) | Wilkins, G (1) | Wilkins, George (3) | Wilkins, James (2) |
| Wilkins, John (1) | Wilkins, Laura (1) | Wilkinson, Janet (2) | Willbanks, S (1) |
| Willett, Richard (1) | Willhelm, Mildred (4) | William, Henry (1) | William, Thomas (1) |
| Williams, ? (2) | Williams, Ann (1) | Williams, Anna (1) | Williams, Anne (1) |
| Williams, Arthur (4) | Williams, Belle (1) | Williams, Bennie (2) | Williams, Charles (1) |
| Williams, Deborah (2) | Williams, Elizabeth (19) | Williams, Elsellee (8) | Williams, Elsulee (1) |
| Williams, Elworth (1) | Williams, Emma (1) | Williams, Enoch (1) | Williams, Ethel (1) |
| Williams, Floyd (1) | Williams, George (3) | Williams, Grant (1) | Williams, Hiram (1) |
| Williams, Jacob (2) | Williams, Jake (1) | Williams, James (7) | Williams, Jeremiah (1) |
| Williams, Jerry (1) | Williams, John (1) | Williams, Joseph (2) | Williams, Louise (1) |
| Williams, M (2) | Williams, Mamie (1) | Williams, Margaretha (1) | Williams, Marion (1) |
| Williams, Martha (1) | Williams, Mary (22) | Williams, Miss (1) | Williams, Mrs (1) |
| Williams, Nancy (12) | Williams, Richard (3) | Williams, Rossie (3) | Williams, Sallie (1) |
| Williams, Sally (6) | Williams, Sarah (17) | Williams, Sherman (3) | Williams, Smith (1) |
| Williams, Tamra (1) | Williams, Thomas (2) | Williams, William (4) | Williams, Winifred (1) |
| Williams, Wm (1) | Williamson, Allen (1) | Williamson, Jane (2) | Williamson, Jefferson (1) |
| Williamson, John (1) | Williamson, Joseph (3) | Williamson, Julis (1) | Williamson, Louisa (1) |
| Williamson, Mary (2) | Williamson, Matilda (1) | Williamson, Virgil (1) | Willis, Lena (1) |
| Willis, Sarah (1) | Willis, Warner (1) | Willison, Kirk (1) | Wills, E (1) |
| Wills, Ed (1) | Wills, Elizabeth (1) | Wills, James (1) | Wills, Mary (2) |
| Wills, Samuel (2) | Wills, Thomas (1) | Willson, Asa (1) | Willyard, Arthur (1) |
| Willyard, Mamie (1) | Wilson, ? (1) | Wilson, Abraham (1) | Wilson, Acq (1) |
| Wilson, Arbie (2) | Wilson, Asa (7) | Wilson, B (1) | Wilson, Barbara (1) |
| Wilson, Benjamin (1) | Wilson, Bennie (1) | Wilson, Bettie (1) | Wilson, Bryant (1) |
| Wilson, Charles (4) | Wilson, Delores (1) | Wilson, Elizabeth (4) | Wilson, George (1) |
| Wilson, Grace (1) | Wilson, Graham (1) | Wilson, James (1) | Wilson, John (2) |
| Wilson, Johnnie (1) | Wilson, Louisa (1) | Wilson, Lousia (1) | Wilson, Lydia (1) |
| Wilson, Maggie (2) | Wilson, Margaret (2) | Wilson, Martha (11) | Wilson, Marvin (1) |
| Wilson, Mary (7) | Wilson, Nelda (1) | Wilson, Oliver (1) | Wilson, Sarah (1) |
| Wilson, Sue (1) | Wilson, Wyatt (2) | Wilt, Hannah (6) | Winans, Aaron (1) |
| Winans, John (1) | Winans, Margaret (1) | Winans, Moses (1) | Wince, George (1) |
| Winch, Mary (1) | Wing, James (1) | Winkler, Nancy (14) | Winney, William (1) |
| Winons/Winans, Margaret (12) | Wint, Sarah (1) | Winters, Alice (1) | Winters, Maria (3) |
| Winters, Mariah (2) | Winters, Sevilla (1) | Wintz, Elizabeth (1) | Wintz, Elmer (1) |
| Wintz, George (3) | Wintz, Henrietta (1) | Wintz, John (1) | Wintz, Margaret (1) |
| Wintz, Mary (1) | Wintz, Rosetta (1) | Wintz, Sarah (1) | Wise, Lewis (1) |
| Wise, Louis (1) | Wise, Tilghman (1) | Wishard, Sybil (1) | Wissler, Lawrence (1) |
| Witham, George (1) | Withrow, Barthena (1) | Withrow, J (1) | Withrow, James (1) |
| Withrow, Nancy (1) | Witt, Mary (1) | Wohltman, Allena (1) | Wohltman, Anna (1) |
| Wohltman, Annie (1) | Wohltman, Anthony (3) | Wohltman, David (1) | Wohltman, Delilah (1) |
| Wohltman, Doris (2) | Wohltman, Erma (1) | Wohltman, Fredrich (5) | Wohltman, George (2) |
| Wohltman, Georgia (1) | Wohltman, Heinrich (1) | Wohltman, Helena (14) | Wohltman, Hellna (1) |
| Wohltman, Henrietta (1) | Wohltman, Henry (3) | Wohltman, John (1) | Wohltman, Kathleen (1) |
| Wohltman, Leroy (1) | Wohltman, Mary (3) | Wohltman, Millie (2) | Wohltman, Oneda (1) |
| Wohltman, Raymond (1) | Wohltman, Rosina (1) | Wohltman, Thomas (1) | Wolf, Debra (1) |
| Wolf, Glen (1) | Wolf, Jacob (1) | Wolf, Kara (1) | Wolf, Karl (1) |
| Wolf, Mary (1) | Wolf, William (2) | Wolford, ? (3) | Wolford, Francis (1) |
| Wolford, James (1) | Wolford, Jim (2) | Wolford, Mariah (3) | Wolford, Mildred (1) |
| Wolford, Nancy (1) | Wolford, Okey (3) | Wolford, Sally (1) | Wolford, Victoria (5) |
| Wollam, John (3) | Wollam, Mary (1) | Wollard, Alice (1) | Wollen, Mattie (1) |
| Wolsey, Cynthia (1) | Wolsey, Hetty (1) | Wolsey, Joseph (2) | Womack, Bettye (1) |
| Wongler, Shirley (2) | Wood, Alfred (1) | Wood, Barbara (1) | Wood, Claminta (1) |
| Wood, Craig (1) | Wood, Etta (1) | Wood, Geneve (1) | Wood, George (1) |
| Wood, Mark (1) | Wood, Marvin (1) | Wood, Mary (2) | Wood, Mr (1) |
| Wood, Patricia (1) | Woodhurst, John (1) | Woodring, B (2) | Woodring, Caroline (6) |
| Woodring, Fannie (1) | Woodring, George (1) | Woodring, James (1) | Woodring, John (1) |
| Woodring, William (6) | Woodruff, Jonathan (1) | Woodruff, Noah (1) | Woods, Alexander (1) |
| Woods, Ella (1) | Woods, Margaret (1) | Woods, Ruth (1) | Woodward, Mary (2) |
| Woodward, Sarah (11) | Wooldridge, George (1) | Wooldridge, Harriet (1) | Wooldridge, Mary (4) |
| Wooldridge, Sherman (1) | Wooldridge, Stamp (1) | Wooldridge, Susan (5) | Woolen, Elizabeth (1) |
| Wooley, Daisy (1) | Woolf, Elizabeth (1) | Woorick, Elizabeth (7) | Wooten, Cyntha (13) |
| Wooten, Everett (1) | Words, Mary (1) | Workman, ? (1) | Workman, Elmer (2) |
| Workman, Julia (3) | Workman, Lydia (2) | Worley, ? (1) | Worth, Eliza (7) |
| Worthington, Chauncey (1) | Wortinger, Mary (1) | Woznik, Frances (1) | Wray, David (1) |
| Wright, Adra (2) | Wright, Ann (1) | Wright, Anna (1) | Wright, Anne (8) |
| Wright, Florida (1) | Wright, Hatfield (1) | Wright, James (1) | Wright, John (5) |
| Wright, Lizzie (2) | Wright, Philander (1) | Wright, Sarah (1) | Wring, August (1) |
| Wrinkle, Betty (1) | Wrinkle, Gordon (1) | Wrinkle, J (1) | Wrinkle, James (1) |
| Wurks, Martha (1) | Wurst, Charles (1) | Wurst, Clarence (1) | Wurst, Dorothy (1) |
| Wurst, Harold (1) | Wurst, Louis (1) | Wurst, Ralph (1) | Wyatt, Augusta (3) |
| Wyatt, J (1) | Wyatt, Melinda (1) | Wyatt, Nancy (1) | Wyatt, Sarah (1) |
| Wyckoff, Asher (2) | Wycoff, Asher (1) | Wydeman, Barbara (1) | Wydeman, John (1) |
| Wydeman, Julia (9) | Wylie, Emma (1) | Wymer, Enos (1) | Wyse, Christian (3) |
| Wyse, Florence (1) | Wyse, Herman (1) | Wyse, Kenneth (1) | Wyse, Louise (1) |
| Wyse, Mary (1) | Wyse, Wilbur (1) | Wysor, James (1) | Yancey, William (1) |
| Yanchus, Agnes (1) | Yantko, Vince (1) | Yarber, Millon (1) | Yarber, Sarah (1) |
| Yarbrough, Lena (1) | Yarbrough, William (1) | Yates, ? (1) | Yates, Ova (1) |
| Yather, Miss (1) | Yather, S (1) | Yeadon, William (1) | Yeadon, Wm (1) |
| Yeager, Daniel (1) | Yeager, Elmer (2) | Yeager, Margaret (4) | Yeager, Marion (1) |
| Yeager, Walter (1) | Yeager, Willaim (1) | Yeager, William (1) | Yeakle, Lizzie (2) |
| Yealey, Wendell (1) | Yeary, Benedick (1) | Yeary, Benedict (1) | Yeary, Elizabeth (3) |
| Yeary, Henry (5) | Yeary, Martha (1) | Yeary, Mary (13) | Yeary, William (2) |
| Yeater, Cythia (3) | Yeiser, Ruth (1) | Yenneck, Annie (1) | Yenneck, John (1) |
| Yenneck, Mary (2) | Yenneck, Mike (1) | Yeokum, Mary (2) | Yerkes, Arthur (1) |
| Yoakam, Ulla (1) | Yoakum, Albert (1) | Yoakum, Cleo (1) | Yoakum, Mary (2) |
| Yoakum, Millie (1) | Yoakum, Milly (1) | Yoakum, Rachel (1) | Yoakum, William (1) |
| Yoakum, Wm (1) | Yontchsler, Polly (1) | York, Celia (7) | York, Margaret (2) |
| York, Margaret (10) | York, Tamaris (1) | Yorke, Ann (5) | Yorke, Edward (7) |
| Yorke, Elizabeth (1) | Yorke, Emma (1) | Yorke, Harriet (1) | Yorke, Mary (1) |
| Yorke, William (1) | Yother, M (1) | Yother, S (1) | Yother, Susan (7) |
| Young, ? (1) | Young, Albert (3) | Young, Ann (1) | Young, Anna (1) |
| Young, Anne (1) | Young, Deacon (1) | Young, Elizabeth (13) | Young, Jacob (1) |
| Young, James (7) | Young, Lillie (1) | Young, Lydia (1) | Young, Mary (13) |
| Young, Nancy (1) | Young, Peggy (1) | Young, Phoebe (2) | Young, Rebecca (1) |
| Young, Samantha (1) | Young, Samuel (1) | Young, Sophia (6) | Young, Van (1) |
| Young, William (1) | Yousko, Cecelia (1) | Yousko, Joseph (1) | Yowler, Bertha (1) |
| Yuhas, Joyce (1) | Zabaleta-abarrategui, Santos (1) | Zabaleta-igartua, Anabel (1) | Zabaleta-igartua, Concepcion (1) |
| Zane, Celia (9) | Zane, Isaac (1) | Zane, Mary (1) | Zelek, Donna (1) |
| Zell, Zetzeliz (1) | Zeller, Celia (1) | Zellers, Oron (1) | Zentmeyer, Vinton (1) |
| Zep, Prestley (1) | Zeph, William (1) | Ziegler, Irene (1) | Zigler, Margaret (1) |
| Zigler, Martha (11) | Zigler, Samuel (3) | Zimmer, Emma (1) | Zimmerman, ? (1) |
| Zimmerman, Earl (2) | Zimmerman, Rachel (4) | Zimmerman, Susan (1) | Zips, ? (1) |
| Zipser, ? (1) | Zumstein, Amy (1) | Zumstein, John (1) | Zuzunegi, Ramoni (1) |
(Names Listed 17700)

---