A Family Heritage Album can be anything you want it to be. There are no "rules." This is my personal Family Heritage Album and I've included photos and stories about my parents' immediate family — people whom I knew while growing up. The important thing is to stay focused on the photos and family stories, not the "decorations." Your descendants won't care that a scrapbook page was "pretty." They just want to see the photos, and read the stories of their ancestors. Don't you wish YOUR family had left you such an album?
Below I've included photos of pages from my own Family Heritage Album.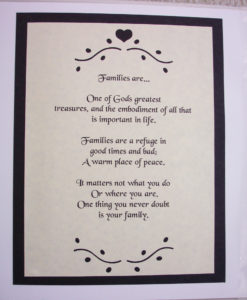 Above is the first page in my album.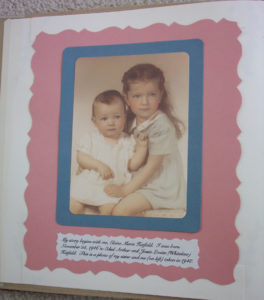 This is the first professional photo taken of me. I'm with my sister. I was about 18 months old. Since this is my album, I started with a photo of myself and then worked back in generations.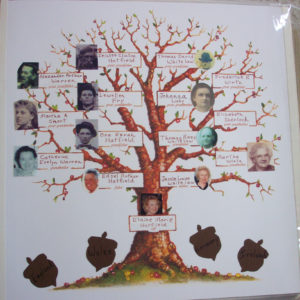 What would a Family Heritage Album be without a Family Tree? I've included the names and dates of me, my parents, grandparents, and great grandparents. Except for my mom's maternal grandparents, I have photos for all my other ancestors shown. The 4 "acorns" at the bottom of the tree list the four countries where my ancestors emigrated from — England, Wales, Ireland, and Germany.
Be sure to include some kind of chart to illustrate your family relationships, so that your descendants will know how everyone is related. Even a hand-written chart can be included.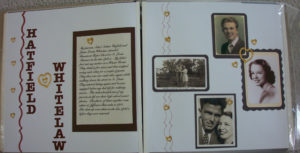 This 2-page spread above tells the story of my parents and how they met. I've included their high school photos because they met when they attended the same high school, and a photo of them when they were dating, and when they were engaged.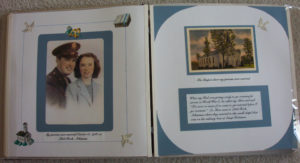 This 2-page spread tells the story of how my dad asked my mom to marry him and includes their wedding photo, and a postcard of the Army Base Chapel where they married.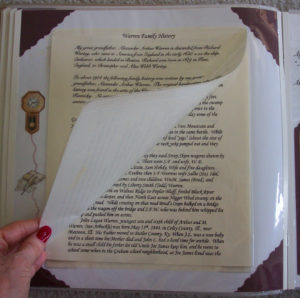 This page shows how you can include a multiple page family story in your album by using photo-safe poly protectors, and large clear photo corners.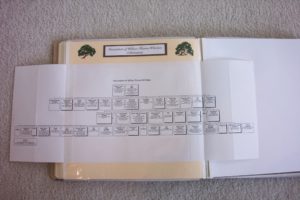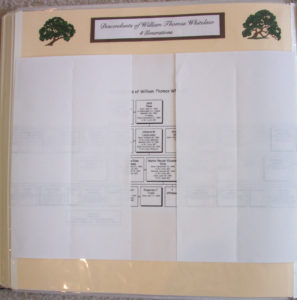 This page, above, illustrates how you can include a wide descendant chart into your album by folding the pages.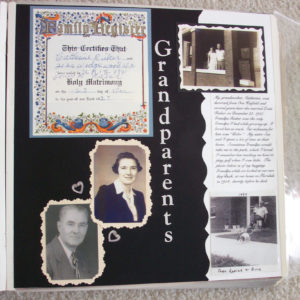 I only have one photo of my grandma and her 2nd husband. Even though he wasn't my biological grandfather, he was the only grandpa I knew while growing up and I loved him dearly. And the only photo I have of me with him is also included. I brief story explains this information. A decorated page from a journal lists the date of their marriage.
Yes, it's okay to include non-biological family members. Remember, there are NO rules! You should include whatever "family" you want to include, biological or not.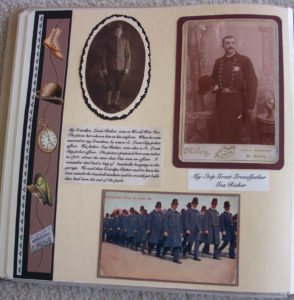 This page contains a photo of my grandpa during World War I. After the war he became a policeman in St. Louis, Missouri. Next to his photo is a photo of his father, who was also a St. Louis, Missouri police officer. At the bottom is a postcard of the St. Louis policemen during the same time period when my step great-grandfather was also an officer.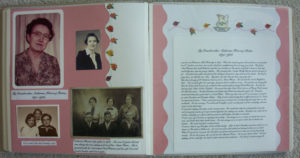 This 2-page spread has a few photos of my grandma and the story at the right tells a a brief history of her life.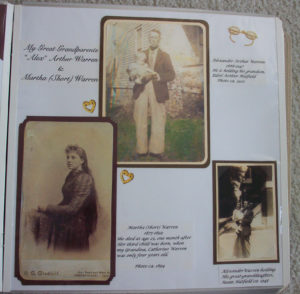 The photo above is my paternal great grandparents. I have only two photos of him — one of him holding my father (top) and the other of him holding my sister (bottom). My great grandmother died within a few years of when this photo was taken — when my grandma was only four years old.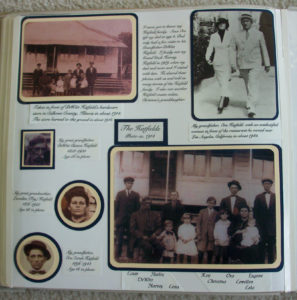 This is my dad's family. The closely group shot is his father, siblings and parents. The closeup head shots are my grandfather, and his parents. The couple in the upper right is my grandfather with his 2nd wife. I never knew my grandfather or his parents.
It's important to identify EVERYONE in your photos. You might think you will remember, but perhaps you won't. And your descendants will certainly not be able to identify them.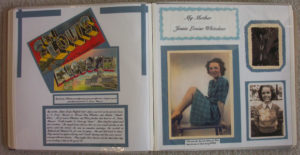 The above page is about my mom. Her "pinup" picture she sent to my dad during WWII, and a couple of other photos she sent him while he was overseas. The St. Louis postcard represents her family, who had been in St. Louis since the mid 1850s.
Post cards can really help to tell the story of your ancestors. Just "Google" places, cities, and states to help you find a postcard that might have a photo of your ancestors' home town, school, hospital where they were born, place they married, etc.
This photo shows a ship much like that which my ancestors might have traveled in on their voyage to America from Germany. I want my descendants to see this, so they didn't think they'd said on a "modern" ship like the Queen Mary.